White House Under Siege As Russia Revelations Continue
Six months of revelations about ties to Russia is taking its toll on White House staffers.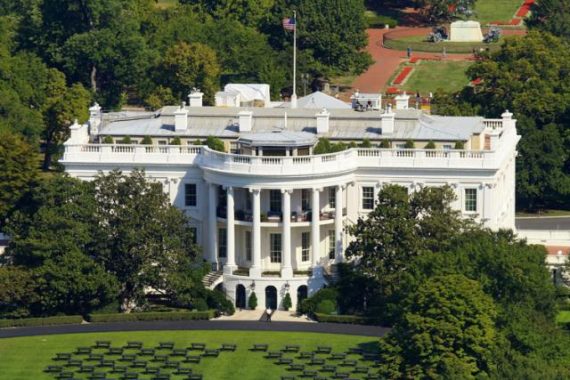 With the stream of new reports about contacts between Russian officials and people close to President Trump seemingly coming on a daily basis, and an investigation by two Congressional committees and a Department of Justice out there gathering information, The New York Times reports that tensions are rising inside the White House:
WASHINGTON — If President Trump emerged from his meeting with President Vladimir V. Putin of Russia last week hoping he had begun to "move forward" from the controversy over the Kremlin's election meddling, as advisers put it, his flight home the next day made clear just how overly optimistic that was.

As Air Force One jetted back from Europe on Saturday, a small cadre of Mr. Trump's advisers huddled in a cabin helping to craft a statement for the president's eldest son, Donald Trump Jr., to give to The New York Times explaining why he met last summer with a lawyer connected to the Russian government. Participants on the plane and back in the United States debated how transparent to be in the statement, according to people familiar with the discussions.

Ultimately, the people said, the president signed off on a statement from Donald Trump Jr. for The Times that was so incomplete that it required day after day of follow-up statements, each more revealing than the last. It culminated on Tuesday with a release of emails making clear that Mr. Trump's son believed the Russian lawyer was seeking to meet with him to provide incriminating information about Hillary Clinton as "part of Russia and its government's support for Mr. Trump."

The Russia story has become the brier patch from which the president seemingly cannot escape. It dominated his trip to Europe last week and, after he leaves on Wednesday night for a couple of days in France, it may dominate that trip as well. Every time Mr. Trump tries to put the furor behind him, more disclosures thrust it back onto the Washington agenda.

Even before the latest reports, Mr. Trump's head-spinning willingness on creating a joint cybersecurity team with Russia fueled criticism. Now people close to the president and to his legal effort are engaged in a circular firing squad, anonymously blaming one another for the decisions of the last few days.

(…)

Advisers said the president was annoyed not so much by his son as by the headlines. But three people close to the legal team said he had also trained his ire on Marc E. Kasowitz, his longtime lawyer, who is leading the team of private lawyers representing him. Mr. Trump, who often vents about advisers in times of trouble, has grown disillusioned by Mr. Kasowitz's strategy, the people said.

The strain, though, exists on both sides. Mr. Kasowitz and his colleagues have been deeply frustrated by the president. And they have complained that Mr. Kushner has been whispering in the president's ear about the Russia investigations and stories while keeping the lawyers out of the loop, according to another person familiar with the legal team. But one person familiar with Mr. Kasowitz's thinking said his concerns did not relate to Mr. Kushner.

The president's lawyers view Mr. Kushner as an obstacle and a freelancer more concerned about protecting himself than his father-in-law, the person said. While no ultimatum has been delivered, the lawyers have told colleagues that they cannot keep operating that way, raising the prospect that Mr. Kasowitz may resign.

Also, the president has fumed to close allies that he is mulling a staff change, and some members of his family have zeroed in on the chief of staff, Reince Priebus. But most Trump advisers privately concede that major changes are unlikely anytime soon.
Politico has similar reports:
White House aides feel blindsided by the bombshell revelations around Donald Trump Jr.'s campaign meeting with a Russian lawyer, while the president is using his relatively light schedule to watch TV and fume about the latest scandal, according to interviews with half a dozen White House officials and advisers.

Unlike prior Russia-related controversies, the White House is not minimizing the political ramifications of Trump's eldest son's decision to meet with the Kremlin-linked lawyer after being offered information that he was told would "incriminate" Hillary Clinton as "part of Russia and its government's support for Mr. Trump.

But top West Wing aides are exasperated by their limited ability to steer the damage control and the risk that more damaging news has yet to emerge.

One Trump adviser said the White House was "essentially helpless" because the conduct happened during an "anything goes" campaign that had few rules. This person said he had spoken to several people in the White House on Tuesday and that "none of them knew anything about Donald Trump Jr.'s meetings," despite the fact that top adviser Jared Kushner was also present for the controversial Trump Tower sit-down.

Many of the White House aides had previously dismissed the Russia stories as "conspiracy bullshit," this person said, but that this development was not being dismissed as that.

Trump had been silent for days about the controversy around his son. His first public response came in the form of a brief statement delivered by White House principal deputy press secretary Sarah Huckabee Sanders on Tuesday: "My son is a high-quality person, and I applaud his transparency."

On Tuesday evening, Trump encouraged his Twitter followers to watch his son on Fox News host Sean Hannity's show, adding, "He is a great person who loves our country!"

One White House aide said the president's light public schedule was a function of his upcoming trip to France on Wednesday — and that "it makes sense that you have a couple days off between the one last week and this one."

But a second official said Trump's schedule was unusually light — and that he had been watching TV news and venting about the investigation. He hadn't expressed any specific opinions about Trump Jr., this person said, but didn't like that it was generating more negative coverage.

Others in the White House have been more explicit about their frustration with Trump Jr., who served as an adviser and surrogate for Trump's campaign but has no official role in his father's administration. Instead, he and his brother Eric Trump have taken over the day-to-day operations of the Trump Organization.

Some in the West Wing have seen Trump Jr.'s defenses — including his decision to post the damning email chain setting up the meeting — as tone deaf and naive about the political ramifications, according to a White House official.

And since Trump Jr. is not a White House employee and is represented by his own lawyer, the White House communications operation has had to take a back seat, while holding its breath for the next batch of revelations.

What the core issue will be going forward, the Trump adviser said, is that the "Russia story will get worse and worse, and you can't just really say anymore, 'fake news.'"

This person said the White House has "very little to no role" in coordinating a response.

There's also tension inside the White House as Vice President Mike Pence's communications team issued its own statement, appearing to distance Pence from the president. Some West Wing aides felt particularly bruised by the line that he's "not focused on stories about the campaign, particularly stories about the time before he joined the ticket," seeing it as an admission of guilt on the part of the campaign, according to a White House official.

While chief of staff Reince Priebus and top adviser Kellyanne Conway initially offered full-throated defenses of Trump Jr., the White House has since been less vigorous. The White House has not held on-camera briefings, instead pushing out Sanders to hold shorter off-camera sessions with reporters.

Many of Trump's aides feel that knowing less is more when it comes to the Russia probe, as many staffers don't want or have the extra resources to spend on lawyers. Some have linked the White House press shop's relatively laid-back response to the latest scandal as a product of their fear of being entangled in the Russia probe.

The lack of full-throttle response from the White House has lowered morale internally, especially among those who are worried about policy initiatives, including health care and tax reform, falling to the wayside, according to one White House official.

"How much longer can we assume that the American people don't care about Russia?" the official mused.
Given the extent to which this White House has been bombarded by reports about ties between campaign officials and others close to Trump and Russia, not to mention other issues that have become tied to this investigation such as the firing of Jim Comey and the President's apparent efforts to attempt to persuade law enforcement officials to drop the investigation into his campaign's ties to Russia, it's not surprising that White House aides would feel like they're trapped in a never ending soap opera. President Trump has not even been in office for 180 days, and we're already at the point where there are multiple ongoing investigations of the White House, including the appointment of a special counsel at the Department of Justice due to the fact that the Attorney General had to recuse himself because of his own failure to disclose contact with the Russian Ambassador to the United States while working as an informal adviser to the Trump campaign. Additionally, they're working for a President whose Twitter and television habits, both of which have been well-documented over the past six months, have managed to detract from the White House's messaging strategies more times than can be counted at this point. For those who may have taken jobs at the White House out of some honest belief that they could accomplish something, or those on Capitol Hill who backed Trump thinking the same thing, all of this must be frustrating. Of course, it's not as if there weren't people out there trying to warn Republicans about the dangers of getting behind a man like Trump to begin with.
In any case, while previous White Houses have undergone crisis moments before, what's happening to the Trump White House is historically unusual precisely because it is happening so early in Trump's Presidency. Watergate didn't really become a problem for President Nixon until well into his second term, for example. The same was true about the Iran/Contra affair during the Reagan Administration and Whitewater during the Clinton years, which was little more than an annoyance until special prosecutor Ken Starr became aware of the President's affair with Monica Lewinsky and the fact that he may have lied under oath with regard to that matter, and that was after Clinton had been in office for nearly five years. In Trump's case, we're dealing with a President who has only been in office for 173 days whose job approval numbers are at an historical low for newly elected Presidents, and who is already facing an investigation that will likely define the first term of his Presidency and remain an albatross around the Administration's neck for the balance of the next three years. Before long, I'd suspect this is going to become a problem for many inside the White House and we'll start seeing people depart for greener pastures. It will be interesting to hear what kind of stories they have to tell.