Bob Woodward's New Book To Detail Explosive Accusations About Trump White House
A new book by legendary Washington reporter Bob Woodward appears to contain explosive revelations about the President and the operation of the White House.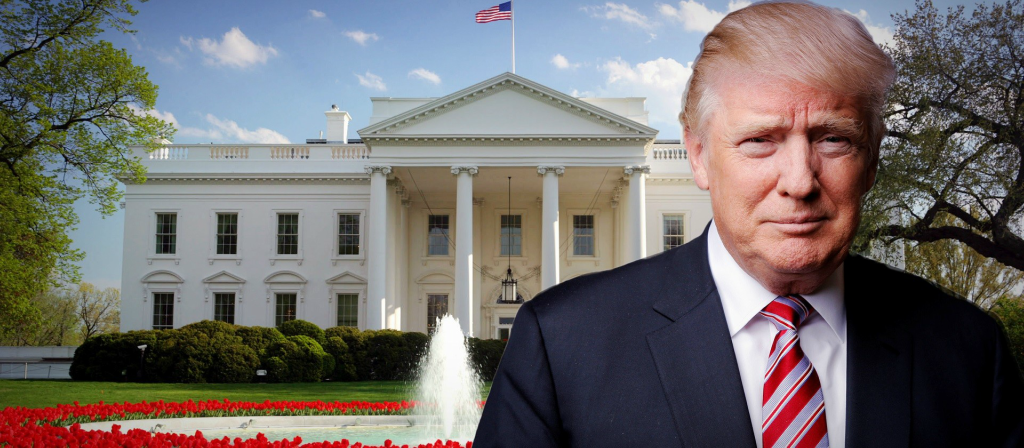 One week from today, Bob Woodward's new book, "Fear: Trump in the White House," will be released and if the initial leaks that are coming out are any indication, it's going to be a bombshell:
President Donald Trump's closest aides have taken extraordinary measures in the White House to try to stop what they saw as his most dangerous impulses, going so far as to swipe and hide papers from his desk so he wouldn't sign them, according to a new book from legendary journalist Bob Woodward.

Woodward's 448-page book, "Fear: Trump in the White House," provides an unprecedented inside-the-room look through the eyes of the President's inner circle. From the Oval Office to the Situation Room to the White House residence, Woodward uses confidential background interviews to illustrate how some of the President's top advisers view him as a danger to national security and have sought to circumvent the commander in chief.

Many of the feuds and daily clashes have been well documented, but the picture painted by Trump's confidants, senior staff and Cabinet officials reveal that many of them see an even more alarming situation — worse than previously known or understood. Woodward offers a devastating portrait of a dysfunctional Trump White House, detailing how senior aides — both current and former Trump administration officials — grew exasperated with the President and increasingly worried about his erratic behavior, ignorance and penchant for lying.

Chief of staff John Kelly describes Trump as an "idiot" and "unhinged," Woodward reports. Defense Secretary James Mattis describes Trump as having the understanding of "a fifth or sixth grader." And Trump's former personal lawyer John Dowd describes the President as "a fucking liar," telling Trump he would end up in an "orange jump suit" if he testified to special counsel Robert Mueller.

"He's an idiot. It's pointless to try to convince him of anything. He's gone off the rails. We're in crazytown," Kelly is quoted as saying at a staff meeting in his office. "I don't even know why any of us are here. This is the worst job I've ever had."

CNN obtained a copy of Woodward's book, scheduled for release September 11. The explosive revelations about Trump from those closest to him are likely to play into the November midterm election battle. The book also has stunning new details about Trump's obsession with the Russia probe, describing for the first time confidential conversations between the President's lawyers and Mueller. It recounts a dramatic session in the White House residence in which Trump failed a mock Mueller interview with his lawyers.

Woodward sums up the state of the Trump White House by writing that Trump was an "emotionally overwrought, mercurial and unpredictable leader." Woodward writes that the staff's decision to circumvent the President was "a nervous breakdown of the executive power of the most powerful country in the world."
In one explosive revelation, Woodward reveals that close aides have actually taken the extraordinary step of removing papers from the Oval Office based on the fear that Trump might go ahead and follow the advice recommended regardless of what might be in the national interests of the United States:
The book opens with a dramatic scene. Former chief economic adviser Gary Cohn saw a draft letter he considered dangerous to national security on the Oval Office desk.

The letter would have withdrawn the US from a critical trade agreement with South Korea. Trump's aides feared the fallout could jeopardize a top-secret national security program: the ability to detect a North Korean missile launch within just seven seconds.

Woodward reports Cohn was "appalled" that Trump might sign the letter. "I stole it off his desk," Cohn told an associate. "I wouldn't let him see it. He's never going to see that document. Got to protect the country."

Cohn was not alone. Former staff secretary Rob Porter worked with Cohn and used the same tactic on multiple occasions, Woodward writes. In addition to literally stealing or hiding documents from Trump's desk, they sought to stall and delay decisions or distract Trump from orders they thought would endanger national security.

"A third of my job was trying to react to some of the really dangerous ideas that he had and try to give him reasons to believe that maybe they weren't such good ideas," said Porter, who as staff secretary handled the flow of presidential papers until he quit amid domestic violence allegations. He and others acted with the acquiescence of former chief of staff Reince Priebus, Woodward reports.
Not unexpectedly, the book also covers the Russia investigation and the question of whether the President would sit for an interview with Special Counsel Robert Mueller:
In one revelatory anecdote, Woodward describes a scene in the White House residence. Trump's lawyer, convinced the President would perjure himself, put Trump through a test — a practice interview for the one he might have with Mueller. Trump failed, according to Dowd, but the President still insisted he should testify.

Woodward writes that Dowd saw the "full nightmare" of a potential Mueller interview, and felt Trump acted like an "aggrieved Shakespearean king."

But Trump seemed surprised at Dowd's reaction, Woodward writes. "You think I was struggling?" Trump asked.

Then, in an even more remarkable move, Dowd and Trump's current personal attorney Jay Sekulow went to Mueller's office and re-enacted the mock interview. Their goal: to argue that Trump couldn't possibly testify because he was incapable of telling the truth.

"He just made something up. That's his nature," Dowd said to Mueller.

The passage is an unprecedented glimpse behind the scenes of Mueller's secretive operation — for the first time, Mueller's conversations with Trump's lawyers are captured.

"I need the president's testimony," Mueller said. "What was his intent on Comey? … I want to see if there was corrupt intent."

Despite Dowd's efforts, Trump continued to insist he could testify. "I think the President of the United States cannot be seen taking the fifth," Trump said.

Dowd's argument was stark: "There's no way you can get through these. … Don't testify. It's either that or an orange jump suit."

What he couldn't say to Trump, according to Woodward, was what Dowd believed to be true: "You're a fucking liar."
And as with previous books, the question of the President's mental stability is brought to the forefront:
Throughout the book, Woodward portrays the President as a man obsessed with his standing in the media and with his core supporters. Trump appears to be lonely and increasingly paranoid, often watching hours of television in the White House residence. "They're out to get me," Trump said of Mueller's team.

Trump's closest advisers described him erupting in rage and profanity, and he seemed to enjoy humiliating others.

"This guy is mentally retarded," Trump said of Sessions. "He's this dumb southerner," Trump told Porter, mocking Sessions by feigning a southern accent.

Trump said that Priebus is "like a little rat. He just scurries around."

And Trump demeaned former New York Mayor Rudy Giuliani to his face, when Giuliani was the only campaign surrogate willing to defend then-candidate Trump on television after the "Access Hollywood" tape, a bombshell video where Trump described sexually assaulting women.

"Rudy, you're a baby," Trump told the man who is now his attorney. "I've never seen a worse defense of me in my life. They took your diaper off right there. You're like a little baby that needed to be changed. When are you going to be a man?"

Trump's predecessors are not spared either. In a conversation with Sen. Lindsey Graham, Trump called President Barack Obama a "weak dick" for not acting in Syria, Woodward reports.

Woodward's book takes readers inside top-secret meetings. On July 27, 2017, Trump's national security leaders convened a gathering at "The Tank" in the Pentagon. The goal: an intervention to try to educate the President on the importance of allies and diplomacy.

Trump's philosophy on diplomacy was personal. "This is all about leader versus leader. Man versus man. Me versus Kim," he said of North Korea.

His inner circle was worried about "The Big Problem," Woodward writes: Trump's lack of understanding that his crusade to impose tariffs could endanger global security.

But the meeting didn't go as planned.

Trump went off on his generals. "You should be killing guys. You don't need a strategy to kill people," Trump said of Afghanistan.

He questioned the wisdom of keeping US troops in South Korea.

"So Mr. President," Cohn said to Trump, "what would you need in the region to sleep well at night?"

"I wouldn't need a fucking thing," the President said. "And I'd sleep like a baby."

After Trump left the Tank, Secretary of State Rex Tillerson declared: "He's a fucking moron."
The Washington Post has more details:
John Dowd was convinced that President Trump would commit perjury if he talked to special counsel Robert S. Mueller III. So, on Jan. 27, the president's then-personal attorney staged a practice session to try to make his point.

In the White House residence, Dowd peppered Trump with questions about the Russia investigation, provoking stumbles, contradictions and lies until the president eventually lost his cool.

"This thing's a goddamn hoax," Trump erupted at the start of a 30-minute rant that finished with him saying, "I don't really want to testify."

The dramatic and previously untold scene is recounted in "Fear," a forthcoming book by Bob Woodward that paints a harrowing portrait of the Trump presidency, based on in-depth interviews with administration officials and other principals.

Woodward writes that his book is drawn from hundreds of hours of interviews with firsthand participants and witnesses that were conducted on "deep background," meaning the information could be used but he would not reveal who provided it. His account is also drawn from meeting notes, personal diaries and government documents.

Woodward depicts Trump's anger and paranoia about the Russia inquiry as unrelenting, at times paralyzing the West Wing for entire days. Learning of the appointment of Mueller in May 2017, Trump groused, "Everybody's trying to get me"— part of a venting period that shellshocked aides compared to Richard Nixon's final days as president.

The 448-page book was obtained by The Washington Post. Woodward, an associate editor at The Post, sought an interview with Trump through several intermediaries to no avail. The president called Woodward in early August, after the manuscript had been completed, to say he wanted to participate. The president complained that it would be a "bad book," according to an audio recording of the conversation. Woodward replied that his work would be "tough" but factual and based on his reporting.

The book's title is derived from a remark that then-candidate Trump made in an interview with Woodward and Post political reporter Robert Costa in 2016. Trump said, "Real power is, I don't even want to use the word, 'Fear.' "

A central theme of the book is the stealthy machinations used by those in Trump's inner sanctum to try to control his impulses and prevent disasters, both for the president personally and for the nation he was elected to lead.

Woodward describes "an administrative coup d'etat" and a "nervous breakdown" of the executive branch, with senior aides conspiring to pluck official papers from the president's desk so he couldn't see or sign them.

Again and again, Woodward recounts at length how Trump's national security team was shaken by his lack of curiosity and knowledge about world affairs and his contempt for the mainstream perspectives of military and intelligence leaders.
Woodward's book isn't the first that the Trump Administration has had to deal with in its first year and a half in office. Earlier this year, Trump's lawyers were reportedly considering the extraordinary step of trying to block the publication of Michael Wolff's "Fire and Fury: Inside the Trump White House," which contained a number of explosive allegations regarding the inner workings of the Trump White House. They never went forward with that effort, of course, and the book was ultimately published and had at least some impact on the operation of the White House. More recently, former Trump aide and confidante Omarosa Manigault Newman came out with her book "Unhinged: An Insiders Account Of The White House," This book also contains a number of revelations about the inner workings of the White House, many of which are apparently supported by recorded conversations that Omarosa had over either in person or over the phone with persons including Chief of Staff John Kelly, Ivanka Trump, Jared Kushner, and Lara Trump, the wife of Eric Trump. In some respects, the reports of what we're going to see in Woodward's book mirror information revealed in these two previous books as well as news reports regarding the inner workings of the White House.
The difference between the Wolff and Omarosa books and this new Woodward tome, though, are as stark as the difference between night and day. Where Wolff is a journalist with something of a reputation for sensationalism and Omarosa is, well, Omarosa, Bob Woodward brings to this book more than forty years of a reputation for reporting on the inner workings of Washington that will lend significantly more credibility to what he reports than the previous two books offered. In addition to the fact that Woodward will apparently be able to back up his book with notes, documents recorded interviews, and other material, Woodward already has a reputation as a reporter of being someone who does not report something as fact without having multiple sources backing it up. Given this, it will be next to impossible for the Trump White House to rebut the accusations that the Woodward book makes,
Whether or not the book has a political impact, of course, will be a completely different question. Trump's hardcore supporters are unlikely to change their mind based on a book, least of all one written by Bob Woodward. On the margins, though, these accusations could have a political impact that could have an impact not just on the Trump Administration but also on the fortunes of the Republican Party heading into the midterms. They could also have an impact on Democrats and their voters, who are likely to increase the pressure that Democrats are already feeling to make the midterms a referendum on the President and to promise an aggressive oversight strategy if they do regain control of the House and/or Senate in the midterm elections.
On another note, this first peek at what is in the Woodward book could offer some insight into the recent behavior we've seen from the President. Over the past several weeks the President has seemed to become more and more, well, unhinged in both his Twitter habits and in his public statements. It hasn't been uncommon, for example, for him to be tweeting late into the night and then resume his tweet storms early in the morning, an indication that he isn't getting much sleep. There have also been other reports from inside the White House of sources saying that the President and those around him have been increasingly nervous about revelations that might be contained in the book. If this first glance is any indication, then those concerns appear to be well-founded.
Update: This post was updated to include the material from The Washington Post.