Trump World Experiences An Omarosa Earthquake
Omarosa Manigault Newman, who used to be a Trump favorite, is out with a book that makes sensationalistic claims about the Trump Administration. The real story, though, is what she has on tape and how she got it.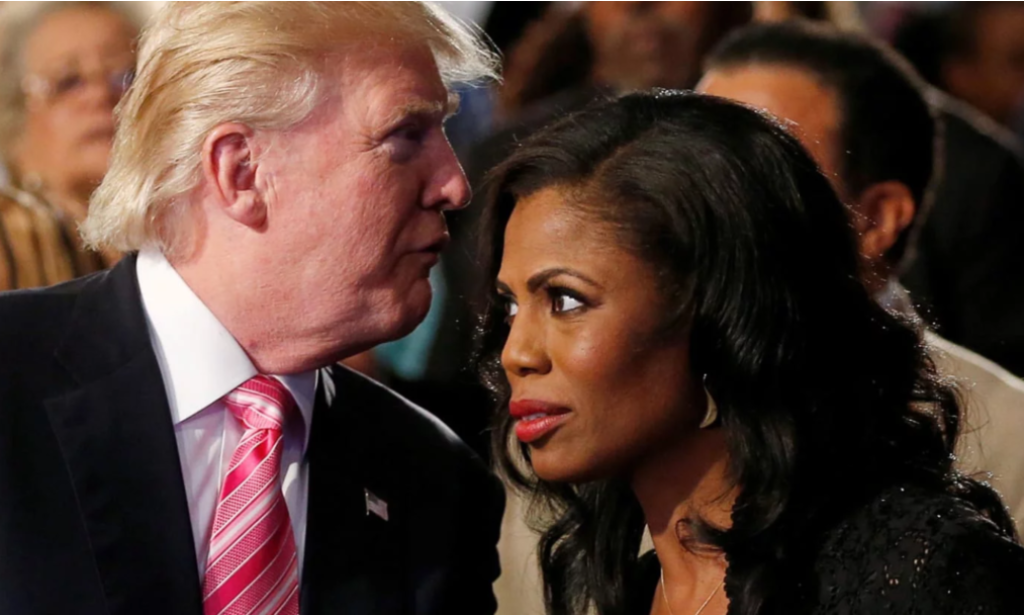 As we start the new week the biggest name in Trump World isn't Special Counsel Robert Mueller, former Campaign Manager Paul Manafort, or even the President himself, instead it is Omarosa Manigault Newman. Manigault Newman, or "Omarosa" as she is more popularly known, is someone who has been a near-constant presence in Donald Trump's world ever since showing up on the very first season of The Apprentice where she took on the persona of a devious, back-stabbing contestant who would do anything to advance her interests in the "game," but who ultimately proved to be utterly incompetent in a leadership role. As a result, she was dismissed by Trump early in the first season and that was seemingly the end of her fifteen minutes of fame. In reality, that dismissal was just the beginning of her time in Trump's orbit as she was brought back on several occasions on both The Apprentice and its sister show Celebrity Apprentice. When President Trump announced his bid for the Presidency, Omarosa somehow managed to get back on the inside, serving some unspecified role in the campaign that translated into an even more unspecified role in the Administration. 
In any case, Omarosa managed to say out of the media for most of the time she was at the White House, but she did manage to get into the headlines after engaging in activity that would seemingly have gotten other White House staffers fired instantly. It was reported, for example, that she utilized the car service provided by the White House to staffers for personal shopping trips, that she somehow managed to get her entire bridal party onto the grounds of the White House for photographs, and that she was among the small group of people along with Invaka Trump and Jared Kushner permitted "walk-in" access to the President without having to clear it through Chief of Staff John Kelly. By December of last year, though, her position inside the White House had deteriorated to the point where she was dismissed unceremoniously by Kelly and, reportedly, escorted out of the White House by the Secret Service.
Now Omarosa is out with a new book that makes a number of controversial claims about the President and, perhaps, more importantly, raises serious concerns about security inside this White House:
Omarosa Manigault Newman secretly taped John F. Kelly, the White House chief of staff, as he fired her in December in the Situation Room, a breach of security protocols, but one that revealed him suggesting that she could face damage to her reputation if she did not leave quietly.

The recording was played on Sunday on NBC's "Meet the Press," where Ms. Manigault Newman, a former adviser to President Trump, promoted her new book, "Unhinged." In the memoir, which focuses on her relationship with Mr. Trump going back to her time on "The Apprentice," she describes the world around the president as a cult in which he creates his own reality.

On the recording, Mr. Kelly says Ms. Manigault Newman could be facing "pretty significant legal issues" over what he alleged was misuse of a government car. She denied misusing it.

"I'd like to see this be a friendly departure," Mr. Kelly says on the tape. "There are pretty significant legal issues that we hope don't develop into something that, that'll make it ugly for you."

"But I think it's important to understand," he adds, "that if we make this a friendly departure, we can all be, you know, you can look at, look at your time here in, in the White House as a year of service to the nation. And then you can go on without any type of difficulty in the future relative to your reputation."

Ms. Manigault Newman explained to Chuck Todd, the host of "Meet the Press," that she recorded that conversation, as well as others that she has played for reporters and book publishers featuring her conversations with Mr. Trump, because "this is a White House where everybody lies."

The Situation Room is supposed to be devoid of personal electronic devices, which signs outside the room make clear. Former national security officials said it was not clear whether Ms. Manigault Newman had broken any laws, but she certainly violated the rules around what is supposed to be one of the most secure rooms in the capital.

Privately, officials who worked with Ms. Manigault Newman said it was the type of damn-the-rules behavior that she had engaged in for months and which bothered many of her colleagues — but not Mr. Trump, who had to be cajoled into letting her be dismissed.

People close to the White House said that she was a difficult colleague and that despite complaining of being blackballed by Mr. Kelly, Ms. Manigault Newman had indicated to incoming West Wing staff during the transition that they could face bad press if they did not give her a prominent role. Even Mr. Trump had begun wearying of Ms. Manigault Newman's omnipresence in meetings by the middle of his first year, those people said.

In a statement late Sunday, the White House press secretary, Sarah Huckabee Sanders, said, "The very idea a staff member would sneak a recording device into the White House Situation Room shows a blatant disregard for our national security — and then to brag about it on national television further proves the lack of character and integrity of this disgruntled former White House employee."

No White House official offered an explanation for why Ms. Manigault Newman was hired in the first place if people had such concerns about her.
In addition to her appearance yesterday on Meet The Press, Manigault Newman also appeared on the Today show this morning during which she revealed another tape, this one of a conversation between herself and the President purportedly made the day after Kelly fired her:
Omarosa Manigault Newman, the former "Apprentice" contestant who became a White House aide, has provided an audio recording that she says is from 2017 and on which President Donald Trump expresses surprise that she'd been fired from his administration.

The tape, which was played exclusively Monday on "Today," appears to show Trump having no idea that Newman had been dismissed by his Chief of Staff John Kelly.

"Omarosa? Omarosa what's going on? I just saw on the news that you're thinking about leaving? What happened?" Trump is heard saying on the tape, which Newman said was made one day after her termination in December 2017 when Trump called her.

Newman responds, "General Kelly—General Kelly came to me and said that you guys wanted me to leave."

"No…I, I, Nobody even told me about it," Trump replies.

Newman then says, "Wow," before Trump reiterates his shock.

"You know they run a big operation, but I didn't know it," Trump is heard saying on the tape. "I didn't know that. Goddamn it. I don't love you leaving at all."

NBC News does not know what was said before or after that exchange. The White House had no comment when asked about the exchange between Trump and Newman.

In a contentious interview on "Today," after the audio recording was played, Newman accused Trump of lying to the American people and said he didn't know what was going on within his own administration.

"He doesn't even know what's happening in his White House," Newman said. "General Kelly, John Kelly is running this White House and Donald Trump has no clue what's going on."

"He's being puppeted and that's very dangerous for this nation," she added.

Newman said she had known Trump "to be an entertainer — but I never thought he'd lie to the country."
Manigault Newman has said she has other tapes, although it's unclear who is on them, when they made, or how they were made and has also made the claim that she has heard tapes of Trump using racial epithets during the taping of The Apprentice and its sister show:
Newman's disclosure of the recording came just one day after she told NBC's "Meet the Press," in an exclusive interview, that she has personally heard a tape of Trump using the N-word during filming for NBC's "The Apprentice" — a revelation she says "confirmed that he is truly a racist." Newman made the charge days before the release on Tuesday of her new book, "Unhinged: An Insider's Account of the Trump White House." In the book, Newman describes hearing about the tape but not hearing it herself. She said Sunday that she personally listened to it after her book had gone to press.

On Monday, she said there were "multiple tapes" but that the one she had described previously was an audio tape that was "about three minutes" long.

On it, Trump "was talking about some African-Americans in the production during the course of 'The Apprentice.'"

Newman also alleged that the existence of the tape was known by top campaign aides back in 2016 and that a campaign spokesperson had said on a campaign conference call, "I have heard from a credible source that yes, he said it."

Newman said Sunday she had "heard for two years that it existed, and once I heard it for myself, it was confirmed, what I feared the most: That Donald Trump is a con and has been masquerading as someone who is actually open to engaging with diverse communities."
Not surprisingly, President Trump responded to Manigault Newman's via Twitter
Wacky Omarosa, who got fired 3 times on the Apprentice, now got fired for the last time. She never made it, never will. She begged me for a job, tears in her eyes, I said Ok. People in the White House hated her. She was vicious, but not smart. I would rarely see her but heard….

— Donald J. Trump (@realDonaldTrump) August 13, 2018
…really bad things. Nasty to people & would constantly miss meetings & work. When Gen. Kelly came on board he told me she was a loser & nothing but problems. I told him to try working it out, if possible, because she only said GREAT things about me – until she got fired!

— Donald J. Trump (@realDonaldTrump) August 13, 2018
While I know it's "not presidential" to take on a lowlife like Omarosa, and while I would rather not be doing so, this is a modern day form of communication and I know the Fake News Media will be working overtime to make even Wacky Omarosa look legitimate as possible. Sorry!

— Donald J. Trump (@realDonaldTrump) August 13, 2018
Wacky Omarosa already has a fully signed Non-Disclosure Agreement!

— Donald J. Trump (@realDonaldTrump) August 13, 2018
The question that the President's comments raise, of course, is why he hired her to begin with if this is how he felt about her all along. This, after all, is the same person who said throughout his campaign for President that he would only hire the "best people" and who often praised Omarosa to the press and to others before this date. That, however, is a question for another day.
The contents of Manigault Newman's book is what it is and will speak for itself, of course. Generally speaking, though, it strikes me that absent corroborating evidence, the allegations she makes, and she makes plenty about everything from those alleged racist remarks by the President to claims about the President's mental state that are, to say the least, concerning, should be taken with a grain of salt. Ever since she first appeared in Trump's orbit, this is a woman who has proven herself to be as much of a devious self-promoter as Trump himself and it seems clear that she has turned her back on him now in no small part because she sees an opportunity to make money off a Trump-bashing phenomena that has proven itself to be quite profitable. Indeed, if the Trump Administration is going to be concerned about the impact any book might have it ought to be most concerned about the book that The Washington Post's Bob Woodward will be releasing next month that purportedly includes a host of his trademark interviews with people close to the President and reportedly paints a very grim picture of the Trump Administration and its operation.
That being said, while Omarosa's book may not appear to amount to much, what she did raises serious security concerns that are leading the White House to attempt to find ways to prevent her from releasing any further audio tapes. If any of the material that Manigault Newman recorded is classified, which seems unlikely since she apparently did not have a security clearance, then they might have a shot at preventing publication of tapes that contain such information. As a general rule, though, the Federal Courts are reluctant to impose prior restraints on publication. Nonetheless, as Jennifer Rubin notes, this whole incident raises real concerns about how the White House is being run:
[I]t's dangerous and reprehensible — and yet this White House invited her and scores of other irresponsible and unqualified people in and, apparently, no one picked up on the fact she was compromising security by taping top officials.  Now the White House needs to explains a whole bunch of things, starting with how she apparently managed to get a taping device into the Situation Room. (It's fair to assume the White House has no idea what she taped and therefore is in the peculiar position of lacking access to basic information to assess which, if any, security rules she broke and whether legitimately classified material has been compromised.)

"The whole thing raises questions about this White House's ability to handle security, and it highlights their dysfunctional personnel situation," says former head of the Office of Government Ethics Walter Shaub. "It's weird that [John] Kelly would take her into a secure facility just to tell her he's firing her. Given that she's only known as a reality TV star, it's also weird that they hired her in the first place."

The Omarosa story reminds us of the illegitimate measures the White House takes to silence employees. Attempting to muzzle employees and deny them their First Amendment rights as a condition of employment may be illegal; it is certainly illegitimate, yet another attempt to suppress facts and to treat employees of the taxpayers as Trump's personal employees. These people work for us, the American people.

It would be a mistake to take Omarosa's words (written or verbal) seriously. Indeed, this only trivializes the real concerns about the president's fitness for office and the overall competence of the White House. Taking Omarosa's accounts seriously in order to answer those inquiries would be foolish. She, however, did something that is news: surreptitiously tape high-level officials. The chaotic, unprofessional operation of the administration, hardly new but surely amplified by Omarosa, certainly is newsworthy. These are stories deserving of mainstream media coverage.
Rubin is exactly right, of course. While the headlines are likely to be full in the next several days about the many claims that Omarosa makes in her book about the operation of the White House and the fitness of the President, the real story here is why she was hired in the first place and how she was apparently able to get away with recording conservations with the White House Chief of Staff in what is supposed to be the most secure room in the nation's capital and how she was able to get recordings of private conversations with the President both over the phone and, apparently, in person. As a matter of procedure, it's supposed to be the case that people who meet with the President are required to give up their phones and any other electronics they may have in their position before entering the room where the meeting is to take place. Why that procedure wasn't followed here, or why Kelly felt it necessary to meet with Manigault Newman in the Situation Room just to fire her, is entirely unclear, but it does make one wonder what else is going on in the halls of the West Wing, and who may be recording who at any given point in time.