North Korea Accuses Detained 85 Year-Old American Of War Crimes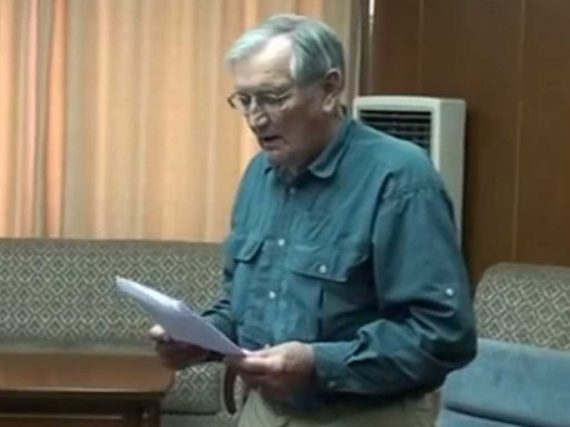 The elderly American veteran who was pulled off a plane just before it left Pyongyan several weeks ago has been accused by the North Korean Government of committing "war crimes":
BEIJING — North Korea accused an elderly American veteran of war crimes, and released a video Saturday of him confessing to "hostile acts" during the Korean War and while he was a tourist there last month.

The veteran, Merrill Newman, 85, of Palo Alto, Calif., who has been held since Oct. 26, appeared on the video dressed in a blue American-style shirt and wearing rimless spectacles as he read excerpts from the apology from several sheets of white paper.

The state-run Korean Central News Agency released a full text of the apology, in which he asked for forgiveness. The agency said in a separate statement that Mr. Newman was involved in the killing of innocent civilians during the Korean War.

Mr. Newman, a retired technology executive and a world traveler, went to North Korea on a trip organized by a licensed tour group to fulfill a longtime desire to see the country where he had served as an infantry officer during the Korean War, his family said.

There was no indication from North Korea what the next steps would be. The State Department had no immediate comment.

In the written apology, which was dated Nov. 9, Mr. Newman is quoted saying: "If I go back to U.S.A., I will tell the true features of the DPRK and the life the Korean people are leading." The DPRK stands for the Democratic People's Republic of Korea.

The reference of a possible return to the United States could be interpreted as a sign that the North Koreans were considering sending Mr. Newman home, according to a person familiar with the case and North Korea. The person declined to be identified because of the sensitivities of the matter.

The apology, written in disjointed English, contained details of what Mr. Newman supposedly did during his tour of duty in the Korean War.

"I have been guilty of a long list of indelible crimes against DPRK government and Korean people as advisor of the Kuwol Unit of the UN Korea 6th Partisan Regiment part of the Intelligence Bureau of the Far East Command," the apology said.

The written apology signed by Mr. Newman says he asked his guide to look for surviving soldiers from an action that he participated in against the Korean Peoples Army, and that he had brought into North Korea an "e-book criticizing the Socialist DPRK."

Mr. Newman was pulled off a plane on Oct. 26 as it was preparing to leave North Korea for Beijing. Something appeared to have gone awry on the last full day of Mr. Newman's tour when he was asked to talk to one of his tour guides in the presence of another North Korean and without his traveling companion, a fellow retiree from California, said his son, Jeff Newman.

The two retirees traveled with two Korean guides on a trip organized by the London-based Juche Travel Services, an outfit that says it appeals to "smart, independent" travelers.

Mr. Newman told his traveling companion, Bob Hamrdla, that the conversation had not gone well and he had a bad feeling about it, the son said.
The reference to a "UN Korea 6th Partisan Regiment" is likely a reference to the United Nations Partisan Infantry, a clandestine force that existed during the Korean War and which operated as a unit devoted activities such as intelligence gathering, sabotage, and rescuing POWs. It is not clear, however, if Newman was part of this unit during the time he served in Korea some 60 years ago and there is some suggestion that the North Koreans may be mistaking Newman for another American Korean War vet named Merrill Newman who won the Silver Star in 1951 after leading a raid against Chinese forces. In either case, it's rather obvious that this "confession" was coerced in some way and likely a mere pretext for whatever the real reason for Newman's detention might be. Where this heads from here is unclear. Likely the U.S. in engaged in some kind of back channel communications about all of this with North Korea's Chinese patrons, but one cannot tell if they can have much influence over Pyongyang in this matter. Hopefully they can, though, and Newman will be find his way home in short order.