John Kelly Plans To Remain As White House Chief Of Staff Through 2020
After one year at a job that has to be among the most frustrating in Washington, John Kelly has agreed to stay on through the 2020 election.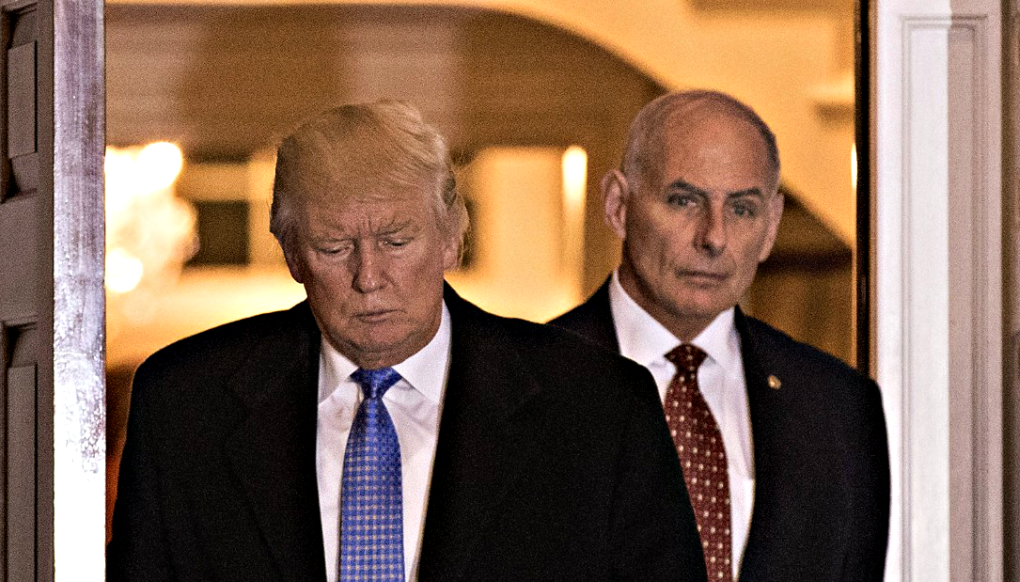 It was one year ago that retired General John Kelly, who had been serving as Secretary of the Department of Homeland Security since roughly the start of the Trump Administration, began serving as White House Chief of Staff in the wake of the departure of Reince Priebus after just over six months on the job. When he stepped into the role, Kelly inherited a White House that was, by all accounts, largely in disarray due to the fact that the Priebus had lost control of a White House Staff that routinely went to the President behind his back and a President who clearly didn't like being controlled. At least at the start, it was believed that Kelly would bring some of the disciplines he had brought to his roles in the military and at DHS to the White House and bring an end to the chaos that had prevailed during the first six months of the Trump Administration. While there were some early signs that Kelly was succeeding in that effort, the past year has also shown that any suggestion that Kelly would be able to control the real cause of the chaos in the White House, the President himself, was largely an illusion.
In the beginning, though, it seemed from the outside that Kelly was succeeding in bringing order to a disordered White House. He was able, for example, to bring an end to the "open door" policy that had existed under Priebus and regained most of the power traditionally granted to Chiefs of Staff when it comes to who could meet with the President. Kelly had also succeeded in getting the paper flow to the President under control to the extent that it became less common that papers or press clippings did not end up before the President without being reviewed by either the Chief of Staff or the Staff Secretary. Kelly also managed to push to the side troublesome Presidential advisers such as Anthony Scaramucci, Steve Bannon, Sebastian Gorka, and Omarosa Manigault,  the former Apprentice contestant who had bizarrely fallen into Trump's orbit and earned a position in the White House and who was dismissed from her position in what appeared to be unusual and dramatic circumstances.
Rather quickly, though, it soon became apparent that Kelly's ability to control the West Wing in general and the President specifically was, at best, limited. The first indication of that came in the wake of the racially tinged protest in Charlottesville last August that resulted in the death of a young woman at the hands of a white supremacist. In his initial response to the incident, Trump blamed 'both sides' for the violence and refused to directly condemn groups such as the Ku Klux Klan, which was present at the rally, or the broader so-called alt-right movement whose supporters made up the vast majority of the participants. While Kelly and others did convince the President to revise those comments with a statement that was more measured and emphatic than what he had said before. Days after that, though, Trump repeated his 'both sides' argument in a press conference at Trump Tower in New York that Kelly was present for, and then repeated them again a month later. In addition to that, Kelly's presence in the White House didn't stop the President from using his Twitter account to undercut the White House's agenda for a given week on a regular basis, nor did it stop the President from making controversial statements at political rallies that, like his Tweets, would divert attention from other issues that the White House wanted to advice. As I noted just a month after Kelly had assumed his new role, it was rather obvious that Kelly could not control Donald Trump, and that this was having an impact on the White House's ability to advance any kind of coherent message.
While Kelly hung on, there were persistent rumors that Kelly was close to being dismissed on several occasions and his continuing humiliation at the hands of the President made one wonder just how much longer he'd want to stay on the job. As recently as a month ago, meanwhile, it was being reported that Kelly had basically given up trying to control the President. Given this often quite rocky tenure, there has been at least some speculation that Kelly would use the one-year anniversary of the start of his position at the White House to begin edging his way out the door, or that the President would seek to push him out in the coming weeks now that the summits in Singapore and Helsinki are over. Instead, it's being reported today that President Trump has requested that Kelly stay on board through 2020 and that Kelly has accepted the request:
WASHINGTON—White House chief of staff John Kelly told staff on Monday that President Trump had asked him to remain in his post through the 2020 election, White House officials said, a request that comes as tensions between the two men have eased in recent months.

Mr. Kelly told staff he agreed to the president's request, one of the officials said.

Mr. Kelly, who on Monday marked his one-year anniversary as chief of staff, had been widely expected to leave the White House some time this summer.

Mr. Trump in recent months has consulted with advisers about whom he should tap as his next chief of staff, considering as possible successors Nick Ayers, who serves as chief of staff to Vice President Mike Pence, and Mick Mulvaney, who heads the Office of Management and Budget and serves as acting director of the Consumer Financial Protection Bureau.

If Mr. Kelly stays in his post through 2020, he would be among the longest-serving White House chiefs of staff in U.S. history. Andy Card, chief of staff under former President George W. Bush, remained in his post for a little over five years. The longest serving chief of staff in U.S. history is John Steelman, who spent six years in the post under President Harry Truman.

A White House official cautioned that while the plan is for Mr. Kelly to remain in his post through 2020, unforeseen circumstances could cause the plan to change.

The president has offered conflicting views in recent months on how long he sees Mr. Kelly staying on the job. After The Wall Street Journal reported last month that Mr. Trump was consulting with advisers on successors to Mr. Kelly, a White House spokeswoman called the report "fake news" and said Mr. Kelly said "this was news to him."

Mr. Trump, asked later that same day whether Mr. Kelly was leaving the White House, replied: "That I don't know."

(…)

Tensions between the president and Mr. Kelly appear to have eased in recent months since a rough patch earlier this year, when Mr. Trump privately criticized his chief of staff for the handling of accusations of domestic assault against former staff secretary Rob Porter, who resigned in February after graphic photos emerged of the alleged abuse.

Mr. Kelly had initially defended Mr. Porter, vouching for his integrity publicly and privately. In his own public comments on the matter, Mr. Trump emphasized Mr. Porter's denial of abuse without addressing his staff's handling of the matter.

Mr. Trump on Monday tweeted a photo of himself with Mr. Kelly and wrote: "Congratulations to General John Kelly. Today we celebrate his first full year as @WhiteHouse Chief of Staff!"
Here's Trump's Tweet:
Congratulations to General John Kelly. Today we celebrate his first full year as @WhiteHouse Chief of Staff! pic.twitter.com/JWCaJ3GhHV

— Donald J. Trump (@realDonaldTrump) July 30, 2018
All of this could change in an instant, of course. Trump could decide, as he has apparently come close to doing in the past, that Kelly's micromanaging is a step too far for him, or indeed that he does not need a traditional Chief of Staff at all. Kelly could decide that Trump has gone too far with his rhetoric or his actions and that he can't be part of the Administration any longer. For the moment at least, though, it appears that both men have decided that they can live with each other. Whether that actually lasts until 2020, though, is an entirely different question.