It's Time To End Iowa And New Hampshire's First In The Nation Status
RNC Chairman Reince Priebus suggested that Iowa and New Hampshire shouldn't get used to their place at the top of the primary calendar. He's right, but fixing the crazy system that put them there isn't going to be easy.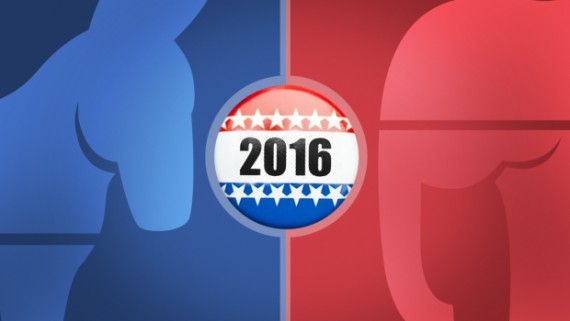 Republican National Committee Chairman Reince Preibus is suggesting that the RNC may look into changing how primaries are scheduled so that states like Iowa and New Hampshire don't necessarily go first:
Reince Priebus and the Re­pub­lic­an Na­tion­al Com­mit­tee have taken drastic steps to re­struc­ture the GOP's pres­id­en­tial primary pro­cess, in­clud­ing cut­ting the num­ber of de­bates, com­press­ing the nom­in­at­ing sched­ule, and in­tro­du­cing harsh pen­al­ties for can­did­ates and states that vi­ol­ate party rules.

But with the RNC this week fi­nal­iz­ing its rules and reg­u­la­tions for next year's primary, Priebus said in an in­ter­view that there is un­fin­ished busi­ness he'd hoped to handle ahead of 2016 and ex­pects the party to ad­dress be­fore the next cycle: shak­ing up the early states on the primary cal­en­dar.

"It's a hot top­ic. These early states are very used to fight­ing this out every four years. It's just something I think we ought to look at as a party," Priebus said. "If you look at my his­tory, I've been very sup­port­ive of the early states as gen­er­al coun­sel and as chair­man. But I don't think any­one should get too com­fort­able."

Such state­ments are known to sound alarms in Iowa and New Hamp­shire, the first two states on the nom­in­at­ing sched­ule, where party lead­ers guard their spe­cial status with a right­eous zeal. Iow­ans, in par­tic­u­lar, feel per­petu­ally tar­geted by na­tion­al Re­pub­lic­ans and worry that their leadoff status could be in jeop­ardy after 2016. Many party of­fi­cials there feared the col­lapse of this year's straw poll could fore­shad­ow the de­mise of their caucuses.

If any­thing, the RNC offered pro­tec­tion to those early states this cycle like nev­er be­fore, ap­prov­ing severe pen­al­ties for any state that leapfrogged them on the cal­en­dar. But Priebus said every as­pect of his party's primary sys­tem will be ree­valu­ated after this up­com­ing elec­tion, and said no spe­cial treat­ment will be giv­en to the tra­di­tion­al early states.

"I don't think there should ever be any sac­red cows as to the primary pro­cess or the or­der," he said.

Priebus raised the is­sue un­so­li­cited when asked what, if any­thing, he'd failed to fix ahead of the 2016 primary sea­son. The chair­man said he un­der­stands the dif­fi­culty of dis­pla­cing any of the four "carve-out" states at the front of the cal­en­dar—Iowa, New Hamp­shire, South Car­o­lina, and Nevada—but said the party would be­ne­fit from bring­ing new ideas and fresh blood in­to the pro­cess.

Dis­cus­sions about chan­ging the or­der have in­tens­i­fied in­side the party, Priebus said, and he ex­pects the is­sue to be "front and cen­ter" when the RNC's rules com­mit­tee meets at Ju­ly's na­tion­al con­ven­tion in Clev­e­land.

It's too late to change the rules for 2016, and in fact, the RNC will re­lease a fi­nal­ized it­in­er­ary this week for next year's primary con­tests. But party of­fi­cials are con­tinu­ally de­bat­ing the con­tours of a new sys­tem.

Priebus said the changes made to next year's primary pro­cess are "just the be­gin­ning," and said even though he won't serve a fourth term as RNC chair­man—mean­ing he won't be in a po­s­i­tion to im­ple­ment a sys­tem after 2016—he's got some ideas of what it could look like.

"One of the things I would have been in­ter­ested in do­ing is sort of like a ro­tat­ing primary pro­cess, where you would di­vide the coun­try in­to five quad­rants and have a primary about once every two weeks. And then you could have about a 10-week primary pro­cess," Priebus said. "I've al­ways been in­trigued by that idea."

Sev­er­al oth­er plans have been floated in re­cent years, Priebus said, in­clud­ing a "ran­dom lot­tery" that would as­sign each of the 50 states with a num­ber 1 through 5 and res­ult in five primary dates with 10 states vot­ing on each.
Taking aim at the prominence that Iowa and New Hampshire, and to a lesser extent South Carolina and Nevada, have in the Presidential nomination process in both parties has become something of a quadrennial tradition. Every four years or so, political analysts and Political Science Professors around the country will point out the numerous problems that are created by the outsized influence that these candidates have in the nomination process. It is pointed out, for example, that both Iowa and New Hampshire are woefully unrepresentative of the nation as a whole in a number of ways, most particular when it comes to racial and ethnic breakdown. South Carolina, meanwhile, has a closed primary that means that the outcome is typically biased toward the most conservative candidate in the race regardless of whether or not they are a viable candidate for the General Election. Nevada is also not entirely representative of the nation as a whole and the fact that it uses a caucus rather than a primary means that it tends to churn out results out of step with the rest of the nation.
Taking all of that into account, the history of the impact that these early states have had on the primary process in both parties certainly raises eyebrows. Inevitably, when candidates fail to perform up to expectations in these states, they are almost immediately ruled out of contention for their party's nomination and, most of the time, end up withdrawing shortly after the results are in. We saw it happen in 2012 on the Republican side with Michele Bachmann, Jon Huntsman, and Rick Perry, and in 2008 on the Democratic side in 2008 when the results in Iowa led to the end of Joe Biden's campaign and political pundits across the nation questioning the viability of Hillary Clinton's campaign based on her third place showing behind John Edwards and Barack Obama. Additionally, there are plenty of examples from previous elections of results from these states having a profound impact on the course of a race. Most famously, of course, President Lyndon Johnson won the 1968 Democratic Primary in New Hampshire, but ended up deciding not to run for re-election because of his narrow margin of victory over Minnesota Senator Eugene McCarthy. President George H.W. Bush, meanwhile, arguably saw his campaign seriously weakened when Pat Buchanan garnered a stronger than expected 35% of the vote in the 1992 Republican New Hampshire Primary. The idea that states that are so unrepresentative of the nation as a whole can have this kind of influence on the selection of a President seems strange to say the very least, and yet that's how we've allowed the system to operate for more than four decades now.
Ideally, I like the idea that Priebus hinted on in the interview above. Instead of having the primary season start in wholly unrepresentative states like Iowa and New Hampshire, and in order to avoid the issue of even a single state having as much influence as they do now, we should switch to a system of regional primaries. Under this kind of system, the nation would be divided into four or five regions, with each region made up of a mix of large and small states so as to counteract the chance that population alone would decide the nomination. Each region would have their primary on a specific day starting in ,say, February with each of the regional primaries spaced four to six weeks apart stretching from February to June. The question of which region goes first could be decided by lottery, or it could be done on a rotating basis, and the system should be left open to reorganizing the regions as deemed necessary. Additionally, I would eliminate all caucuses or other methods of choosing a Presidential nominee other than primaries for the reasons stated here. The advantage of this type of primary, I think, would be that we'd get a far more representative picture of the electorate of both parties, and this would arguably lead to better nominees. I'm also sympathetic to the idea of eliminating closed primaries and allowing people to vote in a primary regardless of their previous voting history, and I'd be open to considering other alternatives for reorganizing a primary system that seems to clearly be broken.
As ideal as the regional primary idea, or any other proposed reforms to the Presidential primary process might be, though, it's unlikely that it will implemented in the near future, and it's similarly unlikely that Priebus or anyone else at the RNC would be successful in challenging the primacy of the early primary states. Notwithstanding Priebus's criticisms of the current process, which are well-placed, the national party committees actually have very little control over primary scheduling. The most that they can do is attempt to strip states that don't adhere to their schedule of all or a portion of their delegates, but as we saw in both 2008 and 2012 that sanction is rarely enforced and often reversed. Ultimately, the control over the calendar lies in the state legislatures and in the state party system. As we saw in 2008, if other states try to schedule their primary before Iowa and New Hampshire, those states simply respond by moving up their date of the primary or caucus. In 2008 and 2012, that resulted in the absurd spectacle of the Iowa Caucuses taking places only days after New Year's Day, and there had been threats in both years that either state would move their proceedings to December of the preceding year if any state tried to move in on their exclusive role as the early primary states. One suspects the same thing would happen in the future. As for the regional primary idea, it would require the kind of cooperation among multiple state legislatures and state party committees that quite honestly seems rather impossible in the real world.
Chairman Priebus is right to say that the primacy of the early primary states is not something that should be taken for granted, and it's long past time that we had a real discussion about fixing a primary system that has become absurd in many respects. Getting from that rhetoric to the reality of actually doing something isn't going to be easy, though. If the Chairman does give it a try, I'll be interested to see what he comes up with and I'll wish him luck, but I'm not going to be optimistic about its chances for success.