Reince Priebus Is Out As White House Chief Of Staff, But The Chaos Is Likely To Continue
In another major change announced via Twitter, late yesterday President Trump announced he'd hired a new Chief of Staff, but changes at the staff level aren't going to fix what's really wrong with the Trump Administration.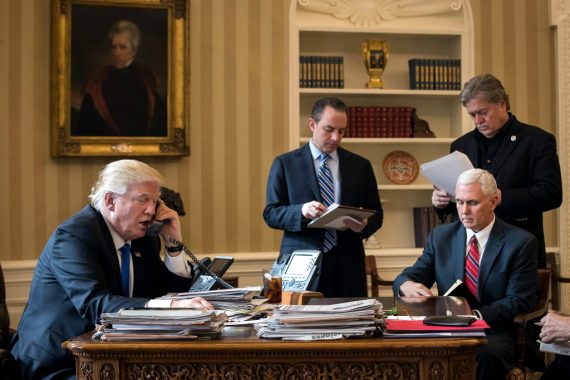 In yet another major announcement first revealed to the public via Twitter, President Trump announced last yesterday afternoon that former Republican National Committee Chairman Reince Priebus was out as White House Chief of Staff and that Department of Homeland Security Secretary John Kelly, a retired General, would be replacing him beginning on Monday:
WASHINGTON — Reince Priebus, the White House chief of staff who failed to impose order on a chaos-racked West Wing, was pushed out on Friday after a stormy six-month tenure, and President Trump replaced him with John F. Kelly, the secretary of homeland security and retired four-star Marine general.

Mr. Trump announced the change via Twitter while sitting aboard Air Force One on a tarmac outside Washington minutes after returning from Long Island. Mr. Priebus, who had joined the president on the trip and never let on to other passengers what was about to occur, stepped off the plane into a drenching rain, ducked into a car and was driven away without comment.

Mr. Trump then emerged under a large umbrella and praised his outgoing and incoming chiefs. "Reince is a good man," Mr. Trump shouted to nearby reporters. "John Kelly will do a fantastic job. General Kelly has been a star, done an incredible job thus far, respected by everybody, a great, great, American. But Reince Priebus — a good man."

Mr. Priebus's ouster was the latest convulsion in a White House that has been whipsawed by feuds and political setbacks in recent days. The president became convinced that Mr. Priebus was not strong enough to run the White House operation and told him two weeks ago that he wanted to make a change, according to White House officials. Intrigued at the idea of putting a general in charge, Mr. Trump offered the job to Mr. Kelly a few days ago.

Mr. Priebus said he had tendered his resignation to the president on Thursday, the same day the newly appointed White House communications director, Anthony Scaramucci, was quoted vowing to force the chief of staff out. Even so, as late as Friday morning, Mr. Priebus told colleagues that he thought he would have a week before the announcement to make a graceful exit, but he evidently learned otherwise later in the day. Mr. Kelly will take over the corner office in the West Wing on Monday.

Mr. Priebus said after the announcement that he had always made clear to Mr. Trump that when the president thought it was time for a new chief, he would support that. "The president has a right to change directions," he said on CNN. "The president has a right to hit a reset button. I think it's a good time to hit the reset button."

He expressed no bitterness about his removal. "I'm always going to be a Trump fan," he said. "I'm on Team Trump, and I look forward to helping him achieve his goals and his agenda for the American people."

Mr. Kelly will be the first current or former general to serve as White House chief of staff since Alexander M. Haig in the final stretch of President Richard M. Nixon's administration. Some advisers to Mr. Trump opposed the choice, arguing that Mr. Kelly did not have the political background for the job.

"The president needs someone who understands the Trump constituency as his chief of staff, someone who has both administrative skills and political savvy," Roger Stone, Mr. Trump's off-and-on adviser, said, anticipating Mr. Kelly's selection before the announcement was made.

The rainy Friday afternoon shake-up added to the sense of instability in Mr. Trump's White House. In six months in office, he has fired a national security adviser, an F.B.I. director and a holdover acting attorney general, while his White House press secretary, communications director, deputy chief of staff, deputy national security adviser and legal team spokesman have all left.

Privately, even Mr. Priebus's critics wondered how Mr. Kelly would surmount the same challenges — controlling a freewheeling president who often circumvents paid staff members by seeking counsel from a roster of outside advisers.

Other aides were left to wonder about their own future. Mr. Trump has considered pushing out Stephen K. Bannon, his chief strategist, according to a White House official who discussed internal deliberations on the condition of anonymity. Several conservative supporters of Mr. Bannon — including Representative Mark Meadows, the House Freedom Caucus chairman — told Mr. Trump on Friday that the president would risk losing base supporters if he let the strategist go.

Mr. Bannon also helped bring Mr. Kelly into the administration during the transition, and was among those who supported his move to chief of staff, an official familiar with his position said.

Mr. Priebus's departure was announced 15 hours after the president's signature drive to repeal his predecessor's health care program collapsed on the Senate floor and a day after an ugly feud with Mr. Scaramucci erupted in a public airing of the deep animosities plaguing the White House. Mr. Priebus had collaborated with his ally, Speaker Paul D. Ryan, on health care and pushed a bill through the House only to watch it crater in the upper chamber.

"My view is Reince was very well liked by the president, but Donald Trump is a guy who's all about results, and he will always be looking not only at everyone around him and their results, but his own results," said Christopher Ruddy, the chief executive of Newsmax Media and a friend of the president's. "I think he's taking stock and seeing that this health care thing that was promised to him by Reince and Paul Ryan was not properly developed. In my view, he's a disappointed customer."

Mr. Priebus, a former chairman of the Republican National Committee, represented the establishment that Mr. Trump had run against and never won the president's full confidence nor was granted the authority to impose a working organizational structure on a West Wing that included multiple power centers, including the president's daughter, Ivanka Trump, and son-in-law, Jared Kushner. Always seeming to be on the edge, Mr. Priebus had hoped to last a full year, but in the end no other White House chief of staff has been forced out after such a short tenure.

Mr. Kushner soured on Mr. Priebus, partly because of what he viewed as the shortcomings of Sean Spicer, an ally of Mr. Priebus's who was the White House press secretary until last week. Other top aides bristled at Mr. Priebus's demeanor or suspected that he was undermining them, while an alliance of convenience with Mr. Bannon seemed to fade in recent weeks.
Here are Trump's tweets making the announcement:
I am pleased to inform you that I have just named General/Secretary John F Kelly as White House Chief of Staff. He is a Great American….

— Donald J. Trump (@realDonaldTrump) July 28, 2017
…and a Great Leader. John has also done a spectacular job at Homeland Security. He has been a true star of my Administration

— Donald J. Trump (@realDonaldTrump) July 28, 2017
I would like to thank Reince Priebus for his service and dedication to his country. We accomplished a lot together and I am proud of him!

— Donald J. Trump (@realDonaldTrump) July 28, 2017
Priebus's dismissal as Chief of Staff, and make no mistake about it this was a dismissal rather than the voluntary resignation that it is being portrayed as makes him the third-shortest serving White House Chief of Staff in U.S. history. The two men before him on that list are Pete Rouse, who served as an interim Chief of Chief of Staff for President Obama after Rahm Emanuel departed to run for Mayor of Chicago and before Bill Daley was selected in January 2011 to replace Emanuel, and James Baker, who served as President George H.W. Bush's Chief of Staff from late August 1992 until the end of his term on January 20, 1993.
During those 189 days, Priebus faced that seemingly impossible task of dealing simultaneously with a White House Staff that didn't seem to have any idea what it was doing, the seemingly omnipresent frequency of leaks from unknown sources inside the White House, and the fact that he was seemingly being constantly undercut by people close to the President, including family members such as Jared Kushner and Ivanka Trump and Trump's political strategist Steve Bannon, who early on was portrayed as a rival for influence over the President. Additionally, from the early days of the Administration there was open speculation, often inspired by leaks from inside the White House, about various individuals such as Kushner and Ivanka or Bannon seeking to force Priebus out of office. Combine that with the ongoing Russia investigation and a President who regularly throws the Administration off its agenda simply by picking up his smartphone and sending out a Tweet, and I don't think it's an understatement to say that Priebus seems to have had one of the most difficult tenures of any recent Chief of Staff.
Matters seemed to come to a head over the past week after President Trump brought on Anthony Scaramucci, a technology company executive who had become a vocal Trump surrogate on cable news, as the new White House Communications Director, a move that led White House Press Secretary Sean Spicer, who was also serving in the dual role of Communications Director, to resign. In doing so, Trump seemed to bypass Priebus entirely with a set up that has Scaramucci reporting directly to the President rather than to the Chief of Staff as has traditionally been the case. Scaramucci, who technically isn't supposed to start working at the White House until the controversial sale of his company to a Chinese corporation with suspected ties to the People's Liberation Army is approved by the Federal Government, immediately got to work inside the White House and became a near-constant presence in the news, including a profanity-laced interview with The New Yorker's Ryan Lizza in which Scaramucci went on the warpath against Priebus. In the wake of that article, there were days of reports about the apparent rivalry between Priebus and Scaramucci, all of which led to Priebus's dismissal yesterday.
General Kelly, who will, of course, need to be replaced at the Department of Homeland Security, begins in his new position on Monday, and he'll have quite the task ahead of him. As The New York Times reports, Kelly is seen as a beacon of discipline and it's likely that part of Trump's hope is that his presence in the West Wing will lead to less chaos than the Administration has seen since the beginning of its tenure in January. For that to happen, though, it seems clear that the Kelly will have to deal with much of the same issues that Priebus did. Regardless of how much respect Trump might have for the former miltary officer, for example, it's unlikely that he'll ever have as much influence over Trump as his daughter and son-in-law do, and the fact that he'll also have to deal with people like Bannon and Scarmucci makes any effort to bring discipline to a clearly undisciplined White House. Most of all, though, any hope of bringing order to the chaos that is the Trump Presidency requires finding a way to rein in the President himself. Nearly every week since he has been President, Trump has managed to undercut the message his own staff is trying to send to the public whether it's via his constant Twitter activity or something as seemingly simple as a speech to the Boy Scouts of America that ended up resulting in a formal apology from the leaders of the organization itself. This is part of a pattern of behavior that Trump showed long before he ever became a political figure or a candidate for office, and it has held up throughout the early months of his Presidency. The idea that anyone is going to rein him in, or to get a 70-year-old man to change how he acts, is silly.
Good luck, General Kelly, you're going to need it.