Trump Undercuts Bannon In Internal White House Power Struggle
Inconceivably, Steve Bannon thought that clashing with President Trump's daughter and son-in-law was a good idea. He's likely learned his lesson now.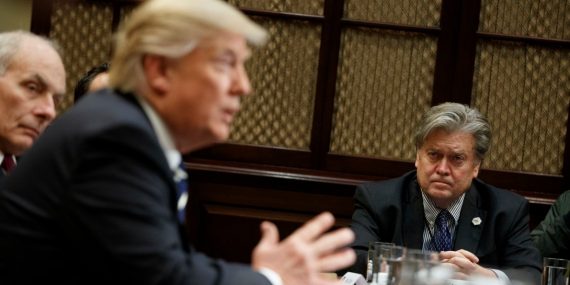 Steve Bannon, the former Breitbart News head who joined the Trump campaign last August and has then became one of President Trump's closest advisers has found himself undercut after just three months on the job:
WASHINGTON — Stephen K. Bannon, President Trump's grenade-lobbing pugilist of a chief strategist, has a fitting nickname for his West Wing office: "the war room."

But more and more, war is being waged on Mr. Bannon himself. And it is unclear how much longer he can survive in his job.

His isolation inside the White House, after weeks of battle with senior aides aligned with Jared Kushner, the president's son-in-law, appeared to grow even starker this week after Mr. Trump undercut Mr. Bannon in two interviews and played down his role in the Trump presidential campaign.

"I am my own strategist," Mr. Trump told the New York Post columnist Michael Goodwin in an interview on Tuesday, a pointed reference to what aides described as his growing irritation that Mr. Bannon's allies are calling him the mastermind behind Mr. Trump's victory and the torch bearer for the nationalist, conservative brand of populism that has defined his presidency.

In an interview with The Wall Street Journal on Wednesday, Mr. Trump made clear Mr. Bannon's subordinate role, calling him "a guy who works for me."

Amid the clashing egos, news media leaks and insinuations of disloyalty, the president was once again faced with having to defuse a personnel crisis that was, in part, a result of assembling a band of Washington outsiders to run his administration. And this time the crisis erupted, perhaps predictably, around the senior aide who most embodies that renegade, anti-establishment ethos: Mr. Bannon, the self-proclaimed deconstructor of the "administrative state" and field general in the war against the "opposition party" news media.

Mr. Bannon's reversal of fortunes is also a reflection of a White House with an unconventional management structure, opaque lines of responsibility and rafts of aides left to carry out complex and contested campaign promises: tighten immigration, roll back regulations, repeal the Affordable Care Act and take a more protectionist approach to trade.

Mr. Bannon, who has those campaign promises scrawled on white boards in his office, has described himself as being responsible for their implementation. But the execution has been botched. Courts have blocked the president's immigration ban. The repeal effort failed after the White House and congressional leaders could not win enough support in their own party. And that is leaving some conservatives, who have never fully trusted the president's convictions, afraid that Mr. Bannon's possible removal could be a precursor to shelving the most complicated and contentious priorities.

One person with firsthand knowledge of internal White House dynamics, who asked not to be identified given how tense the situation had become, insisted that no immediate changes were likely. Mr. Trump is notoriously fickle in his decision-making process, and he dislikes confrontation. But by openly criticizing Mr. Bannon, he has created an environment that makes it hard for the swaggering and self-assured chief strategist to remain in place without appearing undermined.

Allies of Mr. Trump say that he has become increasingly impatient with the infighting — and the overwhelming attention it is receiving. In a lengthy conversation with Mr. Bannon this week, the president repeated his admonition that the chief strategist and his adversaries needed to "knock off" their back-and-forth sniping.

Mr. Trump said as much in the Post interview, saying, "Steve is a good guy, but I told them to straighten it out or I will." His comments in private, people who have spoken with him say, have been more pointed. Mr. Bannon, he has told one person, is "not a team player."

Mr. Bannon appears to now recognize the danger and has kept a low profile inside the White House while Mr. Kushner has been away with his family. He has told friends and associates, using his trademark military vernacular, that he understands he cannot throw bombs every day and needs to pick his battles carefully.

Mr. Bannon told several associates over the weekend that he believed that things had cooled off with Mr. Kushner. But the president's comments suggest the truce is uneasy and may not last.
These comments from Trump have clearly put Bannon in a difficult position in the White House, and are naturally causing many to openly wonder how long the controversial adviser may have at the President's side, but it's not entirely surprising. Virtually from the time Trump took office in January, there have been reports about Bannon clashing with other Presidential advisers over policy agendas, strategy, and just generally clashing to be the person with the most influence over the President. In the beginning, the focus of those reports was reported tension between Bannon and White House Chief of Staff Reince Priebus, which would seem to be a natural conflict given the fact that Bannon was reportedly assuming for himself many of the duties normally taken on by a Chief of Staff himself. By early February, the press was openly reporting on information provided by anonymous sources inside the White House who were clearly close to either Bannon or Priebus, who could have possibly been leaking some of that information themselves. By mid-February, though, both Bannon and Priebus made a big public show of saying that they'd resolved whatever differences they had and were committed to working together for the good of the Administration. How true that is, of course, remains an open question and it's likely that Priebus is taking no small degree of joy out of Trump's recent undercutting of Bannon.
After the stories about conflict with Priebus began disappearing from the headlines, though, they were quickly replaced with reports about Bannon clashing none other than the President's son-in-law Jared Kushner. Kushner, of course, is the husband of Ivanka Trump, the putative head of the family that owns the conservative New York Observer newspaper, and, perhaps most importantly, has been a close personal adviser to the President along with his wife since the beginning of the campaign in June 2015. Since Trump took office, Kushner has been on staff as a Senior White House Adviser, a rank that puts him technically below Bannon on the pecking order, but one that puts him close to Trump as he always was during the campaign. At various times since the election has been said to be Trump's point man on everything ranging from Middle East peace to putting together a tax reform package. Recently, Kushner's wife Ivanka joined her husband as an official White House employee, although she had frequently been seen by her father's side during policy-related meetings, including one of his first face-to-face meetings with a foreign leader.
According to several reports over the past month, including a longish report in today's Washington Post that is well worth the read, Bannon has been seeking to attempt to undercut Kushner's influence inside the White House, not the least because he saw that influence as a threat to his own and an effort by Trump's family to steer him away from some of the more extreme agenda items that Bannon is known to favor. This, of course, is an entirely foolish idea on Bannon's part. Leaving aside the question of the propriety of close family members such as Kushner and Ivanka becoming White House advisers while at the same time maintaining their outside business ties, Jared and Ivanka a family, Bannon is not. In any conflict among the three, it's already decided who will win and who will lose, and one would think that Bannon is at least smart enough to realize that. In fact, it's like that this week's public undercutting by the President is a signal to Bannon that he'd gone way too far and that it was time to step back.
In addition to conflicts with Kushner and Ivanka, Bannon also sees himself under attack from the informal group of corporate CEOs that Trump has gathered as his version of the proverbial "kitchen cabinet":
Wall Street titan Stephen Schwarzman has recently taken on a new, informal job: counselor to the president.

The CEO of Blackstone Group, who has known Trump for years, has become so close to the president that the two sometimes talk several times a week, covering everything from Chinese trade to tax policy to immigration.

White House and New York business officials say Schwarzman was critical to Trump keeping the Deferred Action for Childhood Arrivals program, also known as the Dreamers program, with Trump making the decision after a call with the hedge fund billionaire. The two also recently chatted at Mar-a-Lago about a possible reorganization of the White House, two people familiar with the meeting say, though the conversation didn't include specific names.

Schwarzman's growing influence in Trump's circle is welcome news to New York business leaders and moderate Republicans, who want the president to abandon his nationalist positions and embrace a more nonideological White House amid lagging poll ratings and infighting dominating the West Wing.

In private conversations, a number of Trump's friends have told him he could be more popular — and accomplish more — if he embraced a moderate streak and listened to his business friends. Jared Kushner, the president's son-in-law, is trying to orchestrate more power for New York business types, particularly National Economic Council Director Gary Cohn, while diminishing the power of chief strategist Steve Bannon, who drives the populist wing of the White House.

"The president is a business person, so he's very comfortable being around business people and he learns best by talking to people and observing things," Schwarzman said in an interview after meeting on Tuesday with Trump and other business leaders. "I think he looks forward to these things and he likes being with business people who have run businesses that are bigger than his. It's just a highly supportive environment, whether it's Gary Cohn or Jared, certainly Steve Mnuchin and Wilbur Ross and Dina Powell, these are all people who've had very similar experiences."

One executive in regular contact with West Wing officials said it's encouraging that Trump appears to be embracing more pragmatic allies. "It seems like he's relying now on nonideological people like Gary who have business experience and just know how to execute and get stuff done," the executive said.
With the twin influence of these business leaders and Trump's son-in-law and daughter, as well as his sons Donald Jr. and Eric, Bannon seems to be fighting a losing battle. At the same time, of course, there is some risk for Trump in embracing the moderation that these groups are apparently counseling since it is unlikely to sit well with some of Trump's most loyal supporters. Already, we've seen some of these people, such as Iowa Congressman Steve King and conservative columnist Ann Coulter, openly criticizing Trump on various policies, including what appears to be a hardening of opposition to the Assad regime in Syria and criticism of Russia that we haven't seen from Trump before. In moderating, Trump may see some of his core supporters walk away in frustration while also discovering that he's really not gaining support elsewhere. Additionally, it seems likely that it's far too early to pronounce Bannon as being on his way out at the White House. His role in getting Trump elected is likely not forgotten by Trump himself, and the fact that he represents a powerful voice in Trump's base means that the President must be careful how he treats the situation. In the end, though, in a conflict between the family and Steve Bannon, it's obvious whose going to win, and that means that Bannon would be best advised to just accept the reality of the influence that people like Jared and Ivanka have over the President or risk losing his power altogether.