Trump Ordered Security Clearance For Jared Kushner Despite Objections
President Trump personally overrode the objections of security officials, the White House Counsel, and the Chief of Staff to make sure his son-in-law got a security clearance.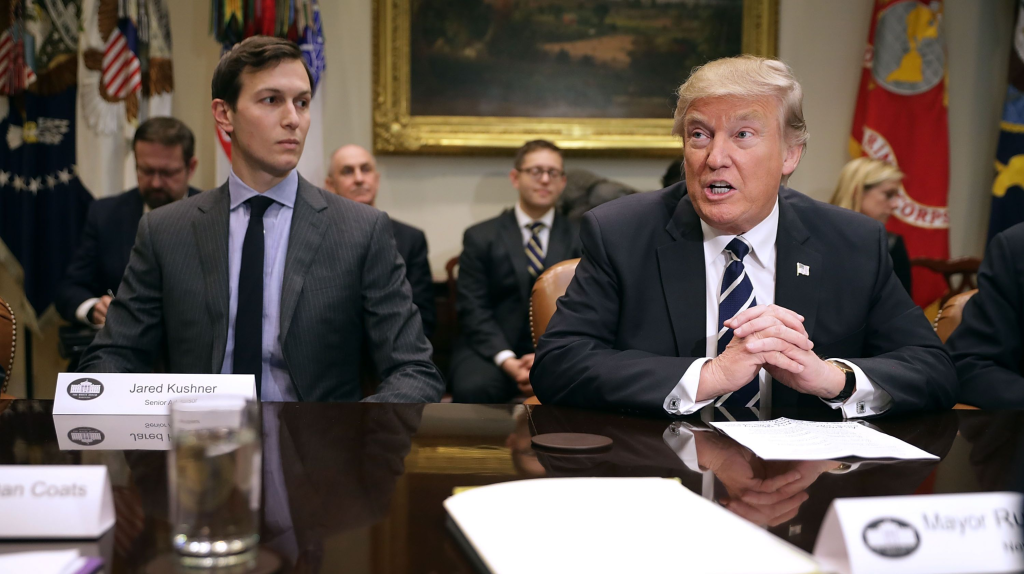 The New York Times is reporting that President Trump overrode the objections of his Chief of Staff, White House Counsel, and security officials, and ordered that his son-in-law Jared Kushner be given a full security clearance:
WASHINGTON — President Trump ordered his chief of staff to grant his son-in-law and senior adviser, Jared Kushner, a top-secret security clearance last year, overruling concerns flagged by intelligence officials and the White House's top lawyer, four people briefed on the matter said.

Mr. Trump's decision in May so troubled senior administration officials that at least one, the White House chief of staff at the time, John F. Kelly, wrote a contemporaneous internal memo about how he had been "ordered" to give Mr. Kushner the top-secret clearance.

The White House counsel at the time, Donald F. McGahn II, also wrote an internal memo outlining the concerns that had been raised about Mr. Kushner — including by the C.I.A. — and how Mr. McGahn had recommended that he not be given a top-secret clearance.

The disclosure of the memos contradicts statements made by the president, who told The New York Times in January in an Oval Office interview that he had no role in his son-in-law receiving his clearance.

Mr. Kushner's lawyer, Abbe D. Lowell, also said that at the time the clearance was granted last year that his client went through a standard process. Ivanka Trump, the president's eldest daughter and Mr. Kushner's wife, said the same thing three weeks ago.

Asked on Thursday about the memos contradicting the president's account, Sarah Huckabee Sanders, the White House press secretary, said, "We don't comment on security clearances."

Peter Mirijanian, a spokesman for Mr. Lowell, said on Thursday: "In 2018, White House and security clearance officials affirmed that Mr. Kushner's security clearance was handled in the regular process with no pressure from anyone. That was conveyed to the media at the time, and new stories, if accurate, do not change what was affirmed at the time."

The decision last year to grant Mr. Kushner a top-secret clearance upgraded him from earlier temporary and interim status. He never received a higher-level designation that would have given him access to need-to-know intelligence known as sensitive compartmented information.

It is not known precisely what factors led to the problems with Mr. Kushner's security clearance. Officials had raised questions about his own and his family's real estate business's ties to foreign governments and investors, and about initially unreported contacts he had with foreigners. The issue also generated criticism of Mr. Trump for having two family members serve in official capacities in the West Wing.

Mr. Kushner has spent this week abroad working on a Middle East peace plan. Among his meetings was one with Mohammed bin Salman, the crown prince of Saudi Arabia.
Ordinarily, the decision on whether or not to grant a security clearance to a White House employee is made by the White House's security office, which is primarily responsible for reviewing both the application that the employee has completed and the standard F.B.I. background check. In the event of a dispute among the people in that office about whether or not a security clearance, the White House Counsel is typically consulted and they usually end up being the one who makes the final decision, in some cases in consultation with the White House Chief of Staff. Overriding all of these people, though, stands the President of the United States, who has the personal authority to classify or declassify information and also the authority to grant security clearances over the objections of his staff, though it's apparently quite rare for a President to grant a security clearance on his own when the people below him are recommending otherwise. However, that appears to be exactly what happened in this case:
In Mr. Kushner's case, personnel division officials were divided about whether to grant him a top-secret clearance.

In May 2018, the White House Counsel's Office, which at the time was led by Mr. McGahn, recommended to Mr. Trump that Mr. Kushner not be given a clearance at that level. But the next day, Mr. Trump ordered Mr. Kelly to grant it to Mr. Kushner anyway, the people familiar with the events said.

The question of Mr. Kushner's access to intelligence was a flash point almost from the beginning of the administration. The initial background check into Mr. Kushner dragged on for more than a year, creating a distraction for the White House, which struggled to explain why one of the people closest to the president had yet to be given the proper approval to be trusted with the country's most sensitive information.

The full scope of intelligence officials' concerns about Mr. Kushner is not known. But the clearance had been held up in part over questions from the F.B.I. and the C.I.A. about his foreign and business contacts, including those related to Israel, the United Arab Emirates and Russia, according to multiple people familiar with the events.

During the 2016 presidential campaign, Mr. Kushner was part of a group that met with a Russian lawyer who went to Trump Tower claiming to have political "dirt" on Hillary Clinton. And during the presidential transition, Mr. Kushner had a meeting with the Russian ambassador at the time, Sergey I. Kislyak, and the head of a Russian state-owned bank. When he applied for a security clearance, he did not reveal those meetings.

>He later made several amendments to that section of his application, known as an SF86. His aides at the time insisted he had omitted those meetings inadvertently.

Mr. Kushner initially operated with a provisional clearance as his background check proceeded.

In an entry to Mr. Kushner's personnel file on Sept. 15, 2017, the head of the personnel security division, Carl Kline, wrote, "Per conversation with WH Counsel the clearance was changed to interim Top Secret until we can confirm that the DOJ or someone else actually granted a final clearance. This action is out of an abundance of caution because the background investigation has not been completed."

In a statement to The Times when Mr. Kushner received the clearance last year, Mr. Lowell said that "his application was properly submitted, reviewed by numerous career officials and underwent the normal process."

During a review of security clearances in February 2018 that was prompted by the controversy surrounding Rob Porter, then the White House staff secretary, who had been accused of domestic abuse, Mr. Kushner's clearance was downgraded from interim top secret to secret, limiting his access to classified information. At the time, Mr. Kelly wrote a five-page memo, revoking temporary clearances that had been in place since June 1, 2017.

That affected both Mr. Kushner and Ms. Trump, who told friends and advisers that they believed that Mr. Kelly and Mr. McGahn were targeting them for petty reasons instead of legitimate concerns flagged by officials.

Mr. Kushner and Ms. Trump both complained to the president about the situation, current and former administration officials said. In Mr. Kushner's case, Mr. Trump would often turn to other aides and say in frustration, "Why isn't this getting done?" according to a former administration official. On at least one occasion, the president asked another senior official if the person could sort out the issue. That official said no, according to this account.

Mr. Kelly did not believe it was appropriate to overrule the security clearance process and had brushed aside or avoided dealing with Mr. Kushner's requests, a former administration official said. Mr. Kelly did not respond to a request for comment.
More from The Washington Post:
President Trump early last year directed his then-chief of staff, John F. Kelly, to give presidential son-in-law Jared Kushner a top-secret security clearance — a move that made Kelly so uncomfortable that he documented the request in writing, according to current and former administration officials.

After Kushner, a senior White House adviser, and his wife, Ivanka Trump, pressured the president to grant Kushner the long-delayed clearance, Trump instructed Kelly to fix the problem, according to a person familiar with Kelly's account, who spoke on the condition of anonymity to describe internal discussions.

Kelly told colleagues that the decision to give Kushner top-secret clearance was not supported by career intelligence officials, and he memorialized Trump's request in an internal memo, according to two people familiar with the memo and the then-chief of staff's concern.

It is unclear how Kelly responded to Trump's directive. But by May, Kushner had been granted a permanent security clearance to view top-secret material — a move that followed months of concern inside the White House about his inability to secure such access.

Kushner's attorney publicly described the process as one that had gone through normal channels, a description that Kelly did not view as accurate, according to a person familiar with his reaction.

The former chief of staff, who left the administration at the beginning of this year, did not immediately respond to a request for comment.

(…)

Congressional Democrats said Thursday that they plan to aggressively scrutinize the role Trump played in securing Kushner's clearance. Rep. Elijah E. Cummings (D-Md.), chairman of the House Oversight Committee, noted that his commitee has already launched an investigation into the White House security clearance process and has yet to receive a response to its request for documents.

"The Committee expects full compliance with its requests as soon as possible, or it may become necessary to consider alternative means to compel compliance," Cummings said in a statement.

House Intelligence Committee Chairman Adam B. Schiff (D-Calif.) said in a statement late Thursday that his panel, as well as the House Oversight Committee, will continue in their investigation of the White House's security clearance process.

"The revelation that President Trump personally intervened to overrule White House security officials and the Intelligence Community to grant a Top Secret security clearance to his son-in-law, Jared Kushner, is the latest indicator of the President's utter disregard for our national security and for the men and women who sacrifice so much every day to keep us safe," Schiff said. "There is no nepotism exception for background investigations."
These reports directly contradict what both the President and his daughter have said about the President's role in granting a security clearance to Kushner. In a late January interview with The New York Times, for example, the President denied that he was involved in the process at all or that he had ordered John Kelly or other officials to give Kushner a clearance. Specifically, the President said he had little knowledge about what was going on with the matter and that he left the decisions about those matters to General Kelly and other White House officials. Ivanka Trump, meanwhile, told ABC News in February that her father was not involved in the decision to grant her husband or her a security clearance. Based on these reports, which have been verified by multiple sources, that was clearly a lie and that Trump was, in fact, the deciding factor in whether or not to grant a clearance to both of them.
Again, it is clear that it is within the President's authority to override the decision of those under him and grant a security clearance if he believes it to be appropriate. However, in this case, it was deemed to be unusual enough by former Chief of Staff John Kelly that he felt obligated to draft a contemporaneous internal memorandum detailing how he had been ordered by the President to grant a top-secret security clearance to Kushner. The other thing that makes this unusual, of course, is that this was a security clearance granted to the President's son-in-law and that Trump gave the order after Kushner and Trump's daughter Ivanka went over the heads of the White House Counsel and the Chief of Staff to make a direct appeal to the President himself. Once that happened, it was obvious what Trump would do, which is one of the chief problems with family members working in the White House, to begin with. As both of President Trump's former Chiefs of Staff have found, it is impossible to create a wall between top staffers and the President, which is a traditional role of the Chief of Staff, when those staffers are the President's daughter and son-in-law.
The fact that it was taking an unusual amount of time for Kushner to get a full security clearance is something that has been reported several times since the beginning of the Trump Administration. One of the reasons for the delay in granting the clearance, apparently, was the fact that Kushner had failed to disclose complete information about the ties between himself and his family and various foreign government, particularly in the Middle East where the Kushner family has extensive business ties to entities owned in whole or in part by the governments of Qatar, the United Arab Emirates, and others. As a result, Kushner was required to amend his application several times after its initial submission. Additionally, as we've learned over the past two years, there are several aspects to those ties that raised concerns among intelligence and security officials:
Some foreign officials, whose communications were intercepted by the U.S. intelligence, privately discussed how they could manipulate Kushner, taking advantage of his complex business arrangements, financial difficulties he had at the time and his lack of foreign-policy experience, according to current and former U.S. officials familiar with intelligence reports on the matter, who spoke on the condition of anonymity because of the sensitivity of the subject.

Kushner's foreign entanglements caused anxiety among U.S. intelligence officials who are ultimately responsible for deciding whether he should have SCI clearances, that step above top secret, according to U.S. officials with knowledge of internal deliberations.

The decision to grant an SCI clearance is usually made by the agency that generated the information. The CIA, for example, grants access to human intelligence gathered from agents and operatives. The NSA grants access to intercepted communications and intelligence generated by spying on foreign computer networks.

In the first year of the administration, Kushner held an interim security clearance that allowed him to view both top-secret and sensitive compartmented information, which is classified intelligence related to sensitive sources. With that designation, he has been able to attend classified briefings, get access to the president's daily intelligence report and issue requests for information to the intelligence community.

(…)

Kushner did not receive a clearance to see the most highly classified intelligence the government produces, known as sensitive, compartmented information, or SCI, The Washington Post reported last July.

That meant that Kushner was effectively barred from seeing information gleaned from human spies or from the government's vast signals intelligence apparatus. It's that kind of intelligence that forms the basis of the president's daily intelligence briefing and that is customarily given to senior policymakers and Cabinet officials.

Kushner's lack of SCI access suggests that the CIA has not signed off on his receiving that level of intelligence, security experts said. He had struggled to obtain even his top-secret clearance, in part because of his contacts with certain foreign government officials, The Post previously reported.
Even without SCI clearance from the relevant agency, it's possible that the President is still sharing such information such information with his son-in-law without the knowledge of that agency. As with the security clearance itself, this is something that is entirely within the discretion of the President, but the factthat he intervened in this matter under the circumstances given the questions about Kushner's ties to foreign governments and officials is quite concerning indeed. I guess it pays to be family when Donald Trump is in charge.