Dozens Of Trump White House Employees Lack Final Security Clearances
More than a year into the Trump Presidency, dozens of White House personnel lack proper security clearances.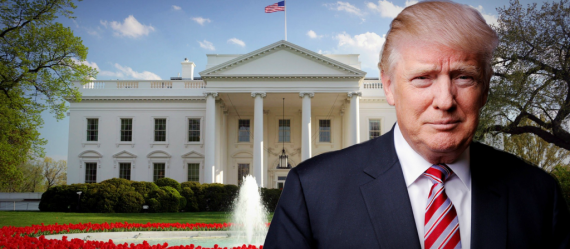 In addition to casting light on the manner in which President Trump and his Administration deal with accusations of inappropriate behavior  toward women, especially when it concerns accusations against the President, the people around him, or people who support his agenda, the Rob Porter scandal has also brought to the forefront some serious questions about security clearances  in the Trump White House. As I noted in my post on Friday, Porter served as the White House Staff Secretary, a position with a titles that understates its performance because it meant that he saw nearly every piece of paper that would eventually make its way to the President, Porter had spent more than a year on the job without a full security clearance. The main reason for this was the fact that the background investigation conducted by the Federal Bureau of Investigation had uncovered the allegations of spousal abuse by Porter's two former wives, allegations of abuse by a third woman to whom he wasn't married, and the fact that there was an outstanding Protective Order against him. As a result, Porter had been working for the past year under an interim security clearance, and there have been reports in the wake of his departure from the White House that his application for a full security clearance was going to be denied.
Now, CNN is reporting that there dozens of White House employees who do not have full and final clearances, including people in positions where they have access to some of the most sensitive and classified information in the government:

Thirty to 40 White House officials and administration political appointees are still operating without full security clearances, including senior adviser to President Donald Trump Jared Kushner and — until recently — White House staffer Rob Porter, according to a US official and a source familiar with the situation.

The White House claims that the backlog of interim security clearances is a procedural consequence of the review process carried out by the FBI and White House Office of Security, which can take time to complete.

But several sources, including intelligence officials who have served previous Democratic and GOP administrations, describe the backlog as very unusual and make clear that the process should have been completed after a year in office.

Asked on Thursday why so many White House officials were still operating on interim clearances, White House spokesman Raj Shah said he wasn't able to discuss specifics of the clearance process.

One current and one former US official said the backlog could indicate that there are remaining questions or obstacles from the intelligence community and law enforcement conducting the review.

But unanswered questions do not necessarily indicate that law enforcement has identified an issue that would prevent that individual from ultimately obtaining a clearance, according to Mark Zaid, an attorney who often represents clients in clearance cases.

According to Zaid, the fact that some executive branch officials are still on interim clearances is not surprising given that most of the individuals joining this administration have more complicated backgrounds than is typical and that would delay formal adjudication.

In prior administrations, most of the people who were brought on to fill key executive branch positions had previously been cleared for government jobs, Zaid said, adding that most of those individuals in the Trump administration have never worked in government or did so a long time ago.

The fact that many of these officials are very wealthy and worked in areas of finance with ties to foreign nationals and governments would also contribute to a delay in the clearance process, he said.

Several officials — including Kushner — have also made various paperwork errors while filling out forms required as part of the check.
In October, Charles Phalen, the director of the National Background Investigations Bureau, told lawmakers he has "never seen that level of mistakes" when asked about numerous omissions in Kushner's security clearance application.

A spokesman for Kushner did not respond to a request for comment about Kushner's security clearance.

A recent GAO study found that broadly throughout the government the security clearance investigation backlog was already at 190,000 cases in August 2014 and skyrocketed to more than 709,000 by September 2017.

"At the end of the day, if we are going to solve this problem, we are going to have to fix the way we issue clearances, by both getting faster and better at the process of vetting and clearing people, or ultimately denying people clearances and moving them on to other opportunities, but the current challenge cannot go unaddressed for much longer," said Jamil N. Jaffer, the founder of the National Security Institute at George Mason University Law School and a former associate counsel to President George W. Bush.

The FBI conducts background investigations for clearances up to top secret at the request of government agencies — including the White House.
It then provides the information gathered as part of the investigation — without a formal recommendation — to the requesting agency.
That agency will then decide whether to issue a clearance based upon the information gathered.

While the FBI runs the background check for White House staff, the Office of Presidential Personnel still must sign off on the investigation to move the process forward.

But if that paperwork is delayed, then the interim clearance would stay in place.

One source told CNN that if OPP processes the paperwork that a clearance has been declined, that person can no longer access sensitive material. It also makes it extraordinarily difficult to move that individual to another agency that requires clearance, the source said.
As the CNN report indicates, perhaps the most prominent current White House employee without a full and final security clearance is the President's Son-In-Law Jared Kushner, who has held the title of Senior Adviser to the President since the beginning of the Administration and also holds the title of Director of the Office of American Innovation, a White House Office created by the President early last years. In addition to those positions, Kushner has also been designated by the President as a point man on several issues including, most prominently, the development of a Middle East peace plan, a task normally designated to either the Secretary of State or the National Security Adviser. In Kushner's case, the approval of a final security clearance has been delayed in no small part to the fact that his involvement in the Kushner family's business affairs before joining the White House  Staff and the numerous errors and omissions that have complicated the process of completing the investigation.
Furthermore, the status of Kushner's security clearance has complicated the manner in which the White House is able to deal with people whose applications have also not been approved as of yet, albeit in many cases for reasons far different from Kushner's:
White House Counsel Donald McGahn and other Trump administration officials have been so vexed by Jared Kushner's months-long inability to obtain a permanent security clearance that they have hesitated to get involved in other cases with potential problems, several people familiar with the matter said.

Dozens of White House employees, including Kushner, are still waiting for permanent clearancesand have been operating for months on a temporary status that allows them to handle sensitive information while the FBI probes their backgrounds, U.S. officials have said. Two U.S. officials said they do not expect Kushner to receive a permanent security clearance in the near future.

It is not uncommon for ­security-clearance investigations to drag on for months, but Kushner's unique situation has cast a pall over the process in the minds of some, these people said.

The president's son-in-law and close adviser has been allowed to see materials, including the President's Daily Brief, that are among the most sensitive in government. He has been afforded that privilege even though he has only an interim clearance and is a focus in the ongoing special counsel investigation into whether the Trump campaign coordinated with Russia to influence the election.

Abbe Lowell, Kushner's attorney, said in a statement: "I have inquired and been told that there are a dozen or more people at Mr. Kushner's level whose process is delayed like his; that it is not uncommon for this process to take this long in a new administration (some taking as long as two years); that Mr. Kushner's will take longer than usual because of the extent of his holdings, travels and lengthy submissions; and that there was no concern about the process or Mr. Kushner's ability to do his job. This is just the latest in unnamed sources quoting second-hand hearsay concerning Mr. Kushner that, like the others, will be shown to be untrue."

Those in McGahn's office, people familiar with the matter said, feel they cannot take action on other people whose background checks have dragged on because they did not take similar steps with Kushner.

Deputy White House press secretary Hogan Gidley, though, disputed that Kushner's situation affects any others. "This is absolutely not true," Gidley said in a statement. "The White House treats all security clearances individually, neutrally and equally."

McGahn and Kushner have clashed repeatedly on a number of topics, though Kushner's lack of a clearance has been particularly irksome for the White House's top lawyer and other administration officials in recent months, people familiar with the matter said.

Gidley said: "Don and Jared have had a great working relationship since the campaign and that has continued throughout their time at the White House. Don has no concerns with Jared's ability to do his job."

(…)

Why Kushner, along with dozens of others, continues to lack a clearance remains unclear. For many, there could be innocuous reasons — for instance, that they are getting checked for the first time, or their extensive business and foreign ties take time to explore.

Kushner is a key figure in special counsel Robert S. Mueller III's investigation. Though Kushner has not been charged with any crimes, his conduct was referenced in former Trump national security adviser Michael Flynn's guilty plea. Flynn admitted he lied to the FBI about his contacts in December 2016 with Russian Ambassador Sergey Kislyak and indicated that he was acting in consultation with a very senior Trump transition official.

Court papers did not name that official, but people familiar with the matter said it was Kushner. According to one transition team official, Kushner told Flynn that blocking a U.N. resolution on Israel was a top priority of the president-elect.

Kushner also has had to file several updates to his national security questionnaire — the document that serves essentially as the foundation of the security-clearance process. The questionnaire, known as an SF-86, requests voluminous information about a person's employment history, finances, family, travel and other matters, which the FBI later checks to help determine if a person should be awarded a clearance.
As noted above, the reasons why an individual's security clearance application has been delayed even this far into the Trump Administration could range from being innocuous to more serious. On the innocuous side of the ledger, there are those individuals who have never applied for or granted a security clearance in the past, meaning that there is no previous investigation that the relevant agencies can work off of in evaluating the current application. In that respect, it is worth noting that the Trump Administration does appear to have brought into the White House an atypically large number of people who haven't worked for a government agency or civilian employer in a position that requires a security clearance. This means that for such people investigators essentially have to start from scratch in the background review process. Additionally, people who have had extensive business experience that involves dealing with foreign companies and/or foreign governments would have far more complicated background check processes than ordinarily expected. Finally, of course, there are the cases of people like Kushner who, whether innocently or not, have apparently made repeated errors in paperwork such as what seems to be a major factor in Kushner's case.
Even taking all of this into account, though, the fact that the number of people still operating without a full security clearance is unusually high this long into an Administration, and that so many of them have access to the most classified information in the U.S. Government. In Porter's case, this includes the President's Daily Brief, the document prepared daily for the President by the nation's intelligence agencies summarizing those pieces of information deemed to be the most relevant and important. This is among the most highly classified documents that ever makes its way to the President with the possible exception of the "eyes only" intelligence that may not be available to even people with the highest level of security clearance unless seeing the document is part of their official duties. Given his close position to the President and his portfolio, Jared Kushner may also have access to information like this notwithstanding the lack of a full clearance. The fact that persons in such a position lack full security clearances is certainly surprising, and as we saw in the Porter case potentially subject to being compromised via blackmail or other means due to information in their past. Even if there are innocent explanations for many of the reported dozens of cases where these applications have been delayed, it raises questions about just how this White House operates that deserve to be answered. Whether Congress will bother to ask any questions about it, as they well should is, of course, another matter entirely.