What The Rob Porter Scandal Tells Us About The Trump White House
The Rob Porter story, which is quickly becoming the Rob Porter scandal, tells us a lot about the Trump White House, and none of it is good.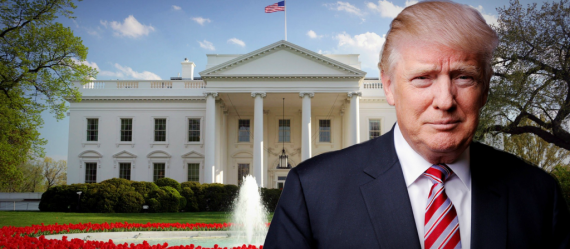 Rob Porter was the now apparently departed Staff Secretary for President Trump. While this sounds like it might be a low-level position, it is in fact perhaps the second most important position on the White House Staff after the Chief of Staff. The person in this position is responsible for reviewing nearly every single piece of paper that gets sent to the President on a daily basis, including items that have some of the highest levels of classification in American government. This means, of course, that the person who holds that position must have a security clearance equal to that of other high-ranking officials such as the Chief of Staff, and that they must be someone who doesn't have something in their past that could be used as potential blackmail material by a foreign government. This is where Rob Porter comes into the picture, and where the incompetence and utter venality of the Trump White House are revealed for all to see.
It turns out, in case you haven't heard, that Rob Porter is apparently a man with serious anger management issues. He has been credibly accused by both of his ex-wives of emotional, verbal, and physical abuse that, at least in the case of his first wife, caused injuries serious enough to give her a black eye. He has also been the subject of at least one, and possibly more, Protective Order issued by courts located in the states he was living at the time based on complaints of such abuse by his former wives, and possibly by a third woman with whom he had a long-term relationship after his second marriage but who has yet to come forward publicly. All of this came to the knowledge of the Federal Bureau of Investigation last year when its agents were involved in conducting the background investigation that is part of the standard application for a security clearance. Porter didn't qualify for that clearance because of these accusations, and has been operating on an interim clearance similar to the one granted to Trump son-in-law Jared Kushner for the past year, although in Kushner's case the delay in approving a clearance is apparently due to the fact that he's had to update his application several times due to information he "forgot," meaning that investigators need to keep the application open to check the new information out before granting a clearance. In Porter's case, the reason for the delay, and what now appears to be an imminent denial, in processing the application is far more serious.
When reports about Porter's history of abuse first surfaced in the press earlier this week, the White House essentially backed up Porter's initial denials, and Chief of Staff John Kelly even went so far as to issue his own statement in which he called Porter an honorable man with high ethical standards and a strong work ethic. That position took a sharp turn, though, when the aforementioned pictures from Porter's first wife, which show her with a black eye and other bruises on her face, were made public. At that point, the story quickly started to fall apart, and things just went downhill from there:
White House spokesman Raj Shah wouldn't elaborate Thursday on when Chief of Staff John F. Kelly and others became aware of allegations of spousal abuse by former staff secretary Rob Porter. And now we know why: It's pretty damning.

The Washington Post's Josh Dawsey and Beth Reinhard report that White House counsel Donald McGahn knew for a year about allegations Porter's ex-wives made against him to the FBI and that Kelly learned about them this fall, as they were holding up Porter's full security clearance. And yet Porter kept rising in the White House.

It's really difficult not to call this a scandal now.

It's not clear that either McGahn or Kelly knew the full extent of the allegations or that they included spousal abuse, but the best possible explanation is that they seemed to have a real lack of curiosity. It also raises the question of who else in the White House knew, including the president himself.

(…)

[T]he White House's first reaction this week to news of the spousal abuse allegations against Porter was to effusively praise and defend him. Kelly said in a statement that Porter was "a man of true integrity and honor, and I can't say enough good things about him." Press secretary Sarah Huckabee Sanders said, "The person I know is someone of the highest integrity and exemplary character."

The White House has pushed back against allegations of sexual harassment and assault by President Trump himself. It also endorsed and defended Alabama Senate candidate Roy Moore in the face of multiple allegations that he pursued and engaged in sexual misconduct with teenage girls when he was in his 30s. The White House seemed to believe it could weather this storm too, as long as this was a rather anonymous staffer and it was a he-said-she-said (or, more aptly, a he-said-they-said)

That seemed to change when one of Porter's ex-wives, Colbie Holderness, released photos of the black eye she says she sustained when Porter hit her. Shah suggested Thursday from the White House podium that this changed things for the White House and influenced Kelly's decision to issue a new statement calling the allegations "shocking."

"It's the full nature of the allegation — particularly the images," Shah said when asked why Kelly changed course

Yet those pictures didn't lead Porter to really change much of anything about his story. He said he took them, but that "the reality behind them is nowhere close to what is being described."

In other words, what really seems to have changed for the White House is that they realized the pictures made their position untenable, from a public relations standpoint. Even when they were confronted with information about Porter that they didn't care to seek out themselves — as they were promoting him up the ranks — they played it off as if it were a minor nuisance.
And the story doesn't end there. Subsequent reporting has revealed that the reports about Porter's past came to the attention of the White House shortly after the F.B.I. spoke to Porter's ex-wives as part of their background investigation in January 2017. That information was passed along to, at the very least, White House Counsel Don McGahn and was apparently further updated in June of last year when additional information of Porter's abuse was uncovered. This information was reportedly passed along to other White House staffers, including John Kelly when he was named Chief of Staff last summer. Despite all of this, and despite that it had become apparent by the end of the year that Porter would never receive the full security clearance he needed to do his job, he was allowed to continue in his position and, at least according to some reports, neither Kelly nor McGahn felt that any action at all was necessary. What's not clear as of yet is whether either or one them, or both, informed the President of what they knew and how he reacted if they did.
As The Washington Post's Ruth Marcus puts it, the White House has a lot of explaining to do:
[E]xplain the photo, which Holderness says was taken after Porter punched her in the face on a trip to Florence. Bruises like this are not self-inflicted. Why does it matter who took the photo? The question is: Who committed the assault?

Explain Holderness's description, to the Daily Mail, which broke the story, of how, on their honeymoon, Porter "was angry because we weren't having sex when he wanted to have sex and he kicked me. . . . That was the first time he hurt me and then the doors opened. I didn't do anything and it continued." It always does, by the way. Once is never enough for abusers.

Explain the request for an emergency protective order from Jennifer Willoughby, Porter's second wife, after, she said, Porter "punched in the glass on the door" of their apartment when he refused to leave, in violation of their separation agreement. Explain the finding that "reasonable grounds exist to believe that [Porter] has committed family abuse and there is probable danger of a further such offense."

Explain Willoughby's description, in a blog post, of how her husband "pulled me, naked and dripping, from the shower to yell at me."

Explain how this man could have been allowed to work at the White House after his ex-wives described this abusive behavior to the FBI.

Explain how White House Chief of Staff John F. Kelly, who reportedly knew of the FBI reports, could assert, in a statement circulated before and after the abuse photos emerged, "Rob Porter is a man of true integrity and honor and I can't say enough good things about him. He is a friend, a confidante and a trusted professional."

Yes, true integrity. Take a look at that photo, Gen. Kelly, and tell me how a man of integrity behaves. Hint: he doesn't wait until a dozen hours after that photo was released to assert he is "shocked" and that "there is no place for domestic violence in our society."

Explain, finally, how the White House, with this information public, can allow a man such as this to continue, even for a single additional day, to work there.
Marcus goes on to offers one potential explanation:
The Trump administration suffers from a singularly morally bankrupt strain of this tribalism, in which loyalty to President Trump is prized above all else and failings are ignored, especially failings that echo those of the president himself.

Recall how, after then-Trump campaign manager Corey Lewandowski was shown on video assaulting Breitbart reporter Michelle Fields, Trump described him as "a very decent man." Recall how Trump's first wife, Ivana, used the word "rape" in a divorce deposition to describe how her husband sexually assaulted her in a fit of rage; Ivana later said she did not "want my words to be interpreted in a literal or criminal sense" but that "as a woman, I felt violated."
There's more beyond that, of course. In the final weeks of the campaign, we were exposed to the now infamous Access Hollywood tape in which a voice that is obviously Trump's is recording telling television host Billy Bush about instances in which he engaged in what can only be considered sexual assault against an unnamed woman. The release of that tape was quickly followed by a host of women, nineteen in total, who alleged that Trump had acted in inappropriate ways toward them, including things such as routinely entering the dressing rooms used by contestants in the beauty pageant that he owned at the time notwithstanding the fact that the women were in various stages of undress. There have also been reports of Trump regularly making demeaning comments to women in ways not dissimilar to the details provided by many of the women who have shared their own stories of sexual assault and harassment.
Is it any surprise, really, that a White House with a man like this at the top would initially dismiss allegations like this against someone they saw as one of their own? Is it any surprise that he would be allowed to continue in his job notwithstanding the fact the truth about his past was known to top White House officials, and possibly the President himself, from the early days of the Administration onward?
Of course it's not surprising.
Like any other organization, a White House is a reflection of the person at the top, and in the case of the Trump White House, we have an organization in which such behavior is both ignored and dismissed, all in the name of loyalty to the Trump team. And Rob Porter was a member of the Trump team, so it's not surprising that the initial response to the allegations of abuse was to defend Porter, and that the necessity of his dismissal didn't become apparent until the evidence of abuse was all over television and the Internet.
We are witnessing in the Trump Administration a level of depravity that we've never experienced before. The President himself displays it for the cameras nearly every time he speaks, and on Twitter whenever he picks up his phone, and the people underneath him take that as a signal and act accordingly. This is life in Trump's America, my friends, and it's only going to get worse as time goes on.
Update: President Trump spoke about Porter's departure today and, as Jake Tapper reports, it's about what you'd expect:
What we didn't hear from Trump:

– No expressed sympathy for Porter's ex-wife Colbie Holderness
– No expressed sympathy for Porter's second ex-wife Jennifer Willoughby
– No expressed sympathy for the ex-girlfriend who warned the White House about Porter's alleged abuse pic.twitter.com/uCuB5wBjhn

— The Lead CNN (@TheLeadCNN) February 9, 2018