Trump Defends Former White House Staffer Accused of Spousal Abuse
President Trump spoke up about the spousal abuse charges against his former Staff Secretary Rob Porter. His response was entirely predictable.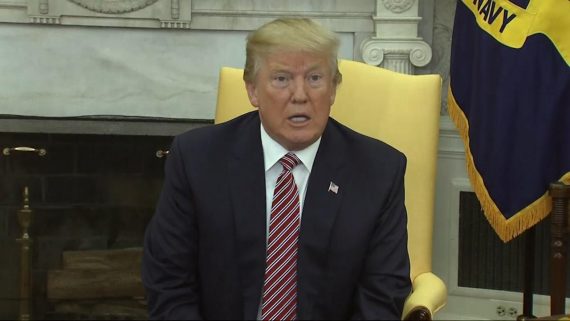 As the White House seeks to distance itself from the scandal that has erupted in the wake of revelations that have erupted regarding two former White House officials, Rob Porter and David Sorenson, accused of spousal abuse, President Trump has instead chosen to defend at least one of the former White House employees. The first such instance came yesterday when the President spoke to reporters during a pool spray and went on to make a statement that lavished praise on former Staff Secretary Rob Porter and failed to acknowledge the accusations of his former wives at all:
President Trump on Friday afternoon lavished praise on one of his former top aides, Rob Porter, who resigned earlier this week amid accusations that he physically, verbally and emotionally abused his two ex-wives.

"We wish him well; he worked very hard," Trump said to a small group of reporters at the White House, providing his first public comments on the topic. "We found out about it recently, and I was surprised by it, but we certainly wish him well, and it's a tough time for him. He did a very good job when he was in the White House, and we hope he has a wonderful career, and he will have a great career ahead of him. But it was very sad when we heard about it, and certainly he's also very sad now. He also, as you probably know, says he's innocent, and I think you have to remember that. He said very strongly yesterday that he's innocent, so you have to talk to him about that, but we absolutely wish him well. He did a very good job when he was at the White House."

In interviews with The Washington Post and other media outlets, Porter's ex-wives have accused him of physically and emotionally abusing them during their marriages. Both said that they informed the FBI in January 2017 of their allegations while they were being interviewed by agents as part of Porter's security clearance review.

Porter's first wife, Colbie Holderness, has accused him of throwing her down and punching her in the face during a trip to Florence in 2005 and provided photos showing her with a black eye. Porter's second wife, Jennie Willoughby, received a temporary emergency protective order in Arlington, Va., in June 2010 after saying Porter refused to leave her residence, in violation of their separation agreement. She said he broke her window, causing his knuckles to bleed. Porter has denied these accusations and disputed Holderness's account of how she received a black eye.

"These outrageous allegations are simply false," Porter said in a statement. "I have been transparent and truthful about these vile claims, but I will not further engage publicly with a coordinated smear campaign."

Trump's comments on Friday echo the strong support Porter received from the White House this week. When the allegations were first reported by the DailyMail.com on Tuesday, Chief of Staff John F. Kelly came to Porter's defense and called the allegations "slanderous and simply false."

"Rob Porter is a man of true integrity and honor, and I can't say enough good things about him," Kelly said in a statement at the time. "He is a friend, a confidant and a trusted professional. I am proud to serve alongside him."
"
Here's the video of Trump's statement yesterday:
;
The President followed that up today with a statement on Twitter that, again, appeared to downplay the charges against Porter and Sorensen, and claimed that there had been a lack of "due process" in connection with the allegations against them:
WASHINGTON — President Trump complained on Saturday about allegations that he said were destroying the lives of those accused — appearing to express doubts about the #MeToo movement after the resignations this week of two White House aides facing claims of domestic violence.

In an early morning Twitter post, Mr. Trump did not name the former aides, but said: "Peoples lives are being shattered and destroyed by a mere allegation. Some are true and some are false. Some are old and some are new. There is no recovery for someone falsely accused — life and career are gone. Is there no such thing any longer as Due Process?"

Mr. Trump's claim ran counter to the White House's portrayal of its actions in response to the abuse allegations. Administration officials maintained that they acted decisively in the cases of Rob Porter, the staff secretary, and David Sorensen, a speechwriter, both of whom stepped down after their former wives accused them of emotional and physical abuse.

But the president's defense is in keeping with the White House's initially defensive reaction to the charges against Mr. Porter — as well as his tendency to dismiss allegations made against him and other powerful men by women who say they were sexually harassed.

The White House chief of staff, John F. Kelly, and the press secretary, Sarah Huckabee Sanders, both staunchly defended Mr. Porter initially, with Ms. Sanders saying Mr. Trump and Mr. Kelly had "full confidence" in his performance.

In Mr. Porter's case, one of his former wives, Jennifer Willoughby, obtained a restraining order against him, while the other, Colbie Holderness, presented a photograph of herself with a black eye, which she said came from being hit by Mr. Porter while the couple was on vacation in Italy.

The F.B.I. and the White House knew of these charges for months, and Mr. Porter's application for a security clearance had been held up because of them. Mr. Kelly has told his staff he ordered Mr. Porter to be fired 40 minutes after learning of the charges against him, an assertion that other officials disputed.

In the case of Mr. Sorensen, his former wife, Jessica Corbett, told F.B.I. agents conducting a background check on him that he had run over her foot while driving a car and extinguished a cigarette on her hand during a turbulent two-and-a-half-year marriage.

For his part, Mr. Trump praised Mr. Porter, saying on Friday, "He did a very good job when he was in the White House, and we wish him well." The president made no mention of the women Mr. Porter is said to have abused.
Here's Trump's Tweet:
Peoples lives are being shattered and destroyed by a mere allegation. Some are true and some are false. Some are old and some are new. There is no recovery for someone falsely accused – life and career are gone. Is there no such thing any longer as Due Process?

— Donald J. Trump (@realDonaldTrump) February 10, 2018
This isn't the first time that Trump has defended men accused of abuse or misconduct, often of a sexual nature. When women began to become forward with allegations of sexual harassment and abuse against former Fox News Channel head Roger Ailes, allegations that led to Ailes being ousted from his position, Trump defended his longtime friend, calling him a "very, very good person and cast doubt on the veracity on his many accusers. Similarly, when similarly accusations became public against former Fox News host Bill O'Reilly and his long history of harassment that resulted in a number of multi-million dollar settlements, Trump defended O'Reilly. Trump also said that he didn't think O'Reilly should have settled the cases because he didn't "think Bill did anything wrong. Most recently, Trump defended former Alabama Senate candidate Roy Moore amid credible allegations by several women that he had approached them inappropriately or assaulted them when they were underage and he was an Assistant District Attorney in his early 30s. Finally, of course, there have been a number of allegations of inappropriate behavior on Trump's part. This includes both the now infamous Access Hollywood tape in which a voice that is obviously Trump's is heard telling television host Billy Bush about instances in which he engaged in what can only be considered sexual assault against an unnamed woman. The release of that tape was followed by a host of women, nineteen in total, alleging that Trump had acted in inappropriate ways toward them, including things such as routinely entering the dressing rooms used by contestants in the beauty pageant that he owned at the time notwithstanding the fact that the women, including participants in the Miss Teen USA pageant who were underage, were in various stages of undress. There have also been reports of Trump regularly making demeaning comments to women in ways not dissimilar to the details provided by many of the women who have shared their own stories of sexual assault and harassment.
On some level, Trump does have something of a point here. On the whole, the rise of the "Me Too" movement that has led to so many women to come forward with stories of how they have been sexually harassed and abused by men in positions of power is a good thing. These accusations have been ignored, dismissed, and covered up for far too long, and an airing of what some might consider dirty laundry is long overdue even though it is obviously leading to serious consequences for men such as  Bill Cosby,  Harvey Weinstein, Kevin Spacey, filmmaker Bruce Ratner, George Takei, Charlie Rose, political pundit Mark Halperin and Matt Lauer. In the political world, it has led to accusations about men such as Roy Moore, Al Franken, At the same time, it's worth noting that a balance does need to be struck between believing these women, appropriately punishing the men who harassed and/or assaulted them, and making sure that behavior does not happen in the future and ensuring that we don't allow accusations alone to bring people down without evidence. The best examples of how this can get out of hand, of course, can be found in the charges that were bright against the Duke Men's Lacrosse Team and those brought against a fraternity at the University of Virginia. In both cases, the charges were ultimately proven false, but not before innocent people were tried and convicted in the court of public opinion. Somewhere we need to find a balance that both provide support to women who have been genuinely victimized and protects people who stand falsely accused.
Such is not the case, though, with the men Trump is defending. Both Porter and Sorenson have been credibly accused by former wives of engaging in abusive behavior that rises to the level of criminal assault and which, at least in Porter's case, resulted in the entry of at least one Protective Order barring him from coming anywhere near his second ex-wife. The same is true of Ailes, O'Reilly, and Moore, all of whom have been credibly accused of things that clearly rise to the level of criminal assault. The fact that Trump's first instinct is to defend these men and not even acknowledge the charges made against them or the women behind them is appalling, but then it is entirely consistent not only with Trump's own behavior toward women but also his long history of dismissing charges of harassment made by women about him and people close to him. Quite honestly, I can't help but believe that Trump's history of defending people like this is rooted in his own history of mistreating women and that he believes that even appearing to acknowledge the veracity of the charges against men like Porter and Sorenson would lead to inevitable questions about his own history. The most interesting part of the defenses Trump has raised about men like this is to emphasize repeatedly that they have denied the accusations against them as if that alone were sufficient to prove that the charges have no basis. By taking this position, he seems to be unconsciously, or perhaps consciously, seeking to reinforce the belief that the mere fact that he has denied the accusations against himself is sufficient reason to disbelieve them. This is admittedly speculation on my part, but it would explain why Trump speaks out about matters like this even when he doesn't need to, and why his response to allegations of abuse by women directed at men close to him is always the same.