Donald Trump Has A Woman Problem
Women voters are turning decidedly against Donald Trump, this could pose problems for Republican in 2018 and beyond.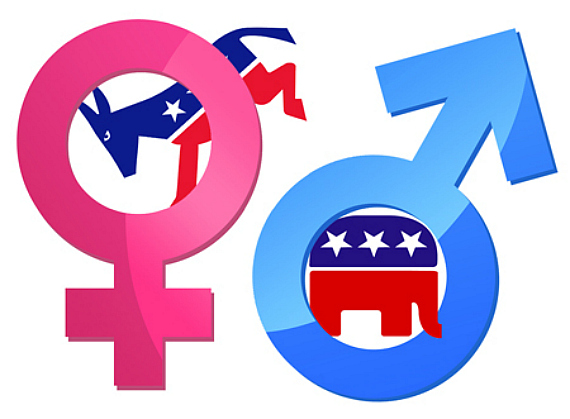 The recent outrage over the twin cases of former White House Staff Secretary Rob Porter and, to a lesser extent, speechwriter David Sorenson, both of whom stand credibly accused of having verbally, emotionally, and physically abused by former wives, brings to the forefront an issue that could pose problems for President Trump and  the Republican Party going forward, namely the fact that President Trump has become increasingly unpopular with a demographic that has the potential to have a huge impact on future elections:
The White House's stumbling response to domestic abuse allegations against ex-staff secretary Rob Porter risks widening the gender gap already hurting Republicans in this fall's midterm elections.

Republicans are worried about the developments, while Democrats are salivating over the most recent Trump controversy involving women.

"It's harder to hold their majority without winning moderate suburban suburbs," said former Rep. Steve Israel (D-N.Y.), who led the House Democrats' campaign arm in 2014. "They can't win those districts by losing women. And they lose women by constantly reaffirming a narrative that they're on the wrong side of abuse and sexual harassment."

Trump actually won a majority of the votes from white women in the 2016 election, taking 52 percent of their support according to exit polls.

But just 38 percent of white women approved of Trump's job performance in a Quinnipiac University survey released Wednesday and conducted before the allegations against Porter became public.

(…)

[The Porter scandal] also put the spotlight back on the past conduct of Trump, who was accused of sexual harassment during the 2016 campaign. Trump has rejected the charges and said all the women making allegations against him are lying. He vowed during the presidential campaign to sue women making false claims against him but has not done so.

Democrats have used the Porter saga to refocus attention on the women who accused Trump of sexual misconduct and assault. Sen. Kirsten Gillibrand (D-N.Y.) called for hearings in Congress to discuss their accusations.

The White House on Monday insisted that Trump supports victims of domestic violence.

"Above all, the president supports victims of domestic violence and believes everyone should be treated fairly and with due process," White House press secretary Sarah Huckabee Sanders told reporters.

Sanders was peppered with questions about why Trump has not said that publicly, even amid reports that he was privately "disgusted" by Porter's alleged conduct.

(…)

Democrats have also been forced to grapple with sexual misconduct allegations in their own ranks, which could muddy the waters for voters in November.

But they believe the environment will take a bigger toll on Republicans, in large part because Trump is the head of their party and because of the effect the "Me Too" movement has had on the country.

They also note that Trump's election spurred Women's Marches across the country, whose participants are now focusing on registering voters for the upcoming midterm elections.

Trump's own former strategist, Stephen Bannon, told Bloomberg reporter Joshua Green in an interview for the paperback edition of Green's book "Devil's Bargain" that the "Me Too" revolution posed a huge threat to Trump.

"Women are gonna take charge of society. And they couldn't juxtapose a better villain than Trump. He is the patriarch," Bannon said in the book.

Jennifer Lawless, who leads American University's Women & Politics Institute, predicted this would also hurt GOP congressional candidates this year.

She said women who have been inspired might see the midterm elections as their first chance to hold the Trump administration accountable.

"Every single time Donald Trump does something like how he responded to Rob Porter, it provides more ammunition to these groups," she said.
As noted, the poll in question was conducted before the Rob Porter story was made public, so it doesn't really factor that, or Trump's reaction to it in public in which he essentially defended Porter, wished him well, and decried an alleged lack of 'due process' in cases such as his notwithstanding the fact that Porter's second wife had in fact gone to court to obtain a Protective Order against him. That being said, even without the Porter scandal, there is plenty of evidence to explain why Donald Trump is losing ground with such a significant part of the electorate. As I've noted before, Trump has a long history of defending men who are accused of sexual impropriety, or at least men who are friends and supporters of his. For example, just in the time since he entered the Presidential race Trump has come to the defense of Roger Ailes, Bill O'Reilly, Corey Lewandowski, and Roy Moore, all of whom have stood credibly accused of some kind of impropriety toward women, often of a sexual nature. Additionally, of course, Trump has a long history of his own including, of course, the Access Hollywood tape on which Trump can be heard bragging about what amounts to sexual assault, an event that was followed by reports of up to nineteen women who have accused the President of acting inappropriately toward them. At the time, Trump denied the charges and threatened to sue all of those accusers. Not surprisingly, he has not done so and most likely never will. In addition to these instances and others, since he has become President Trump has put forward, or allowed to go forward policies that many women oppose, including rolling back the contraceptive coverage mandate in the Affordable Care Act, adopting at least the rhetoric of the anti-abortion movement while enacting policies that clearly seem aimed at making abortions harder to get for women both in the U.S. and worldwide, and appointing Judges that seem highly inclined to be skeptical of abortion rights. Most recently, the budget that the Trump Administration submitted to Congress yesterday would cut off funding for Planned Parenthood, a major healthcare provider for women and especially women in poor communities. Taken together, this history and these policies have all had a noticeable impact on Trump's standing with women, particularly with white college-educated women, and that could have a significant impact on elections in 2018 and 2020. Given all of this, it will be particularly interesting to see the impact, if any that the Porter scandal has on Trump's standing among women in future polling, and of course at the ballot box.
The importance of the female vote in coming elections cannot be understated. The fact that Trump was able to do as well among women as he did. According to exit polls, Hillary Clinton won among women overall, but when it came to certain demographic groups, it was Trump that actually prevailed. This includes white women (where Trump got 52% of the vote), women without a college degree (among whom Trump got 61%). Additionally, while he lost among white college-educated women, he still managed to garner 44% of that demographic, a share that no doubt helped him in states such as Ohio and Florida, which a Republican candidate had not won in a Presidential election since 2004. Since then, though, we've seen a decided shift in how women overall view Trump. It began literally the day after he took office in 2017 with "women's marches" around the country that drew tens and possibly even hundreds of thousands of participants in cities around the country. The second round of women's marches last month were similarly well-attended. By many accounts, the movement sparked by these marches, as well as by the #MeToo movement and the focus on issues of sexual harassment and abuse is showing evidence of increased political activism among women, including many more women declaring their candidacy for Congressional and state legislative races in the upcoming midterm elections.
These developments, and poll results like the one noted above, have led to speculation that women and the women's vote could have a real impact on the outcome of many races around the country and possibly even the outcome of the battle for control of Congress itself. Whether that happens or not depends to no insignificant degree on whether the momentum that things such as the women's marches have created ends up having a real impact on races in districts and states where it can have an impact on which party controls the House or Senate. It's worth noting, though, that we've already seen one example of the impact this vote can have on an election, Last November in Virginia, Democrat Ralph Northam easily beat Republican candidate Ed Gillespie, and the votes of women were one of the reasons he did it. According to exit polls, Northam won 61% of the women's vote overall to Gillespie's 39%. Additionally, while Gillespie won narrowly among white women, garnering 51% of that demographic group, Northam won among white college-educated women and among both married and unmarried women, demographic groups that are particularly important in voter-rich areas such as Northern Virginia that have a significant impact on the outcome of statewide races in the Old Dominion. This came near the end of Trump's first year in office and seems to be a strong indication of where female voters are heading. If that stays consistent in the coming year and beyond, it could end up being a big headache for Trump specifically and for the Republican Trump generally.