Trump Formally Endorses Roy Moore Despite Molestation Allegations
President Trump has formally endorsed an accused child molester for the United States Senate.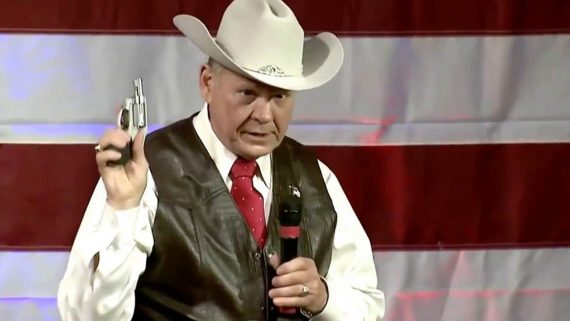 Following up on statements he made shortly before Thanksgiving, President Donald Trump formally endorsed the candidacy of Roy Moore, who has been accused by at least nine women of either approaching them for dates when they were teenagers or, in two cases, what would likely amount to sexual assault under applicable law:
WASHINGTON — President Trump on Monday offered a strong endorsement of Roy S. Moore, the Republican Senate candidate in Alabama embroiled in accusations that he had inappropriate sexual relations with underage girls.

While many Republicans called for Mr. Moore to drop out of the race after several women came out with their stories, Mr. Trump has defended him, saying that Mr. Moore denied the accounts and deserved to be heard.

In a statement, the White House said that Mr. Trump and Mr. Moore spoke on the phone and that the president endorsed Mr. Moore's campaign.

"The President had a positive call with Judge Roy Moore during which they discussed the state of the Alabama Senate race and the President endorsed Judge Moore's campaign," the statement said.

Mr. Moore wrote about the endorsement on Twitter.

On Twitter earlier on Monday, Mr. Trump described why Mr. Moore had to win: "We need his vote on stopping crime, illegal immigration, Border Wall, Military, Pro Life, V.A., Judges 2nd Amendment and more."

Mr. Moore, a former state Supreme Court judge, has been accused of molesting a 14-year-old girl and of sexually assaulting another teenager when he was a prosecutor in his 30s. He has denied any sexual misconduct, and rejected all calls to quit the race.

"Thankful for President Trump's support," Mr. Moore said in another Twitter post on Monday

Mr. Moore's wife, Kayla, posted an update to her Facebook account on Monday morning, thanking the president as well.

"Judge Moore just got off the phone with President Trump-we have his full support! Thank you Mr. President! Let's MAGA!" Ms. Moore wrote, referring to Mr. Trump's campaign slogan, "Make America Great Again."

The fight over the highly contested Senate seat, which became vacant when Mr. Trump tapped Jeff Sessions to be his attorney general, comes at a time when sexual misconduct has become a national discussion.

(…)

Mr. Trump has not said whether he would travel to Alabama and campaign for Mr. Moore. The White House press secretary, Sarah Huckabee Sanders, said last week that Mr. Trump was "not planning any trip to Alabama at this time" and that his schedule did not allow such a trip before the election.

However, the president is expected to attend a rally in Pensacola, Fla., on Friday, which is in the Mobile, Ala. media market. This would allow Mr. Trump to help get the vote out for Mr. Moore without setting foot in Alabama.
Here are the Tweets from both Trump and Moore regarding the endorsement:
Democrats refusal to give even one vote for massive Tax Cuts is why we need Republican Roy Moore to win in Alabama. We need his vote on stopping crime, illegal immigration, Border Wall, Military, Pro Life, V.A., Judges 2nd Amendment and more. No to Jones, a Pelosi/Schumer Puppet!

— Donald J. Trump (@realDonaldTrump) December 4, 2017
Putting Pelosi/Schumer Liberal Puppet Jones into office in Alabama would hurt our great Republican Agenda of low on taxes, tough on crime, strong on military and borders…& so much more. Look at your 401-k's since Election. Highest Stock Market EVER! Jobs are roaring back!

— Donald J. Trump (@realDonaldTrump) December 4, 2017
"Go get 'em, Roy!" – President Trump

Just got off the phone with President Trump who offered his full support and said he needs a fighter to help him in the US Senate.

I look forward to fighting alongside the President to #MAGA!

— Judge Roy Moore (@MooreSenate) December 4, 2017
Given Trump's previous statement in support of Moore, this formal endorsement is hardly surprising. Before he departed Washington for the Thanksgiving weekend, Trump spoke to reporters outside the White House and said that Moore would be a better Senator than Doug Jones, who he described as "weak on crime" notwithstanding the fact that Jones had formerly served as United States Attorney during which time he successfully prosecuted two men responsible for the 1963 bombing of a Birmingham church that resulted in the deaths of four African-American girls under the age ten. With respect to the sexual misconduct charges that had been leveled against Moore over the preceding weeks, Trump said merely that Moore had denied those allegations, as if that denial alone was sufficient to answer the questions that remain hanging over the candidate and the campaign. These comments came just days after White House advise Kellyanne Conway had already said that Moore would be a reliably Republican vote on tax reform and other issues. Additionally, even while he was campaigning for Senator Luther Strange prior to the runoff election in September, Trump suggested that Moore would be an acceptable nominee as well and that he could be back in Alabama campaigning for him. That statement, of course, came well before the allegations against Moore became pubic, but at the time many observers noted that Trump had effectively under the candidate he was supposedly endorsing and basically gave Trump's own supporters permission to ignore his endorsement and vote for Moore in the upcoming runoff. Moore, of course, won that election quite handily.
As I noted on Twitter after Trump's pre-Thanksgiving comments, of all the disgusting and outrageous things that Donald Trump has done as a man, as a so-called "celebrity," as a candidate for President, and as President, this is without question the most disgusting. As far as Trump is concerned, the fact that Moore stands accused of serious sexual misconduct toward teenage girls is irrelevant, as is the question of whether or not he actually committed these offenses.  All that matters is that Moore is a Republican who will, supposedly be a reliable vote in favor of the President's agenda. This is not dissimilar from the logic utilized by Senate Majority Leader Mitch McConnell, who said yesterday that whether or not Moore becomes a Senator is something he'll leave up to the people of Alabama, a clear signal that he has likely abandoned any effort to either prevent Moore from being seated if he wins or expelling him from the Senate.
Moreover, Trump's comments about Moore's Democratic nominee Doug Jones are complete nonsense. here's nothing in Jones's platform that can be called "soft on crime," for example, to show that he is anything but tough on crime, as his record as U.S. Attorney shows. Additionally, as Jones's own campaign platform shows, his policy positions on issues like crime are basically mainstream and arguably somewhat to the right of the rest of the Democratic Party, which is understandable given that he's from Alabama. In any case, the President is essentially saying that a child molester is more acceptable than a moderate Democrat. I'll leave it for the reader to draw their own conclusions from that.