Doug Jones Wins In Alabama
In what amounts to an electoral perfect storm, Democratic nominee Doug Jones pulled off a win last night in the Alabama Senate Election.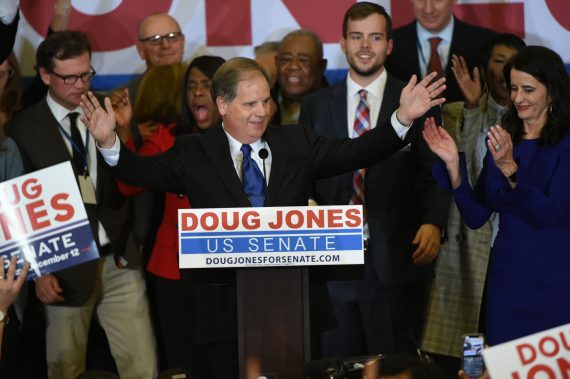 After one of the hardest fought Special Elections in recent memory, Alabama Senate Democratic nominee Doug Jones pulled off something that no Democratic candidate for Senate has done in Alabama in more than twenty years by defeating controversial Republican nominee Judge Roy Moore in yesterday's Senate Special election:
BIRMINGHAM, Ala. — Doug Jones, a Democratic former prosecutor who mounted a seemingly quixotic Senate campaign in the face of Republican dominance here, defeated his scandal-scarred opponent, Roy S. Moore, after a brutal campaign marked by accusations of sexual abuse and child molestation against the Republican, according to The Associated Press.

The upset delivered an unimagined victory for Democrats and shaved Republicans' unstable Senate majority to a single seat.

Mr. Jones's victory could have significant consequences on the national level, snarling Republicans' legislative agenda in Washington and opening, for the first time, a realistic but still difficult path for Democrats to capture the Senate next year. It amounted to a stinging snub of President Trump, who broke with much of his party and fully embraced Mr. Moore's candidacy, seeking to rally support for him in the closing days of the campaign.

Amid thunderous applause from his supporters at a downtown hotel, Mr. Jones held up his victory as a message to Washington from voters fed up with political warfare. For once, he said, Alabama had declined to take "the wrong fork" at a political crossroads.

"We have shown the country the way that we can be unified," Mr. Jones declared, draping his election in the language of reconciliation and consensus. "This entire race has been about dignity and respect. This campaign has been about the rule of law."

Mr. Trump tweeted his congratulations to Mr. Jones "on a hard fought victory."

"The people of Alabama are great, and the Republicans will have another shot at this seat in a very short period of time," he wrote. "It never ends!"

Propelled by a backlash against Mr. Moore, an intensely polarizing former judge who was accused of sexually assaulting young girls, Mr. Jones overcame the state's daunting demographics and deep cultural conservatism. His campaign targeted African-American voters with a sprawling, muscular turnout operation, and appealed to educated white voters to turn their backs on the Republican Party.

Those pleas paid off on Tuesday, as precincts in Birmingham and its suburbs handed Mr. Jones overwhelming margins while he also won convincingly in Huntsville and other urban centers. The abandonment of Mr. Moore by affluent white voters, along with strong support from black voters, proved decisive, allowing Mr. Jones to transcend Alabama's rigid racial polarization and assemble a winning coalition. And solidifying Mr. Jones's victory were the Republican-leaning residents who chose to write in the name of a third candidate rather than back one of the two major party nominees. More than 20,000 voters here cast write-in ballots, which amounted to 1.7 percent of the electorate – about the same as Mr. Jones's overall margin.

To progressive voters, Mr. Jones's victory was a long-awaited rejection of the divisive brand of politics that Alabama has inevitably rewarded even as some of its Southern neighbors were turning to more moderate leaders.

At a party for Mr. Jones, Sue Bell Cobb, a former chief judge of the Alabama Supreme Court, said that he had overcome a culture of "toxic partisanship," reaching out to Republicans and electrifying restive Democrats

"Never has there been this level of civic engagement," said Ms. Cobb, who is planning to run for governor next year. "Never has it happened."

She was drowned out by a raucous cry from her fellow Democrats and clasped her hands to her face as she saw on a huge projection screen that Mr. Jones had pulled ahead. Mayor Randall Woodfin of Birmingham, a newly inaugurated Democrat standing just feet away, beamed as returns from his city helped put Mr. Jones over the top.

"It feels great," he said with undisguised elation. "It sends a message not just to America but to the world."

The campaign, originally envisioned as a pro forma affair to fill the Senate seat left vacant by Jeff Sessions, now the attorney general, developed in its final months into a referendum on Alabama's identity, Mr. Trump's political influence and the willingness of hard-right voters to tolerate a candidate accused of preying on teenage girls.

Mr. Jones, 63, best known for prosecuting two Ku Klux Klansmen responsible for bombing Birmingham's 16th Street Baptist Church in 1963, offered himself chiefly as a figure of conciliation. He vowed to pursue traditional Democratic policy aims, in areas such as education and health care, but also pledged to cross party lines in Washington and partner with Senator Richard C. Shelby, the long-tenured Alabama Republican, to defend the state's interests.

Mr. Moore did little in the general election to make himself more acceptable to conventional Republicans. To the extent he delivered a campaign message, it was a rudimentary one, showcasing his support for Mr. Trump and highlighting Mr. Jones's party affiliation. But after facing allegations in early November that he sexually abused a 14-year-old girl and pursued relationships with other teenagers, Mr. Moore became a scarce presence on the campaign trail.
More from AL.com:
A deafening roar fell over the Birmingham Ballroom inside the Sheraton Hotel in the Magic City as supporters of Doug Jones watched the two large projectors tuned to CNN that showed the Democratic Senate candidate in Alabama's special election inching closer to Roy Moore. At the time, Jones was still in a hotel room gathering with his family.

A night that began with cautious optimism among Jones's supporters grew into euphoria minutes later as the election was called for Jones – a race where the Democrat in a dark-red state faced long odds at the start of the campaign; a Democrat had not won an Alabama Senate seat in a quarter century.

With 100 percent of precincts reporting, Jones, a former federal prosecutor who successfully led the cases against two men behind the 16th Street Baptist Church bombing, was leading Moore, 50 percent to 48 percent, according to unofficial results.

Meanwhile, Moore was yet to concede to Jones as of 11 p.m. Tuesday, and the Republican candidate held out hope for a recount, which is triggered when the margin of victory is within a half of a percentage point. The margin was 1 1/2 percentage points.

Shortly after red, white and blue confetti blasted over the ballroom, Jones addressed supporters, crediting his victory with what he said was his campaign's positive message. While his speech didn't mention Moore by name, Jones referenced the sexual misconduct allegations that plagued the former Alabama Supreme Court chief justice's campaign.

"I have always believed that the people of Alabama have more in common than divide us," he said. "This campaign has been about the rule of law," Jones said. This campaign has been about common courtesy and decency and making sure everyone in this state … is going to get a fair shake in life."

Jones had a steady ground game throughout the election and enlisted prominent African American lawmakers and figures, including Sen. Cory Booker, D-N.J., and former Auburn basketball star Charles Barkley, over the weekend to help with outreach to black voters.

He referenced the campaign knocking on hundreds of thousands of doors and making 1.2 million phone calls.

"We tried to make sure that this campaign was about finding common ground," Jones said, adding that he hoped his victory would send a signal to his future Washington colleagues. "I have this challenge to my future colleagues in Washington: Don't wait on me. Take this election from the great state of Alabama … where the people said, 'We want you to get something done. We want you to find common ground.'"
While Jones claimed victory last night after all the major media outlets declared him the winner of the race, Roy Moore refused to concede the race and is apparently holding out hope for a recount that could change the outcome of the race. As things stand, the results from last note show Jones with 671,151 votes (49.9%) to Moore's 650,436 votes (48.4%), and there were some 22,819 write-in votes cast in the race, representing 1.7% of the total vote. Under Alabama state law, a recount is apparently only available if the margin between the two leading candidates is 0.5% votes or less, which means that Moore would not be entitled to a recount if this margin holds, and it's fairly unlikely that the race will get to the point where a recount would be triggered. While it's true that there are apparently overseas ballots, write-in ballots, and provisional ballots that have yet to be counted, but it's unlikely that these votes would change the margin between Jones and Moore significantly enough to bring the margin even close to where they would need to be to trigger a recount. Even assuming that they did, it's unlikely that a recount would result in a change in the outcome of the election. Historically, recounts rarely uncover many uncounted or miscounted ballots and, when they do, they tend to follow the same trend as the votes that were actually counted, meaning that a recount would be more likely to increase Jones's margin than decrease it. Finally, recounts tend to end up slightly favoring the Democratic candidate, and this may be especially true in Alabama.
As for how Jones was able to pull off this seemingly surprising victory, it would appear that all of the factors that needed to come together did so in a perfect electoral storm that turned an election that seemed to be narrowly leaning toward Roy Moore into a win for the Democrats for the first time in two decades. First of all, it appears from initial reports that voter turnout in the election was significantly higher than what many observers had been predicting for a Special Election just two weeks before Christmas. Instead of the 20-25% turnout that was predicted, preliminary numbers that are saying turnout was roughly 40%, which is unusually high for a Special Election at this time of year. Additionally, anecdotal reports throughout the day were reporting heavy turnout in areas that Jones needed to get heavy turnout, including the so-called "Black Belt" areas where the majority of the state's African-American population is located. This was also indicated in the exit polls, which showed that African-Americans turned out to vote in numbers that actually slightly exceeded what Barack Obama got when he was on the ballot in Alabama in 2008 and 2012. This suggests that the Jones campaign's decision to bring in Senator Cory Booker and former Massachusetts Governor Devall Patrick, and to use former President Obama and former Vice-President Biden in "get out the vote" robocalls targeted at African-Americans, paid off quite nicely. It also appears from preliminary numbers that, while Moore received the majority of the white vote and the Republican vote as expected, Jones was able to get sufficiently high numbers among these demographic groups to help push him over the top. Also, Jones did fairly well in the suburban areas of the state, getting to within four percentage points of Moore while simultaneously crushing him in the state's urban areas such as Birmingham Mobile, and Montgomery. Moore did very well in the state's rural areas, but his success there was not sufficient to overcome Jones's strength elsewhere in the state. It's finally worth noting that these exit polls also showed that President Trump's approval rating came in at just 48% in a state where he won 62.1% of the vote in 2016. Finally, Jones did very well among female voters, especially women with children under 18, many of whom were likely motivated by the charges leveled against Moore by eight women regarding his conduct when he was in his 30s. All of this was exactly what Jones needed to happen, and it came together last night and handed him a victory.
The reactions to the outcome of the race are about what you'd expect. The New York Times Editorial Board called it a "triumph for decency and common sense," and The Washington Post cited the reports about Moore's sexual misconduct, which it was the first to report on, as a crucial factor in Jones's victory, which is likely true. Washington Republicans, meanwhile, are no doubt breathing a sigh of relief given the fact that a Moore victory would have immediately placed them in a politically difficult position and caused problems for them in the 2018 midterms. President Trump meanwhile, is trying to deflect any responsibility for or connection to Moore's loss, claiming this morning that he never thought Moore could win even though he had been urging Alabamans to vote for him less than twenty-four hours earlier.
Here's Trump on Twitter at roughly 9:30am yesterday:
The people of Alabama will do the right thing. Doug Jones is Pro-Abortion, weak on Crime, Military and Illegal Immigration, Bad for Gun Owners and Veterans and against the WALL. Jones is a Pelosi/Schumer Puppet. Roy Moore will always vote with us. VOTE ROY MOORE!

— Donald J. Trump (@realDonaldTrump) December 12, 2017
And here was his Tweet this morning:
The reason I originally endorsed Luther Strange (and his numbers went up mightily), is that I said Roy Moore will not be able to win the General Election. I was right! Roy worked hard but the deck was stacked against him!

— Donald J. Trump (@realDonaldTrump) December 13, 2017
Trump's attempt to dissociate himself from the Moore loss is, of course, utterly absurd. Even in the wake of the allegations about Moore's behavior toward teenage girls, Trump came out enthusiastically for Moore, characterizing a vote for Doug Jones as a vote for Chuck Schumer and Nancy Pelosi. Last Friday, he went down to Pensacola and gave a speech that drew heavy attendance from Alabamans across the border and was devoted almost exclusively to backing Moore and attacking Jones. While there were a number of reasons for Moore's defeat, it seems without question that there was something of a rebuke to Trump being sent by voters yesterday, and it's one that Trump specifically and Republicans generally ought to be careful to pay attention to lest they pay the same price next year.
Democrats should also be careful about counting their chickens based on the outcome of this race. While there's some evidence you can point to that suggests that Republicans have something to worry about in 2018, the fact of the matter is that this was largely a rebuke of Roy Moore specifically. Any other Republican, whether it was Luther Strange, Congressman Mo Brooks, who came in third place in the primary, or someone else, would have easily won this election. More likely than not, the race itself would not have gotten the national attention it did in this case, and Jones likely would not have received the support and fundraising from national Democrats that he received, especially in the wake of the allegations against Moore by eight women. Furthermore, Jones will only hold this seat until 2020, when he will have to run for re-election. Most likely, the Republicans will win the seat back at that point just like Democrats won the Senate seat formerly held by Ted Kennedy back in 2012 after Scott Brown won it in a Special Election in 2010.
Like nearly every analyst out there, I was assuming before the polls closed last night that Roy Moore would win, although it would likely be by a far narrower margin that we'd ordinarily see for a Republican in Alabama. As I noted when I wrote about the final polls in this race, a Jones win was possible but what it would require a number of factors falling into place for him that simply haven't happened in Alabama in a long time. I was wrong, of course, but I'm happy to be wrong in this case. Roy Moore was a detestable candidate long before the allegations of sexual impropriety became public. His positions on a wide variety of issues ranging from religious liberty and the Constitution to his views on Muslims, the nation's LGBT population, atheists, non-Christians of all types, and women were detestable and out of step in the 21st Century. He quite simply did not belong in the Senate, and fortunately, Alabamans agreed.