Roy Moore Is Running For Senate Again
Much to the chagrin of Republicans hoping to win back a Senate seat they never should have lost, Roy Moore is running for Senate again in Alabama.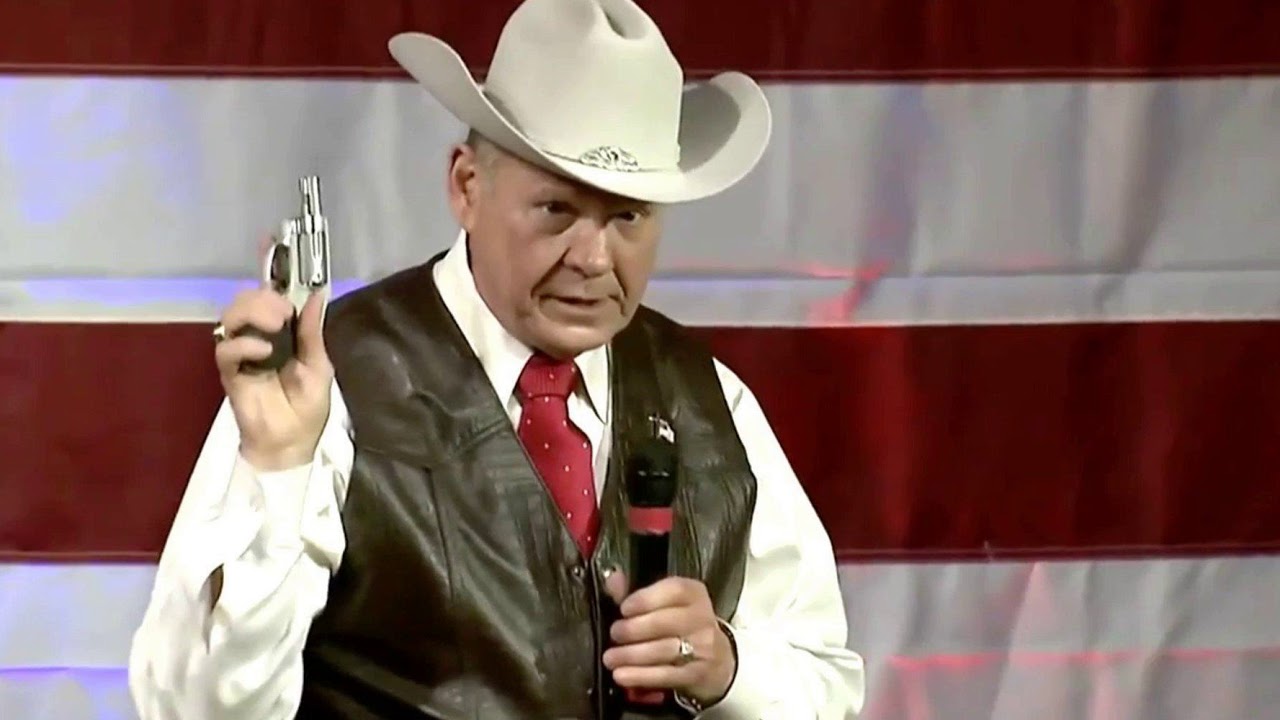 After being defeated in a bid for the Senate by a surprise victory for Democratic nominee Doug Jones due primarily to a scandal that erupted during the final month of the campaign, former Alabama Chief Justice Roy Moore announced yesterday that he is running for the Republican nomination to take on Jones again in the 2020 election:
MONTGOMERY, Ala. — Roy S. Moore, the polarizing Alabama Republican who lost a Senate campaign in 2017 after being accused of sexual misconduct, said on Thursday that he would seek a rematch in next year's election.

His decision was an unsurprising act of defiance against many of his party's national leaders, including President Trump, who recently publicly warned him away from another Senate bid. Republican officials fear that if Mr. Moore were to win the party's nomination in March, he would jeopardize their prospects of defeating the Democratic incumbent, Senator Doug Jones, and of recapturing a seat they had long controlled with ease.

"The people of Alabama are not only angry, but they're going to act on that anger," Mr. Moore, a former chief justice of the State Supreme Court who built a reputation as a champion of the evangelical right, said in Montgomery, the Alabama capital. "The people of Alabama are tired of politicians saying one thing and doing another."

In a warm ballroom with a piano and a pair of ornate staircases, Mr. Moore detailed his grievances against Republican officials in Washington, predicting that the campaign arm of Senate Republicans would run "a smear campaign" against him. The go-it-alone tone of Mr. Moore's news conference was familiar, a 2019 edition of his past campaigns.

Speaking to reporters after the announcement, Senator Mitch McConnell of Kentucky, the majority leader, said, "We'll be opposing Roy Moore vigorously."

Even before Mr. Moore made his announcement, Senator Richard Shelby, Republican of Alabama, openly said he would not vote for him. Instead, Mr. Shelby said he was trying to recruit Jeff Sessions to run for the seat he had held for 20 years before he became Mr. Trump's first attorney general.

And Mr. Moore's more liberal opponents vowed to defeat him one way or another.

"Roy Moore? Really?" Mr. Jones's campaign asked on Twitter on Thursday. "Here we go again."

Mr. Moore's new campaign will test his standing among the Republican voters he cultivated — many of them white, evangelical conservatives from the state's rural counties — as he became one of Alabama's most divisive political figures of the last 50 years. His efforts to hold public office beyond the judiciary have faltered, sometimes in Republican primaries, and many Republicans have proved allergic to his uncompromising views or, more recently, his reputation as an accused predator.

(…)

While Democrats would be more confident in Mr. Jones's prospects if Mr. Moore were the nominee, they are not dismissing the former chief justice's chances in a general election, particularly with the presidency also on the ballot in a conservative state.

"If you think about just the data from the past cycle, he's a few thousand votes from being a United States senator," said Mayor Walt Maddox of Tuscaloosa, the Democratic nominee for governor last year.
This announcement, of course, isn't entirely surprising. Even in the face of the allegations of sexual assault and improper behavior against girls between the ages of 14 and 17 when he was in his thirties, Moore still managed to walk away from the 2017 Special Election with just over 48% of the vote, trailing winner Doug Jones by just about 22,000 votes. Prior to that, he had won the first and second rounds of the Republican primary fairly convincingly notwithstanding the fact that President Trump and other national Republicans had backed Luther Strange, Moore's opponent in the nomination fight who was also the sitting Senator at the time. Had it not been for the scandal regarding the sexual allegations against him, Moore most likely would have won the election and be a Senator today.
Republicans in Alabama and nationwide seem determined to do what they can to stop Moore's candidacy.
Early on when it was being reported that Moore was "seriously considering" another Senate run, that process was beginning. President Trump, for example, took to Twitter to argue against a Moore candidacy, as did his son Donald Jr. That didn't deter Moore at all, who responded to Trump's call to stay out of the race by largely dismissing them and arguing that the President was being misled by Republican Party insiders opposed to Moore. Around that same time, Moore's continued strength inside the Alabama Republican Party was emphasized by a poll showing Moore leading the other candidates for the GOP nomination. After this, it was reported that Moore was likely that Moore would enter the race and that he would be a strong candidate if he did.
In addition to the early opposition of the President, other national leaders are lining up to say that they will not only not support Moore but that they intend to campaign against him. Donald Trump Jr. jumped into the race again after Moore's announcement, saying he is 'doing a disservice to all conservatives' by running. Mitch McConnell, meanwhile is vowing to "vigorously oppose" Moore's bid for the nomination:
Senate Majority Leader Mitch McConnell (R-Ky.) signaled on Thursday that he and his allies will actively work to oppose Roy Moore's bid for Alabama's Senate seat after the conservative firebrand announced he was jumping into the race. 

"We'll be opposing Roy Moore vigorously," McConnell told reporters after returning to the Capitol after a White House briefing on Iran. 

McConnell's comments come after he warned, during an interview with the Associated Press shortly before Moore announced his bid, that he would "oppose him in every way." 

Moore announced on Thursday afternoon that he would launch a bid for Alabama's Senate seat after previously winning the party's nomination in 2017, only to lose to now-Sen. Doug Jones (D-Ala.) in a contentious special election. 

His candidacy is a national nightmare for Republicans. They blame him for losing what they view as a safe GOP seat in a deeply red state that President Trump won easily in 2016.

Moore lost the race after facing multiple accusations of pursuing sexual and romantic relationships with teenage girls decades ago when he was in his 30s; he has denied any wrongdoing. 

National outside groups allied with McConnell had previously indicated they were leaving the door open to working to make sure Moore doesn't win the party's nomination for a second time.

McConnell's comments mark the clearest indication that national Republicans intend to try to stop any potential momentum for Moore. 

Jack Pandol, a spokesman for the McConnell-aligned Senate Leadership Fund, said Moore winning the GOP nomination "would be gift wrapping" the Senate seat for Democrats. 

"We believe most Alabama Republicans realize that nominating Roy Moore would be gift wrapping this Senate seat for Chuck Schumer. It remains to be seen whether Moore can escape his baggage without his candidacy collapsing under its own weight," he added in a statement.

Sen. Richard Shelby (R-Ala.), who is close with McConnell, said on Thursday that Alabama "can do better" than Moore, who he warned wouldn't be "good" for the Republican Party.

"I don't think it would help the president. I don't think it would help anybody running. He would … take a lot of oxygen out of there," Shelby said.

Asked if he thought GOP groups should actively campaign against Moore, he added: "I think a lot of them will."
Moore joins what is already a crowded GOP field, which could play to his advantage in terms of being one of the two candidates who makes it into an expected runoff election that would likely take place in August or September 2020. The preferred candidate of national Republican leaders appears to be Congressman Bradley Byrne, who represents the state's 1st Congressional District and had served in the state legislature before a handful of unsuccessful bids for statewide office. In 2012, Byrne was elected to Congress. Other candidates include Alabama Secretary of State John Merrill, state Representative Arnold Mooney, and Tommy Tuberville, former head football coach at Auburn University. In addition to these candidates, former Attorney General Jeff Sessions, who held this same Senate seat before resigning when he was confirmed as Attorney General, has not ruled out getting into the race himself, something that would most certainly shake the race up.
The Alabama Senate race is potentially crucial to Republican hopes to hold on to the Senate in 2020. As things stand, there are at least two races in the nation where Republican incumbents are believed to be potentially vulnerable. The first is Cory Gardner's bid for re-election in Colorado, which went for Hillary Clinton in 2016 and is expected to be a Democratic state in 2020 as well. The second is the Special Election in Arizona to fill the remainder of John McCain's term, which lasts through the 2022 election. Shortly after the 2018 election and the resignation of Jon Kyl, who had been named to replace McCain after his death with the understanding that he would only serve for a short time, Arizona's Governor named Martha McSally, who had just narrowly lost to Senator Kyrsten Sinema in the election for the state's other seat, to hold onto the seat until the 2020 Special Election. It is expected that McSally will face off against Mark Kelly, the retired astronaut and husband of former Congresswoman Gabby Giffords and early polling has those two candidates in a tight head-to-head race.
While the GOP could afford to lose both these races and still hold on to control in the Senate, a win in Alabama would go a long way toward alleviating Republican concerns about the upper chambers. Ordinarily, of course, the GOP should have nothing to worry about in Alabama. 2020 is, after all, a Presidential election year and President Trump won the state three years ago by a huge margin that he's likely to repeat next year. Additionally, as unlikely as it seems, it is possible that Moore could win the GOP nomination yet again, thus saddling every Republican in the nation with the question of whether or not they support a candidate who has been credibly accused by numerous women of sexual assault and harassment. Additionally, Moore's candidacy would yet again bring national attention to the details behind his removal from the bench on two occasions due to his failure to obey the orders of a Federal District Court Judge. This is the reason why Republicans are likely to do everything they can to stop Roy Moore this time around. Whether or not they will succeed is unclear, but it sure will make the race fun to watch.