Four More Women Come Forward With Accusations Against Roy Moore
The charges against Roy Moore continue to mount as national Republicans continue to push back against him.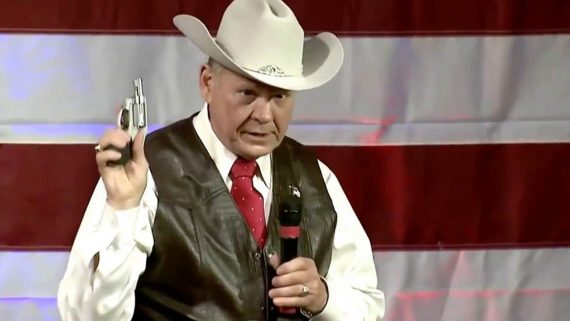 Four more women have come forward to make claims of unwanted advances or actions by Alabama Republican Senate candidate Roy Moore during the time he was an Assistant District Attorney in the late 1970s and early 1980s, making for a total of nine such women including two who have claimed that Moore committed what would likely amount to sexual assault under current law:
Nine women have now come forward with accusations, and state Republican leaders were pondering increasingly baroque mechanisms that have the potential to deny their own candidate a Senate seat. Party leaders met Wednesday evening, but no decision was announced.

Also quiet was President Trump, who ignored questions about Mr. Moore's increasingly imperiled candidacy, which has been repudiated by much of his party's leadership.

And so a head-spinning afternoon and evening unfolded. A series of new allegations surfaced, Republican leaders met behind closed doors before slipping away from reporters, and a lawyer for Mr. Moore raised an idea probably never before raised in a Senate race — that handwriting experts analyze a scrawled inscription in a woman's high school yearbook to see if she had fabricated the signature of a man now running for the Senate.

But as Mr. Moore's supporters struck an aggressive posture, the candidate's troubles mounted when the Alabama Media Group and The Washington Post each published accounts from women who said they had interacted with Mr. Moore years ago. One of the women, Tina Johnson, said that Mr. Moore had groped her buttocks in 1991, when she was 28.

"He didn't pinch it; he grabbed it," Ms. Johnson said, according to the Alabama Media Group report. Ms. Johnson said she had been meeting with Mr. Moore, then a lawyer in private practice, in relation to a child custody matter.

Another woman, Gena Richardson, told The Post that Mr. Moore had left her frightened after he gave her a "forceful" kiss when she was about 18 and Mr. Moore was in his 30s.

Separately, Kelly Harrison Thorp said that Mr. Moore had sought a date with her when she was 17 and he was in his 30s, and Ms. Gray told The Post about Mr. Moore's advances.

Karen Lancaster, 63, a retired schoolteacher, confirmed Wednesday that Ms. Gray had told her, in the late 1980s, that Mr. Moore repeatedly tried to ask her out during those years at the mall.

"I've known for over 20 years that he was a predator, that he preyed upon girls in the mall," she said. "It's common knowledge."

Ms. Thorp, in a subsequent interview with The New York Times, recalled asking Mr. Moore if he knew how old she was.

"'Oh yeah, I go out with girls your age all the time,'" she remembered him replying.
Al.com has the details of Johnson's claims:
In interviews with AL.com, Tina Johnson recalls that in the fall of 1991 she sat in the law office of then-attorney Roy Moore on Third Street in Gadsden. Her mother, Mary Katherine Cofield, sat in the chair next to her. Moore sat behind his desk, across from them. Johnson remembers she was wearing a black and white dress.

Almost from the moment she walked in to Moore's office, Johnson said, Moore began flirting with her.

"He kept commenting on my looks, telling me how pretty I was, how nice I looked," recalled Johnson. "He was saying that my eyes were beautiful."

It made her uncomfortable. "I was thinking, can we hurry up and get out of here?"

Johnson was 28 years old, in a difficult marriage headed toward divorce, and unemployed. She was at the office to sign over custody of her 12-year-old son to her mother, with whom he'd been living. Her mother had hired Moore to handle the custody petition.

Johnson had two young daughters at the time with her then-husband, and her son said he wanted to live with his grandmother.

At one point during the meeting, she said, Moore came around the desk and sat on the front of it, just inches from her. He was so close, she said, she could smell his breath.

According to Johnson, he asked questions about her young daughters, including what color eyes they had and if they were as pretty as she was. She said that made her feel uncomfortable, too.

Once the papers were signed, she and her mother got up to leave. After her mother walked through the door first, she said, Moore came up behind her.

It was at that point, she recalled, he grabbed her buttocks.

"He didn't pinch it; he grabbed it," said Johnson. She was so surprised she didn't say anything. She didn't tell her mother.

She said she told her sister years later how Moore had made her feel uncomfortable during that meeting. Her sister told AL.com she remembers the conversation.
And of a woman who says Moore pursued her when she was 17 years old:
In 1982, Kelly Harrison Thorp was working as a hostess at the Red Lobster restaurant in Gadsden. She was 17 years old and a high school senior.

One day Roy Moore came into the restaurant, and she recognized him.

"He was a public figure in this small town," she said of Moore, who at the time was in his early 30s and the deputy district attorney for Etowah County. Later that year he would mount an unsuccessful campaign for circuit court judge.

Thorp said Moore asked her if she'd go out with him sometime.

"I just kind of said, 'Do you know how old I am?'" she recalled.

"And he said, 'Yeah. I go out with girls your age all the time.'"

Thorp said she turned him down and told him she had a boyfriend. She said he then walked away.

Thorp said she later told a family member but did not tell the story publicly. She moved away from Gadsden the following year, and has just recently moved back.

Thorp knows one of Moore's accusers, Leigh Corfman, who told The Washington Post that Moore had a sexual encounter with her when she was 14. Thorp believes Corfman's story and said she is proud of her for telling it publicly.
And The Washington Post reports on two women who say Moore pursued them when they were in their late teens:
Gena Richardson says she was a high school senior working in the men's department of Sears at the Gadsden Mall when a man approached her and introduced himself as Roy Moore.

"He said, 'You can just call me Roy,' " says Richardson, who says this first encounter happened in the fall of 1977, just before or after her 18th birthday, as Moore, then a 30-year-old local attorney, was gaining a reputation for pursuing young women at the mall in Gadsden, Ala. His overtures caused one store manager to tell new hires to "watch out for this guy," another young woman to complain to her supervisor and Richardson to eventually hide from him when he came in Sears, the women say.

Richardson says Moore — now a candidate for U.S. Senate — asked her where she went to school, and then for her phone number, which she says she declined to give, telling him that her father, a Southern Baptist preacher, would never approve.

A few days later, she says, she was in trigonometry class at Gadsden High when she was summoned to the principal's office over the intercom in her classroom. She had a phone call.

"I said 'Hello?'" Richardson recalls. "And the male on the other line said, 'Gena, this is Roy Moore.' I was like, 'What?!' He said, 'What are you doing?' I said, 'I'm in trig class.' "

Richardson says Moore asked her out again on the call. A few days later, after he asked her out at Sears, she relented and agreed, feeling both nervous and flattered. They met that night at a movie theater in the mall after she got off work, a date that ended with Moore driving her to her car in a dark parking lot behind Sears and giving her what she called an unwanted, "forceful" kiss that left her scared.

"I never wanted to see him again," says Richardson, who is now 58 and a community college teacher living in Birmingham. She describes herself as a moderate Republican and says she didn't vote in the 2016 general election or in this year's Republican Senate primary in Alabama.

(…)

Richardson, whose account was corroborated by classmate and Sears co-worker Kayla McLaughlin, is among four women who say Moore pursued them when they were teenagers or young women working at the mall — from Sears at one end to the Pizitz department store at the other. Richardson and Becky Gray, the woman who complained to her manager, have not previously spoken publicly. The accounts of the other two women — Wendy Miller and Gloria Thacker Deason — have previously been reported by The Washington Post.

(…)

Richardson says she was startled, thinking maybe her dad was calling, and that when she realized it was Moore, "I felt like every person in that office was staring at me."

"At that point, he said, 'Would you like to go out some time?' " recalls Richardson, who says she described the call right afterward to McLaughlin, who confirmed the account. "I said, 'Well, I can't talk right now.' And being so naive, and so not worldly, I said, 'I'll be at work Friday or Saturday.'"

The next Friday or Saturday night, she says, he came in to Sears and asked her out again and she again told him, "Look, my dad is so strict."

She recalls Moore suggesting that they meet for a late movie after she got off work. She says she called her parents and told them she was going out with friends.

Instead, she says she met Moore at the movie theater. She says she can't remember what they saw, but she remembers clearly what happened after. She says it was cold and Moore offered to drive her to her car, which was more than a football field's distance away in a parking area behind Sears. She says he parked by her car and began chatting with her, and she says she told him again about her dad.

"I just explained to him that my dad's a minister, and you know, I just can't sneak around because that's wrong," she recalls. "So I thanked him and started to get out and he grabbed me and pulled me in and that's when he kissed me.

"It was a man kiss — like really deep tongue. Like very forceful tongue. It was a surprise. I'd never been kissed like that," she says. "And the minute that happened, I got scared then. I really did. Something came over me that scared me. And so I said, 'I've got to go, because my curfew is now.' "

She says she got out of the car and into her own.

(…)

Phyllis Smith, who was 18 when she began working at Brooks, a clothing store geared toward young women, said teenage girls counseled each other to "just make yourself scarce when Roy's in here, he's just here to bother you, don't pay attention to him and he'll go away.' "

The encounters described by the women occurred between 1977 and 1982, when Moore was single, in his early 30s and an attorney in Etowah County in northeastern Alabama. In October 1977, he was appointed deputy district attorney.

In all, The Post spoke to a dozen people who worked at the mall or hung out there as teenagers during the late '70s and early '80s and recall Moore as a frequent presence — a well-dressed man walking around alone, leaning on counters, spending enough time in the stores, especially on weekend nights, that some of the young women who worked there said they became uncomfortable.

Several of the women said they decided to share their accounts after reading a Post story last week in which four women said Moore pursued them as teenagers, including one who said she was 14 and Moore was 32 when he touched her sexually.
This makes for a total of nine women who have come forward to accuse Moore of some form of inappropriate behavior toward younger women in the late 1970s and early 1980s, and its likely to add yet more fuel to what is fast becoming the biggest political story in the country right now. It started, of course, with last Thursday's report from The Washington Post in which four women came forward to accuse Moore of inappropriate behavior, including Leigh Corfman who alleged that Moore committed what would most likely amount to sexual assault against her when she was just 14 years old. On Monday, Beverly Young Nelson became Moore's fifth accuser when she said in a public statement that Moore had assaulted her in his car in the rear parking lot of the diner where she worked when she was 16 years old. In the intervening time, we've seen Moore himself and the Alabama Senate race generally become a political hot button, with many Republicans continuing to stand behind Moore to the point of saying that they would continue to support him even if the accusations against him were proven to be completely true. As I noted in a post earlier this week, for many of these people supporting Moore is as much a cultural litmus test as it is a political one, and it's unlikely that these diehards will change their minds anytime soon.
All of this comes as national Republicans are becoming ever more desperate in their efforts to distance themselves from Moore and to find a way to save a seat that, in any other election, would be reliably Republican but which now may actually be up in the air. To date, every Republican Senator who had endorsed Moore has withdrawn that endorsement with the exception of Kentucky Senator Rand Paul, who has been silent on the matter since returning to Washington on Monday after recuperating from the assault he suffered last month. Alabama's senior Senator, Richard Shelby, has said that if Moore remains a candidate he intends to cast a write-in vote for an appropriate candidate and is encouraging Alabama Republicans to do the same. Both the National Republican Senatorial Committee and the Republican National Committee have withdrawn their material and financial support for Moore's campaign. Many other Republicans in the Senate are giving at least subtle endorsement to the proposal by Colorado Senator Cory Gardner, who heads the NRSC, that Moore should be immediately expelled from the Senate if he stays in the race and ends up winning the Special Election scheduled for December 12th, a move that would require a two-thirds vote of the Senate's 100 members. In that regard, Wisconsin Senator Ron Johnson said this morning that Moore would likely find his Senate tenure to be very short should he win the election next month.
Meanwhile, Senate Majority Leader Mitch McConnell, who has said early on that Moore should end his campaign and was rumored over the weekend to being willing to let the seat go to a Democrat if Moore does not drop out, has apparently been working behind the scenes on an effort to save what would otherwise be a reliably Republican Senate seat. One plan would reportedly have Attorney General Jeff Sessions run as a write-in candidate in the Special Election. Another plan would have Luther Strange, who was appointed to fill the seat that Sessions vacated but lost the GOP primary to Moore in September, resign so that Alabama Governor Kay Ivey could appoint a new Senator and schedule a new Special Election. There are problems with both of these plans, however. With regard to the write-in campaign plan idea, there's no guarantee that Sessions could win a write-in campaign at this late date and such an effort could easily result in simply drawing away enough Republicans from Moore to give the Democratic nominee a win. Additionally, it has been reported that Jeff Sessions, who said recently that he has no reason to doubt the women accusing Moore, is not interested in returning to the Senate. With regard to the second idea, it is not at all clear under Alabama law that Strange's resignation at this late date would trigger a reset on the replacement process or have any impact on the race or whether it would work legally. The Special Election has been scheduled for months. Absentee and military ballots were mailed weeks ago. Even if Strange resigned today, it might not have any impact at all. In the end, if Moore chooses not to step aside then Republicans have only a limited number of options. They can support his opponent or at least hope that Moore loses in December, which probably won't mean much to Alabama Republicans and would likely only cause his supporters to double down, or they can be prepared to expel Moore from the Senate if he manages to win the race. There is no magic bullet to stop Moore at this point.