Five Dead In Mall Shooting In Washington State, Gunman Still At Large
A late night attack at a shopping mall, and a suspect still at large have raised tensions in Seattle.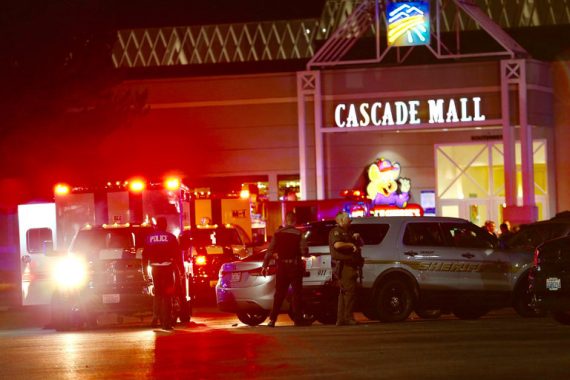 Five people were killed last night by a gunman who opened fire inside a Macy's at a mall outside Seattle, Washington and police are still searching for the gunman:
A shooting at a mall north of Seattle on Friday night left five people dead and the police searching for the gunman, the Washington State Patrol said.

The gunman killed four women in the cosmetics department of a Macy's store at the shopping center, the Cascade Mall in Burlington, Wash., said a spokesman for the patrol, Sgt. Mark Francis. Another victim, a man who was critically wounded, was brought to Harborview Medical Center in Seattle, and Sergeant Francis said Saturday morning on Twitter that the man had died.

The gunman, who was believed to have been armed with a rifle, left before the police arrived, and the mall was evacuated after the 7:45 p.m. shooting, Sergeant Francis said. He described the suspect as a Hispanic man wearing gray.

The authorities believe there was only one gunman, but it was unclear whether he had help, Sergeant Francis said at about midnight in a briefing outside the mall. He said the gunman had last been seen walking toward Interstate 5.

The F.B.I. said early Saturday that it had "no information to suggest that additional attacks" were planned in Washington State, and that it was coordinating intelligence efforts with the local authorities.

After the shooting, the police converged on the mall and were making a store-by-store sweep 440,000-square-foot mall, looking for survivors, some of whom had locked themselves in dressing rooms and other areas, too frightened to come out,KIRO, a television station in Seattle, reported.

"It becomes more commonplace obviously, these shooting situations in our country, but until you're one of the ones inside a building like that it is really hard to describe," Sergeant Francis told reporters.

Eric Mathews, 40, who was meeting his son there, said it was a typical Friday night at the mall in Burlington, about 65 miles north of Seattle. He described it as a "teenage scene kind of thing." He arrived around 7:45 p.m. when the shooting occurred. Mr. Mathews and his son, Kai, 16, left just before the mall was locked down, he said.

our of Kai's friends were stuck inside after the mall was locked down, he said.

Referring to his son, Mr. Mathews said: "Imagine I was late or if he didn't answer his phone. That stuff is running through my mind."

Stephanie Bost, an employee at Johnny Carino's, a restaurant at the mall, said a customer said there had been a shooting about 100 yards away. "We went on lockdown" and shut the doors, she said.

"We saw people being evacuated from the mall and running out to their cars," she added.
More from The Seattle Times: 
BURLINGTON, Skagit County — Five people were fatally shot Friday night in the Cascade Mall in Burlington, and officers fanned out searching for the shooter, according to the Washington State Patrol.

Four female victims were confirmed dead Friday evening, State Patrol Sgt. Mark Francis said. A male victim who had been flown to Seattle's Harborview Medical Center in critical condition died overnight, Francis tweeted at 3:28 a.m. Saturday.

It's unclear if there were any other victims. No other details on the deceased were immediately available.

The suspect was described as a Hispanic male in his 20s or 30s with a close-shaved haircut. He used a long gun similar to a hunting rifle, Francis said. Police released a security-footage photo of him shortly after 9 p.m.

Francis said the suspected shooter was last seen walking west toward Interstate 5 from the mall around 7 p.m. A search at the mall and surrounding area included bomb-sniffing dogs and a helicopter. Just before 11 p.m., Francis said two-thirds of the mall had been cleared, but there were locked doors and rooms that needed to be opened.

Emergency medics entered the 434,000-square-foot mall escorted by police, Francis said. Some people were still possibly holed up in the mall.

The casualty count fluctuated through the evening. Law enforcement officers first said four people were fatally shot, then lowered the toll to three before raising it again.

The four female victims were fatally shot in the Macy's store on the west side of the mall, the State Patrol said.

Around 9:20 p.m., police were swarming an area directly across I-5 from the mall. Police were telling people, "Get out of here immediately; you're not safe here."

Nearby residents were being told to stay inside and call 911 if they see anything suspicious. The Skagit County Department of Emergency Management also urged people to avoid the mall area. State transportation officials asked drivers to avoid the freeway near Highway 20, as well.

Michelle Fuller said her niece was in the mall and heard the shots, and then led people to a nearby bathroom to hide. When her niece called her, "You could hear the panic in her voice."

Tari Caswell told the Skagit Valley Herald that she was in the Macy's women's dressing room and heard what she thought were balloons popping, which seemed strange.
"Then I heard seven or eight or more, and I just stayed quiet in the dressing room because it just didn't feel right," she told the Herald. "And it got very quiet. And then I heard a lady yelling for help, and a man came and got me and another lady, and we ran out of the store."

People who were inside the mall were being taken to His Place Community Church near the mall, Francis said.

The Federal Bureau of Investigation has no information to suggest additional attacks are planned in the state, spokeswoman Ayn Dietrich-William said. The FBI is sending a team to help local law enforcement with the investigation.
As of this morning, the police and other authorities are sharing very few details beyond those that are already being shared by the media. There was even the suggestion in a report this morning that the police have at least some idea regarding the identity of the suspect but that this information was not being released to the public at this time. Given that authorities in situations such as this typically don't want a suspect to know exactly what they may know regarding an ongoing investigation, this is understandable. If times goes on and the search proves fruitless, though, it's likely that we'll get additional information in that regard. Also not contained in any reports we've received is any suggestion of motive, whether any of the victims may have been specifically targeted, or whether the suspect said anything before or during the attack. Again, this is understandable given the fact that we're still early in the investigation.
All of that notwithstanding, given recent attacks in places such as San Bernardino, Orlando, and the Tri-State area and Minnesota just last weekend, there's already some obvious questions being asked about whether or not this attack might be terrorism related. The fact that the shooter escaped rather than engaging in some kind of suicide attack, which is typically what we've seen in domestic mass shooting cases such as Columbine and Sandy Hook. Absent evidence in either direction, it's not appropriate to jump to such conclusions, of course, but its understandable why people would do so. Additionally, attacks like this at shopping mall are particularly concerning due to the large numbers of people who congregate in such locations and the difficulty in properly securing them from these kinds of attacks. Here's hoping the shooter is caught soon, and that we get quick answers to these questions.
Further updates as warranted.