Archbishop Alleges Popes Benedict And Francis Covered Up Sexual Abuse Reports
A top Vatican official is alleging that Pope Francis and Pope Benedict XVI were both aware of previously unknown allegations of sexual abuse and chose to allow them to be covered up rather than bringing them to light.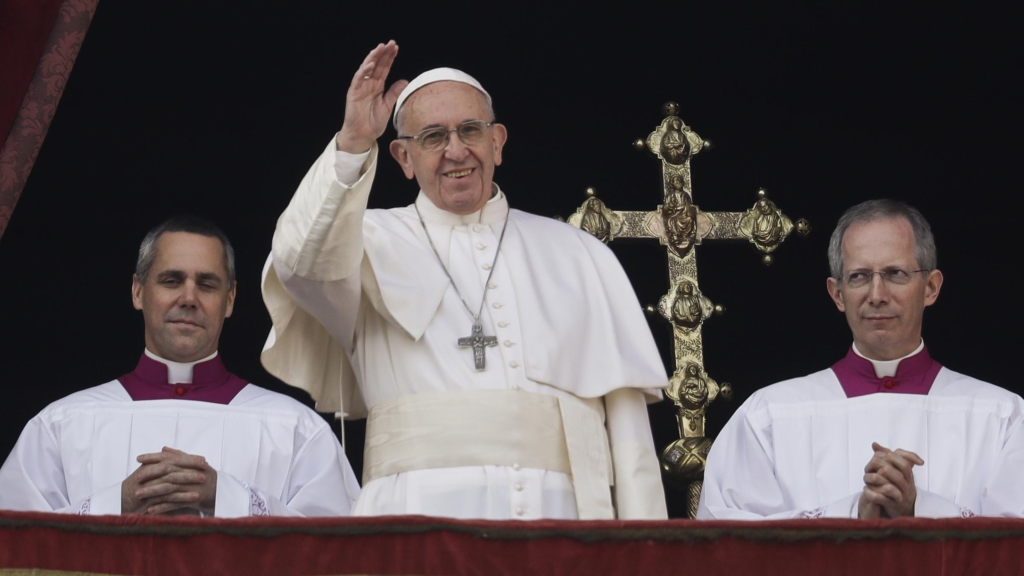 A top Vatican official is alleging that Pope Francis was a war of allegations of sexual abuse and impropriety on the part of a top American Cardinal and that he participated in covering those allegations up, and an allegation that, if true, threatens to taint Pope Francis with responsibility in the Catholic Church's ongoing abuse scandal in a way that he has not been before:
DUBLIN — On the final day of Pope Francis' mission to Ireland, as he issued candid apologies for devastating clerical sex abuse scandals, a former top Vatican diplomat alleged in a letter published on Sunday that the pope himself had joined top Vatican officials in covering up the abuses and called for his resignation.

The letter, a bombshell written by Carlo Maria Viganò, the former top Vatican diplomat in the United States and a staunch critic of Francis, seemed timed to do more than simply derail the pope's uphill efforts to win back the Irish faithful, who have turned away from the church in large numbers.

Its unsubstantiated allegations and personal attacks amounted to an extraordinary public declaration of war against Francis' own papacy at perhaps its most vulnerable moment, intended to unseat a pope whose predecessor, Benedict XVI, was the first to resign in nearly 600 years.

Mr. Viganò claimed that the Vatican hierarchy was complicit in covering up accusations that Cardinal Theodore McCarrick had sexually abused seminarians and that Pope Francis knew about the abuses by the now-disgraced American prelate years before they became public.

The 7,000-word attack on Francis' allies in the Vatican, published early Sunday Dublin time by several conservative Catholic outlets antagonistic to Francis, marked a steep escalation in the longstanding, and increasingly caustic, rivalries within the church.

Factions have battled over the direction the church has gone under Francis, with conservatives warning that his pastoral and inclusive approach and emphasis of social issues dilute church doctrine and pose a mortal threat to the future of the faith.

Already on Sunday afternoon, the battle was being joined.

Archbishop Charles J. Chaput of Philadelphia, a leading conservative voice in the Catholic Church, who according to the letter was disparaged by Francis, cited Archbishop Viganò's integrity in a statement to The New York Times from his spokesman.

"The Archbishop enjoyed working with Archbishop Viganò during his tenure as Apostolic Nuncio to the United States and found his service to be marked by integrity to the church," said Ken Gavin, spokesman for the archdiocese of Philadelphia. "However, he can't comment on Archbishop Viganò's recent testimonial as it is beyond his personal experience."

The willingness of the pope and his allies to reach out to gay Catholics has infuriated conservatives, who, like Archbishop Viganò, blame homosexuals for the sex abuse crisis. The pope has argued that the abuse is a symptom of a culture of privilege and elitism and imperviousness among priests who value the church's traditions over its parishioners.

John Carr, the director of the Initiative on Catholic Social Thought and Public Life at Georgetown University, stressed that the clerical sexual abuse is a "personal, professional and institutional tragedy."

"We need to find out who knew what when, and what they did or did not do to protect young people," Mr. Carr said. "The weaponization of the sexual abuse scandal uses the suffering of the vulnerable to advance ideological agendas and makes a horrible situation worse."

Last month, Francis accepted the resignation of Cardinal McCarrick, the first such resignation in living memory, after The New York Times and other news outlets published accounts of the alleged abuse and an internal investigation by the American church deemed credible an accusation that he had sexually abused a minor.

But Archbishop Viganò alleges that Benedict had already punished Cardinal McCarrick for his abuse of seminarians and priests. The archbishop writes that Benedict banned the American cardinal from publicly celebrating Mass, from living in a seminary and from traveling to give lectures.

There is no public record of such a sanction and the allegation has not been confirmed.

But Archbishop Viganò accused Francis of failing to apply the sanctions on Cardinal McCarrick and instead rehabilitating and empowering him to help choose powerful American bishops.

Archbishop Viganò despises those bishops, who now wield influence and promote Francis' pastoral approach, and he complained in the letter of being deprived the voice typically given to a papal nuncio in choosing them. He targeted those bishops and cardinals by name, but saved his most ambitious fire for the head of his church.

"He knew from at least June 23, 2013, that McCarrick was a serial predator," Archbishop Viganò writes of Francis, calling for the pope to resign.

"In this extremely dramatic moment for the universal Church, he must acknowledge his mistakes and, in keeping with the proclaimed principle of zero tolerance, Pope Francis must be the first to set a good example for cardinals and bishops who covered up McCarrick's abuses and resign along with all of them."

At a 2013 reception in the library of the Apostolic Palace in the Vatican shortly after Francis was elected pope, Archbishop Viganò was effusive with praise for Francis, calling him "a man you may talk to with an open heart" and saying his audience was "extremely nice, extremely warm."

But in the letter, he said he had received an icy reception from Pope Francis. And he said the pope had told him on June 23, 2013: "The bishops in the United States must not be ideologized, they must not be right-wing." Francis then added, according to Archbishop Viganò, that they must not be left-wing, "and when I say left-wing, I mean homosexual."

It was then that Francis asked his opinion of Cardinal McCarrick, to which Archbishop Viganò said he had replied: "Holy Father, I don't know if you know Cardinal McCarrick, but if you ask the Congregation for Bishops there is a dossier this thick about him. He corrupted generations of seminarians and priests, and Pope Benedict ordered him to withdraw to a life of prayer and penance."

Archbishop Viganò, who blames homosexuals for the child abuse crisis that has destroyed the church's standing in many countries, dedicates entire sections of the letter to outing cardinals who he claims belong to what he characterizes as a pernicious "homosexual current" within the Vatican.

"These homosexual networks," he wrote, "which are now widespread in many dioceses, seminaries, religious orders, etc., act under the concealment of secrecy and lies with the power of octopus tentacles, and strangle innocent victims and priestly vocations, and are strangling the entire church."
More from The Washington Post:
A former Vatican ambassador to the United States has alleged in an 11-page letter that Pope Benedict XVI and Pope Francis — among other top Catholic Church officials — had been aware of sexual misconduct allegations against former D.C. archbishop Cardinal Theodore McCarrick years before he resigned this summer.

The letter from Archbishop Carlo Maria Viganò, who was recalled from his D.C. post in 2016 amid allegations that he'd become embroiled in the conservative American fight against same-sex marriage, was first reported by the National Catholic Register and LifeSite News, two conservative Catholic sites. The letter offered no proof, and Viganò on Sunday told The Washington Post he wouldn't comment further, beyond confirming that he was the letter's author.

"Silence and prayer are the only things that are befitting," he said.

The accusations landed as Francis was wrapping up one of the most fraught trips of his papacy, coming face-to-face with the church's damaged credibility in a country reeling from decades of abuse. In a Mass at Dublin's Phoenix Park, Francis spoke in Spanish and asked for forgiveness for what he called "abuses of power, conscience, and sexual abuse perpetrated by members with roles of responsibility in the church," according to a translation of his remarks by Vatican News.

"We ask forgiveness for some members of the church's hierarchy who did not take charge of these painful situations and kept quiet," Francis said.

Some 500,000 had been expected to attend the Mass, but the crowd was noticeably smaller, with patches of grass visible in areas that had been intended for spectators.

The sexual abuses — in Ireland, the United States, Australia, Argentina, Belgium Brazil, Canada, Chile and other countries — have fed and amplified the bitter polarization within the Catholic Church. Some of Francis' critics, including Viganò, are calling for the pope to step down.

The Vatican had no immediate comment.

The letter was the latest dramatic development stemming from a fresh wave of allegations related to clergy sex abuse and its coverup. Rumors that had swirled for decades about McCarrick exploded in June when Pope Francis suspended the cardinal. Last month, McCarrick, facing credible allegations of abusing seminarians and minors, became the first U.S. cardinal in history to resign.

Viganò, 77, was the Holy See's apostolic nuncio, or ambassador, in Washington from 2011 until 2016. He has been a lightning rod within the Vatican who lost a power struggle in Rome under Benedict, emerged as a Francis critic, and reportedly ordered the halt of an investigation into the alleged sexual relations between an archbishop in Minnesota and seminarians.

Jason Berry, who has written several investigative books about the Vatican, said he believes this is the first time a pope has been accused from within.

"From within the Vatican hierarchy, from within the Roman Curia, I don't think anyone has ever publicly accused a pope of covering up for a sex abuser," Berry said. "That's why this is such a big deal."

Viganò's letter said that McCarrick had been privately sanctioned under Benedict — though only after years of warnings about his alleged behavior toward seminarians and young priests — not toward minors. Viganò wrote that the measures, taken "in 2009 or 2010," banned McCarrick from traveling, holding Mass, or participating in public meetings.

Yet McCarrick appears to have done essentially the opposite. He regularly appeared as a speaker and celebrant at church functions and represented the church in prominent foreign diplomatic efforts in places like China and Iran. A video from 2013 shows Benedict warmly greeting McCarrick in Rome, at the pope's resignation (and the subsequent election of the new pope), where McCarrick gave round-the-clock television interviews and stayed at a seminary.

It wasn't immediately clear why a pope taking the dramatic step of suspending a cardinal from ministry, as Vigano said, wouldn't monitor McCarrick in any way.

However, when the archdiocese of New York last year began its investigation into analtar boy's allegation against McCarrick – the first accusation involving a youth – the Vatican ambassador Archbishop Christophe Pierre told McCarrick to be less public while the probe was underway, a personal familiar with McCarrick said Sunday. However McCarrick still appeared in public as he wished, the person said, including attending an ordination ceremony in May in his cardinal's garb.

Viganò's letter says that in 2013, he met Francis months into his papacy and told him face to face that there was "a dossier this thick" about McCarrick. He says he then told Francis about Benedict's order that McCarrick remove himself from public life.

"He corrupted generations of seminarians and priests and Pope Benedict ordered him to withdraw to a life of prayer and penance," Viganò says he told Francis. "The Pope did not make the slightest comment about those very grave words of mine and did not show any expression of surprise on his face, as if he had already known the matter for some time, and he immediately changed the subject."

Viganò also alleges in that conversation that Francis told him American bishops "must not be ideologized, they must not be right-wing . . . and they must not be left-wing, and when I say left-wing I mean homosexual."

Barry Coburn, McCarrick's lawyer, said in a statement: "These are serious allegations. Archbishop McCarrick, like any other person, has a right to due process. He looks forward to invoking that right at the appropriate time."

He declined to elaborate further.

It was not possible to reach Bened.ict or his representatives right away. Francis has not commented previously about what he was told about McCarrick, and on Sunday Vatican spokesman Greg Burke did not respond to a request seeking comment.
The roots of these claims lie not only in the broader child abuse scandal that has rocked the Catholic Church for the past twenty years or more, which has received renewed attention in the light of the report issued by a Pennsylvania grand jury that found evidence of abuse involving hundreds of children and more than a thousand Priests as well as the active participation of a number of Bishops in covering up evidence of that abuse but also a more contemporary scandal. As I noted earlier this month, Cardinal Theodore McCarrick, who had served as the Bishop of three separate dioceses including the Archdiocese of Washington, D.C. was forced to step aside by Pope Francis after reports became public regarding sexually abusive and inappropriate behavior both toward children and seminarians. In the wake of both of these reports, Pope Francis took the unusual step of sending out a letter addressed to all the world's Catholics in which he expressed deep regret for the scandals but failed to announce any concrete steps that the Church intends to take in response to the new reports of abuse. For that reason, the Pontiff's letter has largely been regarded as all talk and no action. These latest allegations go far beyond where the situation stood after the Pope's letter and create the potential that the abuse scandal, which had largely disappeared from the headlines, was about to become a headache for the Church yet again.
The importance of these latest allegations cannot be understated. If they are true then it means that Pope Francis, who until now has seemingly not been touched by allegations of having knowledge of abuse and the coverups that were conducted in the past and who has allegedly been doing what he can to make up for the Church's past, not only had direct knowledge of abuse on McCarrick's part but actively sought to cover the allegations up and looked the other way while McCarrick essentially violated the restrictions on his priestly duties that Pope Benedict XVI had placed on him during his Papacy. The allegations also seem to suggest that Francis has been aware of other instances of abuse that have not come to light yet and which have also been covered up by Bishops and other members of the Church hierarchy.
While much of the focus in the wake of this letter will be on what Popes Benedict and Francis knew and when they knew it, this letter is also part of a broader battle inside the Church between conservatives who believe Francis is changing other elements of Catholicism too quickly and reformers who have, until now at least, gathered around him in support of changes they believe are long overdue:
Since the start of his papacy, Francis has infuriated Catholic traditionalists as he tries to nurture a more welcoming church and shift it away from culture war issues, whether abortion or homosexuality. "Who am I to judge?" the pope famously said, when asked about gay priests.

Just how angry his political and doctrinal enemies are became clear this weekend, when a caustic letter published by the Vatican's former top diplomat in the United States blamed a "homosexual current" in the Vatican hierarchy for sexual abuse. It called for Francis' resignation, accusing him of covering up for a disgraced cardinal, Theodore E. McCarrick.

With the letter — released in the middle of the pope's visit to Ireland — an ideologically motivated opposition has weaponized the church's sex abuse crisis to threaten not only Francis' agenda but his entire papacy. At the very least, it has returned the issue of homosexuality in the Roman Catholic Church, which many conservatives are convinced lies behind the abuse crisis, to the center of debate.

Vatican intrigues and power struggles are nothing new, but they usually remain within the medieval walls or fly over the heads of the Catholic faithful around the globe.

This battle, however, is being waged in an exceptionally open and brutal manner. It is fueled by a modern media age, the pope's reluctance to silence critics, and an issue — child sexual abuse — that perhaps more than any other has prompted defections among the faithful.

The accusations in the letter remain unsubstantiated. Asked Sunday night about their validity, Francis said he would not dignify them with a response.

But they are serious, and the pope's vague answer has only heightened public interest, particularly in the core accusation — that he was told about Mr. McCarrick's history of sexual relations with seminarians and did nothing about it.

"It's a serious problem," said Sandro Magister, a veteran Vatican observer at L'Espresso magazine, who said the remarkable public broadside was indicative of enormous frustration among conservatives toward Francis. He doubted whether Francis, who has essentially ignored such salvos in the past, would be able to do so this time.

(…)

The child sex abuse scandal has riveted the attention of the world's Catholics, but the shift in the church's direction under Francis has enlivened his enemies. They believe that the pope's message of inclusion is undermining longstanding church rules, and that it is leading to confusion and perhaps schism.

The explosion of conservative Catholic blogs — many in the United States — in an era of lightning-fast modern media, as well as the strategically timed release of the letter combined to make a potent rear-guard action against the 81-year-old pontiff.

"Let us be clear that they are still allegations, but as your shepherd I find them to be credible," the conservative Bishop Joseph Strickland of Tyler, Tex., wrote in an open letter to his diocese. "I will lend my voice in whatever way necessary to call for this investigation and urge that its findings demand accountability of all found to be culpable even at the highest levels of the church."

If Francis thought that the debate over homosexuality in the church was behind him, the events of this week suggest otherwise.

"The homosexual networks present in the Church must be eradicated," Archbishop Viganò wrote, arguing that it was the root cause of abuse.
What is important to understand here is that there are two separate issues being raised in Vigano's letter, but only one of them is relevant outside of the Church itself.
The primary issue, of course, deals with the long-standing issue of the abuse of children by Priests and the efforts of members of the church's hierarchy to cover up those abuses and protect the Priests from criminal prosecution and the church from civil liability. This is obviously a concern not only for the Church and the world's one billion Catholics but also for civil society as a whole, and it is one that properly ought to be investigated by authorities outside the Church as it was in Pennsylvania,
The second issue involves a battle that has been joined ever since Francis became Pope and involves efforts by conservative Catholic clerics and parishioners to resist many of the changes that this Pope is making when it comes to the Church's attitude toward homosexuals, divorced Catholics, and a whole host of other issues. For these people, the roots of the child abuse scandal are directly connected to the issue of homosexual Priests regardless of whether or not these Priests have ever abused a child. A good part of this, of course, is rooted in the long-standing lie spread by people biased against homosexuality that there is some kind of connection between being gay and being a child abuser notwithstanding the fact that there is overwhelming evidence to the contrary. These people have also alleged the existence of a "homosexual network" inside the Church and widespread violation of the Church's celibacy rules and claim that this "network" is responsible for Francis changing church teaching. This second issue is, of course, and internal church matter and entirely irrelevant to the issue of child sex abuse and the church's coverup of that abuse. The context that ties all of this together, though, is the fact that Vigano is firmly in the conservative's camp in the battles with Francis, so it may be advisable to take his allegations with a grain of salt since they could be motivated by something other than a desire to reveal the truth.
So far, the response from the Pope has been less than satisfactory:
Pope Francis said Sunday that he will not comment on claims by a former Vatican ambassador to the U.S. that the pope knew about allegations against Archbishop Theodore McCarrick and reinstated him in ministry. The pope said people should make up their own minds about the claims.

Asked whether it was true that Archbishop Carlo Viganò, the statement's author, had informed him in 2013 about McCarrick's alleged sexual misconduct with priests and seminarians, and if it was true Benedict XVI had previously imposed sanctions on the former cardinal, the pope said he was distracted by the previous question and would have preferred to talk about the trip.

"I read the statement this morning, and I must tell you sincerely that, I must say this, to you and all those who are interested: Read the statement carefully and make your own judgment," he answered. "I will not say a single word on this."

Speaking aboard the papal plane from Dublin to Rome Aug. 26, Francis said he believes in the "journalistic capacity to draw your own conclusions," calling it an "act of faith."

"When some time passes and you have drawn your conclusions, I may speak. But I would like your professional maturity to do the work for you. It will be good for you," he told members of the press.

Asked in a follow up question when he first learned about the abuse allegations against McCarrick, Pope Francis responded, "This is part of the statement. Study it and then I will say."
As with the Pope's statement last week, this is obviously insufficient. If the allegations in this letter are true then this Pope is as guilty of engaging in cover-ups as his predecessors were and his claims to be concerned about reform seem to be nothing but empty rhetoric. This is especially true given the fact there have been very few concrete steps taken since Francis was elected Pope in the way of actually reforming the Church or engaging in anything that would qualify as penance under Catholic doctrine. Instead, there has just been the same old excuse-making, empty rhetoric, and dodging of responsibility.
It is quite appropriate that this news broke as the Pope was finishing up his visit to Ireland. As I have noted before, that nation was once one of the most devoutly Catholic countries in the world, but that is clearly no longer the case. The crowds that greeted Francis this weekend, for example, were far smaller than those that greeted John Paul II when he visited the Emerald Isle some two decades ago. At his final Mass, for example, it is estimated that roughly 150,000 people attended an event that planners had expected more than 500,000. By way of comparison, John Paul II held a mass in the same location that attracted more than a million people. The fact that the intervening twenty years have seen revelations about child abuse similar to what has happened in the United States as well as allegations regarding abuse at the church-operated orphanages that used to exist all over Ireland no doubt has something to do with this. If the Church doesn't get on top of these news scandals soon, it's going to find similar developments in other parts of the world.
A PDF of the original letter in Italian can be found here, and I have embedded an English translation below:
Vatican Testimony of Archbi… by on Scribd