Cardinal Theodore McCarrick Resigns As Sexual Abuse Allegations Mount
One of the most prominent members of the American Catholic hierarchy has been removed from office in the face of mounting allegations of sexual abuse that stretch back decades.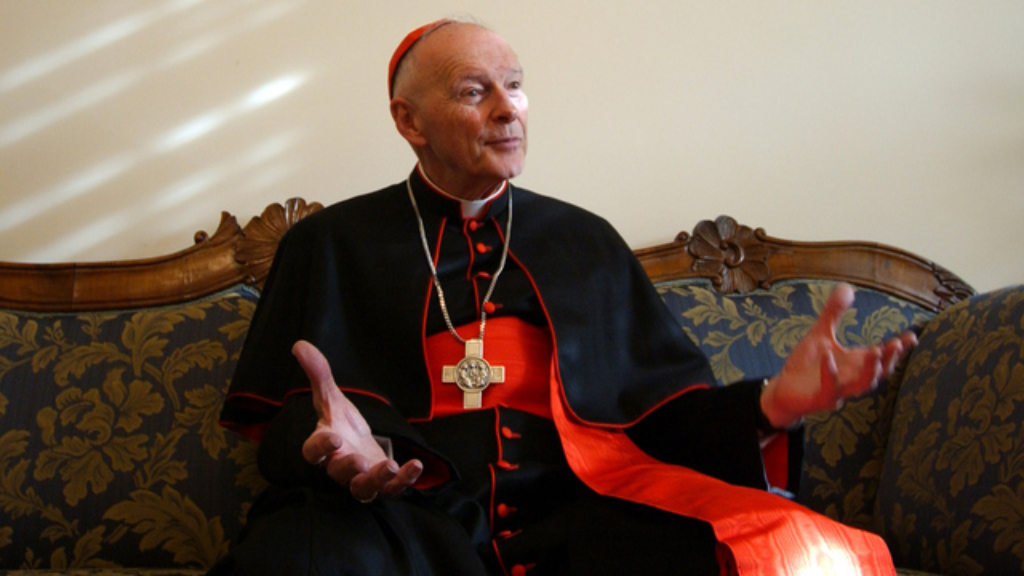 Theodore McCarrick, who was until he retired among the most prominent Cardinals in the American Catholic Church and a close adviser to each of the three most recent Popes, has resigned his position in the College of Cardinals and essentially been stripped of his ability to perform any of the duties of a Catholic Priest amid allegations about sexual abuse and harassment that reaches back decades:
ROME — Cardinal Theodore E. McCarrick, the former archbishop of Washington and prominent diplomat at the center of a mushrooming sexual abuse scandal dating back decades, has resigned, the Vatican announced on Saturday.

In a statement, the Vatican said: "Yesterday evening the Holy Father received the letter in which Cardinal Theodore McCarrick, Archbishop emeritus of Washington (U.S.A.), presented his resignation as a member of the College of Cardinals.

"Pope Francis accepted his resignation from the cardinalate and has ordered his suspension from the exercise of any public ministry."

The statement said the cardinal would remain in seclusion "for a life of prayer and penance until the accusations made against him are examined in a regular canonical trial."

Cardinal McCarrick, a prominent Roman Catholic voice in international and public policy, was removed from public ministry on June 20, after an investigation found credible accusations that he had sexually abused a teenager 47 years ago while serving as a priest in New York.

Cardinal McCarrick, now 88, said in a statement at the time that he was innocent.

Subsequent interviews by The New York Times revealed that some in the church hierarchy had known for decades about accusations that he had preyed on several men who wanted to become priests, sexually harassing and touching them.

At least one man said he was abused by Cardinal McCarrick when he was a New Jersey bishop in the 1980s. The Times investigation discovered settlements amounting to tens of thousands of dollars over the years, paid to men who had made allegations of abuse against Father McCarrick, then a rising star in the Roman Catholic church.

Cardinal McCarrick's resignation from the College of Cardinals is the first since Father Louis Billot tendered his resignation in 1927 because of political tensions with the Holy See.

Keith Patrick O'Brien, a former archbishop of St. Andrews and Edinburgh, waived his rights as a cardinal in 2013, after accusations emerged of inappropriate sexual behavior with junior clergy. But he remained in the College of Cardinals until his death in March this year.

"The relevant point is that he is no longer a cardinal," a Vatican spokesman, Greg Burke, said on Saturday of Cardinal McCarrick.
More from The Washington Post:
Cardinal Theodore McCarrick, the former archbishop of Washington and longtime globe-trotting diplomat of the Catholic Church, resigned his position as a cardinal, the Vatican announced Saturday.

McCarrick, 88, was found by the church in June to be credibly accused of sexually abusing a teenager nearly 50 years ago. Since then, additional reports of sexual abuse and harassment by the cardinal, over a span of decades, have been reported. The victims include one then-minor and three adults, who were young priests or seminarians when McCarrick allegedly abused them.

Pope Francis ordered McCarrick to remain in seclusion, and in prayer, until a church trial considers further sanctions against him.

McCarrick is the highest ranked U.S. Catholic clergy member to ever be removed from ministry due to sexual abuse allegations.

In June, McCarrick was removed from ministry when a church review board found that he had been credibly accused of abusing a teenager early in his career, when he was a priest in New York. The youth was helping prepare for a Christmas service when McCarrick allegedly put his hands in the boy's pants. When he was removed from ministry, McCarrick said he had no memory at all of that incident and he maintained his innocence, but accepted the Vatican's decision.

Then came more allegations. A Virginia man now 60 years old told The New York Times and then The Washington Post that McCarrick, a friend of his father, abused him for nearly 20 years, starting when he was an 11-year-old boy and McCarrick urged him to show him his genitals while changing clothes after a swim party.

The diocese of Metuchen and the archdiocese of Newark, both of which McCarrick led before he was promoted to archbishop of Washington in 2001, revealed that they had reached settlements in the 2000s with two men who accused McCarrick of sexually harassing them when they were adults. In one case, former priest Robert Ciolek says that McCarrick would invite him and other seminarians to a beach house, where there was always one bed too few, so one man would have to sleep with the bishop. Ciolek, who said McCarrick never kissed him or touched him below the waist, but did give and demand unwanted back rubs, reached an $80,000 settlement with the New Jersey dioceses for McCarrick's conduct and the abuse he also suffered at the hands of a high school teacher when he was a teenager in Catholic school.

Ciolek said the church imposed an agreement that he not speak to the media about McCarrick's abuse, which it released him from this year.

In the second case, which The Washington Post learned about after examining extensive church files, a former priest said McCarrick abused him while on a fishing trip and again on a trip to New York City, where McCarrick made him sleep with him and rubbed his crotch. The New York Times reported that the church settled with that former priest — who was removed from ministry in the mid-2000s, about a decade after he admitted that he himself had touched two teenage boys — for $100,000. That priest has not returned requests for comment.
Given his prominence in the American Catholic hierarchy and the fact that, as a member of the College of Cardinals, he had been a close adviser to Popes John Paul II, Benedict XVI, and Francis, the charges against McCarrick have come as something of a shock to American Catholics. Prior to this, McCarrick had been an Auxiliary Bishop in New York, a Bishop in the Diocese of Metuchen in Central New Jersey, and Archbishop in both Newark, New Jersey and Washington, D.C. In all of those roles, he has been one of the most prominent Catholic voices in the United States and always maintained what seemed on the outside to be the image of a devout Priest and "Prince of the Church." I can attest to this myself given the fact that I was raised Catholic and McCarrick was Bishop of Metuchen when I received the Sacrament of Confirmation in 8th Grade, meaning that he presided over the Mass at which I was confirmed. It wasn't long after that that he was moved to Newark as Archbishop and, eventually, to Washington where he served as Archbishop until 2001 when he was elevated to Cardinal. Little did anyone outside the Catholic Church know what was actually going on at the time.
The McCarrick allegations also come at a time when many people had come to believe that the worst of the storm regarding allegations of abuse had passed for the Catholic Church in the United States. For nearly ten years at the start of the century, these reports dominated the news about the Church and led to much dissension and disillusionment among Catholics in the United States and around the world. John Paul II and Benedict XVI in particular were widely criticized for what many saw as an indifference to the victims of the predator priests who molested young boys and girls and who were often protected from prosecution by a Chruch that would move them from Church to Church or even Diocese to Diocese while at the same time quietly settling claims against them with monetary payoffs that included agreements to stay silent. Eventually, though, things quieted down, the Church seemed to reform, and the stories, for the most part, went away. These revelations about former Cardinal McCarrick make clear that this was merely an illusion and that there was still more being covered up by the American Bishops and by Rome.
One indication of just how widespread this issue is comes via Rod Dreher who, to his credit, has been talking about the allegations against McCarrick for years even while others were ignoring them. In a post late yesterday, Dreher linked to a report likely to be released in the coming weeks detailing decades of abuse reports from six of the eight Catholic Diocese in Pennsylvania involving more than 300 Priests. Another Dreher post this morning deals with a Catholic Diocese in Montana which stands accused of sweeping allegations against more than 80 Priests under the rug and, in many cases, reassigning these Priests to Native American Reservations in the state where, you guessed it, they were accused again of molesting children. Now, that diocese is asking Parishioners for donations that would, in part, be used to pay settlements being made with the victims of these Priests. Similar moves in other Diocese around the country have led some activists to call on Parishioners to refuse to donate to these Bishop's appeals, thus forcing the Diocese to sell off assets or use savings to pay settlements.
In any case, the issues surrounding McCarrick make clear that we're likely to see renewed attention on the issue of sexual abuse by clergy. Indeed, it's worth noting that in recent years there has been an increase in such reports outside of the Catholic Church and most especially among Evangelical Christian churches, showing that this is not exclusively a Catholic issue. As for McCarrick himself, the next step in the process could be for him to be defrocked as a Priest and, potentially, turned over to law enforcement, although it is unclear if there would be any viability for criminal charges at this point given the amount of time that has passed. Whatever happens, though, it's far too little far too late. McCarrick should have been brought to justice years ago, and one suspects that, as with past allegations, it's likely that his case is only the tip of the iceberg. If that's the case, then the truth needs to come out because, quite honestly, it's far past the time for the truth to come out and for the chips to fall where they may.