Pennsylvania Grand Jury Report Reveals Widespread Abuse In Catholic Church
A Pennsylvania Grand Jury report reveals decades of abuse by some 300 Catholic Priests impacting more than 1,000 children and 26 of the state's Roman Catholic Diocese.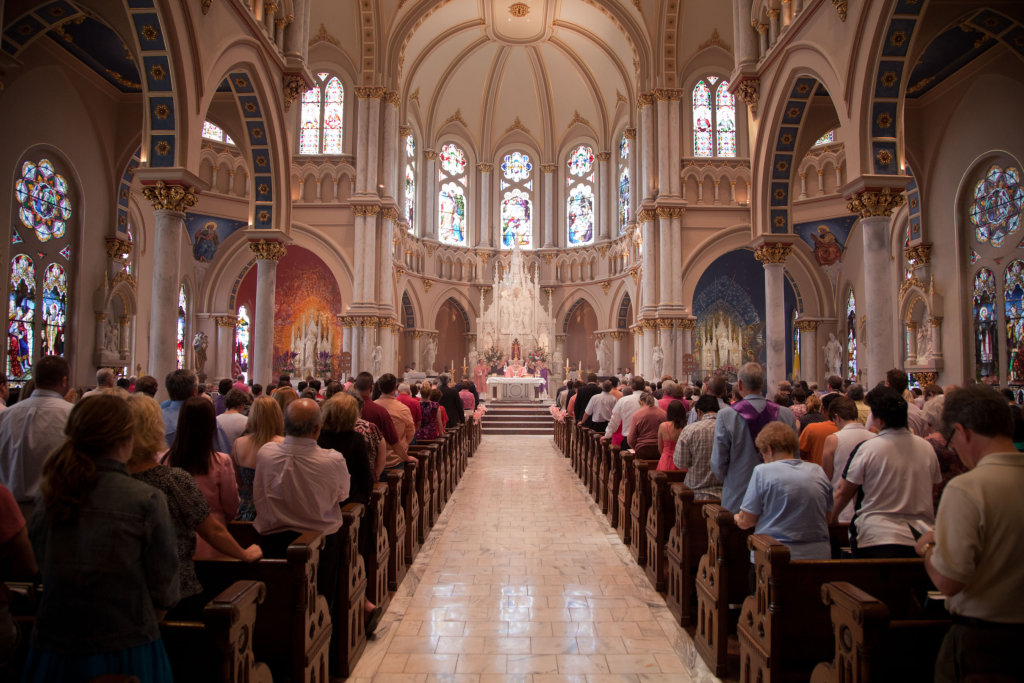 As anticipated, a Pennsylvania Grand Jury has issued a searing report that uncovers credible allegations of sexual abuse involving more than 300 Catholic Priests and 1,000 children at 26 of the 28 Roman Catholic Diocese in Pennsylvania:
Bishops and other leaders of the Roman Catholic Church in Pennsylvania covered up child sexual abuse by more than 300 priests over a period of 70 years, persuading victims not to report the abuse and law enforcement not to investigate it, according to a searing report issued by a grand jury on Tuesday.

The report, which covered six of the state's eight Catholic dioceses and found more than 1,000 identifiable victims, is the broadest examination yet by a government agency in the United States of child sexual abuse in the Catholic Church. The report said there are likely thousands more victims whose records were lost or who were too afraid to come forward.

It catalogs horrific instances of abuse: a priest who raped a young girl in the hospital after she had her tonsils out; a victim tied up and whipped with leather straps by a priest; and another priest who was allowed to stay in ministry after impregnating a young girl and arranging for her to have an abortion.

The sexual abuse scandal has shaken the Catholic Church for more than 15 years, ever since explosive allegations emerged out of Boston in 2002. But even after paying billions of dollars in settlements and adding new prevention programs, the church has been dogged by a scandal that is now reaching its highest ranks. The Pennsylvania report comes soon after the resignation of Cardinal Theodore E. McCarrick, the former archbishop of Washington, who is accused of sexually abusing young priests and seminarians, as well as minors.

"Despite some institutional reform, individual leaders of the church have largely escaped public accountability," the grand jury wrote. "Priests were raping little boys and girls, and the men of God who were responsible for them not only did nothing; they hid it all. For decades."

The grand jury said that while some accused priests were removed from ministry, the church officials who protected them remained in office or even got promotions. One bishop named in the report as vouching for an abusive priest was Cardinal Donald Wuerl, now the archbishop of Washington. "Until that changes, we think it is too early to close the book on the Catholic Church sex scandal," the jury wrote.

The report is unlikely to lead to new criminal charges or civil lawsuits under the current law because the statute of limitations has expired. Only two of the cases in the report so far have led to criminal charges.

In statements released on Tuesday, Pennsylvania's Catholic bishops called for prayers for victims and for the church, promised greater openness and said that measures instituted in recent years were already making the church safer.

But several bishops, including Bishop David A. Zubik of Pittsburgh, rejected the idea the church had concealed abuse.

"There was no cover-up going on," Bishop Zubik said in a news conference on Tuesday. "I think that it's important to be able to state that. We have over the course of the last 30 years, for sure, been transparent about everything that has in fact been transpiring."

Church officials followed a "playbook for concealing the truth," the grand jury said, minimizing the abuse by using words like "inappropriate contact" instead of "rape"; assigning priests untrained in sexual abuse cases to investigate their colleagues; and not informing the community of the real reasons behind removing an accused priest.

"Tell his parishioners that he is on 'sick leave,' or suffering from 'nervous exhaustion.' Or say nothing at all," the report said.

Attorney General Josh Shapiro, whose office initiated the investigation, said in a news conference, "They protected their institution at all costs. As the grand jury found, the church showed a complete disdain for victims."

He said that the cover-up by senior church officials "stretched in some cases all the way up to the Vatican."

(…)

The Pennsylvania grand jury met for two years, reviewed 500,000 documents from dioceses' secret archives, and heard testimony from dozens of victims and the bishop of Erie. The report covers the dioceses of Allentown, Erie, Greensburg, Harrisburg, Pittsburgh and Scranton. Two of the dioceses — Greensburg and Harrisburg — tried to quash the grand jury investigation last year, but later backed off that stance.

The report lists each of the accused priests and documents how they were sent from parish to parish, and even sometimes out of state. The grand jury said that while the list is long, "we don't think we got them all." The report added, "We feel certain that many victims never came forward, and that the dioceses did not create written records every single time they heard something about abuse."

In the Greensburg diocese, the Rev. John Sweeney was charged by the attorney general's office with sexually abusing a boy in the early 1990s. Father Sweeney pleaded guilty this month and awaits sentencing. In the Erie diocese, the Rev. David Poulson was arrested in May and charged with sexually assaulting a boy for eight years, starting at age 8. Father Poulson has yet to enter a plea.

The Pennsylvania State Legislature has so far resisted calls to lift the statute of limitations, which has prevented childhood victims from filing civil lawsuits against the church after they turn 30. For many victims, it has taken decades to gain the courage to speak about the abuse, long past when the law would allow them to sue.

The grand jury and the attorney general strongly recommended that the statute of limitations be extended in civil and criminal cases. They recommended opening a temporary "window" that would permit older victims to file civil lawsuits against perpetrators, and the church.

The church has lobbied against any change to the statute or to open such a window, its efforts led by Bishop Ronald W. Gainer of Harrisburg, president of the Pennsylvania Catholic Conference. But abuse survivors and advocates say that in September they plan to begin a fresh campaign to press lawmakers and Bishop Gainer to drop their opposition.

"If this doesn't start a serious debate on the elimination of the statute of limitation, there's something seriously wrong with my fellow Pennsylvanians," said Shaun Dougherty, now 48, who testified before the Altoona-Johnstown grand jury about being abused by a priest for three years starting at age 10.
The Grand Jury report, which I've embedded below, speaks for itself and can't really be expanded upon beyond what it actually says. At its core, though, it reveals nearly entire Catholic Church in the Commonwealth of Pennsylvania to have been engaged in a what can only be described as a conscious and comprehensive effort to cover up evidence of child abuse and protect the Priests who were accused of carrying it out. This is hardly surprising, of course, since it has so much in common with the past reports that we've heard regarding individual cases in states such as Massachusetts and elsewhere in the United States as well as the abuse and cover-up allegations that have been made against the Church in nations such as Ireland and Australia, both of which have seen reports of widespread abuse that is roughly as bad as what we've seen in the United States. What this report makes plain, though, is that these cases of abuse were far from being isolated incidents and that the cover-ups that we've seen were part of what seems to have been routine Church policy. Indeed, it seems as if those cover-ups were so routine that it is hard to believe that the hierarchy of the Church in the United States and in Rome didn't know what was going on and was not themselves actively or passively involved with protecting these predators disguised as Priests in their midst and with protecting the interests of the Roman Catholic Church as an institution. The welfare of the children who were abused, or the safety of future potential victims, was obviously not something that they cared about or gave much obvious thought to.
At the very least, it strikes me that this report ought to be the spark for further action not only in Pennsylvania but across the country. Changes to the applicable statutes of limitation for both criminal and civil claims of child sexual abuse are an obvious place to start, but even before we get there we need to get a better handle on just how big a problem we're dealing with. While it may seem like an extreme option, it seems as though the time has come for either national investigation of some kind or Grand Jury investigations similar to what has happened in Pennsylvania in the other 49 states in the nation. Many of those investigations won't need to be as widespread or long-lasting as the Pennsylvania investigations because the Catholic populations in those states is smaller, but that's not really an excuse for not ensuring that the truth comes out, and as this report makes clear even after all these years and all the revelations we have become familiar with, that still hasn't happened.
Dave Schuler has these observations about the report and the overall abuse scandal itself:
There are actually three grave scandals involved. The first and most serious is the child and teen sexual abuse. The second is the coverups by other priests and bishops. The third is that the man under whose papacy many of the abuses took place was canonized. That he created a climate in which the Church hierarchy were predisposed to cover up these abuses and shield the abusers can now hardly be denied.

(…)

In the Catholic tradition forgiveness has three prerequisites: confession of one's sins, a sincere intention to change one's actions, and penance. Paying the penalty for one's actions is not penance. Neither is foisting the costs of your misdeeds on the laity. Confession, reform, and penance by the Catholic clergy and hierarchy are still wanting and long overdue.
The man that Dave refers to in the first paragraph, of course, is the late Pope St. John Paul II who has also been given the honorific title "the Great," a title that has only been granted to four Popes throughout history, and one that had not been granted to any Pope since the end of the first millennium. Both this honorific and the canonization occurred notwithstanding the fact that, even while John Paul II was still alive, the evidence regarding decades of abuse by Priests not only in the United States, Ireland, and Australia but around the world. Despite these reports, the Pope did nothing and did not speak out in support of the victims at any point before he died. More evidence of what had been going on both before John Paul II's Papacy and afterward came out after his death during the Papacy of Benedict XVI. Of course, it is worth noting that Benedict himself had been part of the Church hierarchy during this time and was also no doubt aware of what was going on under their watch. Despite this, Benedict presided over his predecessor's Beatification, and Pope Francis presided over his Canonization. The fact that they did so without even so much as an acknowledgment of the truth of what happened during John Paul's Papacy is, on its own, evidence of just how deep the corruption is in the Church. Unless and until that is acknowledged, the stain on Catholicism will not be erased.
Here is the report of the Pennsylvania Grand Jury, all 1,163 pages:
Grand Jury Report on Pennsylvania Catholic Church Abuse by Doug Mataconis on Scribd