Two Dead, Three Injured In Shooting At Seattle Area High School
Another school shooting.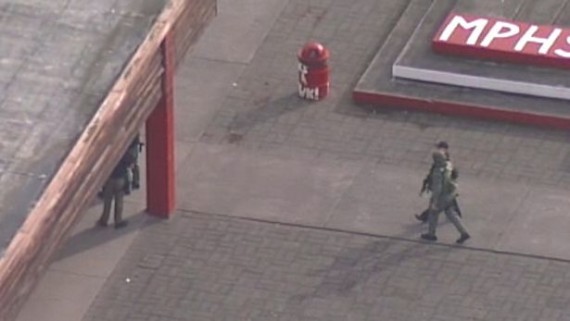 At least two people, including the alleged shooter, are dead and three others are injured after a shooting at a High School outside of Seattle, Washington:
A student with a "blank stare" opened fire in the cafeteria of a high school north of Seattle on Friday, killing one person and wounding at least two others before killing himself, police and witnesses said.

Officials said the gunman was dead and provided no other details on casualties. A hospital official said three patients were in "very critical condition" after the 10:30 a.m. PDT shooting at Marysville-Pilchuck High School. Another patient is being treated at another hospital with "less serious" injuries.

Students described how an ordinary lunch period erupted in violence with no warning as a freshman silently began shooting in the cafeteria.

"Just all of a sudden I see him stand up, pull something out of his pocket," Austin Taylor, who had just finished eating lunch at the next table, told NBC affiliate KING.

Taylor said he heard one pop, then four more after that.

"I saw three kids just fall from the table like they were falling from the ground dead," he said.

As the gunman fiddled with the small pistol, Taylor said, he ran from the cafeteria and into a classroom.

"He had a blank stare," Taylor said. "He was just staring at the victims as he shot them.

"He was just calm during the whole thing and he was perfectly fine the day before."

Another student, Alan Perez, said he also saw the gunman pull out his weapon.

"I just dropped my skateboard and ran as fast as I could," told KING. "I saw he had a little gun in his hand, and saw the flash from the muzzle of the gun."

After the shooting, someone pulled the fire alarm and students rushed out of classrooms only to be ushered back in by staff as the building was placed on lockdown.

Cindy Rodriguez, 17, told NBC News that as she hunkered down in a classroom with about 40 other teens, she texted her kid brother, who was in the lunchroom.

"I wanted to make sure he was OK. He told me a freshman brought a gun to school and he shot four people," she said.

Police evacuated the school room by room, leading out groups of young people with their hands up as frantic parents rushed to the campus.

As moms and dads were reunited with their kids at a church, doctors were working to save the wounded.

Four patients were taken to Providence Regional Medical Center in Everett, where chief medical officer Dr. Joanne Roberts said three were rushed to operating rooms. A fourth was in less serious condition and was transferred to a Seattle hospital.

Marysville Police Cmdr. Robb Lamoureaux said the motive was not known but investigators were confident there was only one shooter.
More from the Seattle Post-Intelligencer:
MARYSVILLE, Wash. — Shots rang out late Friday morning at the cafeteria at Marysville Pilchuck High School, leaving the shooter and another person dead and at least four students were wounded.

Three of the students suffered head wounds and were in surgery Friday afternoon at Providence Regional Medical Center in Everett. A hospital spokewoman described them as being in "very critical" condition.

Marysville Police Commander Robb Lamoureux said Friday the shooter was a student at the high school an h0ur north of Seattle, and could not say if anyone else was wounded. The shooter apparently committed suicide.

He later said a second person was dead but could not say whether that person was a student..

Four students were taken to Providence Regional Medical Center. Harborview Medical Center in Seattle said one of those students, a male, was later flown there. Providence Medical Center said the student sent to Harborview was not in as critical condition as the other three.

Someone from the school reported the shooting to 911 at 10:40 a.m.

The school went on lockdown, and heavily armed police swarmed the school north of Seattle. Live reports from television later showed students streaming out of the school and being led to a nearby church where family could pick them up.

Raw video from the scene showed parents and their children tearfully reuniting.
Two students are dead after one of them opened fire Friday morning in the Marysville-Pilchuck High School cafeteria before turning the gun on himself, according to law-enforcement sources.

Police said four other people were wounded  in the 10:45 a.m. shooting.

Austin Joyner, a student at the school, said on Twitter that he saw the shooter come into the cafeteria, walk over to a table, pull out a gun and shoot students who were sitting there.

Jarron Webb, 15, said the shooter was angry at a girl who would not date him, and that the girl was one of the people shot.  He said he believes one of the victims was his friend since kindergarten.

Students reported pandemonium in lunchroom after the shooting, with dozens rushing for doors and then jumping a fence to escape.

Freshman Austin Wright said every exit in lunchroom was jammed with kids escaping gunfire. "I heard three gunshots and I ran."

Four of the injured were taken by ambulance to Providence Regional Medical Center in Everett. Three, all young people, were in critical condition with head injuries. A fourth, with lesser injuries, was transferred to Harborview Medical Center in Seattle.

At a noon news conference, Marysville Police Commander Robb Lamoureux called the scene an active investigation and said police officers were going door-to-door to ensure that the campus was safe.  They were leaving tape to mark the doors of rooms that had been cleared. Officers were finding students and staff members hiding alone or in small groups.

"We are confident that there was only one shooter and that the shooter is dead," Lamoureux said. He did not confirm reports of injuries. Students were reporting that he was a freshman.

Some of the school's 1,200 students were being evacuated, walking out and across the fields with their hands up. Others were being told to stay inside classrooms.

Sophomore Arlene Cortez, 16, says she locked herself in a classroom with other students for about 45 minutes before police came in.

Some were bused to the nearby Shoultes Gospel Hall, where they are being accounted for. Lamoureux urged parents and family members of students to stay away from the scene, saying authorities would provide information on a location for them to be reunited with students.

At the church, tearful parents and students were being reunited, and hugging.

"I never thought I would be standing here after a school shooting," said Heather Parker, whose son, Corbin, is a senior. "He's pretty shook up. He just said 'I'm OK.' He was trying to calm me down."

Adam Holston, 14, a freshman, was just leaving the lunchroom when the gunfire broke out. "Everyone just started running. I could hear the gunshots and my heart was racing and we didn't know what was going on."

Some ran out to the parking lot, some to the field.

"Someone opened a door and we all ran into classrooms and just stayed there."

He said all students had been loaded on buses. His sister is a senior. He's been texting with her and she's OK.

"The person who everyone thinks did it was just acting normally. It didn't seem like there was  anything wrong."
In a news conference from the hospital where the students who survived the shooting are being treated, it was stated that all of the wounds were head wounds, which seems to indicate quite gruesomely that the shooter was intending to kill when he fired the shots and may have had some experience firing weapons before. However, since this is still a developing news story, there are still plenty of details that remain unknown, including the identity of the shooter and the victims, the motive for the shooting, although the news report above does seem to provide at least some clue as to what a motive might have been, and whether there might have been any warning that this could happen. Hovering over it all, of course, is the question of how the shooter, who appears to have been male and that the weapon appears to have been a pistol of some kind rather than a rifle or some other kind of semi-automatic weapon. Other than that, though, there really aren't many other details available at this time, and anything else that's said at this point is merely speculation. Hopefully, though, the students who are being treated for their injuries will pull through and recover from their injuries.
There's no link as of yet but CNN is reporting that law enforcement is identifying the shooter as 14 year old Jaylen Freiberg, and said that he was apparently the Freshman class's Homecoming King at the ceremony that took place just one week ago. What happened to push him over the edge like this, though, remains to be answered.
Otherwise, best of wishes to the students and the families of Marysville as they deal with this latest round of insanity. In the meantime, for those interested, here's streaming video from Seattle television station KING: