How The Reaction Of One Sheriff's Deputy Rebuts The Arguments For Arming School Teachers
If a law enforcement officer with 30 years of experience can't stop an active school shooter, what makes anyone think a teacher with a gun can?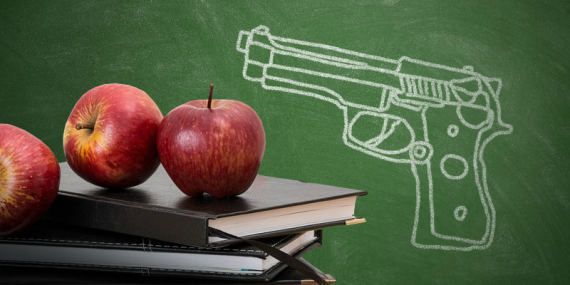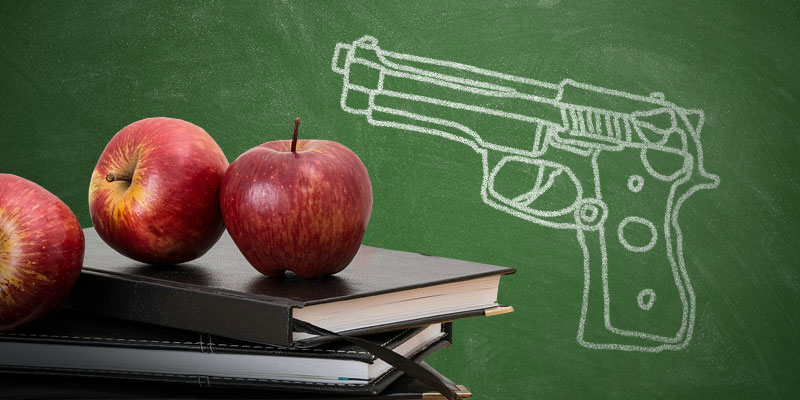 In the immediate aftermath of last week's shooting at Marjory Stoneman Douglas High School in Parkland, Florida, many wondered why the school's security failed to stop Nikolas Cruz either before or during his murderous rampage. Initially, it was reported that the school's sole Resource Officer, a uniformed Sheriff's Deputy, had failed to stop the shooter because he was in a separate part of the three-building campus and that the shooting had ended and the shooter had apparently escaped by the time he got there. Yesterday, we learned that the story was quite different, and what actually happened actually seems to undermine one idea that President Trump and many on the right have pushed that would allegedly make school's safer:
FORT LAUDERDALE, Fla. — The only armed sheriff's deputy at a Florida high school where 17 people were killed took cover outside rather than charging into the building when the massacre began, the Broward County sheriff said on Thursday. The sheriff also acknowledged that his office received 23 calls related to the suspect going back a decade, including one last year that said he was collecting knives and guns, but may not have adequately followed up.

The deputy, Scot Peterson, resigned on Thursday after being suspended without pay after Sheriff Scott Israel reviewed surveillance video.

"He never went in," Sheriff Israel said in a news conference. He said the video showed Deputy Peterson doing "nothing."

"There are no words," said Sheriff Israel, who described himself as "devastated, sick to my stomach."

(…)

Sheriff Israel said he informed Deputy Peterson on Thursday that he was being suspended without pay and placed under internal investigation. At 12:37 p.m. on Thursday, sheriff's office records show, Deputy Peterson, signed his retirement papers, which amounted to a resignation. He had been with the office for more than 32 years.

"The investigation will continue," Sheriff Israel said.

The surveillance video, which was not released, showed Deputy Peterson remained outside the west side of the building for at least four minutes while the gunman was inside, according to Sheriff Israel. The shooting rampage at Marjory Stoneman Douglas High School lasted less than six minutes. The video was corroborated by witness statements, Sheriff Israel said.

The New York Times reported on Wednesday that an officer from the Coral Springs Police Department who responded to the shooting had seen Deputy Peterson in a Stoneman Douglas High parking lot. The deputy "was seeking cover behind a concrete column leading to a stairwell," Officer Tim Burton said.
More from The Florida Sun-Sentinel:
The police officer assigned to Marjory Stoneman Douglas High School resigned Thursday, under investigation for failing to enter the building as a gunman opened fire and killed 17 people.

Sheriff Scott Israel said Deputy Scot Peterson should have "went in. Addressed the killer. Killed the killer." Video footage showed Peterson did none of that, Israel said.

The sheriff's office also said Thursday that two deputies were put under investigation for how they handled potential warnings about Cruz, including one from November in which a caller said Nikolas Cruz "could be a school shooter in the making."

Peterson, 54, came under scrutiny after 19-year-old Cruz entered a school building with an AR-15 rifle and killed 14 students and three educators on Valentine's Day. Cruz later confessed, police said.

The sheriff said video shows Peterson was outside the building for "upwards of four minutes" while students were gunned down inside.

"What I saw was a deputy arrive … take up a position and he never went in," the sheriff said at a news conference. "There are no words. I mean these families lost their children. We lost coaches," Israel said.

Peterson resigned, and subsequently retired, at 12:37 p.m. Thursday after he was suspended without pay earlier in the day, Israel said. An investigation into what happened will continue.

Peterson's resignation ends a more than three-decade career with the agency, where he was often regarded by peers as a dependable employee who could communicate well with both staff and students.

The 6-foot-5-inch native of Illinois started with the agency in July 1985, after studying at Miami-Dade Community College and Florida International University, according to records released Thursday by the sheriff's office.

Peterson had been a school resource officer at Stoneman Douglas since 2009. He was considered a trusted officer who "values his position and takes pride in protecting the students, faculty and staff at his school," a 2017 performance review said.

His annual salary in 2016 was $75,673.72, according to sheriff's office records, but he made $101,013 that year with overtime and other compensation. Peterson has been the subject of two internal investigations, neither of which resulted in significant discipline.

Soon after the shooting took place, Israel and Broward Schools Superintendent Robert Runcie were forced to answer questions about where Peterson was during the shooting and why he did not confront Cruz.

"I'm in shock and I'm outraged to no end that he could have made a difference in all this," Runcie said Thursday. "It's really disturbing that we had a law enforcement individual there specifically for this reason, and he did not engage. He did not do his job. It's one of the most unbelievable things I've ever heard."

Stoneman Douglas student Brandon Huff, 18, a senior, said he had seen Peterson standing outside the building and talking on his radio during the shooting.

Huff said he first learned of the shooting in a text message from his girlfriend, who said she was hiding in a corner and shots rang out.

"Two coaches went in and were shielding kids and throwing themselves in front of bullets and he did nothing."

Peterson could not be reached for comment Thursday afternoon at his home in Boynton Beach. Neighbor Nelson Sandy said he saw Peterson leave his house around 3 p.m., driving his work vehicle and accompanied by at least two Palm Beach County Sheriff's Office deputies driving their work vehicles.

"They were here today, three police officers and they all left together," Sandy said.

Felicia Burgin, a ninth-grade English teacher, was locked in her classroom with students on the second floor of the building, as they heard shots from the floor above.

She said the criticism of Peterson is unfair. Peterson wouldn't have stood a chance against the gunman in hallways that were filled with students at the time, she said.

"There is no one that is going to tell you a negative thing about Deputy Peterson," she said. "He was an Eagle and he was committed to our school. I don't know what he could have done other than literally died."
We haven't seen the video of the incident that revealed what Peterson actually did, nor have we heard from Peterson, and it's unclear if we ever will. So, without that information available, we really only have half the story of what happened over the course of those six minutes that Cruz was shooting, what was going through Peterson's mind at the time, or what he may have done in the short period of time that he had to react to an active shooter situation. It would also be helpful to know if Peterson was in radio contact with other members of law enforcement during this period, what he was telling them if he was, and of course what they were reporting back to him. If any of this occurred it would presumably be recorded on the audio records that one assumes that the local enforcement agencies make of radio traffic in real time during incidents such as this. That audio, if it exists, has yet to be released. Without this information, the most we can do is speculate.
The most generous interpretation of what Broward County Sheriff Steve Israel said yesterday is that Peterson was attempting to figure out what was going on, where the shooter or shooters might be in the building, and attempting to figure out the best way to confront and stop him or them while at the same time trying not to further endanger or panic the fleeing students. A less generous interpretation would be that Peterson, who had been on the force for more than thirty years before his retirement yesterday, quite simply froze in the face of danger notwithstanding his three decades of training. It's also worth noting that it's not at all clear that Peterson would have been able to find Cruz in time to stop him, or that he would have been able to stop him if he did find him. Nonetheless, he was hired for the specific job of providing security at the school and he failed to do his job. He also apparently lied to authorities about what had happened last Wednesday. Given that, it was appropriate that he was relieved of duty.
Leaving all that aside, though, the manner in which Peterson acted, or failed to act, German Lopez at Vox argues that it has a big impact on the merits of the proposal that President Trump put forward yesterday, and which Second Amendment advocates have been pushing for in the wake of incidents like this for years now:
Multiple simulations have demonstrated that most people, if placed in an active shooter situation while armed, will not be able to stop the situation, and may in fact do little more than get themselves killed in the process.

As Chris Benton, a police investigator in Pennsylvania, told ABC News, "Video games and movies, they glorify gunfights. [People] get that warped sense that this is true — this video game is exactly what I can do in real life. That's not reality."

The Daily Show also put this theory to the test in another — more comedic — simulation segment. Jordan Klepper, who was a correspondent with the show at the time, trained on the basics of using a firearm and got a concealed carry permit that was valid in 30 states. Then he participated in mass shooting simulations to see how he would hold up in such a scenario.

He failed — miserably. In his final test, which simulated a school shooting, he shot an unarmed civilian, and he was shot multiple times by the active shooters and even law enforcement, who mistook him for the bad guy. He never took down the active shooters.

The fundamental problem is that mass shootings are traumatizing, terrifying events. Without potentially dozens or even hundreds of hours in training, most people are not going to be able to control their emotions and survey the scene in time to quickly and properly respond.

"There's never enough training," Coby Briehn, a senior instructor at Advanced Law Enforcement Rapid Response Training, told Klepper. "You can never get enough."

The FBI's analysis of active shooters between 2000 and 2013 has another relevant data point: "Law enforcement suffered casualties in 21 (46.7%) of the 45 incidents where they engaged the shooter to end the threat." These are people trained to do this kind of thing full time, and nearly half were wounded or killed.

None of that is to say that a "good guy with a gun" won't ever be able to stop a shooter. We have seen some high-profile cases in which that happened. But the bulk of the findings, from news investigations to the FBI's report to The Daily Show, suggest that this idea is often going to play out very differently than supporters like President Trump envision — and sometimes could lead to more innocent people getting caught in the chaotic crossfire.
We saw the reality of this unfold last Wednesday. It's no doubt the case that Peterson was well-trained, that like most members of law enforcement that he regularly takes party in situations designed to test and train officers how to react to situations where they are likely to come under fire or be forced to make a decision about whether or not to use their weapon. Given his position as a School Resource Officer, it's also likely that he participated in the "active shooter drills" that have become all too common, albeit unfortunately necessary, in America's public schools and in other simulations in which he was being trained and tested in how best to respond to an active shooter situation in s public school setting. In addition to all of that, he also had, as I noted three decades on the job as a Sheriff's Deputy. Despite that, he was unable to act to stop the shooter, and that fact makes one doubt that a teacher armed with a gun is going to be any more effective than Peterson was.
As Lopez notes, active shooter situations in venues where there are large numbers of civilians trying to escape or run for cover are among the most difficult situations that law enforcement can run across. We saw part of that in the report immediately after the shooting last week when it was revealed that Cruz had left his weapon behind and managed to escape by blending in with student fleeing the building. Since he was young enough looking, there was no reason for arriving authorities to stop him. As a result, Cruz managed to make it to the nearby Wal-Mart where students were gathering, buy a drink at the Subway nearby, and then go to a local McDonalds where he hung out even as law enforcement was scouring the area looking for him, and he likely would have escaped had it not been for a single local law enforcement officer who happened to be driving down a nearby residential street as part of the search for Cruz and spotted him calmly walking down the street.
Taking all of this into account, the idea that a teacher or other school authority who isn't a member of law enforcement would be an effective deterrent to a school shooter, or that they would be able to combat a shooter in such a situation, quite simply falls apart. If a highly trained law enforcement officer like Peterson froze during a situation like this, what does that say about how a civilian is going to react? Add into this the fact that its unlikely that such a person is going to have anywhere close to the amount of training that someone like Peterson did before last Wednesday. Despite all of that, he either failed or was unable to do anything to stop the carnage in time.
One other thing that advocates of the "arm teachers" idea seem to forget is the fact that teachers and other school authorities already have a job in these types of "active shooter" situations. Just as it is their job to make sure the students safely evacuate the building through designated exits, in active shooter situations the primary task of teachers is to make sure their students are safe, either by helping them find shelter in classrooms and other parts of the building, or to escape the building in an orderly fashion that both gets them away from the shooter and out of the potential line of fire in the event law enforcement arrives while the shooter is on the scene. Expecting them to also actively engage a shooter while all of this is going on is expecting the impossible. Additionally, there's a good chance that seeing their teacher armed and holding out a firearm while an active shooting situation is going on could lead students, regardless of what grade they are in, to panic and put themselves and their classmates in even more danger than they already are at the moment. In other words, Peterson's example shows us that arming civilians is unlikely to accomplish anything and may end up making the situation far worse than it already is.