At Least Eight Dead, Multiple Injuries, In School Shooting At Texas High School
Another school shooting, this time in Texas.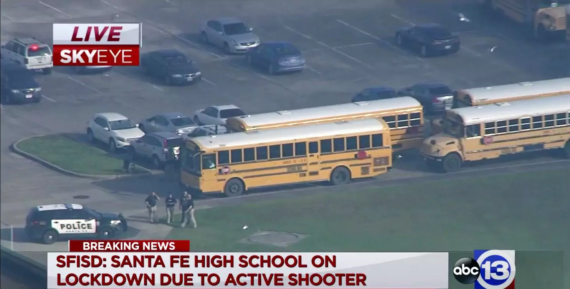 At least eight people are dead, and multiple people have been injured, in a shooting at Santa Fe High School in Santa Fe, Texas, a city in Galveston County, Texas outside Houston:
At least eight people were killed, and others were injured, in a shooting on Friday morning at Santa Fe High School in Santa Fe, Tex., according to law enforcement officials. A suspect was in custody.

The injured included at least one police officer, whose condition is unknown, Ed Gonzalez, the Harris County sheriff, said. In addition to the suspect in custody, a person of interest has been detained, he said. Both are believed to be students, as were the majority of the dead.

The gunman opened fire inside the school at about 7:45 a.m., around the time school was about to start for the day, according to Joe Giusti, a Galveston County commissioner. He said the injured officer worked for the Santa Fe school district as a school resource officer. The gunman was uninjured, he said.

Officials with the University of Texas Medical Branch at Galveston told reporters late Friday morning that they had received at least three patients: One adult was being operated on, another adult was being evaluated in the emergency room and one minor had been admitted to the hospital.

The Santa Fe Independent School District said that law enforcement agencies were securing the building and that students were being transported to the nearby Alamo Gym, at 13306 Highway 6, where parents could meet them.
More from the Houston Chronicle:
SANTA FE, Texas -At least eight people were killed in gunfire at Sante Fe High school this morning, federal and county law enforcement officials have confirmed.

An unidentified law enforcement officer was shot, but sources said he was "clipped" and was not seriously injured.

One source said the gunman was a male, but could provide no further information.

The shooter has been "arrested and secured," said Santa Fe HS Assistant Principal Dr. Cris Richardson.

Several other students as well as an officer was injured in the shooting.

Joe Gamaldi with the Houston Police Officers Union tweeted, "Please keep the officers in your prayers as one officer is being life flighted to the hospital."

Students described the gunfire, which broke out about 7:30 a.m.

Junior Liberty Wheeler, 14, was in class when she heard five shots ring out  near the art room.

Her teacher told them to run toward the theater department's storage room, where they hid for 45 minutes before being escorted outside by the SWAT team.

"You could smell the gunpowder that came from the gun," Wheeler recalled as she was escorted out of the building. "We were all scared because it was near us."

Paige Curry, a junior at the school, said "I was sitting in my classroom and I heard very loud booms and I didn't know what they were. I was confused but after I heard screaming, I figured out what they were, got up immediately and started to run. I almost ran out of the school but I hid instead with the other students. I was there for maybe 30 minutes I was on the phone with my mom the whole time. They found us and escorted us."

"There were a lot of people, a lot of different suits so I wasn't really sure but I think they were SWAT."

"I was very, very scared but I managed to keep calm, especially with my mom on the phone."
And from KTRK-TV, a local television station:
SANTA FE, Texas (KTRK) –Law enforcement sources confirm to ABC13 at least 8 people are dead following a shooting inside Santa Fe High School.

The Harris County Sheriff's Office says one suspect is in custody and a person of interest is detained. According to law enforcement agencies, it appears the shooter is a student.

Sheriff Ed Gonzalez says the death toll could rise to 10. Those killed include students and adults.

He added that Santa Fe ISD police officer has been injured.

The school district just issued the following statement: "This morning an incident occurred at the high school involving an active shooter. The situation is active, but has been contained. There have been confirmed injuries. Details will be released as we receive updated information. Law enforcement will continue to secure the building and initiate all emergency management protocols to release and move students to another location. All other campuses are operating under their regular schedules.
At this time, students from the high school are being transported by SFISD transportation to the Alamo Gym located at 13306 Highway 6. Parents may reunite with their students at this location.
The district will continue to keep you updated as information is available. Safety and communication are our top priorities."

Witnesses say the shooting took place in an art class on campus between 7:30 and 7:45 a.m.

Santa Fe Police, Galveston County Sheriff's Office, ATF and FBI agents have all responded to the school at 16000 Highway 6.
As is always the case, the details of what happened is very fluid at this time, so we can expect updates on the matter in the coming hours and days that will answer the immediate questions that spring to mind. In a law enforcement briefing that was ongoing at the time I was writing this post, the spokesperson for the local Sheriff's Office said that authorities believe the number of fatalities to be between eight and ten, with the majority of them being students. The Sheriff's Office also confirmed that there are multiple injuries but declined to give an estimate of how many injuries there may actually be in this. Additionally, it's been confirmed that a suspect is in custody and that at least one other person is being questioned in connection with the shooting. The Sheriff's spokesperson also reported that, not surprisingly, that the shooter is a student at the High School but there has been no information released regarding the identity of the suspected shooter or the other person who has been detained. There's also no word about what kind of weapon may have been used in the shooting. Some students reported that they saw the shooter with what appeared to be a shotgun, but these initial eyewitness reports are often mistaken.
Preliminary reports, some of it coming from students who escaped the school who have spoken to reporters, say that the shooting started during the first period of the day, that the school's fire alarm went off and that the shooting began as students began lining up in the hallways to follow the normal fire evacuation procedures. Whether the alarm was pulled by the shooter or an accomplice, or whether it was pulled by someone seeking to warn the rest of the school about the shooting itself, is unclear, but it seems as though the shooting coincided with the beginning of the evacuation suggests that the fire alarm may have been utilized as a lure to get students into the line of fire.
Update: CNN now reports that nine students and one teacher have been killed:
Law enforcement sources tell CNN: 9 students, 1 teacher killed at Santa Fe High School

— Jake Tapper (@jaketapper) May 18, 2018
Additionally, multiple reports have indicated that packages that appear to be explosive devices have been found at the scene and may also be located elsewhere in the community. Local television reporters are reporting that law enforcement is currently conducting searches at two nearby houses that are apparently linked to the shooter, whose identity has yet to be released but who is reportedly a 17-year-old student-athlete at Santa Fe High School. It's also been reported that the shooter may have had as many as three weapons on him, although that has not been confirmed and neither has the types of weapons that may have been used. One report has some students identifying the primary weapon as a sawed-off shotgun, which is illegal under both Federal and state law. Beyond that, we still have no idea of an identity or a possible motivation.
Update #2: The shooter's identity has apparently been made public:
The gunman who allegedly opened fire at a high school in Texas on Friday morning has been identified.

Police sources told CBS News that the shooter is 17-year-old Dimitrios Pagourtzis. Police believe he is a student at Santa Fe High School. He allegedly began his shooting spree around 7:45 a.m., killing at least 10 people and wounding a dozen more — a majority of whom were students — on the school's campus. Police said he was armed with an AR-15 style rifle, a pistol, a shotgun and pipe bombs.

The school was evacuated and the alleged shooter was taken into custody around 9 a.m. local time. A second person of interest, also believed to be a student at the school, was "detained and questioned," Harris County Sheriff Ed Gonzalez said in a presser.

Explosive devices were also found at the school and off campus, but were not detonated, police said.

One student who spoke with HLN said that the shooter — who he knew from the school — walked into a friend's classroom and opened fire on students, shooting one girl in the head. He claimed that the shooter was wearing a trench coat that had "USSR" written on the back. Other students said that the shooter started opening fire in an art classroom around 7:45 a.m.
Other reports are now saying that the second person in custody is believed to be an accomplice and is an 18-year-old who may or may not have been a student as well. Finally, there is a further update on the suspected explosive devices found near the scene:
NEW: Police found pressure cookers and pipe bombs around Santa Fe High School during shooting investigation, according to one law enforcement source

— CBS Evening News (@CBSEveningNews) May 18, 2018
Pressure cookers, of course, were used in the bombing at the Boston Marathon in 2013.
Further updates as warranted, but as I said earlier I think we all know how this is likely to unfold in the coming hours and days.