At Least 14 Victims In School Shooting In South Florida
Another school shooting, this time in Florida.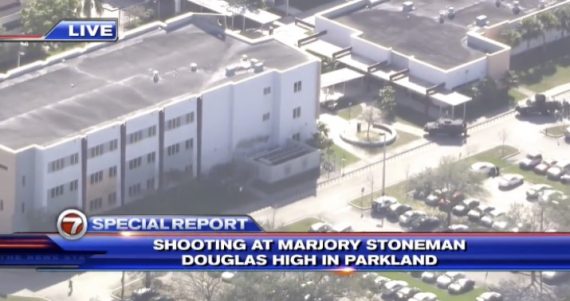 A High School in Broward County, Florida remains on lockdown after reports of a shooting with 'multiple victims':
Police have taken the person suspected of opening fire at a South Florida high school into custody, Broward Sheriff's Office said.

The shooting was reported shortly before students were let out of class Wednesday afternoon. Police had fanned out across the school searching for the shooter as students and teachers remained barricaded in classrooms. There were multiple people killed in the shooting, Robert W. Runcie, the superintendent of Broward County schools, told reporters at the scene.

Runcie said officials did not receive any threats he was aware of made before the shooting.

At least 20 people may have been injured, but that number may be as high as 50 people, according to Dan Booker, a fire chief from a nearby city. Some of those injured are students who were shot, Booker said.

"It's still an active scene," he said.

Booker said he is seeking aid from the Coast Guard and other agencies because many victims will need to be transported by helicopter.

Police from nearby Coral Springs, who were also responding to the incident, urged students and teachers to remain barricaded inside the school. Law enforcement officials said they were clearing students building by building.

The school, which opened in the early 1990s, had more than 3,000 students in the 2015-2016 school year, according to federal data.

Gov. Rick Scott (R) said he had been briefed by the Broward County sheriff, whose agency was leading the response, as well as by the county's school superintendent. President Trump was notified of the shooting, Deputy Press Secretary Lindsay Walters said.

"The president has been made aware of the school shooting in Florida. We are monitoring the situation. Our thoughts and prayers are with those affected," Walters said.

The Broward County school system wrote in a message on Twitter that students and staff "heard what sounded like gunfire" close to the school's dismissal time.

"The school immediately went on lockdown but is now dismissing students," the school system wrote. "We are receiving reports of possible multiple injuries." have confirmed it.
More from the Florida Sun-Sentinel:'
Multiple deaths were reported Wednesday at Marjory Stoneman Douglas High School in Parkland, Florida, with a suspect reported in custody.

Coral Springs Mayor Skip Campbell, whose city contracts fire service in Parkland, confirms there were "multiple fatalities."

There were 14 victims, according to the Broward Sheriff's Office. The agency did not say how many were fatalities.

A man in custody, wearing a red shirt, black pants and black boots, was seen being placed on a gurney.

FBI agents were on the scene interviewing students asking for anyone who saw the shooter.

"You're ok!" One student said as she cried hugged her friend who had just come out. "You're safe now, don't worry."

Samuel Dykes, a freshman, was on the third floor of the school when he said he heard gunshots, and saw several bodies in a classroom.

SWAT told the class to keep their eyes forward as they exited the school, Dykes said.

At around dismissal time at 2:40 p.m., staff and students heard what sounded like gunfire and they enacted a "code red" lock down, according to the Broward School District.

A television news helicopter report showed several people on gurneys being placed into into fire rescue ambulances and groups of children walking across Northwest Pine Island Road. Television news cameras showed a young man with reddish hair wearing a red shirt who was surrounded by SWAT officers and put in handcuffs and being taken into custody.

"It's a horrific situation," Broward County Superintendent Robert Runcie said. "It's just a horrible day for us."

Students were streaming down Pine Island Road at 3:30. Some of them crying, some were talking on cell phones.

Meghan Walton's mascara was running as she walked down Pine Island Road with her mother.Derval Walton. She was waiting in the car line to pick her 15 year old freshman daughter up when she got the ominous text from her: "Code Red"

"Kids were running out full of blood," Derval Walton said. "Kids were falling in the grass."

Hannah Siren, 14, was in math class on the third floor.

"The people next door to us must have not locked their door," she said, breaking into tears. "They all got shot"

How many?

"10 or … 7"
As is commonly the case in this day and age, much of the latest information about the incident is coming from the Twitter accounts of the Broward County Sheriff and Broward County Schools:
Shooter is now in custody. Scene is still active. #stonemanshooting

— Broward Sheriff (@browardsheriff) February 14, 2018
So far we have at least 14 victims. Victims have been and continue to be transported to Broward Health Medical Center and Broward Health North hospital. #StonemanShooting

— Broward Sheriff (@browardsheriff) February 14, 2018
Marjory Stoneman Douglas High School is now dismissing students. We are receiving reports of possible multiple injuries. Law enforcement and the District's Special Investigative Unit are currently on site. The District will provide updates as more information becomes available.

— Broward Schools (@browardschools) February 14, 2018
At this time, law enforcement is clearing students from Marjory Stoneman Douglas High School one building at a time. We will continue to provide updates, as more information becomes available.

— Broward Schools (@browardschools) February 14, 2018
And there have also been photos and videos from inside the school itself:
My school is being shot up and I am locked inside. I'm fucking scared right now. pic.twitter.com/mjiEmPvGNb

— Aidan (@TheCaptainAidan) February 14, 2018
Student says alleged school shooter was a "troubled kid" pic.twitter.com/O0zZ6An2XM

— WSVN 7 News (@wsvn) February 14, 2018
JUST IN (warning, disturbing video): Cell phone video inside the school as shots were going off at Marjory Stoneman Douglas High https://t.co/wHWo6XjccX pic.twitter.com/3ovf5LhzBs

— CBS Evening News (@CBSEveningNews) February 14, 2018
#BREAKING QUICK video of suspect being arrested by police @wsvn pic.twitter.com/f5wdtlP3jT

— Franklin White (@FranklinWSVN) February 14, 2018
Additionally, President Trump has made a statement on his Twitter account:
My prayers and condolences to the families of the victims of the terrible Florida shooting. No child, teacher or anyone else should ever feel unsafe in an American school.

— Donald J. Trump (@realDonaldTrump) February 14, 2018
Just spoke to Governor Rick Scott. We are working closely with law enforcement on the terrible Florida school shooting.

— Donald J. Trump (@realDonaldTrump) February 14, 2018
Obviously, we don't know much at this time about what happened or who the shooter was other than official confirmation of the fact that he is in custody. It has also been confirmed that the shooter was a student at the school, although we don't know whether he had graduated from the school, dropped out or been expelled or suspended for some reason or another at the time of the shooting. The scene remains an active shooter situation both because police have not yet confirmed that there isn't more than one shooter and because the school itself, which is quite large and consists of at least two separate buildings with up to 3,000 students total all of whom are hidden in different areas of the school buildings. Evacuating the school and verifying that there isn't another shooter at large will likely take a considerable amount of time. In the meantime, students are being released as warranted and slowly being reunited with their parents, but that's about all the information we have.
Update: CNN is reporting 16 people dead:
At least 16 fatalities in the Florida school shooting, law enforcement sources tell @evanperez

— Phil Mattingly (@Phil_Mattingly) February 14, 2018