Florida! Florida! Florida! It's Deja Vu All Over Again.
Somewhere, Tim Russert is smiling.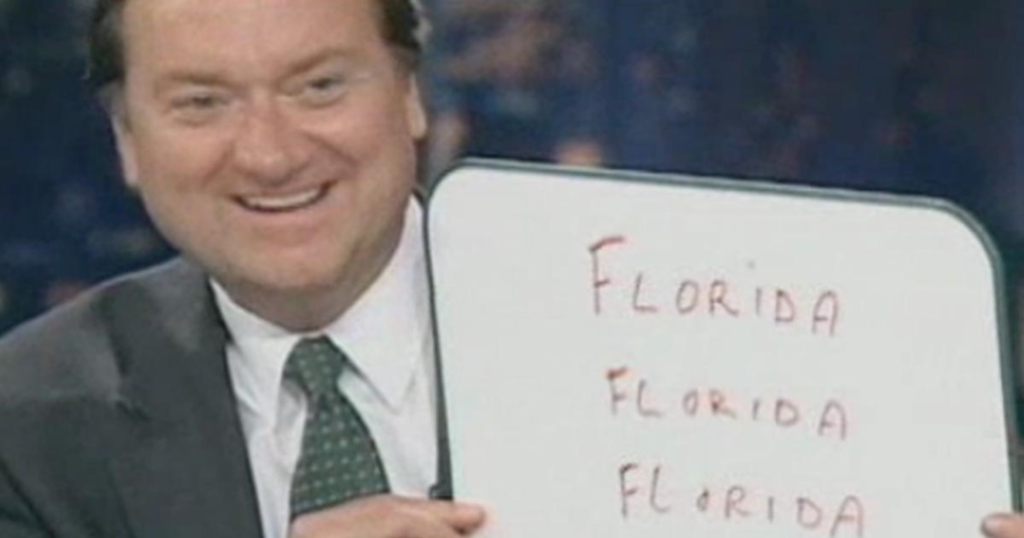 When we woke up Wednesday morning, it appeared as though the outcome of the two high-profile races in Florida was going to end up being certain. In the Governor's race, Republican Ron DeSantis appeared to have pulled off a win over Tallahassee Mayor Andrew Gillum, and Gillum had even conceded the race to DeSantis by early Wednesday morning. On the Senate side, the race between outgoing Governor Rick Scott and incumbent Senator Bill Nelson was, and remains, uncalled, but Scott had a lead of roughly 40,000 votes that, even with a recount, seemed unshakable at the time. This, however, is Florida, and as sure as Florida Man is likely to do something insane this weekend, we've got what appears to be the beginnings of what could be not one, but two, voting controversies that could leave the outcome of both races up the air for weeks to come.
As things stand, the latest results show a gap of 15,204 votes in the Senate race with Governor Scott leading with 4,094,797 votes (50.09%) and Senator Nelson is at 4,079,593 votes (49.91%). In the Governor's race, Congressman DeSantis is in the lead 4,072,796 (49.61%) and Mayor Gillum is just 36,211 votes behind at 4,036,585 (49.17%) votes. One oddity this brings up almost immediately is the fact that there were 8,209,775 votes cast in the Governor's race and 8,174,460 votes cast in the Senate race (this includes both votes cast for the main party candidates and votes cast for third-party candidates), a gap of more than 35,000 votes. While it is not unusual for the total number of votes cast in each race to vary since voters sometimes choose to cast a vote in one race but not another, a gap this large is somewhat atypical. In any case, under Florida law, a gap of 0.5% between the top two candidates would trigger an automatic machine recount in which each voting machine is double checked and the results re-tabulated. A difference of 0.25%, on the other hand, would trigger an automatic hand recount. The difference in the Senate race is, at the moment 0.18%, meaning it would qualify for both an automatic machine recount and an automatic hand recount. The difference in the Governor's race is 0.44%, which would trigger an automatic machine recount that could turn into a hand recount if the gap between DeSantis and Gillum narrows sufficiently.
All of this is leading, understandably, to a sense of deja vu:
Two of the highest profile races in the country — both in Florida — are likely headed to a recount soon.

Sen. Bill Nelson's re-election bid is likely headed to a hand recount given that the incumbent Democrat now trails Florida Gov. Rick Scott by 17,000 votes, within the .25% margin required for a hand recount. Nelson's campaign aides believe he will emerge victorious once all the ballots are counted.

And on the governor's side, Democrat Andrew Gillum — after conceding the race on Tuesday evening — has grown more supportive of a recount of late, in part because his deficit to Republican Ron DeSantis is down to 38,000 votes, within the .5% needed for a machine recount. Campaign aides, though, remain clear eyed about the the long odds that Gillum can make up that deficit.

Recounts, which have not officially been authorized in either race, put the outcome of two of the most closely watched races of 2018 on hold, with Democrats hoping for a miracle that could get both Gillum, a candidate who garnered considerable attention in his campaign against DeSantis, and Nelson, an incumbent who Democrats had thought would win his seat going into Tuesday night, over the finish line with a win.

"On Tuesday night, the Gillum for Governor campaign operated with the best information available about the number of outstanding ballots left to count. Since that time, it has become clear there are many more uncounted ballots than was originally reported," Gillum's communications director Johanna Cervone said in a statement. "Mayor Gillum started his campaign for the people, and we are committed to ensuring every single vote in Florida is counted."

At no point in the statement, though, did Gillum's campaign withdraw the concession and sources close to the mayor highlight that his outlook hasn't changed since his Tuesday night speech. It it is important to Gillum, these sources said, that his supporters know they are fighting for every vote.

"We want every vote counted, we believe that there are still votes out there for Mayor Gillum and we want to make sure his supporters know we are fighting for every vote," one source said.

Gillum and DeSantis have not talked since election night, the source added. Gillum told supporters on Tuesday that he talked to DeSantis and "congratulated him on what we expect will be him as the next governor of the great state of Florida."

Florida coming down to a recount gives political watchers déjà vu, given the impact the state's recount played on the 2000 presidential election that saw President George W. Bush elected after winning Florida by 537 votes.

And the recounts now have echoes of 2000: Gillum's campaign has hired Barry Richard to represent them during the recount. Richard had previously been known for representing Bush during the 2000 recount.

Nelson's campaign has hired Marc Elias, a Democratic lawyer who regularly works issues of voter's rights and election protection.

Elias told reporters on Thursday that he believes Nelson could come out victorious if there is a full recount. The senator needs to be within .25% to trigger a hand recount of ballots marked as undervotes (voters who did not fill out all available choices on the ballot) or overvotes (voters who made more choices than allotted on the ballot). The hand recount would only occur if there are enough overvotes, undervotes and provisional ballots left to change the outcome.

While he was down 57,000 ballots on election night, that total has ticked down to 17,000 votes on Thursday.

"It's a jump ball," Elias said. "But I firmly believe that at the end of this process, Nelson will prevail."

He added: "We're doing this not just because it's automatic, but we're doing it to win. A significant number of ballots have not yet been counted and, because of the size of Florida, we believe the results of the election are unknown and require a recount."
The Washington Post has more:
Nearly two decades after hanging chads transfixed the nation, Florida is once again headed toward a high-stakes election recount, as vote margins narrowed in Democrats' favor Thursday in the state's marquee U.S. Senate and governor's races.

Hundreds of party and interest-group volunteers spent the day trying to track down people who had cast provisional ballots, seeking affidavits to prove their votes should be counted. And in an echo of the 2000 presidential election, state Republicans tried to preempt the coming fight by accusing Democratic lawyers of heading to Broward County to "steal" the election.

In the Senate race, Gov. Rick Scott (R) had a lead of just more than 15,000 votes, or 0.18 percent, over Sen. Bill Nelson (D) as of Thursday night. In the governor's race, Tallahassee Mayor Andrew Gillum (D) trailed former congressman Ron DeSantis (R) by more than 36,000 votes, or 0.44 percent.

Under Florida law, a statewide machine recount is conducted when the margin of victory is less than 0.5 percent, and a manual recount is ordered if the margin is less than 0.25 percent.

The likely recounts, however, are expected to be more orderly than the televised circus that resulted in George W. Bush's election to the presidency. Under changes to state law, local canvass boards no longer have discretion over whether to order a recount, and new optical-scan voting machines have made it easier to divine voter intent than the old punch card ballots, which sometimes featured the partially detached bits of paper.

(…)

The campaigns for Nelson and Gillum in Florida have become more optimistic in recent days as newly counted votes in Broward County increased their totals. They have told the state they plan to aggressively monitor any recounts.

"We believe at the end of the day, Senator Nelson is going to be declared the winner and is going to return to the United States Senate," Marc Elias, an election lawyer representing the Nelson campaign, said in a conference call Thursday morning. "I think it's fair to say right now the results of the 2018 Senate election are unknown."

Scott responded hours later by accusing the election supervisors of Broward and Palm Beach counties of possibly committing fraud, though he did not provide evidence beyond his dwindling vote margin and alleged procedural errors.

"Every Floridian should be concerned there may be rampant fraud happening in Palm Beach and Broward counties," Scott said as he announced legal action and called on state law enforcement to investigate. "I will not sit idly by while unethical liberals try to steal this election from the people of Florida."

Nelson campaign spokesperson Dan McLaughlin responded after Scott spoke. "The goal here is to see that all the votes in Florida are counted and counted accurately," he wrote in a statement. "Rick Scott's action appears to be politically motivated and borne out of desperation."

Earlier, the state's other senator, Republican Marco Rubio, also accused Nelson's team of trying to "steal" the election.

"Now democrat lawyers are descending on #Florida. They have been very clear they aren't here to make sure every vote is counted," Rubio added in one of a series of tweets. "They are here to change the results of election; & #Broward is where they plan to do it."
As if to add to the sense of deja vu, the two counties at the center of the disputes this year are the same two that ended up being an issue in 2000:
Broward and Palm Beach counties in Florida are once again at the center of a brewing controversy over vote counting as two of the highest-profile races in the state appear to be headed toward a recount.

In a news conference on Thursday night, Florida Gov. Rick Scott — who is also the Republican candidate for US Senate in the state — alleged without providing evidence that there could be rampant fraud in both counties and accused Democrats of trying to "steal" the election.

Scott's campaign and the National Republican Senatorial Committee filed two lawsuits on Thursday, one against the Broward County supervisor of elections, Brenda Snipes, and the other against the supervisor of elections in Palm Beach County, Susan Bucher. The lawsuits allege that the supervisors have not been transparent either about the collection of the vote or about the vote count, in violation of Florida law.

Snipes told CNN she was not aware of Scott's announcement of a lawsuit and was not commenting.

In his news conference, Scott accused the election supervisors of "mysteriously" finding votes and called for a full "law enforcement" investigation, promising to take any legal action necessary.

"Tonight I am asking the Florida Department of Law Enforcement to investigate this immediately, and I am considering every single legal option available," Scott said.

"We've all seen the incompetence and irregularities in vote tabulations in Broward and Palm Beach for years. Well, here we go again," Scott said. "I will not sit idly by while unethical liberals try to steal this election from the great people of Florida."

The campaign for Democratic Sen. Bill Nelson, Scott's opponent, said the governor's actions appeared to be "politically motivated."

"The goal here is to see that all the votes in Florida are counted and counted accurately," said Nelson spokesman Dan McLaughlin. "Rick Scott's action appears to be politically motivated and born out of desperation."
The problems in Broward County will sound familiar to those who remember 2000:
A CNN analysis of votes cast in Broward County suggests that ballot design could be responsible for a substantial difference in the number of votes cast between the race for governor and the race for senator in Florida, meaning thousands of voters there may have missed their chance to weigh in on the still-undecided Senate race. The placement of the Senate race on the ballot could have made it possible to overlook.

Broward and Palm Beach counties became infamous for vote-counting problems during the 2000 presidential recount.

Fueling the controversy on Thursday, a teacher said she found a box marked "provisional ballots" in a storage area of the school long after the voting had taken place there Tuesday.

Lakeisha Sorey, a resource teacher at Sunshine Elementary School who has taught in Broward County schools for 16 years, said it looked like a plastic storage bin with a hole on the top with a printed label that said "provisional ballots" taped on the box. In a telephone interview with CNN on Thursday night, she said she took a picture but did not try to open or lift the box, because she did not want any questions.

"I did not touch it," she said. "I knew that the elections were a federal thing, so I didn't want any of those issues. I didn't want there to be any interference."

Dozel Spencer, the Broward County Elections Voter Equipment Center director, told CNN that this was equipment, not ballots. He said it takes several days to pick up equipment after Election Day.
As was the case in 2000, Broward is a Democratic Party stronghold that often gives Democratic candidates an edge that requires Republicans to perform well elsewhere in the state. In the Senate race, for example, Nelson picked up 69.1% of the votes in the county, while 30.9% backed Scott. In the Governor's race, the margin was similar, with 68% voting for Gillum and 31.3% voting for DeSantis. More importantly, Broward appears to be at the center of much of the gap between the vote totals between the Senate and Gubernatorial races. In the Senate race, current totals show 680,568 votes were counted in the Senate race in Broward (Source) while 706,628 votes were cast in the Governor's race. (Source) This is a difference of 26,060 votes between the two races. This means that Broward by itself accounts for 73.94% of the difference in the vote totals between the two states. As I said, it is not unusual for there to be a difference in vote totals between two races, but it is unusual for the gap to be as big as it is in the case of the Senate and Gubernatorial races, and it is even more unusual for one jurisdiction to account for so much of the difference.
One of the reasons for the differences between the two races in Broward could be the design of the ballot in that county. Based on photos that have circulated on social media, it appears that the races for Senate and the Congressional districts in the county appear in the lower left corner of the paper ballot, below lengthy instructions on how to vote. The Governor's race is listed more prominently to the right side of the instructions. By way of contrast, in Miami-Date County, the Senate race appeared at the top of the ballot and ended up receiving more votes than the Governor's race. In that county, though, the difference between the total votes cast in the two races was far smaller, with 799,140 votes cast for Governor (Source) and 800,992 votes cast in the Senate race (Source), a difference of just over 10,000 votes. That suggests those voters may not have seen the two races in the bottom left corner of the ballot. Across all precincts with both Senate and congressional races in the county, roughly 3% of people skipped voting in the Senate race even though they had voted for governor. This suggests that the ballot design in Broward may account for the discrepancy between the number of votes cast in the two most prominent races on the ballot.
All of this is leading to predictable comments from the campaigns. Rick Scott, for example, spent much of yesterday talking about so-called "rampant" voter fraud in Broward and other counties, although he did not cite any evidence in that regard. Additionally, the Governor has also filed a lawsuit demanding that his campaign be given access to the ballots that have allegedly helped to narrow the lead he had over Senator Nelson. Between this and the automatic recounts, we are likely to get in both the Senate and Gubernatorial races and it looks like Florida will be the focus of national attention once again. And we all know how long that lasted.