Arbitrator Upholds Adrian Peterson Suspension
Unlike Ray Rice, Adrian Peterson has lost his bid to have his suspension overturned.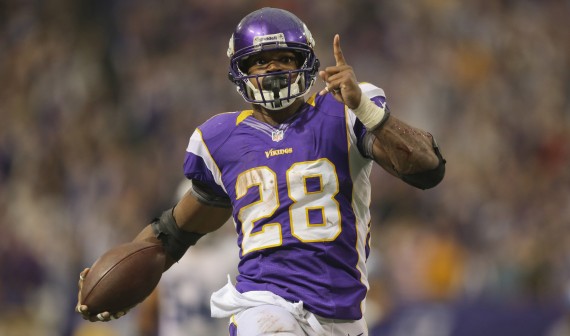 An arbitrator has upheld the N.F.L.'s suspension of Adrian Peterson for the remainder of the season:
In a victory for the N.F.L. and Commissioner Roger Goodell, an arbitrator upheld the season-long suspension given to Minnesota Vikings running back Adrian Peterson, who had been arrested and accused of beating his 4-year old son.

"Mr. Peterson's conduct was egregious and aggravated" and "merits substantial discipline," Harold Henderson, the league-appointed arbitrator in the case, said in his decision to uphold the suspension.

Henderson added: "His public comments do not reflect remorse or appreciation for the seriousness of his actions and their impact on his family, community, fans and the N.F.L., although at the close of the hearing he said he has learned from his mistake, he regrets that it happened and it will never happen again."

Henderson's ruling comes about two weeks after an independent arbitrator reinstated Ray Rice, the former Baltimore Ravens star who argued that he was unfairly suspended twice for the same infraction. Originally suspended for two games, Rice was suspended indefinitely after the release of video that showed him knocking out his fiancée.

Peterson's outcome was less surprising because his appeal was heard by Henderson, a former N.F.L. vice president and current special adviser to the league who was chosen by Goodell. Henderson's role is likely to reignite a debate over the league's resistance to using neutral, third-party arbitrators such as the former federal judge Barbara Jones, who heard Rice's appeal.

This week, the 32 N.F.L. owners approved a revamped personal conduct policy that includes penalties for a broader range of offenses involving domestic violence. In a departure from current practice, a special counsel — one individual chosen by the league — will mete out penalties, but Goodell will hear any appeals.

The N.F.L. dismissed calls from the players union to choose neutral arbitrators in the future. The league argued that Goodell should continue to hear appeals because, the league contended, he has the best interests of the league in mind.

"The N.F.L.P.A. expected this outcome, given the hearing officer's relationship and financial ties to the N.F.L." the players union said in a statement. "The decision itself ignores the facts, the evidence and the collective bargaining agreement. This decision also represents the N.F.L.'s repeated failure to adhere to due process and confirms its inconsistent treatment of players. Our union is considering immediate legal remedies."

Peterson's case was complex. He was arrested and accused of beating his son. But some people said that Peterson, who pleaded no contest to a misdemeanor charge on Nov. 4, had the right to discipline his child.

Peterson claimed he should not have been suspended because the league had promised he would be reinstated once his legal case had concluded. Before he could be reinstated, Goodell suspended Peterson two weeks after his plea deal for at least the remainder of the season.

He may be reinstated in April if the league determines that he has completed counseling.

The league's handling of Peterson's case has prompted questions about whether the N.F.L. acted deliberately to keep Peterson off the field. His case was messy and embarrassing from the start. He was arrested less than a week after a graphic video of Rice punching his wife was disclosed.

The Vikings benched Peterson after his arrest in Texas in mid-September. After the team lost that Sunday, the team reactivated him, leading to an uproar from fans and several sponsors

In the personal conduct policy revised this week, the league said that it planned to use paid leave more in the future, but that paid leave would not count as time served when the league considered whether to suspend a player.

After Peterson's legal case was resolved, he expected to rejoin the team, and claimed the league had promised as much. But Goodell suspended him for the rest of the season before he could be reinstated.

Goodell suggested that Peterson, one of the league's top stars, could sit out more games next season, too. Peterson, he said, has "shown no meaningful remorse." The commissioner pointed to comments Peterson made about his intention to not "eliminate whupping my kids."

Goodell said, "These comments raise the serious concern that you do not fully appreciate the seriousness of your conduct or, even worse, that you may feel free to engage in similar conduct in the future."
Aside from the fact that the arbitrator in this case was much closer to the league, the difference between the outcome here and the outcome in the Ray Rice case is pretty easy to understand. In the Rice case, it was obvious that Goodell and the league had tried to punish Rice a second time for the same offense, in violation of the Collective Bargaining Agreement with the NFL Players' Association and established league policy, when the video of what actually happened between Rice and his then fiance in that elevator last February became public. At that time, Goodell and other top NFL officials tried to claim at the time that Rice had deceived them about how bad the attack had been, but it became clear that this was pretty much untrue. In the Peterson case, the punishment applied to Peterson was based on pre-existing policies that had been put in place before Peterson's indictment and later guilty plea became matters of public record, and Goodell appears to have applied those policies as intended. No doubt, when Peterson pled guilty he likely assumed that the fact that the actual charges he ended up being convicted of came short of being actual child abuse under Texas law and that this would be sufficient to allow him to be reinstated by the league, but neither he nor his attorneys had apparently discussed any of that with league officials prior to the pleas being entered. Thus, the league was free to act according to existing policy at that point and thus we have the suspension until at least April. Legally, it seems clear that Peterson never really had an argument in this arbitration.
For his part, Peterson says he's disappointed and has suggested that either a lawsuit or retirement may be in the future:
MINNEAPOLIS — Minnesota Vikings running back Adrian Peterson, whose suspension until at least April 2015 was upheld by arbitrator Harold Henderson on Friday, said he's been so disappointed by the NFL's disciplinary process that he's thought about retirement.

In a 60-minute phone interview with ESPN, Peterson said he plans to file a lawsuit against the league, adding he wasn't sure if he could trust the NFL's process for reinstatement. If a lawsuit would eventually put the 2012 NFL MVP's chance for reinstatement at risk, Peterson said he would consider walking away from the game altogether.

"I've considered retiring from the NFL," Peterson said. "I still made $8 million dollars this year. I've thought about getting back into the real estate (business in Texas) I'm already in. That's something I've been interested in, something I'm involved in. I've thought about getting back into that. I've thought about going after the Olympics — you only live once. It might be time for me to pursue that, as well. I love playing football, don't get me wrong, but this situation is deeper than that. For me, it's like, 'Why should I continue to be a part of an organization or a business that handles players the way they do? Making money off the field anyway, why not continue to pursue that (Olympic) dream and pursue other dreams and hang up the cleats?'"

According to a person with direct knowledge of the situation, a lawsuit will be filed against the NFL on Peterson's behalf in federal court in Minnesota as early as Monday. The person spoke to The Associated Press on condition of anonymity because the lawsuit had not yet been filed.

Peterson said he's interested in competing in the 200- and 400-meter dashes in the Olympics, adding, "I've seriously thought about this real hard. I continue to pray about it, but it's been something that has been heavy, heavy on my heart.

"Of course I'd miss it. It's my first love. But the reason I would be walking away from it would be (if the next steps in the process) kind of solidify that hurt from these incidents. I would know that, 'Hey, you're walking away not because you've given up. You're walking away because they're handling you all the way wrong in this situation. They're painting you out to be a guy that you're not."
A lawsuit would most likely go nowhere for Peterson very quickly, so it seems to me like he'd just be throwing away money on legal fees if he took that route. As for the Olympics, I have no idea how Peterson would do competing against Olympic level athletes in track and field, especially since many of them would be younger than he is. Much of this, though, may just be talk. A lawsuits would take months to resolve at least and if Peterson can get himself reinstated by April I could easily see him back with the Vikings or some other team next season, In fact, I think it's more likely that we'd see Peterson back in uniform than that we would see Ray Rice back in uniform, not the least because there at least seems to be a perception that Peterson has paid a real price for what he was accused of while Ray Rice has not. In any case, it would appear that the Peterson case isn't quite over just yet.
Here's the arbitrator's decision: