Trump Floats Idea Of Arming School Teachers
President Trump is pressing the idea of arming teachers to stop shootings in schools.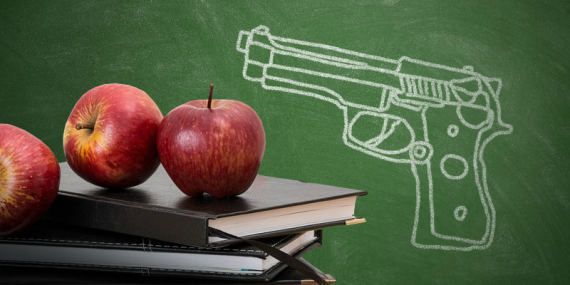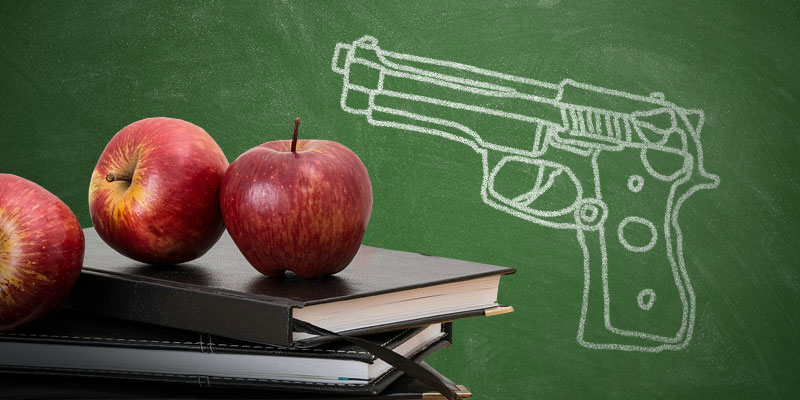 President Trump held a "listening session" yesterday at the White House with an audience that included survivors and family members from victims of recent school shootings and community leaders and at one point the President repeated an idea that has come from many on the right after previous school shootings, namely that we should let teachers and other school authorities bring weapons on to campus:
Seated between teenage survivors of the Florida school shooting, President Trump said during a White House listening session Wednesday that arming teachers and posting gun-toting veterans in schools could deter or stop school shooters.

His comments came during an emotional meeting that included Vice President Pence, Education Secretary Betsy DeVos, and school-shooting survivors and families who had lost children to gun violence, including a father who buried his daughter just last week. They poured out grief and anger over the lack of efforts to stem school shootings.

Trump talked about strengthening background checks and increasing mental health resources. But his most pointed and specific remarks came when he spoke about adding security to schools by arming teachers and posting gun-equipped veterans.

Trump posited that if Aaron Feis, a popular football coach, has been armed, he could have stopped the gunman who killed Feis and 16 others last week at Marjory Stoneman Douglas High School.

"If the coach had a firearm in his locker when he ran at this guy — that coach was very brave, saved a lot of lives, I suspect — but if he had a firearm he would not have had to run. He would have shot and that would be the end of it," Trump said.

He then proposed to arm 20 percent of schoolteachers and to hire veterans as armed school guards.

"A teacher would have a concealed gun on them. They'd go for special training and they would be there and you would no longer be a gun-free zone," Trump said. He suggested that an armed teacher on campus could reach a school shooter faster than responding police officers. "You'd have a lot of people that would be armed, that'd be ready."

He then polled the room, asking who liked the idea. Several people — including the parents of survivors and victims of the shooting at Stoneman Douglas High — raised their hands.

His proposal to make 20 percent of public schoolteachers ready to fire back at a school shooter would mean training and arming about 640,000 people nationwide. The idea got a warm reception among some parents, but was met with swift backlash from teachers' groups nationwide.

"Bringing more guns into our schools does nothing to protect our students and educators from gun violence. Our students need more books, art and music programs, nurses and school counselors; they do not need more guns in their classrooms," said Lily Eskelsen Garcia, president of the National Education Association, the largest teachers union. The group represents 3 million educators in K-12 schools and on college campuses. "We need solutions that will keep guns out of the hands of those who want to use them to massacre innocent children and educators. Arming teachers does nothing to prevent that."

"This is bar none, the worst theory of action I've ever heard," said Shanna Peeples, a former educator who worked in Texas when she won the 2015 National Teacher of the Year award. She shared her thoughts on Twitter. "Texas law allows schools to arm their teachers. That's not a good thing. None of us are trained to respond to threats in the way law enforcement is."

At least two school districts in Texas have armed teachers, both in remote parts of the state. Their superintendents have defended the policies, saying their educators are prepared to respond if a gunman arrives on campus, according to KXAN-TV.

At a town hall hosted by CNN on Wednesday evening, Broward County School Superintendent Robert Runcie, whose district includes Stoneman Douglas High, roundly rejected the idea.

"We don't need to put guns in the hands of teachers. You know what we need? We need to arm our teachers with more money in their pocket," Runcie said to roaring applause.

The idea of arming teachers has received a mixed reception among Americans. In a recent Washington Post-ABC News poll, 42 percent of respondents said armed teachers could have prevented last week's school shooting in Parkland, Fla., while 51 percent disagreed.

Delaney Tarr, a 17-year-old senior who survived the shooting at Stoneman Douglas, said it was impractical to arm schoolteachers.

"There are so many things that could go wrong," Tarr said. "We are not a prison. We are not a police force."
The President continued to push the idea this morning on Twitter:
I never said "give teachers guns" like was stated on Fake News @CNN & @NBC. What I said was to look at the possibility of giving "concealed guns to gun adept teachers with military or special training experience – only the best. 20% of teachers, a lot, would now be able to

— Donald J. Trump (@realDonaldTrump) February 22, 2018
….immediately fire back if a savage sicko came to a school with bad intentions. Highly trained teachers would also serve as a deterrent to the cowards that do this. Far more assets at much less cost than guards. A "gun free" school is a magnet for bad people. ATTACKS WOULD END!

— Donald J. Trump (@realDonaldTrump) February 22, 2018
….History shows that a school shooting lasts, on average, 3 minutes. It takes police & first responders approximately 5 to 8 minutes to get to site of crime. Highly trained, gun adept, teachers/coaches would solve the problem instantly, before police arrive. GREAT DETERRENT!

— Donald J. Trump (@realDonaldTrump) February 22, 2018
….If a potential "sicko shooter" knows that a school has a large number of very weapons talented teachers (and others) who will be instantly shooting, the sicko will NEVER attack that school. Cowards won't go there…problem solved. Must be offensive, defense alone won't work!

— Donald J. Trump (@realDonaldTrump) February 22, 2018
Slate's Josh Levin argues that the idea that Trump, and others, is proposing here wouldn't work, and cites the 1999 Columbine shooting as an example of why:
On April 20, 1999, Eric Harris and Dylan Klebold killed 12 students and one teacher at Columbine. On the scene that day was Neil Gardner, an armed sheriff's deputy who had been policing the school for almost two years.

As a CNN report describes, Gardner was eating lunch when he got a call from a custodian that he was needed in the school's back parking lot. A few minutes later, he encountered Harris and the two exchanged gunfire. Harris was not hit and ran back inside the school. At that point, "Gardner called for additional units to respond to the south parking lot of Columbine High School. … While he was on the radio calling for assistance, five other Jefferson County deputies already were on their way, arriving only minutes after the first report of a 'female down' at Columbine High School." Later, Gardner saw Harris again, through a broken window. Once again, he fired. Once again, he didn't hit him.

Though it's possible Gardner distracted Harris enough to prevent additional carnage, that's ultimately unknowable. What does seem certain is that a single armed security guard had little chance that day of preventing a pair of heavily armed killers from doing what they set out to do.
Much of the logic behind Trump's proposal, which has been repeated by many on the right before and in the week since the massacre in Florida, is a variation on a theme we've seen from gun-rights supporters in the past. Basically, the argument is summarized as the idea of a "good guy with a gun" who can stop a gunman if only they were allowed to carry a weapon on campus. Indeed, in response to past school shooting incidents, several states have moved to liberalize their laws to allow teachers, professors, and other staff members to carry guns on campus. For many gun rights supporter, the idea of the "good guy with a gun" is such an article of faith that it is one that you can count on being brought up every time we have one of these mass shooting events. On some level, I suppose, the idea has some logic to it in that someone who may be considering the idea of going out and shooting up a school might be deterred from doing so if they knew there was a possibility that someone might be shooting back at them. Additionally, one could make the argument that if someone was on the scene to take out a shooter they could early on in the incident rather than waiting for police to arrive on scene, it could minimize the carnage and save lives.
In reality, though, it strike me that there are several problems with the hypothesis and assumptions behind Trump's proposal, and that far from making the situation in America's schools better, it could make them worse.
First of all, there is very little actual evidence that shows that someone who is armed will be able to do much of anything effective in the event of a mass shooting event like what happened last week in Parkland, Florida. When pressed, the people who advance these arguments typically bring up some isolated incidents where a member of the public or off duty law enforcement officer who happened to be on scene during a shooting incident and used their weapon to either stop or subdue an armed criminal. These example, though, have been largely anecdotal and none of them that I am aware of have occurred under the kind of circumstances that we saw in Parkland, last year in Las Vegas or Southerland Springs, Texas, at Sandy Hook Elementary School, in San Bernardino, or in Aurora, Colorado. In those cases, victims and survivors alike were faced with an incident where someone with a high-powered weapon was firing rapidly into crowds of people while other people desperately tried to flee the scene or hide in a place of safety, and the incidents occurred over a very short period of time. Under those types of circumstances, it's not at all clear that even someone who is trained in the use of a weapon could accurately and effectively use that weapon to stop a mass shooter, nor could we guarantee that such a person would not end up causing more loss of innocent life than might otherwise occur.
Second, based on the circumstances of several of the incidents listed above, as well as other shooting incidents that have occurred over the years, that the prospect that they could die is something that would actually deter a potential mass shooter.With the exception of last week's shooting in Florida and the shooting in Aurora, Colorado in July 2012, nearly all of the shooters involved either ended up killing themselves after completing their act or were brought down by police. The only exception to that rule was the San Bernardino shooting, and in that case the two suspects were killed on the day of the shooting after trying to escape from police. For the most part, though, the people who committed these acts seemed to clearly intend to either kill themselves of be filled as part of their act. Given that, the prospect of being taken out by an armed teacher or school security officer probably isn't much of a deterrent to someone who already plans to die anyway. Finally, it's worth noting that the shooter in the Parkland, Florida case was apparently wearing some form of body armor at the time he committed his act, and this has been true of shooters in other incidents as well. In those cases, someone shooting back may end up not being effective at all and could just cause the shooter to be more earnest and effective in their shooting before ultimately bringing the incident to an end via suicide.
Finally, there are the rather obvious logistical questions involved in any effort to allow teachers and other staff members to bring weapons on campus that advocates for the idea don't seem to have adequate answers for. For example, exactly how would we ensure that the people permitted to bring weapons on campus would be adequately trained in the use of weapons to the point that they could be trusted to use those weapons responsibly? In both his remarks yesterday and his tweets today, the President talks about training these people but he doesn't talk about how they would be trained. Another serious question that would need to be addressed is how it could be ensured that the people who bring weapons on campus would secure them effectively so that they don't end up falling into the hands of students or others. Finally, there's the question of who exactly would pay for the training that Trump is talking about. The Washington Post's Philip Bump estimates that such a program could end up costing up to $718 million or more. Given the fact that we live in an age where teachers end up having to spend money out of their own pockets to buy supplies for their classroom, or in many cases relying on parents to buy items off lists that one commonly finds at places such as Staples and Office Depot at the beginning of a school year, the idea that Federal, state, or local governments are going to be eager to pony up that much money to train teachers with guns but not buy the supplies they need for their classrooms seems utterly silly.
None of these criticisms are meant to shoot down, for lack of a better term, the idea of increased armed security in schools. It's already the case that many school districts even in the best suburban areas have a school security officer on duty during the school day, and the prospect of increasing the number of such officers is one worthy of discussion. In the case of Marjorie Stoneman Douglas High School, for example, there was apparently only one such officer for a campus of 3,000 students spread out over three separate buildings and that this officer was in another building at the time of the shooting and didn't arrive at the scene of the shooting until it was over and the shooter had escaped. Additionally, there may be some communities where properly trained armed teachers would be workable and acceptable to parents. I suspect, though, that many parents, and students, aren't going to exactly be receptive to the idea that even a small amount of teachers might be armed and pointing to this idea as the solution to the mass shooting problem is really something of a deflection from the real issues that need to addressed.