More Than 50 Dead, 400 Injured, In Las Vegas Mass Shooting
A gunman opened fire on a crowd of over 20,000 people in Las Vegas, and the results have been predictably horrific.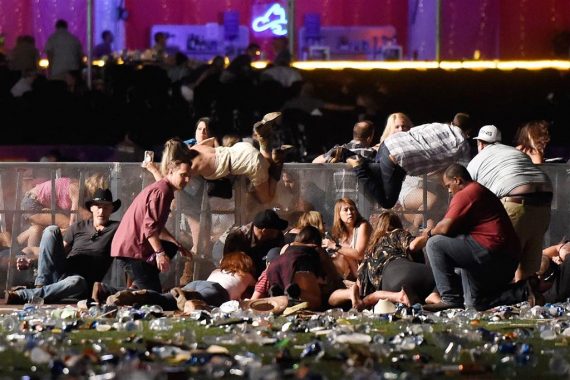 At least 50 people are dead and more than 400 injured in what is already being described as the worst mass shooting in American history:
LAS VEGAS — A gunman at a Las Vegas hotel rained a rapid-fire barrage on a huge outdoor concert festival on Sunday night, sending thousands of people fleeing. At least 50 victims died, and hundreds of others were wounded, officials said, making it one of the deadliest mass shootings in United States history.

"We believe the individual killed himself," said Sheriff Joseph Lombardo of the Las Vegas Metropolitan Police Department on CNN.

Online video of the attack outside the Mandalay Bay Resort and Casino showed the singer Jason Aldean performing outside at the Route 91 Harvest Festival, a three-day country music event, interrupted by the sound of automatic gunfire. The music stopped, and concertgoers ducked for cover. "Get down," one shouted. "Stay down," screamed another.

Several SWAT teams were sent to the hotel immediately after the first reports of the shooting at 10:08 p.m., and officers overheard on police radio reported being pinned down by gunfire. Shortly before midnight the Las Vegas police reported that "one suspect is down," and soon thereafter the police said they did not believe there were any more active gunmen.

The Las Vegas police said Monday that 50 people were killed and 406 people had been taken to the hospital. The police identified the gunman as Stephen Paddock, 64. Sheriff Lombardo said the police were seeking "a companion" named Marilou Danley, and the authorities later said they were "confident" they had located her.

Eric Paddock, a brother of Stephen Paddock who lives in Orlando, Fla., told the Orlando Sentinel that he had made a statement to the police. "We are completely dumbfounded," he said. "We can't understand what happened."

President Trump issued a statement on Twitter on Monday extending sympathies to the victims and their families.

Video of the shooting captured nine seconds of rapid-fire, continuous bursts, followed by 37 seconds of silence from the weapon amid panicked screaming. The barrage of gunfire then erupted again in at least two more rounds, both shorter than the first.

In the confusion after the shooting, the police also descended on the Ali Baba Restaurant, about a 10-minute drive from the Mandalay Bay, and they also investigated reports of a shooting at the New York-New York Hotel and Casino, not far from the concert ground.

The police reported clearing out the Mandalay Bay's 29th floor and working their way up to the 32nd floor. A police Twitter post described reports of an "active shooter" near or around the Mandalay Bay casino.

Video from the shooting showed Mr. Aldean, the final performer of the night, running off the stage as the gunfire erupted.

Jake Owen, a country singer who was on stage with Mr. Aldean when the shooting began, told CNN on Monday that it was like "shooting fish in a barrel from where he was."

Concertgoers described hearing round after round of gunfire. "Everyone was running, you could see people getting shot," Gail Davis, one of the witnesses, said. "I've never been that scared in my life," she added. "To have this happen, I can't wrap my mind around it."

"It just kept coming," one of the witnesses, Robyn Webb, told The Las Vegas Review-Journal. "It was relentless."

They said they saw about 20 people bleeding in the street.

"That's when we knew for sure it was real," said her companion, Matt Webb.

The police reported closing off about a mile of Las Vegas Boulevard and asked the public to steer clear of the area.

A photo posted by a Review-Journal photographer showed emergency responders transporting one injured person in a wheelbarrow.

McCarran International Airport in Las Vegas said that some flights destined for the airport were diverted because of police activity. The airport is just east of the Mandalay hotel, and after the shooting there were reports of people fleeing the concert by running onto an airport runway.

The hotel itself was placed on virtual lockdown after the shooting, guests said.
More from the Las Vegas Review-Journal:
A gunman opened fire on an outdoor country music concert from a Mandalay Bay hotel room late Sunday, killing at least 50 people, injuring more than 400 and sending the Las Vegas Strip into chaos.

The massacre is the deadliest mass shooting in United States history.

As officers entered the suspect's room, 64-year-old Mesquite resident Stephen Paddock died from a self-inflicted gunshot wound on the 32nd floor of the Mandalay Bay hotel, police confirmed early Monday.

Officers found 10 rifles in Paddock's room.

Police initially had named Marilou Danley as a person of interest associated with Paddock, but at about 5 a.m. released a statement saying they had interviewed her and do not believe she is involved with the shooting. Police continue to look for a Hyundai Tucson with the Nevada license plate 114 B40.

An off-duty Las Vegas police officer attending the concert was among the victims killed, Sheriff Joe Lombardo said during a briefing early Monday.

Families seeking information on the welfare of loved ones should call 866-535-5654.

The attack came during the last performances on the final night of the three-day Route 91 country music festival, which has been held for the past four years on a 15-acre lot on Las Vegas Boulevard across from Mandalay Bay.

Gunfire from an automatic weapon rang out while Jason Aldean was onstage. Concertgoer Ivetta Saldana, who was there with a friend, said the shots sounded like fireworks.

She said she hid in a sewer.

"It was a horror show," she said at the Town Square shopping center south of the Strip. "People were standing around, then they hit the floor."

One responding officer was critically injured, and another had minor injuries, police said.

MGM Resorts International, which owns Mandalay Bay, released a statement early Monday from Jim Murren, the company's chairman and CEO.

"Our hearts and prayers go out to the victims of last night's shooting, their families, and those still fighting for their lives," Murren said. "We are working with law enforcement and will continue to do all we can to help all of those involved."

(…)

Matt and Robyn Webb from Orange County said they sheltered underneath their seats as burst after burst of gunfire rained down from the direction of Mandalay Bay.

"It just kept coming," Robyn Webb said. "It was relentless."

They eventually evacuated toward Reno Avenue, where they said they saw as many as 20 people lying in the street bleeding.

"That's when we knew for sure it was real," Matt Webb said.

They ended up at Hooters Hotel Casino, but they said they had to flee from there with the panicked crowd as more shots rang out.

"We thought we were safe," Robyn said.

They ended up sitting together on a curb next to an empty lot on Tropicana Avenue just east of Koval Lane, trying to get news on their phones and collect themselves as wailing ambulances streamed to and from the scene.

They said they had no way to get back to their room and their two puppies, now on lockdown at the Delano.
Here's the video from the scene:
Harrowing video of mass shooting during @Jason_Aldean set of #Route91Harvest Festival in #LasVegas. #MandalayBay pic.twitter.com/gaXgDBbZKV

— Evan Schreiber (@SchreiberEvan) October 2, 2017
The shooting took place around ten o'clock last night local time at the end of an outdoor concert featuring a number of country music stars. The last performer of the night, Jason Aldean, was just wrapping up his show when the shooting began and there were an estimated 20,000 people from all over the country at the event, all of them in the line of fire of the shooter who was firing from the 36th floor of the Mandalay Bay Hotel overlooking the concert grounds. From the sound of the video, and based on the reports of law enforcement on the scene, it seems clear that the principal weapon that was being used was a fully automatic weapon of some kind. These types of weapons are generally not legal for an average citizen to obtain, and in the cases where they are the weapons are strictly regulated by both the ATF and local law enforcement and the weapon itself and the permitting process required would end up costing tens of thousands of dollars. It's possible that the weapon is one that the gunman may have legally obtained the weapon before the ban went into place in 1986, but that wouldn't necessarily account for where and how he may have obtained the ammunition that was used. In any event, it's unclear at this early stage of the investigation exactly how or where he may have obtained this weapon or the ammunition for it. Until we have that information, any discussion about the weapons used is purely speculation.
There are also early reports that the gunman, who was identified fairly early as being Stephen Paddock, a 64-year-old white man may have had as many eight other weapons in the hotel room he had been staying in since September 28th, but again it's not known where or how he obtained those weapons. Also unclear is what may have motivated the shooting, although there are some reports that Paddock may have recently been through a divorce. In any case, Paddock is dead, apparently from a self-inflicted gunshot wound that was inflicted as SWAT team members were breaking into the hotel room where he was shooting from. There were also early reports that police were looking for a woman who was identified as a person of interest who was living with Paddock in Mesquite and may have been seen at the Mandalay Bay Hotel with him in the days before the shooting. In their last briefing, local police said that they had located this woman but it's unclear whether that means that they've talked to her or whether they just think they know where she is.
Given the relative dearth of information at this point, it's hard to make any other comments about this case or what impact it may have on the on the inevitable political debate that will inevitably result from it. As I noted, if it is the case that the weapon used was fully automatic, then the suspicion will have to be either that he didn't obtain the weapon legally or that he illegally modified a standard semi-automatic weapon in some way that would make it behave like an automatic weapon. It's also unclear what motive there may have been behind the shooting, although law enforcement has said that they have already ruled out international terrorism. It's still possible, of course, that there was some domestic political angle to this horrific event, or that Paddock was simply mentally ill in some fashion as was the case with the shooter in the Aurora, Colorado case. In any event, what we already know is that the this is the worst mass shooting in American people and that the body count is likely to go higher before the day is over.
Update: The Chairman of the Clark County Commission has established a GoFundMe for victims and the families of victims.
Update #2: President Trump delivered remarks on the shooting late this morning: