The Las Vegas Shooting Was Terrorizing, But It Wasn't A Terrorist Act
Stephen Paddock's crime was clearly terrorizing, and will impact the lives of survivors, families, first responders in many ways for a long time. Based on the currently available evidence, though, the Las Vegas shooting was not "terrorism."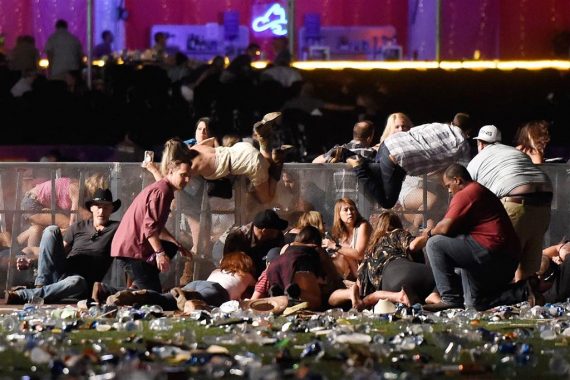 As similar incidents have in the past, the mass shooting Sunday night in Las Vegas is generating a debate over whether or not the incident should be described as an act of terrorism and whether the shooter, Stephen Paddock, should be classified as a terrorist:
WASHINGTON — In the absence of any hint of a motive in the Las Vegas massacre, President Trump late Monday morning called it "pure evil."Notably, he avoided the word "terrorism."

The gunman, Stephen Paddock, a 64-year-old with no significant criminal history and no obvious ideological motive, remained a blank space, offering little for Americans who crave an explanation for the tragedy to seize upon.

But that did not deter a daylong jumble of industrious, contradictory and often self-interested speculation.

Early in the day, right-wing websites named the wrong man as the gunman, labeling him "another angry far-left shooter," in the words of the Gateway Pundit. A conservative Las Vegas radio personality, Wayne Allyn Root, told his 110,000 Twitter followers: "This is real thing. Clearly coordinated Muslim terror attack" — an early guess given a brief boost by a claim of responsibility from the Islamic State.

Then the F.B.I. knocked down the Islamic State angle, noting that the group has a history of false claims. The guessing game resumed: Was it a plot by "deep-state Democrats" (Alex Jones of the conspiracy site Infowars) or perhaps divine punishment for the "profound disrespect" shown to Mr. Trump and the national anthem (the religious broadcaster Pat Robertson)? Was it something to do with country music, given the concert crowd Mr. Paddock targeted? Could it be linked in any way to the long-ago history of Mr. Paddock's father as a bank robber on the F.B.I.'s most-wanted list?

"Stephen Paddock motive" ranked high among Google searches, and it remained uncertain whether more evidence would fill the void about what drove his killing rampage or the slaughter would drift into history as one more act of American mass violence to elude easy categorizing.

Mass killing of innocents, even on the scale of Las Vegas, does not automatically meet the generally accepted definition of terrorism, which requires a political, ideological or religious motive. But beyond that academic analysis, in political debate in a polarized country, the word "terrorism" is also a verbal weapon, freely wielded — especially when the accused is Muslim.

"The label is so powerfully pejorative and carries so much weight," said Martha Crenshaw, a terrorism expert at Stanford's Center for International Security and Cooperation.

The first reports of any mass attack summon not only a general sense of grief, but anxieties and wishes in specific American subgroups: Muslim Americans pray that the attacker does not share their faith, for instance; conservatives and liberals alike want the assailant to turn out to be a member of their political opposition.

"In today's political climate, it's so polarized that people are hoping it's not pinned on their side," Ms. Crenshaw said. As a political progressive, she admitted to a passing feeling of dread on Monday that the gunman might come from the left.

More cynical observers of American politics may feel that Mr. Paddock's advanced age, white race and non-Muslim religious background make it less likely that he will be tagged a terrorist, whatever may emerge about his politics.

(…)

The tussle over what terrorism is dates back to the beginning of its modern history, said David C. Rapoport, the dean of American historians of terror. He said a Russian radical who shot the governor of St. Petersburg in 1878, Vera Zasulich, was asked at trial why she laid down her gun after merely wounding her target.

"I'm not a criminal — I'm a terrorist," she declared, he said, suggesting that she had made her political point and felt no need to pile on with lethal violence.

"That's not our conception of terrorism," said Mr. Rapoport, a retired professor at the University of California, Los Angeles, and founding editor of the journal Terrorism and Political Violence.

Mr. Rapoport's well-known taxonomy identifies four major waves of terrorism since the 1880s: the anarchists; anticolonial activists; leftists around the time of the Vietnam War; and since 1979, religious zealots, including non-Muslims. He said each of the earlier waves lasted about 40 years, and that he expected the period of religious terrorism to fade by 2025.

But in every case, the perpetrators had a clear ideological agenda. They were also overwhelmingly young, Mr. Rapoport said. Mr. Paddock so far seems to fit none of the patterns. His age, a year short of qualifying for Medicare, is especially perplexing.
In the end, of course, what we call Paddock's horrific crime hardly matters. Not calling it 'terrorism' won't change the fact that 58 people are dead and more than 500 injured in what, at least in terms of the body count and casualties, the single worst shooting incident in American history and the worst single mass casualty incident since the September 11th attacks. In either case, those people will still be dead or injured and along with them hundreds if not thousands of people will have been impacted in some way either because they lost a friend or family member, or were injured, or were among the more than 20,000 people sent into a panic in the late hours of a Sunday evening concert where they were enjoying themselves one minute and running for their lives the next. Whether it's called "terrorism" or not is really rather irrelevant to these people, and won't change reality for them or anyone else impacted by Paddock's crime or any similar incident.
Additionally, and as many people have pointed out in the wake of the Las Vegas shooting, there has been a tendency by the media and the public at large to use different labels for what essentially the same type of crime based on something as superficial as the identity of the shooter. This argument will point to the fact that individuals, authorities, and the media are often quick to refer to a particular act as an act of terror when the perpetrator when the attacker is revealed to have a Muslim or Muslim-sounding name while mass shootings committed by a white person or a person of some other ethnicity in different terms and by referring to issues such as mental instability or mental illness even before there is any of those factors may have played a role in the events that occurred. This is often a fair criticism, of course, and it's one of the many reasons why authorities, the media, and members of the public should avoid jumping to conclusions in the wake of incidents like this. More often than not, initial reports end up being based on incomplete information, misinformation, misunderstanding, or outright fabrication. Unfortunately, in an era of the never-ending news cycle the old Winston Churchill line that a lie (or misinformation) can spread halfway around the world while the truth is still putting its pants on is even more true than it was in when radio was the predominant form of "mass media" and most people still relied on newspapers as a primary news source.
All that being said, though, it seems apparent that while all mass casualty incidents can be terrorizing in the sense that they display a level of violence and depravity that none of us can comprehend, not all such incidents are terrorist incidents, and that we should be careful in how we label these attacks.
Legally, for example, terrorism is clearly defined under both Federal law and state law. Section 2331 of the United States Code, for example, defines "terrorism" this way:
(1) the term "international terrorism" means activities that—

(A) involve violent acts or acts dangerous to human life that are a violation of the criminal laws of the United States or of any State, or that would be a criminal violation if committed within the jurisdiction of the United States or of any State;

(B) appear to be intended—

(i) to intimidate or coerce a civilian population;
(ii) to influence the policy of a government by intimidation or coercion; or
(iii) to affect the conduct of a government by mass destruction, assassination, or kidnapping; and

(C) occur primarily outside the territorial jurisdiction of the United States, or transcend national boundaries in terms of the means by which they are accomplished, the persons they appear intended to intimidate or coerce, or the locale in which their perpetrators operate or seek asylum;

(…)

(5) the term "domestic terrorism" means activities that—

(A) involve acts dangerous to human life that are a violation of the criminal laws of the United States or of any State;

(B) appear to be intended—

(i) to intimidate or coerce a civilian population;
(ii) to influence the policy of a government by intimidation or coercion; or
(iii) to affect the conduct of a government by mass destruction, assassination, or kidnapping; and

(C) occur primarily within the territorial jurisdiction of the United States
Nevada law defines "terrorism" in a somewhat broader way in Title 15 Section 202.4415 of the Nevada Code:
1. "Act of terrorism" means any act that involves the use or attempted use of sabotage, coercion or violence which is intended to:

(a) Cause great bodily harm or death to the general population; or

(b) Cause substantial destruction, contamination or impairment of:

(1) Any building or infrastructure, communications, transportation, utilities or services; or

(2) Any natural resource or the environment.

2. As used in this section, "coercion" does not include an act of civil disobedience.
A separate Nevada law defines a terrorist as "a person who intentionally commits, causes, aids, furthers or conceals an act of terrorism or attempts to commit, cause, aid, further or conceal an act of terrorism."
From these statutes, it seems fairly clear that Paddock's act would not meet the definition of terrorism under Federal law because it does not at this time appear to be intended to intimidate or coerce civilians, government policy, or affect the conduct of government. Under the more broadly written Nevada statute, one could possibly make the argument that Paddock's action would meet the definition, and it's probable that he would have been charged with this crime had he survived the attack. Even there, though, it's not clear from the precise wording of the statute that it was intended to cover a crime like Paddocks. Since courts have generally held that criminal statutes ought to be strictly construed rather than stretched to apply in situations where they were not intended, it is arguably inappropriate to apply the Nevada law to what he did.
Using a more conventional dictionary definition, 'terrorism' is defined by Merriam-Webster as "the systematic use of terror especially as a means of coercion." More colloquially, it has come in recent decades to refer almost exclusively to attacks carried about by a person or persons for the purpose of achieving some other goal, a goal that could be inspired by politics, ideology, religion, or some similar over-arching philosophy. This would generally rule out cases such as the Virginia Tech shooting, the movie theater shooting in Aurora, Colorado, the Gabby Giffords shooting, or the shooting at Sandy Hook Elementary School. In those four cases, it soon became clear that one of the primary factors in the incident was linked to the shooter's mental state and perhaps some triggering event rather than the desire to advance an agenda, support an organization like ISIS, or promote some political motive. Based on that colloquial definition, it would seem clear based on what we currently know that the Las Vegas shooting seems more likely to fall into the second category than the first.
This same question came up in the immediate aftermath of the shooting at a historic African-American church in Charleston back in 2015 by Dylann Roof. In the immediate days after the attack, we began to learn that Roof had a history of racist writings and that he had posted several pictures of himself with symbols typically adopted by white supremacists. Additionally, we learned soon after his arrest that Roof stated it was his intention to kill as many African-Americans as possible, and that he apparently intended to try to visit a second African-American church in the area that same night but decided to try to get away from authorities instead. For these reasons, it seemed fairly clear to me at the time that it was entirely proper to label Roof a terrorist notwithstanding the fact that he was apparently not connected to any wider organization.
To be fair, of course, we don't know at the moment what exactly it was that motivated Stephen Paddock to blindly fire into a crowd of more than 20,000 people. There's been much speculation regarding possible motives that include everything from gambling problems that led to a huge amount of debt to the casinos that he visited often, the aftermath of what may or may not have been a bitter divorce, and, of course, diagnoses of mental illness on the part of armchair psychiatrists and social media medical experts. At least according to the family members in Florida and neighbors in Nevada who have spoken to the media since yesterday, though, none of those factors seem to have been apparent in his life before Sunday night, although it's possible that he was hiding his problems from his family and neighbors. Until we have information like that, any discussion of his motives would seem to be pure speculation. At the very least though, we can say that he apparently didn't leave any kind of note behind that would indicate a political, ideological, or religious motivation and, unless one is found or other evidence supporting such a connection is found, it strikes me that it would be improper to label what he did an act of terror.