Donald Trump Scores Solid Win In Nevada
Donald Trump won his third contest in a row in Nevada, putting him one step closer to inevitability.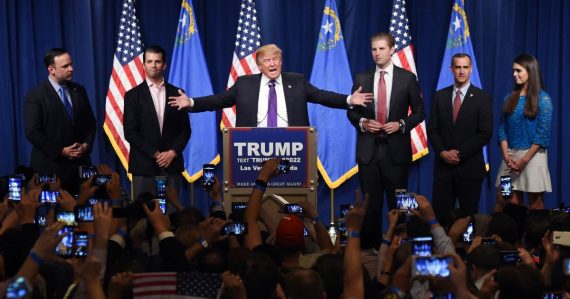 In what was apparently another messy affair, Donald Trump scored a solid win in Nevada's Republican Caucuses last night, setting him up for a March that could make him the near-prohibitive leader for the Republican nomination:
Donald J. Trump was declared the winner of the Nevada caucuses on Tuesday night, according to The Associated Press, gaining a third consecutive victory in an early-voting state and strengthening his position in the Republican presidential race before the wave of Super Tuesday elections on March 1.

Mr. Trump was seen as a favorite going into the contest, and his victory serves as a setback for his chief competitors, Senators Ted Cruz of Texas and Marco Rubio of Florida, who must now try to break Mr. Trump's winning streak in the larger states that vote in the coming weeks.

Mr. Trump was declared the winner on Tuesday night, and final returns reported by The A.P. put him 22 points over his nearest challenger, Mr. Rubio, with Mr. Cruz trailing in third place. Turnout in Nevada was reported to be high compared with previous caucuses.

For Mr. Trump, the outcome in Nevada is another sign of his campaign's durability and the breadth of his appeal: He has now handily won primary elections in New England and in the South, and a caucus fight in the far West. He won over independent voters in New Hampshire and evangelicals in South Carolina, and prevailed in Nevada, where Mormon voters and rural activists wield influence.

Mr. Trump said in his victory speech that he expected to consolidate his grip on the Republican Party as more of his competitors left the race. He said he would compete hard in his rivals' home states, and projected optimism that he could lock down the nomination quickly.

"It's going to be an amazing two months," Mr. Trump said. "We might not even need the two months, to be honest."

This latest triumph may only encourage Mr. Trump in the brash campaign style that has alienated many Republican officials and mainstream voters. In the two days leading up to the Nevada caucuses, Mr. Trump called Mr. Cruz a liar and threatened to deliver vicious attacks on Mr. Rubio as well.

At a rally in Las Vegas on Monday evening, Mr. Trump ridiculed a protester in his audience and told supporters that he would have liked to "punch him in the face."

His supporters in Nevada were jubilant on Tuesday night. Holding Trump signs and flags and a few Bud Lights, the crowd at the Treasure Island casino in Las Vegas erupted into a minute-long cheer when Mr. Trump was projected the winner on a CNN broadcast, and chanted the candidate's name. The audience booed any mention of Mr. Cruz from the television networks.

"We're seeing a backlash in the United States that we've never seen before," said Neville Cramer, 65, a Trump supporter from Las Vegas.

The results are likely to reinforce the sense among national Republican leaders that only direct confrontation can block Mr. Trump from claiming the party's nomination, because none of the party's most powerful voting blocs seems likely to thwart him on its own.

Mr. Trump's success in Nevada is also likely to increase the pressure on his opponents to somehow join forces against a common enemy.

Mr. Cruz and Mr. Rubio have attacked each other angrily in recent days, as each has struggled to establish himself as Mr. Trump's strongest rival. Mr. Cruz has intensified his hawkish comments on immigration to compete with Mr. Trump, and has argued that only a conservative running well to the right of Mr. Trump can challenge him effectively.

Addressing supporters on Tuesday night, Mr. Cruz reiterated that case. He acknowledged the high stakes for his bid in the Super Tuesday primaries, calling March 1 the "most important night" of the race. Citing his victory in the Iowa caucuses, he said, "The only campaign that can beat Donald Trump is this campaign."

Mr. Rubio, on the other hand, has sought to unite Republican leaders behind his bid, casting himself as the only candidate capable both of defeating Mr. Trump and winning a difficult general election race. Jeb Bush, the former Florida governor, appeared to open a wider path in the race for Mr. Rubio when he ended his campaign on Saturday after a disappointing finish in the South Carolina primary.

A host of senators and members of Congress and a few governors have backed Mr. Rubio in recent days, bolstering his claim on support from the national party establishment. And Mr. Rubio has criticized Mr. Cruz in increasingly personal terms, calling him a dishonest politician who has routinely lied to voters.
More from The Washington Post:
LAS VEGAS — Donald Trump swept to a convincing victory in the Nevada presidential caucuses here Tuesday evening, the Associated Press projected, building a broad coalition that left his top two rivals trailing far behind and accelerating his march to the Republican nomination.

An angry electorate hungry for a political outsider in the White House catapulted Trump to his third straight win in the GOP primary race as the billionaire mogul used visceral rhetoric to tap into anxieties about the economy, terrorism and illegal immigration.

Early returns showed the breadth of Trump's support was staggering, with Sens. Marco Rubio (Fla.) and Ted Cruz (Tex.) running more than 20 percentage points behind him and competing with each other for second place, despite their aggressive campaigning across Nevada in the closing days. Retired neurosurgeon Ben Carson and Ohio Gov. John Kasich, who did not mount a serious campaign here, were far behind in single digits.

"If you listen to the pundits, we weren't expected to win too much — and now we're winning, winning, winning the country," a triumphant Trump declared to supporters at his Las Vegas victory party.

Vowing to continue his streak and quickly secure the nomination, Trump added: "It's going to be an amazing two months. We might not even need the two months, folks."

Rubio, who jetted out of Nevada Tuesday morning for campaign events in Minnesota and Michigan, made no public comments on the results. His advisers had been hopeful that he might finish strongly here, perhaps even win, considering that he spent part of his childhood in Las Vegas and enjoyed the support of much of the state's political establishment.

High voter turnout apparently overwhelmed organizers at some caucus locations. There were isolated reports of double voting, dwindling supplies of paper ballots and what a Republican Party official described as "chaos" at a couple of caucus sites here in Clark County, the state's biggest population center.

Some volunteer caucus officials collecting ballots wore Trump campaign T-shirts and hats, sparking an outcry and allegations of voter intimidation on social media.

The Nevada Republican Party's caucus rules allow precinct workers to wear campaign paraphernalia. "Volunteers went through extensive training & are doing a great job," read a statement from the party.

Early entrance polling reported by CNN showed that Trump's victory here was commanding, across most demographic groups and among voters of every ideology. Nearly six in 10 caucus-goers said they were angry at the federal government, and a similar percentage wanted the next president to be a political outsider.

Trump reveled in the breadth of his winning coalition.

"We won the evangelicals, we won with young, we won with old, we won with highly educated, we won with poorly educated — I love the poorly educated," Trump said, referencing the network entrance polls. "And you know what I really am happy about, because I've been saying it for a long time? Forty-six percent with Hispanics. Number one with Hispanics! I'm really happy about that."

Trump, who visited caucus sites Tuesday night to motivate his supporters, had led every recent public poll by double digits. Enormous crowds packed his rallies, including one Monday night in Las Vegas that drew an estimated 8,000 people.

Trump's nationalist call to deport illegal immigrants and wall them off resonated with Nevada's working-class whites resentful of the booming Latino population.

But a Trump win was not seen as a done deal. The state's caucuses are peculiar and unpredictable — and Cruz and Rubio labored to spring a surprise.

Cruz worked Nevada harder than any other candidate, flying immediately to the state after South Carolina's primary Saturday and making nine crowded campaign stops.

Yet a message seemingly tailored to Nevada's libertarian-leaning Republicans — with a particular focus on the federal control of land in the state — did not appear to resonate as Cruz might have hoped.

(…)

All along, however, Nevada was Trump's to lose. He focused on big rallies in Las Vegas and the Reno area — the state's two main population centers — but he had a ground organization, as well.

Trump's campaign bought limited television advertising time in Las Vegas. In its main spot, which also ran in South Carolina, a man whose son was murdered by an undocumented immigrant said that Trump is "the only one" he trusts to secure the border.

Rubio campaigned across Nevada with a broader message, trying to appeal to a more diverse cross-section of the electorate, and entrance polls suggested he won among voters who decided in the final days.

Many of the state's top elected officials backed Rubio, including Sen. Dean Heller. Gov. Brian Sandoval, who has angered conservatives over a state tax increase, decided to stay on the sidelines, though he caucused for Rubio on Tuesday night.
The scope of Trump's victory last night easily outpaced those that he scored in either South Carolina and New Hampshire earlier this month. In those states, the New York real estate developer largely finished as the polls expected him too, if not underperforming just a little bit. In Nevada, thanks in large part to much higher than expected turnout, he scored a much higher than expected win than anyone expected. As the vote count stands right now, Trump ended the night with 45.9% of the vote and more than 34,531 votes. This is nearly double what second place finisher Marco Rubio got with his 17,940 votes and 22.9% of the vote, and easily double what third place finisher Ted Cruz received with 16,079 votes and 21.9% of the vote. Coming in fourth behind Cruz was Ben Carson at 4.8% of the vote, followed by John Kasich at 3.6% of the vote, although it should be noted that neither Carson nor Kasich seriously contested Nevada or made many appearances in the state. To put things in perspective, Trump's vote total beat what Mitt Romney received when he won the state in either 2008 or in 2012, although Romney's percentage of the total votes was higher in both years. More importantly for the race going forward, Trump won at least 12 of the 22 delegates that were at stake in Nevada last night giving him 79 delegates so far according to media projections. While this is far from the 1,237 delegates a candidates needs to win the nomination, it nonetheless means that Trump has won some 60% of the delegates that were at stake in the month of February, along with garnering 420,215 popular votes over the course of the four February contests.
Whatever one might think about Trump as a man, his absolute lack of any concrete policy ideas, his simplistic slogans, or his xenophobic, hateful rhetoric and the fact that he seems especially skilled at bringing out the absolute worst in his supporter, from the perspective of someone who has been watching U.S. Presidential elections for some thirty-five year now he has pulled off an impressive set of wins that pretty much nobody believed was possible when he started his campaign in mid-June. Indeed, as things stand right now it is clear that Donald Trump is the front-runner to win the Republican nomination, and that perhaps only the results of the contests over the first three weeks of March stand in his way to being the presumptive winner of that nomination. Currently, Trump is leading in all but a handful of the states that will hold primaries or caucuses next Tuesday, and is even threatening Ted Cruz in the Senator's home state to the extent that he's cut Cruz's lead there down to single digits.
As for the rest of the field, Marco Rubio and Ted Cruz once again found themselves in a close battle for second place with Rubio ekeing out enough votes to claim the silver medal, but as a time goes on it's becoming harder and harder to see how either one of them is going to be able to take out the other in time for them to become a viable challenger to Trump. Of the two, Cruz clearly seems to be in the weaker position since he was unable to follow-up his Iowa win with success anywhere else this month, perhaps proving yet again that, at least for Republicans, the Iowa Caucuses are not nearly as important as they are given credit for. Worse for Cruz, though, is the fact that he once again lost evangelical voter to Trump, something that does not bode well for his fortunes across the swath of southern states that will hold primaries on March 1st and thereafter. Without that bloc of voters strongly in his corner, it's not at all clear how Cruz keeps a viable campaign together. In Rubio's case, while the establishment continues to line up behind him, especially in the wake of Jeb Bush leaving the race on Saturday, the young Florida Senator still hasn't managed to win anything and there are no signs that he has much of a chance to win in any of the Super Tuesday states that will vote on March 1st. The conventional wisdom seems to be that either Cruz or Rubio has to emerge as the single candidate to challenge Trump but, so far, neither one is managing to do so and the results so far are murky enough that there's no reason for either one of them to drop out at this point. Further down the ballot, John Kasich is pinning all his hopes on solid performances in states like Michigan and Ohio next month, but it's hard to see how even wins there would be enough to make him a viable challenger to Trump. Finally, Ben Carson's continued presence in the race is a puzzle to pretty much everyone at this point but he seems intent on sticking around. These are the challengers that Donald Trump has to deal with, and right now none of them seem capable of taking him on one-on-one.
Citing these and other factors, CNN comentator Mel Robbins argues that the Republican race is already over, and that Trump will be the nominee. While I wouldn't go quite that far just yet, it's clear that Trump has all of the advantages going forward. Having led in the polls for more than seven months now, there's no sign that the momentum that has propelled Trump to the point he's at right now is going to let up, and last night's results in Nevada showed for the first time that he can exceed polling expectations, which is a strong indication that the theory that further winnowing of the GOP field would end up hurting Trump may not be correct and that many of the people who have been voting for someone other than Donald Trump may just end up jumping on what appears to be the winning horse. Additionally, exit polling in each of the three states that Trump has one has shown that he scores solid wins across the demographic tables, winning all age groups, male and female voters, conservatives, moderate, and "liberal" Republicans, across nearly all levels of education, and most surprising of all perhaps, among evangelical voters who were supposed to be the backbone of Ted Cruz's campaign but which largely seem to have abandoned him after Iowa. If this continues through Super Tuesday and the early March primaries, then Trump could very well continue rolling over his opposition. At that point, the number of scenarios under which he wouldn't become the nominee would decline significantly and Republicans will have to face the reality of awarding their Presidential nomination to Donald John Trump when they meet in Cleveland in July.