Mass Shootings, Ideology, and Mental Illness
We know a lot less about the motives of spree killers than the public discourse suggests.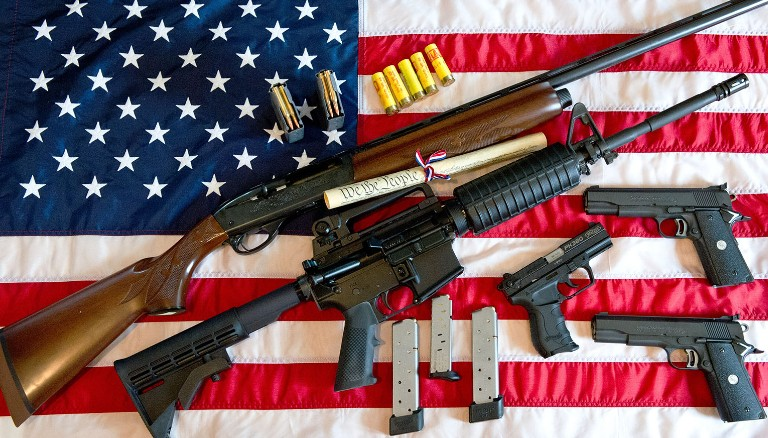 The comments on my post "When Mass Murder Becomes Commonplace," which noted that the "usual suspects are reading off the same old scripts as in the last hundred times this happened," is demonstrating just that. Given that the shooters in the two sprees over the weekend seemed at least partially motivated by racial animus, I was chided for labeling them "psychopaths" rather than blaming the killings on Fox News and the Republican Party.
Look, I fully acknowledge the role that Fox and the rest of the right-wing infotainment complex play in stoking resentment. Increasingly, going back to at least the rise of the Tea Party movement, that's been true of Republican political leaders as well. But the credible literature on the matter just doesn't point to partisanship being a significant determinant.
An April 2021 survey of the literature by RAND scholars Rosanna Smart and Terry L. Schell found,
Several studies, largely focused on mass public shootings, have sought to describe the characteristics of individuals who perpetrate mass shootings, evaluate characteristics of each mass shooting incident, and identify the behaviors and motivations that preceded each incident. Most of these studies are purely descriptive, not comparative, and thus should not be interpreted as providing evidence of whether specific individual-level or community-level characteristics are predictive of someone perpetrating a mass shooting.

According to this literature (see, for example, Capellan et al., 2019; Duwe, 2020), the perpetrators of mass public shootings in the United States have been overwhelmingly male (98 percent) and are most commonly non-Hispanic White (61 percent). In addition, they are most commonly younger than age 45 (82 percent); more specifically, 26 percent of mass public shooters from 1976 to 2018 were younger than age 25, 27 percent were aged 25 to 34, and 29 percent were aged 35 to 44. Relative to the overall U.S. population, mass public shooting offenders are much more likely to be male and are somewhat younger; relative to other homicide offenders, males and non-Hispanic Whites are overrepresented among mass public shooters, and mass public shooters are older. For comparison, of the overall U.S. population in 2019, approximately 49 percent was male, 60 percent was younger than age 45, and 60 percent was non-Hispanic White (U.S. Census Bureau, 2020). Of murderers in 2018 with known offender characteristics, 88 percent were men, 84 percent were younger than age 45 (38 percent younger than 25, 31 percent aged 25 to 34, and 16 percent aged 35 to 44), and 42 percent were White (Hispanic ethnicity information was not provided) (FBI, 2019f).

Media coverage often links mass public shootings with serious mental illness (McGinty et al., 2014, 2016), but estimates of the prevalence of mental illness among mass public shooting offenders vary widely depending on the types of incidents considered and the methods used to define and identify mental illness. Rates of formal diagnoses of psychotic disorders (including diagnoses made post-incident, which may be affected by the incident itself) among mass public shooters are estimated to be about 15 to 17 percent (Stone, 2015; Fox and Fridel, 2016).[11] Studies that use a broader definition of mental illness and consider informal evidence indicative of mental health problems (e.g., statements by law enforcement or family before or after the incident) have found prevalence rates ranging from 30 to 60 percent (Taylor, 2018; Capellan et al., 2019; Duwe, 2020). This informal evidence, which is often obtained subsequent to the incident, is invariably affected by the act of mass violence itself (Skeem and Mulvey, 2020). It does not suggest that mental illness is useful for predicting a subsequent mass shooting. Of note, a study of 106 perpetrators of mass public shootings in the United States between 1990 and 2014 found that less than 5 percent of offenders (n = 5) had a history of involuntary commitment or adjudication of dangerousness that would have prohibited them from purchasing a firearm following the federal mental health background check (Silver, Fisher, and Horgan, 2018). Although most research supports that, overall, people with serious mental illness are overrepresented among mass public shooters (Duwe, 2020; Skeem and Mulvey, 2020), this does not imply that serious mental illness causes mass shootings, just as we cannot conclude that being a young man causes mass shootings.

[…]

It is challenging to make broad generalizations about the individual-level motivations of mass shootings. When mass shootings are broadly defined to include familicides, felony-related killings, and mass public shootings, the events include heterogeneous incident types that vary in terms of victim, offender, and incident characteristics (Fridel, 2017; Taylor, 2018). Felony-related killings exhibit particular differences from familicides and mass public shootings. They are, by definition, criminally motivated (in contrast to familicides and mass public shootings, which are more commonly motivated by relationship problems, group grievances, or ideological extremist beliefs); result in significantly fewer deaths; and are significantly less likely to conclude with the death of the perpetrator (Fridel, 2017; Capellan et al., 2019).[13] The etiology of felony-related mass shootings thus, unsurprisingly, bears a stronger resemblance to firearm homicides more broadly. In contrast, familicides and mass public shootings show stronger similarities in terms of offender characteristics and motivations (Fridel, 2017).

Even the subset of mass public shootings seems to encompass a variety of offender types, and some researchers have suggested that the relative prevalence of these offender typologies has changed over time (Capellan et al., 2019).[14] When Capellan and colleagues considered incidents in which an offender used a firearm to kill or "attempt to kill" four or more victims in a public setting, they found that school shootings constituted the majority of mass public shooting incidents in the 1960s and 1970s, and workplace shootings became increasingly prevalent in the 1980s to 2000s (Capellan and Gomez, 2018; Capellan et al., 2019).[15] The past decade has seen an increase in the percentage of mass public shootings that are posited to relate to fame-seeking on behalf of the individual or on behalf of a broader ideology (Capellan et al., 2019; Lankford and Silver, 2020). Some researchers have suggested that this rise in fame‐ and attention‐seeking motivations among mass public shooters has contributed to an escalation in the lethality of these incidents (Langman, 2018; Lankford and Silver, 2020).
A February 2018 PolitiFact explainer, prompted by an idiot talk host's claim that mass shooters tend to be Democrats, found that there's really little evidence that they're politically motivated. Indeed, most descriptors of the partisanship of individual shooters is speculative and comes from early reporting.
We looked at 19 shootings that have received significant national media coverage since the Columbine High School shooting in 1999. More than eight people were killed in each of the shootings.

We found very few cases in which the political affiliation of the shooter could be verified. 

Omar Mateen, the shooter who killed 49 people at a nightclub in Orlando, Florida, in 2016, was registered as a Democrat in 2006. He voted in the Florida primary in 2016, according to reporting from Politico.

A dating profile for Chris Harper Mercer, who killed nine people at a community college in Oregon in 2015, said he was a Republican, according to reporting from CBS News. There was no evidence of his political affiliation beyond the profile.

A friend of Aaron Alexis, who killed 12 people at the Washington Navy Yard in 2013, said in a CNN interview that the shooter was "more of a liberal type." There were no other reports of his political affiliation.

Politicians were the victims of a couple of recent shooting rampages that weren't on our list of 19 mass shootings.

In 2017, 66-year-old James Thomas Hodgkinson shot and injured six people at a congressional baseball game in Virginia — nearly killing House Majority Whip Steve Scalise. Hodgkinson volunteered for the presidential campaign of Democrat Bernie Sanders and apparently targeted the Republican team.

In 2011, 22-year-old Jared Lee Loughner opened fire in Tucson at an event hosted by Rep. Gabby Giffords, an Arizona Democrat. Loughner killed six and injured 13 others, including Giffords. Authorities reported that he was obsessed with Giffords.

ABC News falsely reported that James Holmes, who killed 12 people in Colorado in 2012, was a member of the conservative tea party. ABC apologized for the error. Breitbart News reported that Holmes may have been a registered Democrat, but also walked back that claim. Holmes' political affiliation was never verified.

Fake news websites claimed Devin Patrick Kelley, who killed 26 people in a Texas church last year, was linked to anti-fascist groups. PolitiFact debunked that claim.

Websites made the same claim about Las Vegas shooter Stephen Craig Paddock. We debunked that, too. Paddock wasn't registered to vote and his family said he didn't have strong political views, according to a report from Fox News.

There were also claims that Adam Lanza, who killed 20 people at Sandy Hook Elementary School in 2012, was a Democrat. He was not registered to vote, according to the Washington Post.

Most recently, our friends at Snopes debunked the claim that Nikolas Cruz, who allegedly killed 17 people at Marjory Stoneman Douglas High School in Florida, was a Democrat. A search of Florida's voter database yielded no results for Cruz's party affiliation.

There was no reporting on the political leanings of the other 11 shooters.
Admittedly, that's anecdotal. But that's a function of the fact that, while mass shootings seem so maddeningly common, they're extremely rare events in the grand scheme of things.
Mass shooters are rarely motivated by a political agenda, experts told us.

Mass shootings are often perpetrated by young men who are socially isolated or have a mental illness, experience a trauma or conflict that sends them reeling emotionally, and have easy access to guns, said Alan Lipman, professor at George Washington University Medical Center and founder of the Center for the Study of Violence.

"Their motives are almost always, without exception, nonpolitical. And they don't describe themselves as having a particular political motivation," Lipman said.

Some — like Dylann Roof, who killed nine people at a church in Charleston, South Carolina, in 2015 — might channel their rage at a specific group of people, said James Alan Fox, criminologist at Northeastern University and author of "Extreme Killing: Understanding Serial and Mass Murder." But that doesn't mean they're acting on a Republican or Democratic mission, he said.

"Very few are motivated by any sort of political agenda in terms in parties. They might be anti-gay or anti-black or anti-white. You could argue those are political, I guess," he said.

Even then, those beliefs are often born out of personal vendettas — not political propaganda, said Katherine Ramsland, professor of psychology at DeSales University.

"Look at Stephen Paddock. We don't know his motive," Ramsland said of the Las Vegas shooter. "Devin Kelly — his political affiliation is secondary to his family disputes and need for payback. I just think it's overly simplistic to align a mass shooter's influence with a political ideology unless it's clear from the shooter that this was his (or her) driving issue."

Other experts reacted similarly to the assertion that shooters tend to have common political beliefs.

"Most of the school shooters are children who wouldn't know a conservative from a communist," said Jack Levin, Northeastern professor and co-director of the Brudnick Center on Violence and Conflict. "The idea of associating politics with these mass murders is absurd. It has absolutely nothing to do with it."

Lipman agreed: "There is absolutely no evidence to show that mass killings are motivated by political ideologies of any type. All of the mass killings we've seen have been motivated by a lethal combination of a small subgroup of mental illnesses, and easy accessibility to weapons of mass killing during the peak symptomatology of those illnesses."
That said, the more defensible argument is that Republicans are a much greater obstacle than Democrats to solving the immediate problem of too many guns in the hands of too many people who ought not have them. But even there it's not quite the slam dunk Democrats want it to be. An April 2021 Pew study ("Amid a Series of Mass Shootings in the U.S., Gun Policy Remains Deeply Divisive") shows that, while Republicans are indeed considerably more opposed to most "gun control" measures than Democrats, even Republicans support some measures. For example, 85% of Republicans surveyed support "Preventing people with mental illness from purchasing guns" and 70% support "Making private gun sales and sales at gun shows subject to background checks." To be sure, even higher percentages of Democrats support these measures.
The bottom line is that, while I find Tucker Carlson's white supremacist crap loathsome and condemn it as poisonous to the public discourse, he has more than 3 million viewers. Approximately zero of them go out and murder people. Even if it turns out both of this weekend's shooters were avid fans of the show—or, mutatis mutandis, huge Donald Trump supporters—rather clearly the explanatory variable is something else.