Time To Ban Bump Stocks
The Las Vegas shooting provides a good opportunity to enact a common sense gun control law that even Second Amendment advocates agree is called for.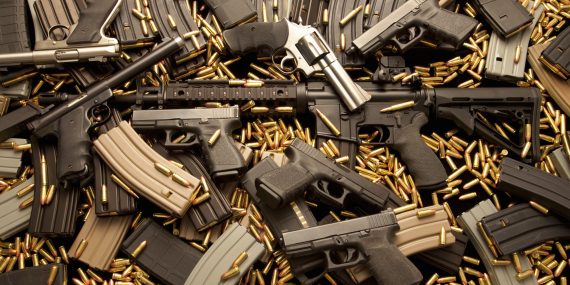 When the initial reports and video of the shooting on Sunday night in Las Vegas first came out, initial speculation was that the shooter had been using at least one fully automatic weapon in the shooting. This is significant because, as I noted in my post on Monday morning, such weapons have been largely illegal for sale to the general public since at least 1986 and, in some cases, since as long ago as the 1930s. The only exceptions to this general rule are for guns that were manufactured before 1986 and, in that case, the weapons themselves cost thousands of dollars and the permitting process required by Federal law is far more intensive, and the background check is far more rigorous than that required for ordinary weapons such as handguns, rifles, and other semi-automatic weapons. As it turns out, though, it appears now that the shooter, Stephen Paddock, may have used a modification available for as little as  $100 to effectively turn a semi-automatic weapon into a fully automatic weapon:
ATLANTA — The Las Vegas gunman possessed a little-known device called a "bump stock" that was not widely sold — until now.

Originally created with the idea of making it easier for people with disabilities to shoot a gun, the attachments allow a semi-automatic rifle to mimic a fully automatic weapon by unleashing an entire large magazine in seconds. Now the deadliest mass shooting in modern U.S. history has drawn attention to the devices, which critics say flout federal restrictions on automatic guns.

The stocks have been around for less than a decade. The government gave its seal of approval to selling them in 2010 after concluding that they did not violate federal law.

The device basically replaces the gun's shoulder rest with a "support step" that covers the trigger opening. By holding the pistol grip with one hand and pushing forward on the barrel with the other, the shooter's finger comes in contact with the trigger. The recoil then causes the gun to buck back and forth, repeatedly "bumping" the trigger against the finger.

Technically, that means the finger is pulling the trigger for each round fired, keeping the weapon a legal semi-automatic. The rapid fire does not necessarily make the weapon any more lethal — much of that would be dependent on the type of ammunition used. But it does allow the person firing the weapon to get off more shots more quickly.

It's unclear how many have been sold. The industry leader, Slide Force, did not return messages seeking comment. But the Abilene, Texas, company's Facebook page is filled with videos extolling its features, including one in which a woman gushed, "It's so easy because once you slid it forward and leaned into it, it just fires." In another video, a man fires off 58 rounds to celebrate his 58th birthday in just 12 seconds.

Manufacturers tout the stocks, some of which sell for less than $200, as offering a simple and affordable alternative to automatic weapons without the hassle of a rigorous background check and other restrictions.

Ed Turner, a former police officer who owns a gun shop in Stockbridge, Georgia, said he's already seeing a run on bump stocks since the shooting. He said he would be surprised if he had sold two of them in the past decade, but now he's unable to find any available, even from wholesalers.

Jay Wallace, owner of Adventure Outdoors in Smyrna, Georgia, said soon after most of his customers buy one, "the newness wears off and they put it away and it stays in a closet."

While the stocks allow a gun to quickly spray bullets, gun experts say they also create such a jolt that accuracy is affected. That may not matter to gun owners who just want the thrill of shooting with one, or for those bent on destruction. Stephen Paddock, the 64-year-old gunman, fired hundreds of rounds indiscriminately from his 32nd-floor room at the Mandalay Bay Hotel and Casino on a music festival outside.

He had 23 guns in the room. Authorities found bump stocks attached to 12 of the weapons, Bureau of Alcohol, Tobacco and Firearms Special Agent in Charge Jill Schneider said.

At Paddock's home, authorities found 19 more guns, explosives and thousands of rounds of ammunition. Several pounds of ammonium nitrate, a fertilizer that can be turned into explosives, were in his car, authorities said.

The shooting renewed a push by some lawmakers to ban bump stocks. California Sen. Diane Feinstein, a Democrat, said the devices can enable a gun to fire 400 to 800 rounds per minute and "inflict absolute carnage."
The New York Times has more:
Mr. Paddock had multiple semiautomatic rifles, weapons that fire a single round with each pull of the trigger. A fully automatic weapon, like a machine gun, will quickly fire round after round with a single pull of the finger, until the user releases the trigger or empties the magazine.

Fully automatic weapons, tightly regulated by federal law since the 1930s, are much rarer than semiautomatic ones. Military versions of assault rifles often have a setting for fully automatic fire, but the versions made for the civilian market do not.

The rapid fire heard on recordings of the Las Vegas shooting suggested a fully automatic weapon, and police officers called it that on radio traffic. But replacing a standard rifle stock, the part that rests against the shoulder, with a bump stock allows a semiautomatic rifle to fire at a rate comparable to a fully automatic rifle — much faster than a human user can pull and release the trigger.

Bump stocks are legal and inexpensive, with some versions advertised for $99.

A standard stock is firmly fixed to the rifle. But a bump stock allows the body of the rifle to slide a short distance back and forth, harnessing the recoil energy of each shot. The shooter does not move the trigger finger; instead, the weapon bounces, or "bumps," rapidly between shoulder and finger.

In 2013, Senator Dianne Feinstein of California proposed outlawing bump stocks, but Congress has not acted on her proposal. She proposed a ban again on Tuesday.
To be clear, it's uncertain at this point if the weapons that were actually used in the shooting were semi-automatic weapons equipped with bump stocks or other modifications designed to make the weapon function like an automatic weapon, or if they were actually fully automatic weapons. While we don't know much about Paddock even today, it does appear that he may have been independently wealthy and thus able to afford the thousands of dollars it would have cost to purchase a legal automatic weapon. Additionally, he appears to have had no past criminal record (his brother is quoted as saying that he hasn't even had as much as a traffic ticket in his lifetime) and thus likely would have passed even the more rigorous background check required of someone seeking to purchase a pre-1986 automatic weapon in accordance with Federal law. Additionally, it is at least conceivable that Paddock could have illegally obtained an automatic weapon, although the extent to which these weapons are regulated under Federal law makes that seem rather unlikely. Instead, given the reports that at least a dozen of the weapons that were found in Paddock's hotel room were equipped with bump stocks, it seems that the safest guess is that he used this relatively cheap modification to turn a regular semi-automatic rifle that could be purchased at any gun shop into what effectively amounts to the fully automatic killing machine that we heard spreading fire down on a crowd of 20,000 innocent and completely vulnerable people on Sunday night. What all of this means, of course, is that for as little as  $99, Paddock was able to convert a legal semi-automatic weapon into a killing machine that allowed him to carry out the worst mass shooting in American history, one that likely would have been far worse had first responders not stopped him when they did.
As I said on Monday, it was inevitable that the shooting on Sunday night would lead to a renewal of the debate about gun control in this country. We've already heard calls for that debate to be renewed from some quarters, and it's likely to increase as we learn more about how this shooting was carried out. What's interesting about the commentary this time is that even some strong gun rights activists appear to be open to the idea of taking action. For example, Jazz Shaw at Hot Air, who is a far more stringent supporter of Second Amendment rights than even myself, is out today with a proposal that is likely to get him at least some blowback from his own side of the aisle:
 I think we need to consider a ban on both bump stocks and these automatic fire conversion kits. (I'll give everyone a moment here to light the torches and begin painting up posters calling for my deportation.)

Assuming you'll allow me to get in a word edgewise after making that statement, permit me to expand on my reasoning here. The fact is that if conservatives truly want to maintain the brand of being supporters of the rule of law in a society guarded by constitutional law and order, we must recognize (even if you disagree) that fully automatic weapons are illegal in almost every instance. (We have a few exceptions which all require the highest level of background checks and federal scrutiny.) We can have a separate debate on whether such a ban is acceptable if you wish, but as things currently stand, that's the law.

These conversion kits and bump stocks only exist for one reason, and that's to allow a semiautomatic rifle to fire as a fully automatic model. You can pull out your amateur lawyer thesaurus (or professional copy for you actual lawyers) and try to talk your way around this subject, but there is no other purpose for these products to exist. If you accept that the law forbids the possession of fully automatic weapons in all but the most limited cases, then these products should also be illegal unless the purchaser already qualifies for ownership of a fully automatic weapons. For everyone else they should be banned.

(…)

under current law, having a fully automatic weapon for personal use absent very specific restrictions is not one of your rights. Having these bump stocks and conversion kits off the market except for those entitled to posses fully automatic weaponry is not an erosion of your Second Amendment rights as they exist today.
Patterico at Red State makes a similar argument:
I am a Second Amendment supporter, but in talking to other Second Amendment supporters over the past day or so, I have found nobody who is furiously opposed to banning these devices.

The concern will always be that the left will come after more and more guns. They'll want to take all semi-automatic firearms, for example.

Well, they will try. And we won't let them.

But I don't see the big problem in getting rid of a device that allows a shooter to turn a semi-automatic weapon into the functional equivalent of an automatic weapon. Automatic weapons are already banned, with minor exceptions. Nobody seems to have a big problem with that. I don't.

I'm open to hearing the arguments against such a repeal. But I'm skeptical.

And I think a lot of people agree with me.
As does Guy Benson at Town Hall:
If the federal government effectively banned the production and sale of almost all fully automatic weapons to civilians decades ago, why can't we very heavily regulate kits designed to transform semi-automatic guns into facsimiles of automatic guns, mimicking their rapid-fire, multiple-bullets-per-second capabilities?  I'm always wary of anti-gun arguments that go something like, "who really needs product X?" because that standard could be over-applied to justify outlawing a lot of things.  Still, I do find myself asking that question here.  Besides trying to kill as many people as possible in as little time as possible, who needs a "bump stock" (which authorities allegedly found in the Las Vegas killer's arsenal), and for what legitimate purpose?  Granted, the Second Amendment does not state that firearms and related accessories are only protected if there's a reasonable hunting application to owning them; there's a critical self-defense component, too, which anti-gun forces too often belittle or downplay. And yes, legally barring a tool obviously does not mean that bad people — especially someone who's hellbent on destruction, and undertakes a great deal of meticulous and sophisticated planning – will not manage to get their hands the outlawed tool, or otherwise improvise.

Nevertheless, making bump stocks much more difficult to obtain is a step that does not strike me as an unreasonable imposition on Second Amendment rights, especially since we basically outlawed "the real thing" long ago.  I've read some critics of this idea who warn that overly-broad or vague legislative language on this point could be used to ensnare additional gun components or accessories.  My response?  Write the law tightly and smartly, in conjunction with bona fide experts.  Take great care, and get it right.
When it comes to Second Amendment rights, I'm pretty much on the same side as Jazz, Patterico and Benson, except perhaps that I'm more willing to support other proposals that have been advanced in recent years in response to one mass shooting incident or another. For example, I generally favor the idea of expanding the universal background check laws to cover transactions and transfers of weapons that aren't necessarily covered now, such as informal transfers between friends and family and other sales that, while legal, operate outside of the background checks that exist under Federal and state law. Of course, previous polling has shown that such laws have the support of the vast majority of Americans, including most Republicans, conservatives, and gun owners. Leaving those proposals aside, though, it appears to me that there can be little disagreement. Many gun rights advocates have objected to proposals like this, though, due to concerns over privacy and because of the "slippery slope" arguments addressed in the posts quoted above. What this refers to, of course, is the argument that many guns rights advocates make that allowing even limited regulation of some kind would open the door to gun rights opponents seeking to undercut the Second Amendment even more. This is also an argument that strong advocates of the First Amendment make with respect to infringements on speech, the press, or the separation of church and state. While this is a valid concern in both case, as Jazz, Patterico, and Benson note it shouldn't stand in the way of laws that clearly seem to pass Constitutional muster.  It seems clear to me that this proposal to ban bump stocks or other conversion kits that allow someone to turn a semi-automatic weapon into a fully automatic one ought to be adopted notwithstanding those concerns.
From a legal point of view, it seems clear that a ban on bump stocks would clearly be acceptable under anything but the most unreasonable and unrelenting interpretation of the rights protected under the Second Amendment. in his majority opinion in District of Columbia v. Heller, which is essentially the first Supreme Court opinion to deal with the basic scope of the Second Amendment in its 200-year history, Justice Scalia made it clear that the Court was explicitly not finding that the right that the Amendment covers is unlimited or that the Amendment meant that there were no circumstances under which the Federal Government, states, or localities could regulate the types of weapons citizen could own or carry:
Like most rights, the right secured by the Second Amendment is not unlimited. From Blackstone through the 19th-century cases, commentators and courts routinely explained that the right was not a right to keep and carry any weapon whatsoever in any manner whatsoever and for whatever purpose. See, e.g., Sheldon, in 5 Blume 346; Rawle 123; Pomeroy 152-153; Abbott 333. For example, the majority of the 19th-century courts to consider the question held that prohibitions on carrying concealed weapons were lawful under the Second Amendment or state analogues. See, e.g., State v. Chandler, 5 La. Ann., at 489-490; Nunn v. State, 1 Ga., at 251; see generally 2 Kent *340, n. 2; The American Students' Blackstone 84, n. 11 (G. Chase ed. 1884). Although we do not undertake an exhaustive historical analysis today of the full scope of the Second Amendment, nothing in our opinion should be taken to cast doubt on longstanding prohibitions on the possession of firearms by felons and the mentally ill, or laws forbidding the carrying of firearms in sensitive places such as schools and government buildings, or laws imposing conditions and qualifications on the commercial sale of arms.We also recognize another important limitation on the right to keep and carry arms. Miller said, as we have explained, that the sorts of weapons protected were those "in common use at the time." 307 U. S., at 179. We think that limitation is fairly supported by the historical tradition of prohibiting the carrying of "dangerous and unusual weapons." See 4 Blackstone 148-149 (1769); 3 B. Wilson, Works of the Honourable James Wilson 79 (1804); J. Dunlap, The New-York Justice 8 (1815); C. Humphreys, A Compendium of the Common Law in Force in Kentucky 482 (1822); 1 W. Russell, A Treatise on Crimes and Indictable Misdemeanors 271-272 (1831); H. Stephen, Summary of the Criminal Law 48 (1840); E. Lewis, An Abridgment of the Criminal Law of the United States 64 (1847); F. Wharton, A Treatise on the Criminal Law of the United States 726 (1852). See also State v. Langford, 10 N. C. 381, 383-384 (1824); O'Neill v. State, 16 Ala. 65, 67 (1849); English v. State, 35 Tex. 473, 476 (1871); State v. Lanier, 71 N. C. 288, 289 (1874).

We also recognize another important limitation on the right to keep and carry arms. Miller said, as we have explained, that the sorts of weapons protected were those "in common use at the time." 307 U. S., at 179. We think that limitation is fairly supported by the historical tradition of prohibiting the carrying of "dangerous and unusual weapons." See 4 Blackstone 148-149 (1769); 3 B. Wilson, Works of the Honourable James Wilson 79 (1804); J. Dunlap, The New-York Justice 8 (1815); C. Humphreys, A Compendium of the Common Law in Force in Kentucky 482 (1822); 1 W. Russell, A Treatise on Crimes and Indictable Misdemeanors 271-272 (1831); H. Stephen, Summary of the Criminal Law 48 (1840); E. Lewis, An Abridgment of the Criminal Law of the United States 64 (1847); F. Wharton, A Treatise on the Criminal Law of the United States 726 (1852). See also State v. Langford, 10 N. C. 381, 383-384 (1824); O'Neill v. State, 16 Ala. 65, 67 (1849); English v. State, 35 Tex. 473, 476 (1871); State v. Lanier, 71 N. C. 288, 289 (1874).
The Miller decision that Scalia makes reference to here is United States v. Miller,  a 1939 ruling from the Supreme Court upholding a law enacted in 1934 which placed restrictions on the ownership of the machine guns (i.e., fully automatic weapons) of the day and heavily taxed their owners. Clearly, Scalia was intending to make it clear that Heller was not intended to overrule Miller and that it was also not intended to stand for the proposition that any regulation of weapons was per se invalid under the Second Amendment. Given this, and in full agreement with the arguments that Jazz, Patterico, and Benson make, I would argue that the events in Las Vegas should, at the very least, serve as a reason to ban people from legally creating a weapon that it is illegal for most Americans to own except in very limited circumstances.