Justice Department Issues Proposal To Ban Bump Stocks
The Department Of Justice is proposing a rule change that would ban bump stocks, but it could run into legal problems.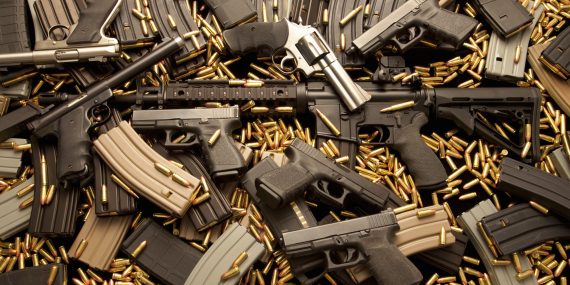 The Justice Department is proposing a change in regulations that would ban bump stocks, devices which can be attached to many semi-automatic weapons to cause them to perform in essentially the same manner as a fully automatic weapon:
WASHINGTON — Attorney General Jeff Sessions said on Friday that the Justice Department was proposing to ban so-called bump stocks through regulations rather than wait for Congress to act, a move that defies recommendations by federal law enforcement officials and could subject the department to litigation from gun rights groups.

Mr. Sessions's announcement came moments after President Trump said on Twitter that the Justice Department would imminently announce a rule banning bump stocks.

It also comes amid rising public pressure on Washington to curb gun violence after a mass shooting at Marjory Stoneman Douglas High School in Parkland, Fla., that left 17 people dead last month. Students will gather Saturday in Washington to protest gun violence for an event called March for Our Lives.

The Justice Department's proposed rule "would define 'machine gun' to include bump-stock-type devices under federal law — effectively banning them," Mr. Sessions said in a statement.

The proposed bump stock ban would defy the conclusion of Justice Department officials who have said that they could not, under existing law, stop the sales of bump stocks, accessories that allow semiautomatic guns to mimic automatic fire, and that congressional action was needed to ban them. But Mr. Sessions said the department had worked around those concerns.

"After the senseless attack in Las Vegas," Mr. Sessions said, "this proposed rule is a critical step in our effort to reduce the threat of gun violence that is in keeping with the Constitution and the laws passed by Congress."

The 55-page proposal, which was published for public comment, said it was redefining machine guns to include bump stocks because "such devices allow a shooter of a semiautomatic firearm to initiate a continuous firing cycle with a single pull of the trigger."

The proposal would force bump stock owners to surrender or destroy them the day the rule would go into effect.

A previous Justice Department review, done by the Bureau of Alcohol, Tobacco, Firearms and Explosives, was prompted by the mass shooting last fall in Las Vegas, where a gunman killed 58 people using semiautomatic weapons outfitted with bump stocks.

By working around the A.T.F.'s earlier interpretation, the Justice Department essentially said that the statute had not changed, but that it could now be read in a different way.

By reinterpreting the conclusion that was made under President Barack Obama, the Justice Department could open itself up to lawsuits when the rule is finalized. Litigation would tie up the bump stock ban in the courts.

Legal experts say that groups that sue could win because bump stock makers specifically designed the devices so they could not qualify as machine guns under the law.

"When you pull the trigger once on a machine gun, multiple bullets fire, whereas each pull of a trigger fires a single round with bump stocks," said Josh Blackman, a professor at South Texas College of Law in Houston. "People designed it this way deliberately to keep bump stocks from being defined as machine guns under the statute. It's like the difference between tax avoidance and tax evasion. The first is specifically to avoid being illegal."

The controversial new rule is in keeping with Mr. Sessions's practice of closely hewing to White House political directives, sometimes remaining silent in the face of criticism from Mr. Trump and other times rebuking his own employees.

Before the Justice Department issued any measures of its own, Mr. Trump had publicly declared that he would use executive authority to ban bump stocks, and he ordered the department to find a way to prohibit them.
As a legal matter, it could prove difficult for the Trump Administration to defend this ban in court, as The Washington Post noted yesterday. In 2010, the ATF decided that it lacked the authority to ban bump stocks because the device itself does not meet the definition of a machine gun under the 1986 law that applies in this situation. That law banned the sale of machine guns manufactured after 1986 to members of the general public. The law also severely restricts the sale of such weapons manufactured prior to 1986 by requiring a member of the general public seeking to purchase such an item to undergo a background check that is far more thorough than the one utilized for the purchase of otherwise legal weapons today and mandates the payment of significant taxes on the purchase that can run into amounts well over $10,000. In ruling on the issue back then, the ATF concluded that it could not ban bump stocks did not fall under the law because they did not alter a gun's trigger mechanism, which is the key aspect of a weapon that the 1986 law looks to in defining what is and is not a machine gun. Based on that, the Trump Administration could find it hard to defend the ban in Court when it faces a seemingly inevitable challenge.
Putting the legal issues to the side, though, it seems clear that the policy arguments in favor of banning bump stocks are far stronger than those opposed to it. The only question is how that is or can be brought about.
In the immediate aftermath of the massacre in Las Vegas that left 57 people dead and hundreds injured after a man using semi-automatic weapons equipped with bump stocks shot at a crowd gathered in an outdoor arena for a country music festival, there was much focus on these devices which were largely unknown even among people who are self-admitted gun hobbyists and enthusiasts. Even strong proponents of gun rights (see here, here, and here, for example) argued that there was no defensible reason for such devices to be legal, something I argued myself just a few days after the shooting. Many Republicans on Capitol Hill agreed, and at least publicly stated that they would be willing to move forward on Congressional action to ban the device. Additionally, polling showed that the American public as a whole was very supportive of the idea of banning these add-ons as well as other gun control measures. At the time at least, it seemed as though this would be one small gun control measure on which everyone could agree and that we could see quick action on the part of Congress on what seems like a fairly straightforward issue. Unfortunately, it soon became apparent that this initial optimism was misplaced. With the House and Senate both focused at the time on the Republican tax plan, the bump stock issue quickly faded from away and momentum on any kind of legislation on the issue slowed to a crawl on Capitol Hill. In the end, no action was taken on the issue and nobody seemed to notice. In the wake of the shooting in Parkland, Florida, though, attention was focused on the issue again and President Trump instructed the Justice Department to examine the issue and to issue a regulation banning the devices. This is what led to the proposed regulation released last night.
The regulation won't go into immediate effect. Instead, it will be presented following the procedures outlined in the Administrative Procedures Act, which allow for a public comment and review period before a regulation can go into effect. At the end of that period, an agency could decide to pull the regulation rather than allowing it to go into effect but that seems unlikely to happen here. Instead, the regulation will go into effect. Whether it faces legal challenges after that is something only time will tell.
Here is the Justice Department's proposal:
Dept. of Justice Bump Stock Proposal by Doug Mataconis on Scribd