Poll Shows Increased Support For Gun Control Measures In The Wake Of Las Vegas
New polling shows increased support for gun control measures in the wake of Las Vegas, but it's not likely to last and it won't lead to any significant action by Congress.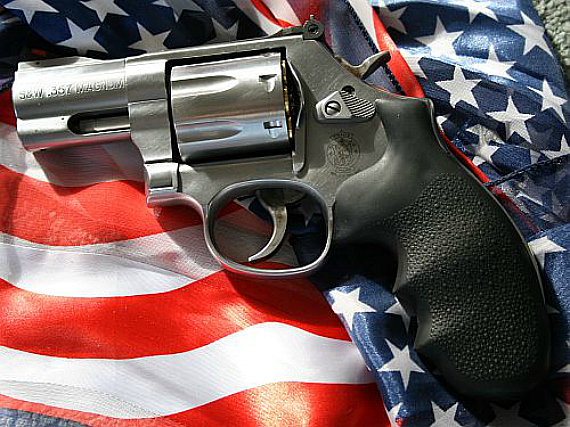 A new poll taken in the wake of last week's mass shooting in Las Vegas shows a majority of Americans supporting some elements of gun control, but it's unlikely to lead to significant legislative action anytime in the near future:
A new POLITICO/Morning Consult poll shows that a majority of voters support stricter gun control laws in the wake of last week's mass murder of 58 concertgoers in Las Vegas by a single man with nearly two dozen firearms shooting from the window of his 32nd-floor hotel room.

On most of the proposals to regulate gun ownership — including background checks, restrictions on where Americans can carry firearms and prohibitions against accessories like the "bump fire" stocks used by the Las Vegas gunman — large majorities express support in the poll, conducted last Thursday through Monday.

But despite those findings, voters still don't think the chances are high that Congress will act to strengthen federal firearm laws, even after the deadliest mass shooting in modern American history. And slightly more voters still say it's more important to protect Americans' right to own guns than it is, in general, to limit gun ownership.

Sixty-four percent of voters support stricter gun laws, the poll shows, including 41 percent who strongly support them. Less than 3-in-10 voters, 29 percent, oppose stricter gun laws, including 16 percent in strong opposition.

That's a slight increase in support from June of this year, when 61 percent of voters backed stricter gun laws and 33 percent opposed them.

Democratic voters are overwhelmingly supportive of new gun laws: Eighty-three percent back stricter laws, compared with only 12 percent who oppose them. Among independents, 58 percent support stricter gun control, and a third oppose them.

But the poll also finds some less-likely groups are closely split. Forty-nine percent of Republican voters support stricter gun control laws, and 45 percent oppose them. Among voters who said they supported Donald Trump in last year's election, 46 percent are in favor of stricter gun laws and 48 percent are opposed.

A 55 percent majority of gun owners back new restrictions, while 41 percent oppose them.

Seventy-nine percent of voters support banning the use of bump fire stocks — the device the Las Vegas shooter used to modify a dozen of his semi-automatic weapons to fire hundreds of rounds per minute. Only 13 percent of voters oppose banning bump fire stocks.

A number of specific proposals garner significant public support, with more than eight in 10 voters backing required background checks on all gun sales (88 percent), preventing sales of all firearms to people who have been reported as dangerous to law enforcement by a mental-health provider (87 percent), making private gun sales and sales at gun shows subject to background checks (84 percent), preventing those convicted of violent misdemeanors from buying guns (83 percent) and barring gun purchases by those on the federal "no fly" or terrorist watch lists (82 percent).

"The results of this survey demonstrate there is support for at least some new gun control measures, even if support for whole-scale reform is murkier," said Kyle Dropp, Morning Consult's co-founder and chief research officer. "Sixty-four percent of voters, including 49 percent of Republicans, support stricter gun laws. There are also individual proposals that receive even broader backing, such as 84 percent support for closing the gun show loophole."

Other proposals earning majority support: requiring all owners to store their guns in a safe storage unit (77 percent), creating a national database for each gun sale (76 percent), requiring a three-day waiting period for gun purchases (76 percent), banning assault-style weapons (72 percent), banning high-capacity magazines (72 percent), prohibiting Americans from carrying guns at schools and on college campuses (69 percent), limiting Americans to one firearms purchase per month (69 percent), limiting ammunition purchases (69 percent) and banning firearms from all workplace settings (59 percent).
This chart provides a breakdown of the specific proposals that the poll asked about: (click to enlarge)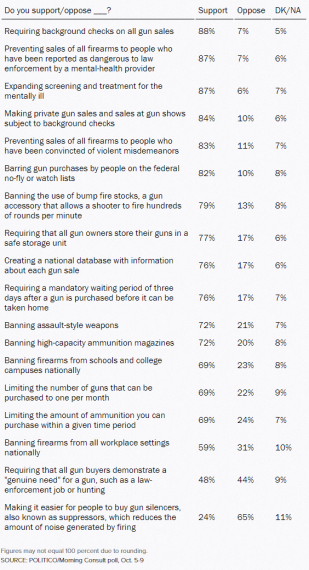 Looking deeper into the poll, we find that despite broad support for a number of measures that gun control advocates have been suggesting for years, most Americans don't think it's likely that Congress will act on many of them, assuming it takes any action at all. Only 26% of those surveyed say that they believe that there is an "excellent" or "good" chance that Congress will pass stricter gun control laws within the next year, while roughly 25% say the chances are fair and 38% are "poor." Respondents were also divided over which party they trust more on gun policy, with 39% saying they trust Democrats and 38% trust Republicans, with the remaining 23% being undecided. Also significant is the fact that 47% of respondents think its more important to protect gun rights while 42% say that limiting gun ownership should be a more important priority. That last statistic breaks down as expected on partisan grounds, with 70% of Republicans saying its more important to protect gun rights, while only 25% of Democrats believe this. On the issue of limiting gun ownership, meaning 63% of Democrats say this should be the priority issue when it comes to national gun policy while 23% of Republicans agree with them. Among Independents, 49% say they believe protecting gun rights should be the priority, while 36% say the priority should be limiting gun ownership.
Notwithstanding this increased support for some gun control measures, it is unlikely that even the Las Vegas shooting, which was both the worst mass shooting in American history and the worst deliberate mass casualty event since the September 11th attacks, will lead to either significant political action on the national level or the kind of change in voter behavior that would lead to this issue becoming a significant priority for Congress or the President.We have seen poll numbers like this before in the wake of other mass shooting events that have occurred over the past decade or more, and none of them have resulted in significant action in Congress or had significant political consequences for legislators who opposed such measures. The most notable example of this, of course, occurred in the wake of the shooting in December 2012 at Sandy Hook Elementary School in Newtown, Connecticut. Quite understandably, the image of the results of such an attack at a school, with so many of the victims being young children led many Americans to at least temporarily say that they supported stronger gun control laws. Even then, though, it was clear from polls where the question was asked that gun control was not a high priority issue even among the people supporting measures such as stricter background checks or the outright banning of certain kinds of so-called "assault weapons." Additionally, as time went on and the memory of Sandy Hook and other shootings that made the headlines faded, the priority that voters gave to that issue faded as voters turned their attention back to the issues that have long motivated voters the most when deciding who to vote for such as the state of the economy, health care, and terrorism.  In the specific case of the Sandy Hook shooting, polling within three months of the tragedy was already showing that gun control was slipping as a priority for voters and, within a year after the shooting, support for most gun control measures had fallen off to the levels they were at prior to the shooting. By the second anniversary of Sandy Hook, polling was showing that more Americans supported protecting gun rights than passing new gun control measures. One year later, near the third anniversary of the tragedy, polling showed a majority of Americans opposing a ban on the type of weapon used in the Sandy Hook shooting,
All of this brings to mind something Kevin Drum wrote in the wake of the defeat of the Manchin-Toomey bill, which would have expanded background checks, in the Senate:
about 80 percent of those Americans think it sounds like a reasonable idea but don't really care much. I doubt that one single senator will suffer at the polls in 2014 for voting against Manchin-Toomey.

Gun control proposals poll decently all the time. But the plain truth is that there are only a small number of people who feel really strongly about it, and they mostly live in urban blue districts already. Outside of that, pro-gun control opinion is about an inch deep. This is a classic case where poll literalism leads you completely astray. Without measuring intensity of feeling, that 90 percent number is meaningless.
I made a similar observation at the time:
Even at the height of the post-Newtown political push, only 6% of Americans considered gun control the most important problem facing the nation. That's a far cry from the vast majority of voters who say that they support the various gun control measures that have been advocated over the past four months.

This isn't the first indication that gun control is a low intensity issue among American voters.  Back in January, just one month after Newtown, a similar Gallup poll showed the same results that we see in this month's release. At that time, I predicted that it would be difficult for gun control advocates to get the most ambitious parts of their agenda through even the Senate, but I thought at the time that at least something would be passed. In part, I thought this because it seemed as though the post-Newtown attention paid to the issue was going to make it inevitable and that a low-priority issue like background checks would be something that Congress could pass to make it appear that they're doing something, even though in reality the Manchin/Toomey bill would have done little to stop the massacres that have garnered much attention over the years. As it turned out, the politics of the issue were far more complicated, and public intensity on the issue of gun control was far less than many thought it might be after the events of Newtown.

Once you understand where the politics of gun control actually stand, the behavior of Republicans and red state Democrats becomes completely understandable.
Drum's prediction regarding the 2014 elections and the impact of voting against Manchin-Toomey proved to be accurate, of course, as there was no indication at the time that a vote against the Manchin-Toomey bill played a role in the fate of any of the incumbents who lost that year, or that it played any significant role at all. Additionally, exit polling at the time indicated that guns were very low on the list of issues that voters cited as being the most important in deciding who they ended up voting for, something that we also saw in similar polling in 2010, 2012, and 2016. Other polling indicated that among the voters who said the issue was more important to them than to voters as a whole, supporters of gun rights who opposed additional gun control measures were more likely to cite guns as an issue that they based their vote on than supporters of gun control were. This was especially true among Republican and Independent voters, and even more true in states where Republican Senators who had voted against Manchin-Toomey were up for re-election.
There's every reason to believe that we'll see something similar in response to the shooting in Las Vegas. While the issue of gun control has slipped back into the consciousness of voters in the week since that tragedy, the most likely thing that we'll see in future surveys over the coming months is that support will fall back as the memory of the shooting starts to fade and public attention turns to other issues. This will be especially true if there is a flare-up in international tensions over the events in and around North Korea or any of the other hotspots in the world where American interests are seemingly under threat these days. Additionally, events going on in the background such as the Russia investigations and other issues will likely start re-entering the headlines in the near future, and that will lead voters to switch their attention back to the issues that are traditionally considered high-priority. This has been the course that the political debate over gun control has followed for at least the past twenty-five years or more, and it's likely to repeat itself this time around as well. An additional factor that should pour the cold water of reality on advocates for stricter gun control measures is the fact that polling has consistently shown strong support for gun rights among the public as a whole that makes any kind of radical change in gun laws highly unlikely Failure to recognize that reality means that strong advocates of gun control will continue to be disappointed by the fact that there doesn't seem to be any single event that can cause their agenda to advance outside of the bluest of the blue states where Democrats control the state government. Outside of those small numbers of states, though, the prospect for gun control in the wake of Las Vegas is as unlikely as it has ever been.