Majority Of Americans Oppose Ban On So-Called 'Assault Weapons' According To New Poll
A new poll shows that a majority of Americans oppose a ban on so-called 'assault weapons,' a marked change from two decades ago.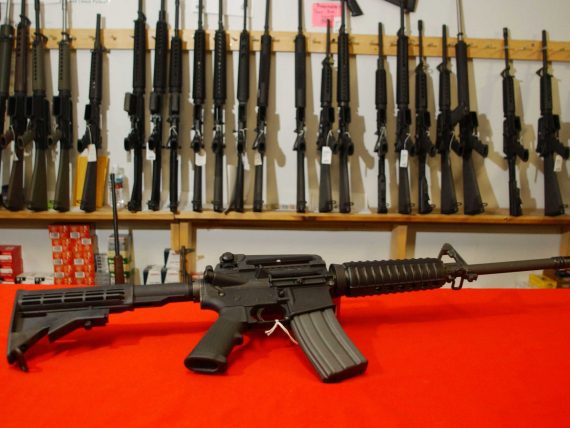 In another sign of just how difficult a task gun control advocates face in advancing their policies, a new poll from ABC News and The Washington Post shows that a majority of Americans oppose banning so-called 'assault weapons,' which actually constitutes something of a change in a position that has held rather solid on polling for the past twenty years:
A majority of Americans oppose banning assault weapons for the first time in more than 20 years of ABC News/Washington Post polls, with the public expressing vast doubt that the authorities can prevent "lone wolf" terrorist attacks and a substantial sense that armed citizens can help.

Just 45 percent in this national survey favor an assault weapons ban, down 11 percentage points from an ABC/Post poll in 2013 and down from a peak of 80 percent in 1994. Fifty-three percent oppose such a ban, the most on record.

Indeed, while the division is a close one, Americans by 47-42 percent think that encouraging more people to carry guns legally is a better response to terrorism than enacting stricter gun control laws. Divisions across groups are vast, underscoring the nation's gulf on gun issues
As this chart shows, this is a decided change on the question from where the public divide has stood in the past, especially twenty years ago when Congress passed a law that banned certain classes of weapons that was in effect for ten years, but which Congress failed to renew in 2004:
Not surprisingly, there are significant demographic differences on the question of an 'assault weapons' ban, along with some groups where the change in position is arguably surprising:
The increase in opposition to banning assault weapons since 2013 peaks in some groups — up 18 points among strong conservatives, 17 points among higher-income earners and 16 points in the generally more liberal Northeast. But it's a broadly based trend. Many groups have moved from majority support for an assault weapons ban two years ago to majority opposition now: whites, 30- to 64-year-olds, suburbanites, political independents, moderates, residents of the West and Midwest, anyone without a post-graduate degree and those in $100,000-plus households.

These trends leave just seven basic demographic groups in which majorities still support banning assault weapons: women, Northeasterners, seniors, post-graduates, liberals, Democrats and blacks.

Differences among groups are extensive. Barely more than a third of men favor banning assault weapons, compared with more than half of women (35 percent vs. 53 percent). Seniors are most likely to favor banning assault weapons, while – despite their greater liberalism on many other issues – nearly six in 10 young adults oppose it. Opposition is high in rural areas (64 percent) and among those who lack a college degree.

And there are, naturally, sharp political and ideological divisions. Sixty-seven percent of liberals and 61 percent of Democrats favor banning assault weapons. Opposition, on the other hand, takes in 52 percent of moderates, 55 percent of independents, 69 percent of conservatives and 70 percent of Republicans. Opposition peaks, at 79 percent, among strong conservatives.

(emphasis mine)
ABC's coverage of the poll ties the public's change on position on this issue to its attitude about terrorist attacks in the wake of the attacks in Paris and San Bernardino, and there is indeed some apparent correlation between the numbers on these questions. Overall, the poll finds that 77% of respondents are skeptical about the government's ability to prevent "lone-wolf" terrorist attacks, while only 22% express confidence in the government's ability to stop those kinds of attacks. There's somewhat more confidence in the government's ability to stop large-scale organized attacks, although it falls short of a majority with only 43% of respondents saying that there are confident of the government's ability to do so. Perhaps most significantly, a sizable plurality of the Americans, forty-two percent in this poll, have personal fears about being a victim in a terrorist attack, similar to the 49% that expressed that fear in a recent Gallup poll. Additionally, among those who doubt the government's ability to prevent lone-wolf attacks, some 57% oppose an 'assault weapons' ban and 77% say that 'encouraging more people to carry guns legally' as a better way to fight terrorism than stricter gun control. Not surprisingly, these numbers are reversed among those who are largely confident in the government's ability to stop terror attacks.
While it's probable that this change in the public's position on an 'assault weapons' ban can be tied to some degree to attitudes about terrorism, it seems clear to me that these numbers are reflective of overall public opinion on gun control issues and a demonstration of just how difficult a job gun control advocates have in advancing their position. Back in October, in the wake of a summer that included the murder of nine people in an historic African-American Church in Charleston, South Carolina and a mass shooting in southern Oregon, polling from Gallup and CNN showed both an increase in the number of Americans that supported allowing people allowing to carry a concealed weapon in public and increased opposition to some forms of gun control that had previously enjoyed public support. Since this was prior to the attacks in Paris and San Bernardino, it seems clear that the trend that this poll seems to represent is indicative of something more than that just fear of terrorism. There may be some correlation between public attitudes on these two issues, but it would appear to be mistaken to jump to the conclusion that ABC does in its report that fear of terrorism is what's driving the apparent change in public opinion. What this suggests is that the recent push by House Democrats to try to revive an 'assault weapons' ban, as well as Hillary Clinton's support for such a measure, while it may be popular inside their own party, is not a position likely to garner much support among Americans as a whole.
In part, the change in public attitudes regarding a ban on 'assault weapons' appears to be a recognition that most of the arguments in favor of such a ban are based on mistaken beliefs about the nature of such weapons and the frequency with which they are actually used in acts of criminal violence, mistakes documents in a September 2014 New York Times Sunday Review piece by ProPublica's Lois Beckett.  Furthermore, it's been shown many times in the past that a ban on so-called 'assault weapons' quite simply won't work. In addition, we've learned recently that, contrary to the way the media has seemingly portrayed it, there has actually been a massive decline in gun violence in the United States over the past two decades and that the number of "mass shooting" incidents has been greatly over-stated by activists and reporters.  More importantly, perhaps, it's been fairly apparent for some time that, even in those areas where Americans do support increased gun control, such as expansion of background checks, it is largely a a low-priority issue for voters,  except for those that are highly committed to the issue on either side of the debate, and in that area the people who are highly committed to gun rights are clearly both more numerous and more politically engaged that those highly committed to gun control. Additionally, beyond the seemingly simple things like background checks, this poll and others seems to make clear that the public as a whole is quite skeptical of broader gun control measures and sympathetic to the idea that people ought to have access to the weapons necessary to defend themselves if they want those weapons. Gun control advocates likely will find these truths uncomfortable, but they are political reality, and unless and until public opinion changes it's a reality they will have to deal with.