Gun Control Advocates May Not Like Political Reality, But They Can't Ignore It
A new poll shows an up-tick in public support for some gun control measures, but gun control advocates can't ignore the political reality that says those restrictions are unlikely to ever become law.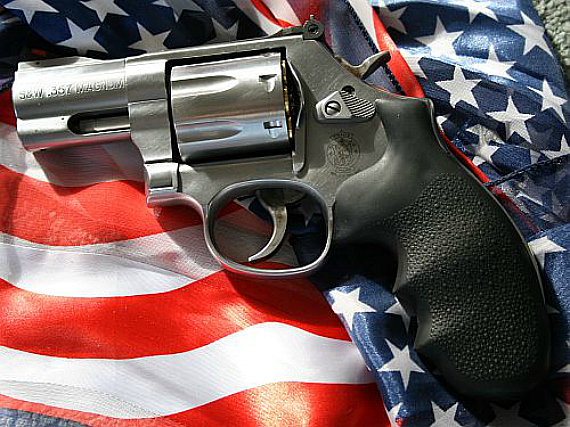 In the wake of another series of mass and random shootings that began with the murders at an historic African-American Church in Charleston, South Carolina and ended most recently with a mass shooting at a community college in Oregon, polling would seem to suggest that the support for some gun control measures has increased yet again, but it's unlikely to either last or have any enduring political impact:
For the second time since the election of President Obama in 2008, support for stricter gun laws has passed 50 percent in Gallup polling. The other time it happened? Shortly after the massacre of more than two dozen people at Sandy Hook Elementary School in December 2012.

Support for stricter laws just jumped to 55 percent, according to Gallup, while the percentage of people thinking they should be kept as they are has dropped to 33 percent. An additional 11 percent want less-strict laws.

The value of this number, of course, lies in how we assume it applies to the enactment of policy. The more public support for a proposal, in theory, the more likely that proposal is to become law. The ongoing debate over how to respond to mass shooting incidents constantly leverages bits of data like this one as a suggestion for how the American public would like its leaders to proceed.

On guns in particular, though, these numbers haven't effected much change.

In part, that's because there's a gap between questions like this and political practicality. Saying "gun laws should be stricter" is different than saying "I believe that we should ban certain types of weapons." Tightening restrictionsfor those with mental health problems would make gun laws more strict, and the National Rifle Association has advocated for such policies in the past, but it's not what many gun control advocates really want to see. We repeatedly hear that Americans overwhelmingly support increased background checks, which they do — but it's not clear how that translates into specific policies that Americans would support.

The aftermath of the Sandy Hook shootings continues to be instructive. The measures proposed in the wake of that tragedy included an expansion of background checks at gun shows. That proposal was blocked by a minority of the Senate and never reconsidered — despite the fact that Gallup's poll showed a similar spike in support for stricter laws.

Why? Because gun control advocates didn't have the necessary political leverage to change a few senators' minds. Some red-state Democrats worried about losing their reelection bids in 2014 bailed on the cause. Of the four who voted against the proposal for non-procedural reasons, only one is still in office.
The chart that accompanies the article is illustrative of what's going on here, and what it most likely means: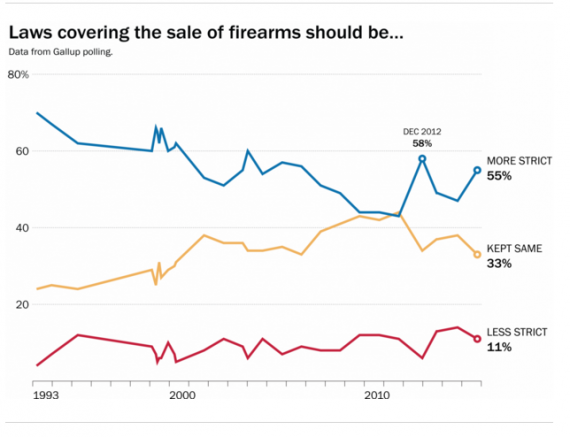 Right off the bat, it's worth noting that this poll in and of itself doesn't really tell us very much about public attitudes on specific gun control issues, or how important voters will actually think this issue is when it comes time to vote. An affirmative response to a question about whether laws covering the sale of firearms should be "more strict" doesn't tell us, for example, what the voters questioned might thing about specific proposals, or what they might think when they head to the polls to vote next year. In the wake of the shootings in Oregon, of course, President Obama tried to ignite a public debate on the issue with a statement and press conference that pretty much just amounted to empty rhetoric about policies that most likely wouldn't work and wouldn't have done anything to stop any of the recent shootings even if they did. Hillary Clinton, meanwhile, responded to the shootings in Oregon by unveiling what she said would be an aggressive push for broader gun control laws if she's elected President, including the possibly use of Executive Orders and other powers if Congress fails to act. More recently, Clinton used last week's Democratic Presidential debate to attack her chief rival Vermont Senator Bernie Sanders for a record on gun control issues that doesn't fit easily into the Democratic Party's current narrative and even suggested that she would consider the type of mandatory gun buyback program, essentially gun confiscation, utilized by Australia in 1996 and 2003. The odds that much or any of this would be implemented if Clinton becomes President, though, especially the most radical ideas like gun confiscation, lies somewhere between slim and none because of the nature of the gun debate in the United States.
As the chart above shows, and as I've noted before, the American public has been supportive of many gun control proposals for some time now, at least according the polls. This is especially true of the proposals for expanded background checks that would cover private sales not handled by federally licensed firearms dealers, which polling has shown has near-universal support even among self-identified Republicans and conservatives. Despite that polling, though, actually getting anything passed by a legislature has been next to impossible at the Federal level and only possibly on the state level in jurisdictions that are strongly controlled by Democratic Governors and legislatures such as New York and Connecticut. The main reason for this is that the polls that show broad public support for some gun control measures usually don't delve further into voter attitudes to find out just how important the issue actually is compared to the myriad of other issues that voters are faced with. As I noted in the wake of the Charleston shootings, when polls do this, it quickly becomes apparent why the fact that there is broad public support for some forms of gun control doesn't necessarily translate into legislative action.
In the wake of the massacre of schoolchildren at Sandy Hook Elementary School by Adam Lanza, we saw a spike in public support for at least some forms of gun control, a phenomenon which caused many supporters of these measures to believe we'd reached a tipping point in a battle that has been going on for decades now. What both polling and actual election results tell us, though, is that gun control is a low priority issue for the vast majority of Americans, which means that the fact that a particular candidate may be more in tune with public opinion on that issue is no guarantee that they can actually win elections. We can see this in the fact that the failure of Manchin-Toomey led to no backlash at all against the Senators who blocked the bill from proceeding when elections rolled around. Additionally, while support for gun control had risen in the wake of Sandy Hook, that support quickly began to fade to the point where, by the one year anniversary of the shootings, public opinion on those issues had returned to the levels it was at prior to the attack. Conversely, it is also very apparent that the one group for whom gun control is something of a high priority issue are people who oppose it, as we say evidenced in the successful efforts in Colorado to recall legislators who had voted for the laws enacted in that state after Sandy Hook. That phenomenon continued into the 2014 elections, where even the millions of dollars thrown behind gun control efforts by the likes of Michael Bloomberg had little to no impact on the outcome of actual elections. By November of last year, gun control was at the bottom of the list of issues that most Americans said they were considering in deciding which candidates to vote for. As long as this remains the case, the political efforts to enact stricter gun control will fail. Indeed, Karl Rove was correct earlier this week when he said that the only way we'd see real political success for the gun control movement would be if the Second Amendment were repealed, although even that suggestion led some of the more paranoid elements on the right to falsely claim that he was advocating repeal of the Second Amendment. Rove is right, of course, mostly because if we actually lived in a world where there was enough support and intensity to achieve something like repealing one of the elements of the Bill of Rights, then there would also obviously be support for the kind of laws that gun control advocates continue to fail to get enacted except in the deepest of deep blue states.
This is the political reality of the gun control debate in the United States, and it's why the proposals for tighter gun restrictions are likely to fail for the foreseeable future at the Federal level and in states that have a sizable Republican presence or a Republican majority. Unless gun control advocates can find a way to change that reality, they are unlikely to succeed in their efforts, and they are most certainly unlikely to succeed in passing some of the more radical ideas that they talk about such as Hillary Clinton's favorable comments about what amounts to no less than gun confiscation. The fact that even the deaths at Sandy Hook Elementary School failed to move the needle significantly on this issue, or more importantly to change the political calculus one iota, suggests that their efforts in this regard will largely end in failure.