Judge Denies Alex Jones Bid To Dismiss Defamation Lawsuit
Alex Jones lost a bid to dismiss a lawsuit filed by families of children killed in the Sandy Hook massacre.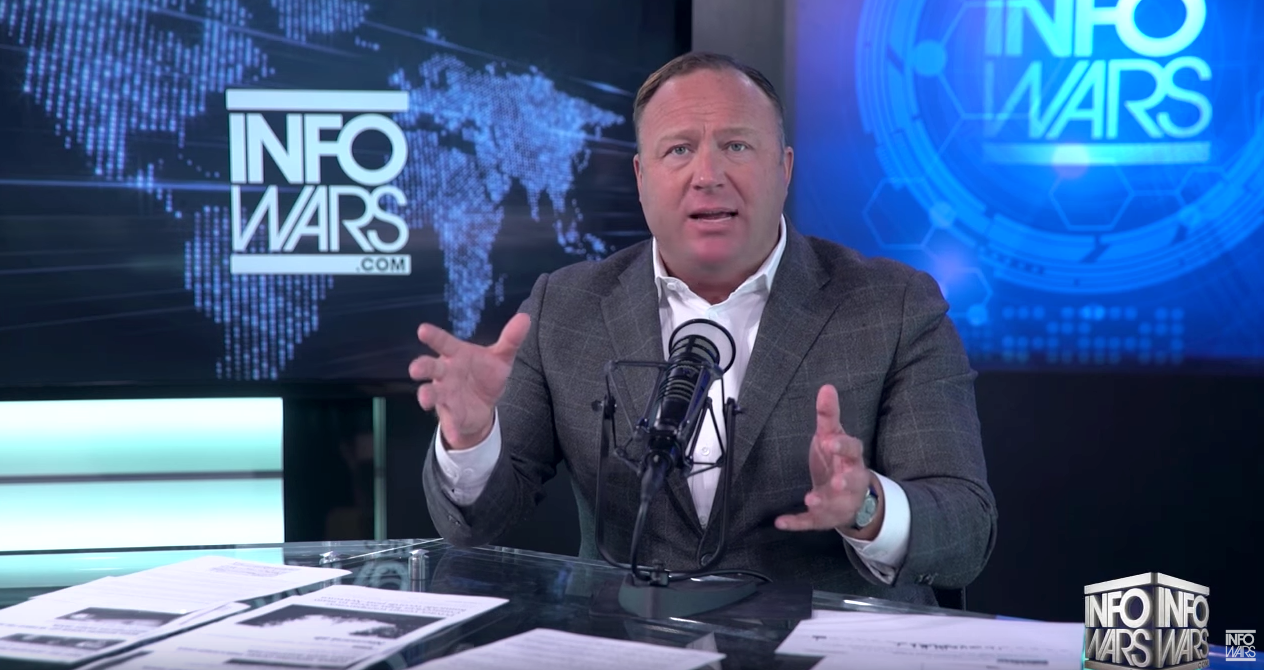 Conspiracy theorist Alex Jones has lost a bid to stop a defamation lawsuit filed by parents of children killed in the massacre at Sandy Hook Elementary School:
A Texas judge denied the motion by the conspiracy theorist Alex Jones to dismiss a defamation lawsuit brought against him and his Infowars operation by the parents of a Sandy Hook shooting victim, in a ruling released on Thursday.

The lawsuit was filed in state district court in Austin by Veronique De La Rosa and Leonard Pozner, parents of Noah Pozner, who was 6 years old when he was killed in the 2012 mass shooting at Sandy Hook Elementary School in Newtown, Conn.

On his radio broadcast and in videos, Mr. Jones for years spread bogus claims that the shooting was a "false flag," an event staged by the government as part of an effort to confiscate Americans' firearms, and that the parents of the children killed were "crisis actors."

After Mr. Pozner succeeded in getting an Infowars video casting doubt on the shooting removed from YouTube, Mr. Jones showed his audience Mr. Pozner's personal information and maps to addresses associated with his family, court documents say. Mr. Jones also falsely accused Ms. De La Rosa of participating in a faked interview with Anderson Cooper of CNN after the shooting, according to court documents.

Subsequent death threats and harassment have forced the Pozner family to move seven times. They currently live in hiding.

The Pozner case is one of three defamation lawsuits, including another in Texas and one in Connecticut, filed by relatives of nine Sandy Hook victims. Lawyers for Mr. Jones on Thursday sought the dismissal on free speech grounds of a defamation case filed with the Austin court by Neil Heslin, whose son, Jesse Lewis, was killed at Sandy Hook.
More from The Huffington Post:
Conspiracy theorist Alex Jones has failed to shut down a defamation lawsuit brought against him by the parents of a Sandy Hook victim.

Judge Scott Jenkins of the 53rd District Court ruled in Austin, Texas, on Thursday that the Infowars host must face claims from Leonard Pozner and Veronique De La Rosa. They're seeking more than $1 million in damages for his repeated lies about the 2012 massacre. The ruling came after Jones attempted to get his case dismissed earlier this month.

"After considering the arguments of counsel and the record, including plaintiffs' declarations filed on August 2, the court ORDERS that defendants' motion is in all respects DENIED," the court filing said.

Pozner and De La Rosa lost their 6-year-old son, Noah, when a gunman killed 20 children and six adults at Sandy Hook Elementary School in Newtown, Connecticut.

In the years since, Sandy Hook parents have received death threats and online harassment from followers of Jones' Infowars, an online conspiracy outlet that has claimed the shooting was a hoax and the parents are "crisis actors."

Jones' lawyer Mark Enoch argued the case should be dismissed under the Texas Citizens Participation Act, which protects citizens who have been sued for exercising their First Amendment rights. Jones had also been seeking more than $100,000 in court costs from the parents.

This is one of a pair of related lawsuits filed in April. As first reported by HuffPost, Pozner and De La Rosa, along with Neil Heslin, the father of another child, became the first Sandy Hook parents to sue Jones. They claim Jones and Infowars contributor Owen Shroyer have called the parents liars and sought to delegitimize their trauma.

In one instance, Jones claimed that an interview between De La Rosa and CNN's Anderson Cooper was faked.

"So here are these holier than thou people, when we question CNN, who is supposedly at the site of Sandy Hook, and they got in one shot leaves blowing, and the flowers that are around it, and you see the leaves blowing, and they go [gestures]. They glitch," Jones said, according to a transcript quoted in the lawsuit. "They're recycling a green-screen behind them."

As part of her sentence, Richards will no longer be allowed to access Infowars, according to the lawsuit.

During the hearing, Kelly Jones, the former wife of Alex Jones, protested outside the Travis County courthouse in support of the parents, with signs that read "Honk 4 Sandy Hook kids."

"Texans do care about justice, we care about bullies," Kelly said. "We're a strong state and we don't put up with people bullying kids or parents of murdered schoolkids. We're not gonna tolerate that, we're gonna stand out here and protest peacefully."
This ruling came in one of a pair of cases that were filed against Jones in his home county of Travis County, Texas, which essentially encompasses Austin and much of the surrounding area. Both cases raise similar claims against the notorious conspiracy theorist and radio host, namely that he defamed the families when he made the claim that they were lying about having lost their children in the attack both in the immediate aftermath of the attack and in subsequent interviews after several of them had become advocates for increased gun control. Jones also faces similar claims in a defamation suit filed by the parents of six of the students killed in the attack along with a first responder to the attack, all of whom were identified by name by Jones and "reporters" working for his website InfoWars as being part of a conspiracy to perpetrate a false attack ostensibly for the purpose of justifying a crackdown on gun rights that, of course, never actually occurred except on a limited basis in states such as New York and Connecticut. In any case these claims were, quite obviously, false and would clearly seem to give rise to the claims that are being raised against Jones in these cases.
In his deforense in the case in Texas, though, as well as in public statements that he has made in the months since these lawsuits were filed, Jones has attempted to walk back his claims in what is obviously a desperate bid to hold off claims that he clearly seems destined to lose. Most notably, Jones has tried to claim that his assertions about the Sandy Hook attack being a "false flag" attack are merely statements of opinion, that his entire conspiracy theory schtick is an act, and essentially that no serious person can take him seriously. The problem with this argument is that if one actually watches the episodes of Jones's show where he makes these false claims about the Plaintiffs and other Sandy Hook parents, it's quite obvious that he isn't framing the accusations in the form of an opinion, he is stating them as fact. He is claiming that the attack never happened, that the children never existed, and that the parents themselves are either lying or so-called "crisis actors" who are participating in a fraud for political purposes. That's not an opinion, that's a statement of fact.
Additionally, even if it were believable that Jones was merely stating his opinion, that doesn't mean he would have an absolute defense to a defamation case, that does not automatically mean that it cannot be considered defamatory. While this can become a complicated area of law that varies from one jurisdiction to another, it is generally the case that if a reader or listener could "reasonably understand" that the communication in question is a statement of fact that could be proven then the statement in question will not be considered an opinion. This is generally taken to be especially true if the communication is meant to be sufficiently derogatory to cause harm to the reputation of the person it is directed at. Finally, a statement framed in the form of an "opinion" can be considered defamatory if it "implies that the opinion is based on defamatory facts that have not been disclosed." (Source) In other words, even if Jones were successful in framing his claims as an "opinion" that does not mean that he is immunized from a defamation lawsuit. Again, though, this is an area of law that is very fact-intensive and varies from jurisdiction to jurisdiction, and I can't speak specifically to what the law in Texas or Connecticut is on these matters.
This isn't the only controversy that Jones has faced over the past year, of course. Most recently, he has lost access to many of his social media accounts, including Facebook, Instagram, and YouTube, on the ground that he has violated the terms of service of these respective companies. Additionally, he faces a number of other legal battles in addition to the claims by the Sandy Hook families. For example, Jones and InfoWars are currently facing a lawsuit filed by a man named Marcel Fontaine, who Jones incorrectly and with apparently no evidence identified as the shooter in the February 14th shooting at Marjorie Stoneman Douglas High School in Parkland, Florida. Jones also sought to dismiss Fontaine's lawsuit, but the same Judge to whom the Sandy Hook case is assigned denied a Motion to Dismiss in that case. although Jones did gain a small victory in that case in that he has been removed as a Defendant in that case although two of his companies remain as Defendants in the case. Jones is also among the Defendants in a lawsuit by a man named Brennan Gilmore, who recorded the attack that killed Heather Heyer at last year's alt-right rally in Charlottesville, Virginia. On several occasions after that event, Jones referred to Gilmore as a "deep state shill" and a "CIA asset." Alex Jones's chickens are, it seems, coming home to roost.