Alex Jones Loses Access To Social Media
Facebook, Google, and several other companies have closed down accounts associated with conspiracy theorist Alex Jones.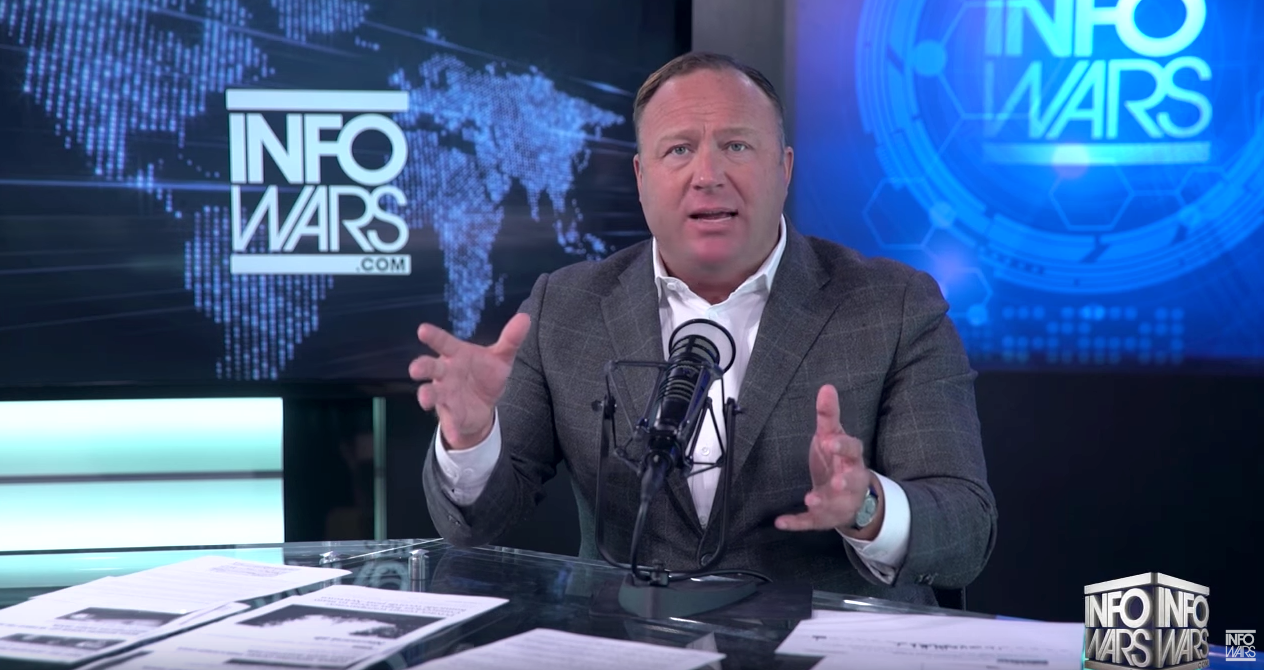 Alex Jones, who has had a long reputation of spreading conspiracy theories and lies about everything from the September 11th attacks to the Sandy Hook Elementary School shooting has lost access to nearly all the social media and other accounts he used to spread his propaganda:
Top technology companies erased most of the posts and videos on their services from Alex Jones, the internet's notorious conspiracy theorist, thrusting themselves into a fraught debate over their role in regulating what can be said online.

Apple, Google, Facebook and Spotify severely restricted the reach of Mr. Jones and Infowars, his right-wing site that has been a leading peddler of false information online. Mr. Jones and Infowars have used social media for years to spread dark and bizarre theories, such as that the Sandy Hook school shooting was a hoax and that Democrats run a global child-sex ring. Apple made its move on Sunday and the others followed on Monday.

The actions, one of the tech companies' most aggressive efforts against misinformation, highlighted a difficult dilemma for their businesses. They have long desired to combat misinformation online, but they have also been reluctant to be arbiters of truth.

But since a rise of misinformation online around elections, such as the 2016 presidential vote, the tech companies have faced increasing calls from lawmakers and the news media to address their role in that spread of false information and a related increase in partisan divisions. The tech companies have recently stepped up enforcement — but that has led to accusations of political bias, largely from conservatives.

The moves over the last two days helped fuel that debate. "Whether you like @RealAlexJones and Infowars or not, he is undeniably the victim today of collusion by the big tech giants," Nigel Farage, a British conservative politician, said on Twitter. Mr. Farage helped lead the successful campaign for the country to leave the European Union and has been interviewed by Mr. Jones. "What price free speech?"

Apple on Sunday removed five of the six Infowars podcasts on its popular Podcasts app. Commenting on the move, a spokeswoman said, "Apple does not tolerate hate speech."

Facebook, Spotify and Google's YouTube site, which removed some Infowars content last week, followed with stronger measures on Monday. Facebook removed four pages belonging to Mr. Jones, including one with nearly 1.7 million followers as of last month, for violating its policies by "glorifying violence" and "using dehumanizing language to describe people who are transgender, Muslims and immigrants." Facebook said the violations did not relate to "false news."

YouTube terminated Mr. Jones's channel, which had more than 2.4 million subscribers and billions of views on its videos, for repeatedly violating its policies, including its prohibition on hate speech. Spotify cited its own prohibition on hate speech as the reason for removing a podcast by Mr. Jones.

Mr. Jones and Infowars are leaders in using the internet to spread right-wing conspiracy theories, an effort that was aided after Donald J. Trump appeared on Mr. Jones's show during the 2016 presidential campaign and praised Mr. Jones's reputation as "amazing." Mr. Jones has repeatedly claimed that the government staged the Oklahoma City bombing, the Sept. 11 terrorist attacks and numerous other mass shootings and tragedies.

Mr. Jones is facing defamation lawsuits filed by the parents of victims of the Sandy Hook school shooting for claiming that the shooting was an elaborate hoax. Most of Mr. Jones's conspiracies push a theme that a global cabal of political and corporate leaders run the world's institutions to brainwash citizens and take away their rights. Mr. Jones partly finances his operation by selling expensive nutritional supplements and vitamins between Infowars segments.

"To many, Jones is a bad joke," said the Southern Poverty Law Center, which tracks hate groups. "But the sad reality is that he has millions of followers who listen to his radio show, watch his 'documentaries' and read his websites, and some of them, like Boston Marathon bomber Tamerlan Tsarnaev, resort to deadly violence."

Mr. Jones and Infowars did not respond to requests for comment.

In a message posted on Twitter on Monday, Mr. Jones said: "The censorship of Infowars just vindicates everything we've been saying. Now, who will stand against Tyranny and who will stand for free speech? We're all Alex Jones now." He railed against the tech companies on his live show on Monday, which was streamed on the Infowars website, saying their moves were part of a leftist agenda in advance of the midterm elections. "I told you this was coming," he said to viewers.
As a preliminary point, it's important to point out that this is most emphatically not a First Amendment issue. That Amendment and the rights that it protects is clearly only concerned with government action and action by government officials that impact individual rights regarding speech, the press, religion, the right to assemble, and the right to petition the government. It does not and has never been interpreted to, apply to actions by individuals or by non-governmental entities such as corporations, although there may be some circumstances, such as issues dealing with labor unions, where some of the rights covered by the First Amendment are protected in some sense or the other. None of those exceptions applies in this case though. Companies such as Apple, Google, which owns YouTube, Facebook, and the other companies that have decided to remove InfoWars and other Jones-produced content from their sites are free to do so and free to set whatever policies they wish regarding what is and what is not acceptable content. While this distinction between government and non-government action may seem axiomatic, it's a point that seemingly has to be raised each time something like this happens because, inevitably, there are those who raise the false argument that these companies are somehow violating Jones's rights by removing his content from their sites. This is simply not true, and the fact that it's a point that needs to be made time after time is, if nothing else, a depressing indication of just how ignorant some people are when it comes to "free speech" issues.
All that being said, there have been some who have raised concerns about the issue of social media and Internet sites such as YouTube, Facebook, and Twitter, which to date has not acted to ban Jones or any of his content, banning users based on the content of their speech. In cases where users are engaging in harassment or worse, which is, unfortunately, something that has become much easier in the age of social media, there are few people who object to the extent to which these companies act to remove users when a complaint is appropriately filed. The complaints, though, have come in cases where people are being banned from these sites not because they are engaging in illegal or harassing behavior but because they are saying things that people don't like or that they find offensive. Jones's comments on issues ranging from the 9/11 attacks to the Sandy Hook shooting, the second of which have resulted in defamation lawsuits filed by parents of children killed in that massacre in both Connecticut and Jones's home state of Texas. Some people, including many who have made it clear that they find Jones to basically be an idiot who is spreading paranoid and idiotic conspiracy theories, have argued that banning people based on content like this, while it is not necessarily a First Amendment violation does violate an ethos in favor of free speech that ought to prevail in society.
It's also worth taking into account this observation that Reason's Robby Soave made last month when Facebook and other social media giants were being pressured into better policing content on their sites:
Infowars, cited as an example of fake news during the Recodeinterview, might be an example of willful disinformation meant to sell weird stuff. But there are indeed people who naively share Holocaust denial-related content on Facebook without being in on the scam, just as there are gullible people who fall for every other kind of hoax—vaccines causing autism, 9/11 being an inside job, NASA faking the moon landing, etc. Zuckerberg is correct that it's not always easy to differentiate hucksters from kooks.

In any case, the CEO of Facebook gets to set whatever policies regarding content-sharing on his platform that he likes. As Zuckerberg made clear in the interview, his policy takes its cues from the First Amendment. Facebook users may not advocate violence or plan criminal activities, but merely expressing incorrect opinions is permissible. If Facebook were a public square on public property, it would be obliged to maintain precisely this same approach. (This is actually a good argument for not turning Facebook into some kind of truly public utility, even if you don't like its fake news policy. A government-run Facebook would be bound by the First Amendment to maintain speech policies that are at least as permissive as its current ones.)

In our modern political discourse, Facebook plays a role very much akin to the public square: a massive one, involving the entire world. The arguments for letting nearly all voices—even deeply evil ones, provided they do not organize direct violence or harassment—be heard on this platform are the same arguments for not taking the European route on hate speech: Policing hate on a very large scale is quite difficult given the frequently subjective nature of offense; we risk de-platforming legitimate viewpoints that are unpopular but deserve to be heard; and ultimately, silencing hate is not the same thing as squelching it.
In several respects, I am sympathetic to this argument. As I've generally made clear over the years, I am something of a First Amendment and free speech zealot and I find it troubling when private entities act to punish people, whether they be customers or employees, based on the content of their speech. Even outside of the context of a First Amendment argument, the free and open exchange of ideas and opinions ought to be something that we encourage rather than discourage, and that means that private companies and citizens should refrain from attacking or seeking to ban opinions and points of view they disagree with on the ground that they are "offensive." At the same time, though, freedom of speech does not mean freedom from the consequences of that speech. Just as Jones has a right to say what he says, people have a right to speak out against him and to call on social media companies like Facebook to take action against content that appears to violate their Terms of Service. Moreover, the fact that Jones is losing access to some of his social media accounts does not mean he is being prevented from speaking. He still has his Internet network, you can still download the InfoWars app in the Apple Store and on Google Play, and Jones still has access to his personal accounts on Twitter and Facebook. The idea that he's being completely shut down is simply not true, and the fact that he is facing the consequences for his irresponsible and idiotic conspiracy theory mongering doesn't mean his rights are being violated in any sense of the word.