How Apple Avoids Paying Taxes
The US Senate wants to know why Apple and other big technology companies are paying so little into the US Treasury.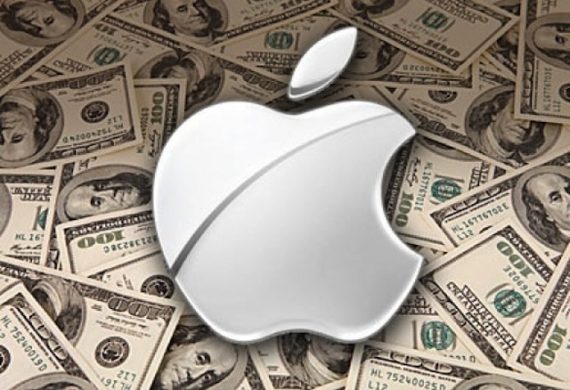 The US Senate wants to know why Apple and other big technology companies are paying so little into the US Treasury.
CSM's Jason Walsh ("Google, Apple draw transatlantic ire over 'double Irish' tax haven"):
It doesn't have the sunshine, but it does have golf courses, banks, and most important of all, low corporate taxes. Is Ireland now a tax haven for US tech giants?

Schemes with colorful names such as "Dutch sandwich" and "double Irish" have returned to the headlines this week as Ireland's corporate-friendly tax regime has become the crux of debates on both sides of the Atlantic. Apple is under fire in a US Senate subcommittee over the company's purported effective corporate tax rate of a mere 2 percent in Ireland. And reports in the UK say that Google's UK-based sales are finalized in the Republic of Ireland in order to avoid British taxes.

The revelations have taken on an international dimension, reigniting debate about lower tax regimes in Europe, such as Ireland and the Netherlands, being used to to avoid paying tax where the business is actually being done – including in the US.

Ireland has a reputation as business-friendly jurisdiction and makes much of its educated and English-speaking workforce, but the since the 2007 crisis has gained an unwelcome reputation as an offshore tax haven without the warm climate.

Ireland's corporation tax rate of 12.5 percent is the second-lowest headline in Europe, with only Bulgaria and Cyprus's 10 percent rate lower. Taken on an average basis, Ireland remains at the lower-end of so-called "implicit" tax rates, a measurement of the actual taxes paid.

The government denies Ireland is engaged in facilitating tax avoidance. Speaking in Brussels this morning, Ireland's deputy prime minister, Eamon Gilmore, said Ireland's had a "very strong, very transparent tax regime," and that the problems arose elsewhere.

Nonetheless, the Irish tax regime has proven very attractive to big multinational corporations – so much so that it has given a nickname to one of the more common schemes.

A "double Irish" involves setting-up two Ireland-based companies – for example, Google Ireland and Google Ireland Holdings – one of which is, under Irish law, held to be headquartered elsewhere (usually a very low tax jurisdiction). This company will hold the intellectual property rights, which are then licensed to the second company. The second company can then offset royalty payments to the first as tax-deductible expenses.

Critics charge that Irish government policy encourages companies like Google to set up in Ireland primarily for purposes of tax avoidance.
It's actually quite brilliant. Business Insider's Walter Hickey explains how "Apple Avoids Paying $17 Million In Taxes Every Day Through A Ballsy But Genius Tax Avoidance Scheme."
The report published by the Permanent Subcommittee on Investigations detailing Apple's strategies is a great read on its own.

The report gives an inside look on Apple's absolutely genius tax avoidance strategies.

Apple uses a variety of offshore structures and arrangements to shift billions of dollars from the United States to Ireland.

The U.S. corporate tax rate is 35%, while Apple said it has negotiated a special corporate tax rate in Ireland of less than 2%*.

Apple has found the secret to not paying taxes. You just avoid taxes by not declaring a tax residency for the company that oversees the entirety of your international income.

First, let's look at Apple's main offshore holding company:

Apple Operations International (AOI) is the company's primary offshore holding company. It was registered in Cork, Ireland in 1980, and its purpose is to serve as a cash consolidator for most of Apple's offshore affiliates. It receives dividends from those affiliates and makes contributions as needed.

Apple owns 100% of AOI either directly or through controlled foreign corporations.
AOI owns several subsidiaries, including Apple Operations Europe, Apple Distribution International, and Apple Singapore.
AOI has no physical presence and has not had any employees for 33 years. It has 2 directors and 1 officer, all Apple Inc. brass. One is Irish, two live in California.
32 of 33 AOI board meetings were held in Cupertino rather than Cork.
Shockingly, AOI doesn't pay taxes. Anywhere. The holding company had a net income of $30 billion from 2009 to 2012, but has not declared tax residency in any jurisdiction.
AOI's income made up 30% of Apple's total world profits from 2009- 2011.

A key quote from the report explains why AOI exists:

Apple explained that, although AOI has been incorporated in Ireland since 1980, it has not declared a tax residency in Ireland or any other country and so has not paid any corporate income tax to any national government in the past 5 years. Apple has exploited a difference between Irish and U.S. tax residency rules. Ireland uses a management and control test to determine tax residency, while the United States determines tax residency based upon the entity's place of formation. Apple explained that, although AOI is incorporated in Ireland, it is not tax resident in Ireland, because AOI is neither managed nor controlled in Ireland. Apple also maintained that, because AOI was not incorporated in the United States, AOI is not a U.S. tax resident under U.S. tax law either.
That's a rather clever loophole exploit. But Apple has been doing this for 33 years. Why haven't we closed the loophole?
Oh, it gets better:
    Apple Sales International (ASI) is a second Irish affiliate. It is the repository for all of Apple's offshore intellectual property rights.

ASI buys Apple's finished products from contracted manufacturers in China — think Foxconn — and resells them at a major markup to other Apple affiliates in Europe, the Middle East, Africa, India and the Pacific.
Although ASI is an Irish incorporated entity and the purchaser of the goods, only a small percentage of Apple's manufactured products ever entered Ireland.
Upon arrival, the products were resold by ASI to the Apple distribution affiliate that took ownership of the goods.
Before 2012, ASI had no employees despite $38 billion in income over three years.
Apple's cost sharing arrangement facilitated the shift of $74 billion in worldwide profits away from the United States from 2009 to 2012.
 ASI's parent company is Apple Operations Europe Inc. Together they own the intellectual property rights to Apple goods sold offshore.
 Like AOI, ASI claims to be a tax resident of nowhere. It's not obligated to pay taxes to any nation.
Again, I'm not mad at Apple for figuring this out. Multinational corporations have been gaming tax systems for as long as there have been multinational corporations. (Indeed, in a separate piece, Hickey identifies "17 Great American Companies That Keep Mountains Of Cash Overseas Just Like Apple Does.)" What's needed is reform of our tax laws—both at the domestic and international levels—to fix this.
Apple CEO Tim Cook offers some simple advice to the US Senate: Slash America's corporate tax rate.Apple has called for US corporate tax rates to be slashed after it admitted sheltering at least $30bn (£20bn) of international profits in Irish subsidiaries that pay no tax at all.

In a dramatic display of how threats from multinational corporations are driving down taxes across the world, chief executive Tim Cook warned Congress that he would refuse to repatriate a total of $100bn stashed offshore unless it acted to slash the 35% US rate.

Cook said the tax rate for repatriated money should be set "in single digits" to persuade companies to bring it back. Standard tax for US profits should be, he said, in the "mid 20s".

[…]

Cook said he had no plan to bring back the $102bn built up by Apple at current tax rates, and recently opted to return money to shareholders by borrowing money instead. "I have no current plan to do so at the current tax rates.

"Unlike some technology companies, I am not proposing a zero rate," he said. "My proposal is that we have a reasonable tax for bringing back money from overseas.

"A permanent change is materially better than a short term tax holiday."

Cook said he "personally doesn't understand the difference between a tax presence and a tax residence".
While it makes sense to me to have a lower–and preferably internationally standardized–corporate tax rate, I'm not sure how it solves the problem. Why would Apple enthusiastically pay even a 5% tax rate if it can avoid paying taxes almost entirely through their offshore holding companies?
Frankly, it appears that the main issue is that business is just decades ahead of government in figuring out the new economy:
Edward Kleinbard, professor of law at USC Gould School of Law, said: "Apple is not an outlier in its efforts to produce 'stateless income' – income that is taxed neither in the United States nor in the countries where its foreign customers are located – but it is an outlier in the baldness of its strategies. Apple shifted tens of billions of dollars of income without even breaking into a sweat.

"The hearing will forcefully remind policymakers that international tax reform will require the implementation of really thoughtful anti-abuse rules, ideally developed in conjunction with other OECD member states. Every country is the worse off when they facilitate multinationals aggressively pursuing stateless income strategies, just as every country is worse off when they all engage in trade wars."

Corporate tax expert Jennifer Blouin at University of Pennsylvania's Wharton business school said the Apple revelations were "extraordinary but not surprising".  "We have seen versions of this with Microsoft and with Google," she said. "I hope it gooses the notion that we need to fix the worldwide system."

She said Apple was working within the law but that the law was written before huge profits could be made by companies that trade not in goods and manufacturing but in ideas. "I have worked in this area for years and it's been largely an obscurity. But it's at the forefront now, and it needs to get fixed."
There's no doubt about that. My decidedly non-expert sense is that the easiest way to fix this is to eliminate taxation on income entirely, shifting instead to taxation on consumption. It's next to impossible to figure out where a technology company is making its money; figuring out where it's spending it is pretty easy.