Gun Control Is No More Likely After Charleston Than It Was Before
Political reality shows us that the shootings in Charleston are not going to have any appreciable impact on the likelihood of any type of gun control law passing anywhere outside of the bluest of the blue states.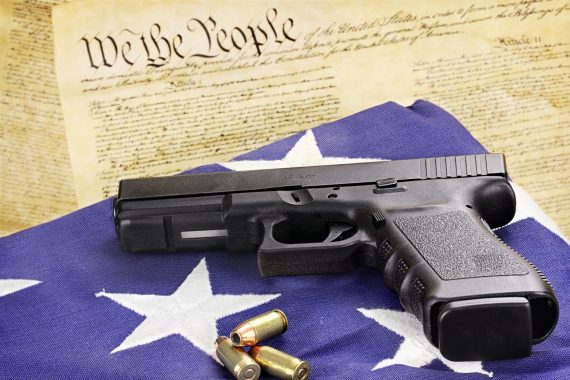 While the discussion in the wake of last week's murders in Charleston has focused largely on issues of racism and the ideology that motivated Dylan Roof to kill nine people in an historic African-American Church, we have also seen the return of the same discussions about gun control that have followed other mass shootings in recent years. James Joyner made note of one example of that yesterday in the form of a column by David Frum. Another such example is evident in the suggestion by Senators Joe Manchin and Pat Toomey said that they could be interested in reviving the background check bill that they had attempted to pass in the wake of the Sandy Hook Elementary School massacre in December 2012. As Chris Cillizza notes at The Washington Post, though, the political reality is that it is rather unlikely that the shootings in Charleston will lead to the political momentum that gun control advocates seem to be hoping for:
The Manchin-Toomey amendment was offered on April 17, 2013. This was its statement of purpose: "To protect Second Amendment rights, ensure that all individuals who should be prohibited from buying a firearm are listed in the National Instant Criminal Background Check System, and provide a responsible and consistent background check process."

It needed 60 votes for cloture — to ensure a time-certain end of debate and a final vote on passage. It got 54. Four Republicans crossed party lines to vote for it: Toomey, John McCain (Ariz.), Susan Collins (Maine) and Mark Kirk (Ill.)  Four Democrats went the other way, voting against cloture: Max Baucus (Mont.), Mark Begich (Alaska), Heidi Heitkamp (N.D.) and Mark Pryor (Ark.).

Since then, the Senate math has become considerably less friendly to any sort of gun control measure.

All four Republicans who voted "yes" back in 2013 are still around and three (Toomey, Collins and Kirk) would likely vote in favor of a gun control measure brought up before the Senate today. McCain, who announced at the last minute in 2013 that he would be for the background check measure, is facing the possibility of a serious primary fight in 2016 and might not want to hand his potential opponents a ready-made issue to attack him as insufficiently conservative.

Of the four Democrats who voted "no", three have been replaced by Republicans, who would almost certainly be "no" votes on any gun control measure, and Heitkamp, who is likely still a "no" given that she faces either a tough run for re-election or a gubernatorial bid in 2016.

(…)

Add it all up and you have, at most, 48 votes for a gun control measure. Could Toomey, as Manchin suggested to Colby, convince a few Republicans to be for a very limited piece of gun control legislation? Sure. Could he (or anyone) convince 12 Republicans (or 11 if you can somehow get Heitkamp on board) to be for it? Absolutely not possible.
Lauren Fox at National Journal makes similar points in her post pointing out why the prospect for political movement on gun control is probably worse now than it was just a few years ago:
In the two years since the Senate failed to pass a similar measure they sponsored, the obstacles standing in their way to gun reforms have only grown. Two years ago, the Senate was controlled by sympathetic Democratic leaders. Now it is run by Mitch McConnell, who once hoisted a firearm into the air at a conservative convention in order to prove his allegiance to the National Rifle Association. And a few of the sympathetic Democrats—such as North Carolina's former Sen. Kay Hagan, Louisiana's Mary Landrieu, and Colorado's Mark Udall—have been replaced with Republicans.

While Manchin says he still stands by the background-check bill he fought for in 2013 after the Sandy Hook Elementary School shooting in Newtown, Connecticut, he's still not sure that he or Toomey have the ability to overcome a 60-vote threshold and make it law.

"I've talked to my friend Pat Toomey," Manchin told National Journal on Wednesday. "We are still working on the votes. Right now, we are in a different position, being in the minority. We have fewer Democrats."

Even those sympathetic to rehashing the debate are dubious that a new vote could yield different results. Sen. Susan Collins, a Republican from Maine who voted in support of the legislation in 2013, said she still supports it, but is not that optimistic about a revival, nor does she believe the Senate really has the time to prioritize background checks at the moment.

"My vote would be the same," Collins said. "I thought the compromise that Senator Toomey and Senator Manchin came up with was fair and did not in any way infringe on the rights of law-abiding gun owners. But there is an awful lot of work and legislation that has already been reported that I think it would be difficult to push aside in order to make room for this."

There is one scheduling loophole, however, that some gun-reform-minded senators are hoping could be used to force the issue in a Republican-controlled Congress.

In the Senate, McConnell has made a major push to have a more transparent and open floor debate. That—at times—has imperiled the Senate from getting its work done by a deadline. But it also allows the possibility for an amendment process in which interested parties could introduce a background-check bill as an amendment on another upcoming bill.

"I don't think [McConnell] will do it willingly, so what you do is you put it up as an amendment," said Minority Whip Dick Durbin of a future background-check bill. "You kind of dig in. You say 'I am not moving until you give me a vote.' It takes patience and fortitude, but it can work."

But staffers say that Manchin and Toomey are not likely to formally reintroduce their bill or anything like it unless they have the support to ensure it gets beyond a symbolic vote in the Senate. During his podcast interview with Marc Maron on Friday, even President Obama acknowledged that changes in background checks and gun laws likely are an impossible lift in the final two years of his presidency.
None of this should be a surprise, of course. The Senate that considered Manchin-Toomey is far different from the Senate that we have today. If that Senate was unable to muster the 60 votes needed to invoke cloture and pass the bill, then there's simply no way that the current Senate would be able to do so. Additionally, and just as would have been in the case two years ago, even if an enchanced background check bill somehow made it through the Senate there's no way at all it would make it through the Republican controlled House of Representatives. If something like background check cannot make it through Congress notwithstanding the fact the idea of expanding background checks to cover private sales and sales at gun shows is supported by something between 85% to 90% of the American public depending upon which poll you look at, then it's a certainty that many of the more stringent forms of gun control that some have advocated, such as bans on so-called "assault" weapons and restrictions on the size magazines and clips, would have no chance whatsoever of getting through either the House or the Senate. This is a political reality that will no doubt frustrate advocates of increased gun control, but it is reality nonetheless.
It's worth noting that one of the bigger public relations problems that advocates of something such as Manchin-Toomey have is the fact that what they are proposing doesn't appear as if it would have done anything to stop most of the massacres that we have seen in recent years. In the case of Charleston in particular, it's obvious they would have done nothing. Contrary to initial reporting that claimed that Roof was barred by law from purchasing a weapon and that he had been given the gun by his parents on a recent birthday, it is now apparent that he obtained the handgun he used to commit the crime legally. Roof was not barred from purchasing a weapon at the time he bought the gun, for example, and the background check that would have been conducted when he bought it would have revealed nothing that would bar him from buying the gun under Federal or State law. At some point prior to the purchase, he apparently had been charged with a crime amounting to a felony under South Carolina law, but the case had not gone to trial yet and in any case it was a non-violent drug-related crime. Additionally, there have been some reports from friends and others that Roof had made "odd" comments in the recent past but there's no evidence he suffered from psychological problems and, even if these people had spoken to authorities there was little to nothing that these authorities could have done. While there were mental health issues at play in the case of people like Adam Lanza, James Holmes, and Jared Lee Loughner that arguably could have averted tragedy had they been averted, there's no evidence of that in this case whatsoever. Finally, the weapon that Roof used to commit his crime was a relatively standard handgun with standard issue sized magazines. There were so many shots fired that he had to stop to reload five times and was still able to kill almost everyone in the room that night. Nobody is seriously suggesting banning the sale of handguns, and it would be next to impossible to pull that off in any case, and the proposed laws restricting "high capacity" magazines would not have impeded Roof of all. Given all of this, the advocates of a bill like Manchin-Toomey are at a distinct disadvantage when asked to explain how what the are proposing would have stopped the tragedy that is compelling them to put the idea forward.
In addition to all of this, though, advocates of further gun control must admit to themselves that they are stymied by the fact that, while most Americans would support at least some proposals that fall under the general rubric of "gun control," it is not an important enough issue to them to have a real impact on the odds of such policies being enacted.
In the wake of the massacre of schoolchildren at Sandy Hook Elementary School by Adam Lanza, we saw a spike in public support for at least some forms of gun control, a phenomenon which caused many supporters of these measures to believe we'd reached a tipping point in a battle that has been going on for decades now. What both polling and actual election results tell us, though, is that gun control is a low priority issue for the vast majority of Americans, which means that the fact that a particular candidate may be more in tune with public opinion on that issue is no guarantee that they can actually win elections. We can see this in the fact that the failure of Manchin-Toomey led to no backlash at all against the Senators who blocked the bill from proceeding when elections rolled around. Additionally, while support for gun control had risen in the wake of Sandy Hook, that support quickly began to fade to the point where, by the one year anniversary of the shootings, public opinion on those issues had returned to the levels it was at prior to the attack. Conversely, it is also very apparent that the one group for whom gun control is something of a high priority issue are people who oppose it, as we say evidenced in the successful efforts in Colorado to recall legislators who had voted for the laws enacted in that state after Sandy Hook. That phenomenon continued into the 2014 elections, where even the millions of dollars thrown behind gun control efforts by the likes of Michael Bloomberg had little to no impact on the outcome of actual elections. By November of last year, gun control was at the bottom of the list of issues that most Americans said they were considering in deciding which candidates to vote for. As long as this remains the case, the political efforts to enact stricter gun control will fail. Indeed, Karl Rove was correct earlier this week when he said that the only way we'd see real political success for the gun control movement would be if the Second Amendment were repealed, although even that suggestion led some of the more paranoid elements on the right to falsely claim that he was advocating repeal of the Second Amendment. Rove is right, of course, mostly because if we actually lived in a world where there was enough support and intensity to achieve something like repealing one of the elements of the Bill of Rights, then there would also obviously be support for the kind of laws that gun control advocates continue to fail to get enacted except in the deepest of deep blue states.
So no, Charleston is not going to change the political reality of the gun control debate anymore than any of the other mass shootings we've seen over the past several years have done so.