One Year Later, Support For Gun Control Back To Pre-Newtown Levels
Gun control has faded as a political issue as the memory of Newtown has faded, and that was entirely predictable.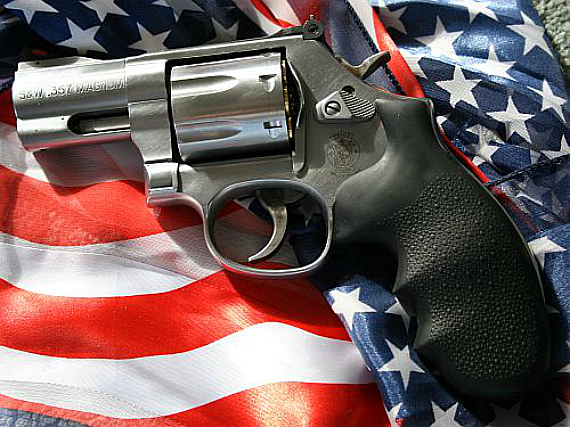 Tomorrow, we will mark one year since Adam Lanza, motivated by whatever mental health demons it may have been that motivated him, killed his mother in her bed with the guns that she legally kept in the home that she shared with him and that drove the short distance to Sandy Hook Elementary School in Newtown, Connecticut and proceeded to gun down 27 more people, including 20 first and second grade children along with seven school staff members who tried to defend them. In the end, Lanza killed himself as well and thus left his precise motivations a complete mystery, but the damage was done. Although there had been a few other mass shootings that same year, the theater shooting in Aurora, Colorado and the shooting at the Sikh Temple in Wisconsin come most immediately to mind, the shooting at Sandy Hook immediately struck everyone as something different precisely because it involved such young children and likely in part because it had occurred in such close proximity to Christmas. Whatever the reason, though, when President Obama spoke at the public memorial for the victims at Sandy Hook, there was the impression that something had changed, and that there might actually be real political momentum for changes to the nations gun laws for the first time since we saw a similar push during the early years of the Clinton Administration.
In the beginning, it seemed as though this assessment would turn out to be correct. Initial polling in the wake of the tragedy seemed to show that support for some forms of gun control had indeed increased, and the ham-handed bizarre efforts of groups like the National Rifle Association to respond to the tragedy seemed to do more to hurt the gun rights cause than to help it. Subsequent polling in the early months of 2013 continued to show that support for gun control in general, and specific measures in particular, had in fact increased in the wake of the Newtown tragedy. In particular, there was and remains very broad support for the idea of universal background checks for weapons purchases, which in the context of current laws would mean expanding the current Federal laws on background checks to over supposed loopholes relating to sales at gun shows and sales that take outside of the context of a purchase from a Federally licensed gun dealer.  At the same time, though, it was apparent from polling early in 2013 that support in the public for anything beyond background checks had stalled, and eventually began to slip as public attention moved on to other issues. Indeed, by April we were seeing polling that showed that a majority of Americans agreed with the sentiment that gun ownership made homes safer.
On the Federal level, the only significant gun control measure that seemed to have a chance of passage was the universal background checks amendment that had be crafted by Democratic Senator Joe Manchin of West Virginia and Republican Senator Pat Toomey of Pennsylvania, both Senators with strong records of supporting gun rights in the past. As it turned out, though, that bill fell short of the votes necessary for passage despite a strong bipartisan effort to push it over the top. Most importantly, though, is that polling after the bills defeat did not show very much public outrage over the defeat. By July, the whole issue of gun control seemed to have faded from the news cycle and, while there were some victories for the gun control movement at the state level, there were also several significant defeats, including the recall of two legislators in Colorado over their votes in support of a gun control bill in that state's legislature. Finally, it's worth noting that the issue of gun control played essentially no role in the major elections in Virginia and New Jersey this past year.1
In short, what seemed like a political situation after the Newtown tragedy that would have been fertile ground for pursuing further gun control measures has essentially resulting in nothing at all and, now, we have a new poll from NBC News and The Wall Street Journal that shows that support for new gun control measures is back where it was before that fateful day in Newtown:
Support for stricter gun-control measures has dropped to its lowest level since last year's tragic shootings in Newtown, Conn., according to the latest NBC News/Wall Street Journal poll.

Fifty-two percent of Americans now say they want stricter laws covering the sale of firearms. By comparison, 38 percent think gun laws should remain the same, and another 8 percent say they should be less strict.

That support for tighter restrictions is down from earlier in the year. In Jan. 2013, a month after the shootings, 56 percent favored stricter gun laws in the NBC/WSJ poll.

In February, support increased to 61 percent. And in April – as the U.S. Senate was debating gun-control measures that ultimately failed to advance – 55 percent said they wanted stricter gun laws.

(…)

The NBC/WSJ poll also shows a predictable partisan split when it comes to gun control. Seventy-six percent of Democrats say they back stricter gun laws, versus just 28 percent of Republicans who do.

Additionally, the survey finds that the National Rifle Association is more popular than outgoing New York Mayor Michael Bloomberg, who is one of the nation's most prominent (and deep-pocketed) gun-control advocates.

In the poll, 39 percent have a favorable impression of the NRA, while 31 percent have an unfavorable impression.

That's compared with Bloomberg's 19-percent-to-24 percent favorable/unfavorable rating.
The extent to which increased support for stricter gun control laws rose and fell so quickly in the wake of Newtown can be easily seen in this chart: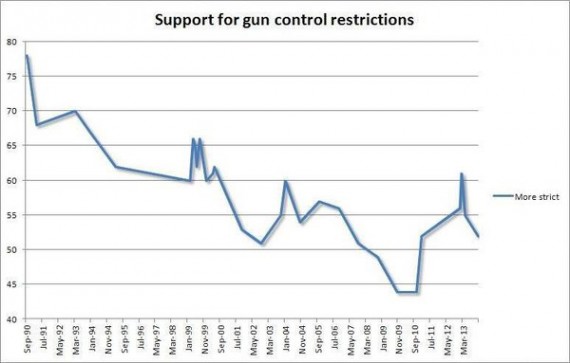 This really shouldn't come as a surprise. While Newtown was a horrible tragedy that came in the wake of similarly tragic shootings that same year in Colorado and Wisconsin, the fact remains that gun control remains, as it has always been, a relatively low priority issue among American voters. For example, a Gallup poll released while the Senate was debating the Manchin/Toomey background checks bill, which had seemingly universal support in the polls showed that gun control ranked very near the bottom when it came to issues that voters cared very much about, garnering no more than 6% in a poll taken just months after the Newtown shooting, well below issues such as the economy, jobs, the Federal budget, and health care. More importantly, that poll showed that voter intensity on the issue had already begun to slip even at the point where we hit the three-month anniversary of the shootings. The polling released today is entirely consistent with those findings. As the memory of Newtown has faded, and the political reality of what can actually be accomplished has come to light, the public has moved on to other issues. If a poll were conducted today, you'd no doubt again find that public support for expanded background checks remains as popular today as it was eight months ago, but there's little sign that any of the people who voted against the measure are going to be punished at the polls for that vote. Indeed, given the fact that several of the Senators who vote against the measure are red state Democrats whose re-elections would be key to the Democratic Party maintaining control of the Senate, it seems highly unlikely that we'll see any real effort to launch coordinated attacks against those who voted against that measure in particular, or if there was that it would prove to be something that voters would respond to.
This was entirely consistent with what I had noted in January, when the political momentum for gun control seemed to be at its highest:
[W]hile there does seem to be majority, or at least strong plurality, support for some gun control measures, this clearly is not an issue that most Americans consider very important. This suggests that it will be difficult for gun control proponents to keep momentum up for very long, especially considering the fact that Congress will need to deal with issues like the debt ceiling, sequestration, and the remainder of the budget for Fiscal Year 2013, not to mention putting together a budget for Fiscal Year 2014. Then there are the various proposals for immigration reform and other matters that other legislators will be putting before the House and Senate. The sheer momentum of all this other work, combined with the lobbying power of the NRA and similar organizations and the passage of time, is likely to take much of the wind out of the sales of the gun control movement.

At the most, I'd suspect that those things most likely to pass Congress, and even then likely only by the slimmest of margins, would be things such as limitations on high capacity magazines, widening of mandatory background checks, and further expansion of those background checks to include more people who have been diagnosed as dangerously mentally ill.
Then, in April, I made this observation:
To put it bluntly, gun owners and those who support gun rights have consistently been more passionate about the issue than advocates of gun control and, as Craighilland Cillizza note, passion is immensely important in political debates like this. After all, if Senators like Heidi Heitkamp, a red state Democrat who announced this afternoon that she would be opposing the Manchin/Toomey plan, look at the situation and see that there is more of a political risk in voting for the bill than voting against it, it shouldn't been too shocking what they are going to do.

As I noted in the Gallup poll that I cited this morning, in the wake of the Newtown shootings the percentage of the population for whom gun control was "the most important" issue went from non-existent to high of 6% in February before dropping back down to 4%. That's higher than where it was before the shootings, but the trend suggests that intensity will continue to wane, especially once public attention moves on to another topic either naturally or because a crisis, either domestic or international, has grabbed the public attention. Indeed, much of the attention that was being paid to the Manchin/Toomey bill on the day that it's fate is being decided has been diverted by events in Boston and the reports of poisoned letters in Washington, D.C. Once the bill is defeated, it's likely that gun control will slip even further away from the public mind as we concentrate on the follow-up to the Boston bombing and the upcoming debate on immigration.

Finally, there's simply political reality that significant gun control is not going to pass under the current political climate on Capitol Hill. If the American people want to change that, they will. So far, there seems to be no indication that this will happen.
So then the question becomes whether gun control becomes an issue in the upcoming midterm elections. Based on this new polling, it seems unlikely that it will, and that if it does, it won't be in a manner that advocates of additional gun control would prefer.
1 Yes, it is true that Virginia Governor-Elect Terry McAuliffe is a supporter of universal background checks and some other gun control measures. However, this was not a major part of his campaign and the fact of GOP control of the state legislature means that it's highly unlikely he wil pursue any such measures as Governor.