The Politics Of Gun Control
Based on the polls, the odds of some changes to America's gun control laws will become law. It's unlikely they'll accomplish anything, though.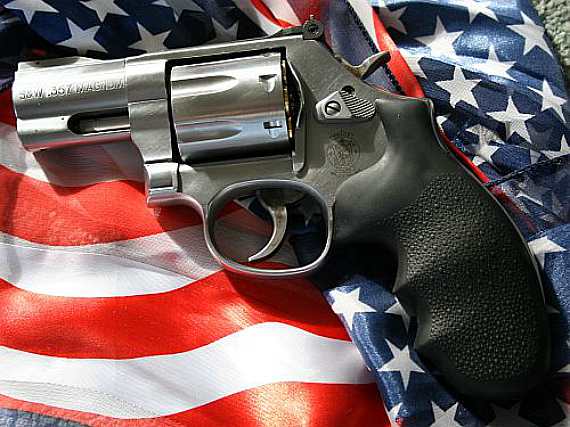 President Obama and Vice-President Biden are set to unveil a package of gun control measures  that apparently will include both proposed legislation and a series of Executive Orders. Some of the legislation, such as a proposed renewal of the 1994-2004 Assault Weapons Ban is most likely not going to base Congress, something that both Senate Majority Leader Harry Reid and Democratic Members of Congress such as Loretta Sanchez have acknowledged already. Despite that, it seems fairly clear that something is likely to pass here simply given the current political climate:
A new Pew Research poll finds there are now "clear areas of agreement" on a variety of gun control proposals with 85 percent of Americans in favor of making private gun sales and sales at gun shows subject to background checks. In addition, 80 percent now support laws to prevent mentally ill people from purchasing guns. Both measures have broad support across party lines.

A new Washington Post–ABC News poll confirms these findings and also shows 58 percent of Americans support passing a new assault weapons ban.

Finally, a new National Journal poll finds the coalition that swept President Obama into a second term — young people, minorities and college-educated women — all back new gun control measures.

The consensus for new gun curbs, however, does break down in several areas. While there is overwhelming support for creating a new federal database to track gun sales, it's favored mainly by Democrats and independents. Similar partisan divides exist on banning high capacity ammunition clips or selling ammunition online.

But the overwhelming conclusion of this new polling data is that Americans want new gun controls.
It's worth noting, though, that while there seems to be some consensus on at least some gun control measures, the American public still doesn't see it as a very important issue:
PRINCETON, NJ — Americans' concerns about the federal budget deficit and government dysfunction rose high enough in January to knock unemployment out of the top two slots on Gallup's "most important problem" list for the first time since 2009.

These results are based on a Jan. 7-10 Gallup poll, conducted just after Washington lawmakers narrowly avoided the fiscal cliff by virtue of a resolution that in part postponed the deadline for legislated sequestration of spending until March 1. Additionally, a debt ceiling deadline looms within the next two months.

The poll finds 20% of Americans mentioning the federal budget deficit as the top problem, compared with 18% mentioning dissatisfaction with some aspect of government or government leaders, and 16% naming jobs or unemployment.

This distribution of open-ended responses to the "most important problem" question underscores a general shift from the dominance of concerns about the economy and unemployment to an increasing focus on problems more directly associated with government. The economy and unemployment had ranked as the top two problems each month since December 2009.

Now, the "dissatisfaction with government" percentage is as high as it has been since the Watergate days of 1974, although the precise ways in which these open-ended questions have been coded has changed somewhat during that time. The percentage mentioning the deficit as the top problem is as high as it has been since 1996.

The percentage of Americans mentioning unemployment as the top problem, on the other hand, is the lowest since December 2009. As recently as September 2011, 39% mentioned it

Four percent of Americans name issues relating to guns and gun control as the nation's top problem, the same as in last month's survey, which came in the immediate aftermath of the mass shootings at an elementary school in Newtown, Conn. Four percent also mention taxes this month, the highest in over two years.
In other words, while there does seem to be majority, or at least strong plurality, support for some gun control measures, this clearly is not an issue that most Americans consider very important. This suggests that it will be difficult for gun control proponents to keep momentum up for very long, especially considering the fact that Congress will need to deal with issues like the debt ceiling, sequestration, and the remainder of the budget for Fiscal Year 2013, not to mention putting together a budget for Fiscal Year 2014. Then there are the various proposals for immigration reform and other matters that other legislators will be putting before the House and Senate. The sheer momentum of all this other work, combined with the lobbying power of the NRA and similar organizations and the passage of time, is likely to take much of the wind out of the sales of the gun control movement.
At the most, I'd suspect that those things most likely to pass Congress, and even then likely only by the slimmest of margins, would be things such as limitations on high capacity magazines, widening of mandatory background checks, and further expansion of those background checks to include more people who have been diagnosed as dangerously mentally ill. None of this is to say that any of these measures are either wise or proper, of course. It strikes me, for example, that the ban an magazines, much like the Assault Weapons Ban that was in place for ten years, is more symbolic than anything else, and will do little to actually stop people from using guns illegally. Expanding the background checks to include mental illness sounds like a good idea at first, but it ignores the significant civil liberties issues implicated when the state interferes in the relationship between a patient and their therapist. Additionally, the more you pass laws requiring therapists to disclose what their patients tell them to the state the less likely people who need help are going to be to seek it out. In the end, I'm not sure any of these measures will actually accomplish anything.
Nonetheless, given the political winds at the moment, it seems pretty clear that something will pass, and I suppose that will allow the President and everyone on Capitol Hill to pretend that they've actually accomplished something.