Unemployment Duration
Most research shows that unemployment benefits/insurance increases the duration of unemployment.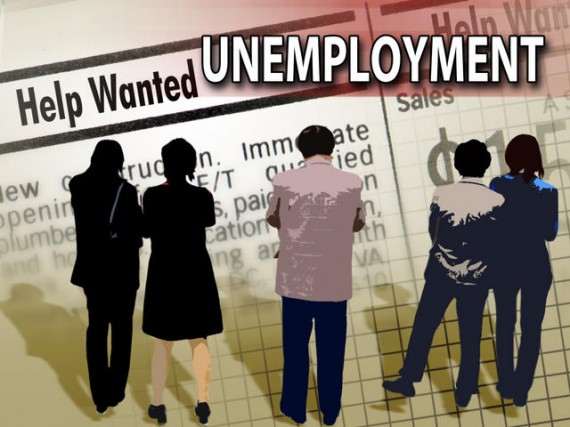 In light of James' post "Unemployment Duration Record High,"I thought one thing that should be pointed out is the research on the duration of unemployment and the effect of unemployment benefits. Most research shows that unemployment benefits/insurance increases the duration of unemployment.
For example we have this paper, "Unemployment insurance and duration of unemployment : evidence from Slovenia's transition".
Between 1990 and 1992 in Slovenia, recipients of unemployment insurance (UI) benefits tended to remain (formally) unemployed until their benefits expired, before taking a job. Institutional set-up suggests, and labor surveys show, that many of the recipients were actually working while collecting UI benefits. In the spirit, if not in the letter of the law, the UI system was abused. The author shows that the escape rate of the recipients of unemployment compensation to employment increased dramatically just before the potential exhaustion of unemployment benefits – and decreased equally dramatically after benefits were exhausted. When grouped by the potential duration of benefits, unemployment length varies significantly. The unemployed with longer potential benefits stay unemployed longer. Because these groups differ in their characteristics (for example, in age), this does not prove the"waiting behavior"of the recipients. However, exits to employment dramatically increase just before exhaustion – and that does prove waiting behavior. The pattern of an increased escape rate just before benefits are exhausted and its dramatic fall thereafter is more rigorously demonstrated using hazard model estimation. Possibilities for informal employment are abundant in Slovenia, and the environment of transition economies generally seems conducive to misuse of the UI system. Legislative loopholes and failure to enforce the labor code allowed the unemployed to work and to collect benefits. The monitoring of job searches was also lax. The author's calculations suggest that reducing the duration of benefits would reduce the incidence of unemployment, its duration, the amount spent on UI benefits, and the inefficiencies generated by raising taxes to finance unemployment insurance. At the same time, reducing the duration of benefits would not impair job matches or crowd out jobs for nonrecipients. True, despite increased efficiency generally, the workers with the least job mobility might suffer hardships for the least mobile group and greater efficiency generally would have to be resolved in the political sphere. Redesigning the system for better targeting would be less controversial. One way to reduce UI spending without seriously curtailing incentives to work would be to reduce the benefits in proportion to earnings from irregular work. Another possibility is stricter monitoring of the job searches of the unemployed. To reduce spending and make"double dipping"less attractive, old-age insurance could be removed from the package of benefits the UI system offers. Also, counselors who help the unemployed find jobs (and who may thus develop a close relationship with them) should perhaps not be expected to be able to make impartial decisions about disqualifications for benefits; someone else should do that. In addition to better targeting, a"benefit transfer program"- a voluntary program that converts UI benefits Also, counselors who help the unemployed find jobs (through vouchers) into hiring subsidies – seems particularly attractive for Slovenia and other transition economies. In a way, such a program would legalize the"double-dipping"that has been taking place in Slovenia and possibly elsewhere. It would legalize practices that have undermined the system's credibility. But it might improve fiscal savings while sustaining the incentive to find jobs.
Admittedly not all that impressive given that the U.S. is not Solvenia and the two countries are in different phases of economic development. However, there is also this article from Econometrica, "Unemployment Insurance and Unemployment Spells",
This paper tests the effects of the level and length of unemployment insurance benefits on unemployment durations. The paper particularly studies individual behavior during the weeks just prior to when benefits lapse. Higher unemployment insurance benefits are found to have a strong negative effect on the probability of leaving unemployment. However, the probability of leaving unemployment rises dramatically just prior to when benefits lapse. Individual data are used with accurate information of spell durations, and the level and length of benefits. The semiparametric estimation techniques used in the paper yield more plausible estimates than conventional approaches and provide useful diagnostics.
And we also have this paper by Lawrence Katz and Bruce Meyer, "The Impact of the Potential Duration of Unemployment Benefits on the Duration of Unemployment" from the Journal of Public Economics. It has not abstract that is easily copied over, but the conclusions are largley the same, a one week increase in unemployment benefits would raise unemployment duration by 0.16 to 0.2 weeks with the rate of escape from unemployment rising as the end of unemployment benefits approaches.
Then there is this paper, "Disincentive Effects Of Unemployment Insurance Benefits: Maximum Benefit Duration Versus Benefit Level",
This paper uses a unique dataset about unemployment insurance recipients and their exits to employment in Estonia to investigate the effects of benefits on unemployment duration. The administrative data used clearly pinpoints total unemployment spells and exits to employment. Both nonparametric and parametric estimations show that unemployment benefits have a strong and significant disincentive effect on hazard rates to exit into employment, just as search theory predicts. The effects of benefits are stronger and more homogeneous when the maximum duration of unemployment insurance benefit is longer. Unemployed people eligible for shorter unemployment insurance benefits are influenced more by the size of benefits and changes in the benefit replacement rate. Also, for both groups there is a rise in hazard rates during the benefit period and a sharp drop straight after.
And finally, there is this paper, "Quasi-Experimental Evidence on the Effects of Unemployment Insurance from New York State",
This paper examines unemployment duration and the incidence of claims following a 36 percent increase in the maximum weekly benefit in New York State. This benefit increase sharply increased benefits for a large group of claimants, while leaving them unchanged for a large share of claimants who provide a natural comparison group. The New York benefit increase has the special features that it was unexpected and applied to in-progress spells. These features allow the effects on duration to be convincingly separated from effects on incidence. The results show a sharp fall in the hazard of leaving UI that coincides with the increase in benefits. The evidence is also consistent with a substantial effect of the benefit level on the incidence of claims and with this change in incidence biasing duration estimates. The evidence further suggests that, at least in this case, standard methods that identify duration effects through nonlinearities in the benefit schedule are not badly biased.
One article that suggests that unemployment benefits might acutally lower unemployment duration is, "The Effect of Unemployment Insurance on Unemployment Duration", Journal of Labor Economics by Ben-Horim and Zuckerman.
This paper shows that unemployment insurance benefits could decrease the expected duration of unemployment induced by search. An unemployed person who has to fin ance search from limited resources may use the benefits to intensify search effort and lower the expected duration of employment.
The bulk of research in this area indicates that lengthening unemployment insurance will lengthen the duration of unemployment. Have unemployment insurance benefits been increased during this recession? Yes. So, the graph that James linked could be partially explained by the increases in unemployment insurance benefits, mainly the extensions over time. Still the conclusion that many might simply be unemployable for sometime is a very valid concern. Right now we have an over supply in housing. During the housing bubble we clearly allocated too many resources towards building housing and some of those resources are people who worked in that industry and likely aquired skills for that industry and now simply wont be needed in that industry for a considerable amount of time. For economists, this is what we'd call a "unit root" problem, or in laymans term for the housing construction business we are likely looking at an "L-shaped" recession.