Unemployment Duration Record High
The median duration of unemployment is at levels not seen in decades. What do we do about it?
Derek Thompson produces what he terms "The Scariest Unemployment Graph I've Seen Yet."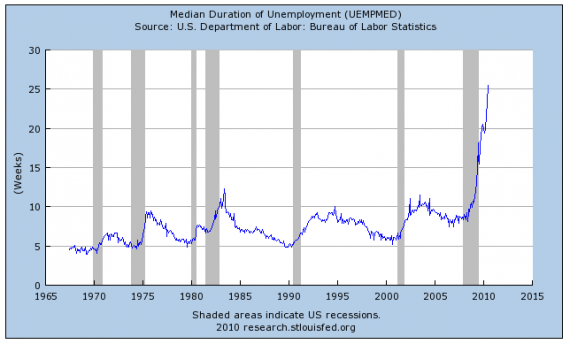 Basically, median unemployment duration (i.e., the length of time that people stay out of work) is not only higher than it has been in my lifetime, but twice as high as it has been during that span (which, incidentally, is less than 50 years).   And he's surely right about not only the scariness of the chart but the policy implications:
Does it mean we must increase the duration of unemployment benefits to protect this new class of unemployed, or does it mean we need to stop subsidizing joblessness? Does it mean we need to expand federal retraining programs, or does it mean federal retraining programs aren't working? Does it mean we need more stimulus, more state aid, more infrastructure projects, more public works … or does it mean it's time to stop everything, stand back and let business be business?

You're going to find smart people make a case for all six of the above public policy directions. (I tend to side with the first of each coupling.) It's hard to know for sure how to design public policy for historically unique crises precisely because they are historical orphans, without precedent to show us the right way from the wrong.
My gut tells me that we've got little choice but to expand the safety net.  That is, to say the least, not my default position.   But, while there are no doubt plenty of unpleasant people with poor work habits out there, as Ben Stein notes, most of these people are simply victims of the worst economy in decades.    And, I fear, many of them will be unemployable for a very long time, in that their skills no longer match the job market.
By all means, let's train as many people as we can for the new realities.  That's an investment in human capital worth going into debt for; indeed, it'll likely more than pay for itself.   But I'm not sure what we're going to do with people in their 50s and 60s who've been displaced; no one is going to hire them for entry level jobs in new industries.