Pre-Convention Polls Show Clinton Leading, Johnson Rising, Major Party Candidates Hated
A look at the state of the race before the two party conventions begin.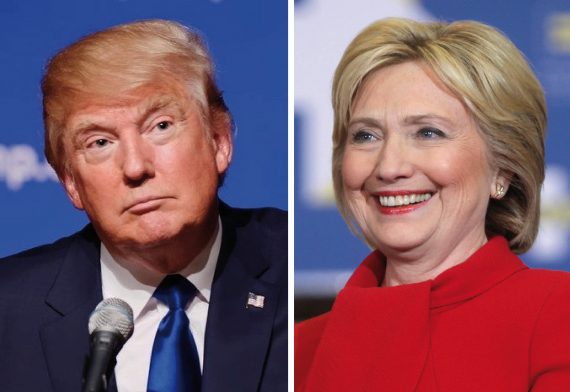 As Republicans head into their Convention in Cleveland, Ohio prepared to nominate Donald Trump as their Presidential candidate, and Democrats are just a week away from opening their own convention in Philadelphia during which they will nominate the first woman to appear at the top of a major party ticket in American history, polling continues to show that Hillary Clinton has a distinct advantage in the race to become the 45th President of the United States notwithstanding the fact that recent revelations about her use of a private email server continue to have an impact on how the public views her and how much it trusts her, and that Donald Trump faces as seemingly impossible uphill battle if he is going to win notwithstanding the fact that he seems to be doing far better in some polls than many analysts believed he would be even at this early point in the race. All of this is plain to see in a trio of national polls released yesterday, all of which show Clinton leading but also show that the American public is not at very happy with the choices being provided by either of the major political parties. This has resulted in a decided up-tick in support for third-party candidate, specifically Libertarian Party nominee Gary Johnson, who is approaching the level of polling support that he would need in order to meet the criteria established by the Commission On Presidential Debates to qualify for an invitation to join the major party candidates at the Presidential and Vice-Presidential debates to be held in September and October around the country.
First up is a new poll from ABC News and The Washington Post showing Clinton leading Trump, albeit by a smaller margin than the last time this poll had been run prior to the announcement by FBI Director James Comey regarding the results of the Bureau's investigation of Clinton's email server:
CLEVELAND — On the eve of two national political conventions that will shape the images of the major party presidential candidates, Donald Trump and Hillary Clinton are in a competitive contest nationally but with the presumptive Republican nominee facing deficits on key character attributes and issues, according to a new Washington Post-ABC News poll.

The new survey shows Clinton leading Trump by 47-43 percent among registered voters. That represents a shift in Trump's direction since last month's Post-ABC survey, which showed Clinton leading by 12 points. In the new poll, among all adults, Clinton leads by 10 points — 50-40 percent — compared to a 14-point lead among this wider group last month.

(….)

Given the dissatisfaction, there is the possibility that candidates from minor parties will attract the support of disaffected voters. In a four-way matchup that also includes Gary Johnson of the Libertarian Party and Jill Stein of the Green Party, the results are: Clinton 42 percent, Trump 38 percent, Johnson 8 percent and Stein 5 percent.

The new poll comes after a tumultuous two weeks that included the killings of five police officers in Dallas, and deadly police shootings in Louisiana and Minnesota. As the poll calling was closing came news of an apparent terrorist attack in Nice, France. All these events have added to the tensions of a country on edge and heightened the importance of security and racial issues in the choice of a new president.

The poll also comes after Clinton was spared prosecution by the government for her use of a private server as secretary of state. But in avoiding any criminal charge, Clinton earned a stern rebuke from FBI Director James Comey, who said she and her aides had been "extremely careless" in their handling of sensitive classified material in their email exchanges.

The previous Post-ABC poll showed Clinton with a larger lead than some other national surveys taken around the same time. Whether or how much the shift toward Trump in the current survey was affected by how the FBI investigation was resolved can't be measured. Other recent polls show the race nationally to be in low single digits, with Clinton generally enjoying the advantage.
The new CNN/ORC International poll, meanwhile, shows slightly better news for Clinton, and even  more positive news for Johnson:
As the Republican convention kicks off in Cleveland, the status of the race for the presidency continues to be advantage Hillary Clinton.

Little has changed in overall support for either candidate since the end of the primaries in mid-June, despite major moments in the campaign including Donald Trump's announcement of Indiana Gov. Mike Pence as his running mate, Clinton's endorsement by her main rival for the Democratic nomination, Vermont Sen. Bernie Sanders, and the announcement by the FBI that Clinton would not face charges for her use of a personal email server while secretary of state.

But one candidate has made gains since last month: Libertarian Gary Johnson. In a four-way matchup between Clinton, Trump, Johnson and Green Party candidate Jill Stein, Clinton carries 42%, Trump 37%, Johnson 13% and Stein 5%. That represents almost no change for either Clinton or Trump, but a 4-point bump for Johnson.

Typically, support for third party candidates fades as the major party tickets are set heading into their conventions. But Johnson's support outpaces that of a typical third party candidate and may prove to have more staying power.

One hint that it could fade: Support for both Johnson and Stein appears concentrated among those less enthusiastic about voting this year, suggesting their supporters may be less apt to turn out in the end. Nearly 4-in-10 voters who say they are "not at all enthusiastic" about voting this year say they back either Johnson or Stein, but among those who are extremely enthusiastic, that figure falls to just 6%.

And the growing support for third party candidates also seems centered among younger voters, which could prove harmful to Clinton's campaign. Among those voters under age 35, 46% back Clinton, 21% Trump, 20% Johnson and 10% Stein. Broad support among younger voters helped catapult Barack Obama to the presidency in 2008.

As Trump prepares to accept his party's nomination, the poll suggests he's increased his backing among Republicans. The share of GOP voters who say they'd prefer Trump as the nominee over someone else has increased from 51% in June to 56% now.

In a two-way matchup, Clinton tops Trump 49% to 42%.
Finally, the new NBC News/Wall Street Journal poll shows Clinton with a five point lead over Trump, and also shows Johnson performing well in a four-way matchup:
On the eve of the GOP convention, Hillary Clinton maintains a five-point national lead over Donald Trump even after a period of negative news for the presumptive Democratic nominee, according to a new NBC News/Wall Street Journal poll.

Clinton leads the presumptive GOP nominee 46 percent to 41 percent in a poll that finds both candidates facing sizable disadvantages and challenges ahead of the party conventions which kick off Monday for the GOP in Cleveland and a week later for Democrats in Philadelphia.

Those numbers are unchanged from one month ago with the poll conducted after FBI Director James Comey strongly rebuked Clinton over her email practices even though he determined that she had not committed a crime. The poll was also conducted before Trump selected Indiana Gov. Mike Pence as his vice-presidential running mate.

Clinton has the advantage among African Americans (84 to 7 percent), voters ages 18-29 (55 to 32 percent) and women (52 to 37 percent). The margin among Latinos will be released later on Sunday.

Trump, meanwhile, is ahead among whites (50 to 37 percent) and men (46 to 39 percent), and the two candidates are tied among independents (36 percent each).

In a four-way ballot test – including Libertarian nominee Gary Johnson and the Green Party's Jill Stein – Clinton gets 41 percent, Trump 35 percent, Johnson 11 percent, and Stein 6 percent.

"The more things change, the more they stay the same," says Democratic pollster Peter Hart, whose firm helped conduct this poll with Republican pollster Bill McInturff. "Things haven't changed an awful lot."

McInturff agrees. "Our overall ballot is very stable, and the contours of this election are becoming stable."
All three polls also find that both Trump and Clinton head into their respective conventions with public opinion about their personal land professional ethics and trustworthiness at low points that are remarkably, and seemingly historically bad.  In Trump's case, his favorable/unfavorable spread stands at 34%/62% in the ABC News/Washington Post poll, 39%/59% in the CNN/ORC poll, and 27%/60% in the NBC News/Wall Street Journal report. This puts the RealClearPolitics average for Trump's favorable/unfavorable spread at 33.6%/60.1%. These same polls also show that voters have serious trust issues with Trump as well as questions about whether or not he is truly prepared to handle the office of President should he somehow end up winning in November. Each of the polls also shows that Trump is significantly underperforming among many demographic groups, including women and African-Americans, and that he remains fairly weak among younger voters. Finally, in possible indication of just how bad the situation could become for Republicans in several battleground states, a separate NBC News survey of Latino voters found that only 14% of Latino voters nationwide support Trump, a level far lower than the level of support seen for a Republican candidate among that demographic in any recent national election. By way of comparison, John McCain received 31% of the Latino vote nationwide in 2008 and Mitt Romney received 27% of this electorate. If this number holds up, it could be very bad news for Republicans in states such as Florida and even in states that have traditionally voted Republican in national elections such as Arizona and Georgia, as well as making it difficult to win in must-win states such as Florida and Virginia.
Hillary Clinton isn't viewed much more positively by members of the public. Her favorable/unfavorable ratio stands at 40%/55% in the ABC News/Washington Post poll, 42%/55% in the CNN/ORC poll, and 34%/56% in the NBC News/Wall Street Journal poll, leaving her with a RealClearPolitics average favorable/unfavorable spread of 38. 4%/56.2%. These same polls also show that Clinton has some of the same problems with trustworthiness that Trump does, albeit with slightly better numbers than Trump has in that area. Finally, the outcome of the investigation into her email server does not seem to have served Clinton as well as the campaign might have hope and has instead contributed to the perception that she is part of an elite that gets treated differently, and better, than ordinary members of the public. This appears to be the main reason that the top-line poll numbers have narrowed in recent weeks. The one advantage for Clinton is that all of this happened in the summer and prior to the convention, leaving open the possibility that she's dealing with the worst of the public reaction now and that this story will largely be behind her as we get closer to the General Election. On the positive side, Clinton has distinct advantages among a wide swath of demographic voters, including women, younger voters, African-Americans, and Latino voters, The two demographic groups where she seems to be having trouble presently are men and Independent voters, with Trump giving her a solid contest among both groups.
Looking at the national horse race numbers, we see that Clinton continues to hold a narrow lead that varies somewhat depending on how many candidates are included. In a two-person head-t0-head matchup with Trump, RealClearPolitics shows Clinton (43.8%) ahead of Trump (40.2%) by 3.6%. In a three way race that includes Libertarian nominee Gary Johnson Clinton is at 40.3%, followed by Trump at 36.7% and Johnson is at 7.7%. Finally, in a four way race that includes Johnson and Green Party nominee Jill Stein, Clinton (4o.6%) has a 4.2 point lead over Trump  (36.3%), followed by Johnson at 8.1% and Stein at 3.9%. In addition to the fact that Clinton continues to hold on to a narrow lead, the big news coming out of these newest polls is arguably the fact that Gary Johnson seems to be slowly creeping into the double digits, and closer to the 15% he needs to reach to receive an invitation to the Presidential debates. It's quite likely that at least part of the reason that both Johnson and Stein are polling better than third-party nominees have done in the past is due to the fact that the two major party nominees are so heavily disliked, but that's arguably only part of what we're seeing here. Johnson and his running mate former Massachusetts Governor Bill Weld have been fairly aggressive about seeking out media time since winning the nomination, and the cable networks have been particularly notable in being more willing to provide coverage to third-party candidates than they have in the past. The question for Johnson will be whether he can keep this momentum up, get to 15% in the polls, and stay there long enough to show the Commission of Presidential Debates that ignoring their own criteria this time would only serve to cast doubt on the credibility and fairness of their debate process.
As for the race itself, it is arguably tighter than many analysts probably expected it to be, but it's worth remembering that we continue to live in a country that is sharply divided between Republicans and Democrats and that Trump will likely continue to poll well as long as Republicans remain united behind him. That doesn't mean he's likely to win the election, though. When you look at the race where it counts, at the state level and the Electoral College Map, it quickly becomes clear that Trump at least faces the same difficulties any Republican candidate would, and that the potential for a Clinton breakthrough to an insurmountable lead is still there with plenty of time to go. As thing stand, Clinton appears to be within 61 Electoral Votes of winning the election, while Trump would need to win more than 100 out of the 165 Electoral Votes currently identified as "Toss-ups," many of which are not really toss-ups. Once the smoke has cleared from the two back to back conventions, it will be interesting to see where the race stands but, right now, it remains Hillary Clinton's to lose. Unless that changes, Trump shouldn't be making any plans to move to Washington next January.