America's Weird Recount Laws
An irrelevant candidate is triggering a recount in three states Trump won by substantial margins.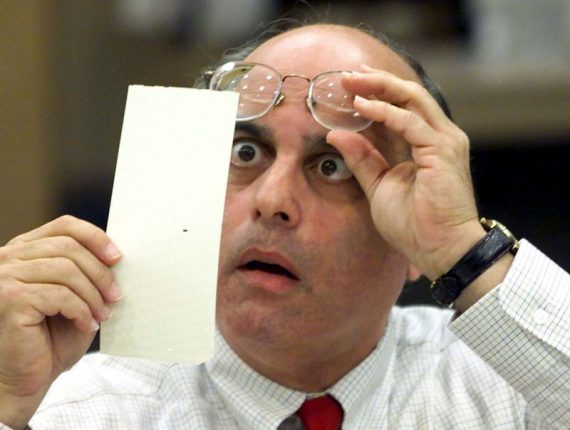 Jill Stein, the Green Party candidate for president, is pushing for recounts in three states where she hardly got any votes. Our bizarre electoral laws are going to allow that to happen.
It's already happening in Wisconsin:
Green Party officials filed Friday for a recount in Wisconsin, following reports of voting discrepancies, and were seeking a deeper investigation into the election results, which handed the state to Donald Trump two weeks ago.
Wisconsin Green Party co-chairman George Martin said that they were seeking a "reconciliation of paper records" — a request that would go one step further than a simple recount, spurring, he said, an investigation into the integrity of the state's voting system.

[,,,]
Late Friday afternoon, the Wisconsin Elections Board said it had received the petition from Stein and the Green Party and "is preparing to move forward with a statewide recount of votes."

"We have assembled an internal team to direct the recount, we have been in close consultation with our county clerk partners, and have arranged for legal representation by the Wisconsin Department of Justice," Wisconsin Elections Board Administrator Michael Haas said. "We plan to hold a teleconference meeting for county clerks next week and anticipate the recount will begin late in the week after the Stein campaign has paid the recount fee, which we are still calculating."
This could, ironically, disenfranchise Wisconsin voters:
Wisconsin will begin a historic presidential recount next week and the state could risk losing its ability to have its 10 electoral votes counted if it doesn't meet key deadlines next month.

Hitting a Dec. 13 deadline could be particularly tricky if Green Party presidential nominee Jill Stein is able to force the recount to be conducted by hand, Wisconsin's top election official said.

Stein and independent presidential candidate Roque "Rocky" De La Fuente separately filed recount requests late Friday, the last day they were able to do so. Stein received about 31,000 votes and De La Fuente about 1,500 out of 3 million cast.

[…]

Wisconsin's recount will likely begin late next week, once the state has tallied a cost estimate and received payment from Stein's campaign, said Michael Haas, administrator of the Wisconsin Elections Commission.

Recounts will be done by county boards of canvassers, which will likely have to work nights and weekends, Haas said.
Elections officials are preparing for a possible presidential election recount in Michigan that could begin as soon as next week, state Director of Elections Chris Thomas said Friday.

Green Party presidential candidate Jill Stein has indicated she plans to jumpstart a recount in the Great Lakes state over fears that Michigan's election results could have been manipulated by hackers. Republican President-elect Donald won the state by 10,704 votes over Democrat Hillary Clinton, according to unofficial updated results posted Wednesday.

By Friday afternoon, Stein had raised more than $5 million of her $7 million goal to cover the cost of a recount in Wisconsin, Pennsylvania and Michigan "to ensure the integrity of our elections" because "there is a significant need to verify machine-counted vote totals," according to her campaign website. Stein finished nearly 2.3 million votes behind Trump in Michigan and received 1.1 percent of the vote.

Michigan's deadline for initiating a recount is Wednesday. "We have not heard from anybody," Thomas said about a Stein recount request. "We're just trying to be proactive, make sure we have plans."

Thomas said officials "could probably begin by the end of the week," although it will be "a huge undertaking in a very short period of time" if it happens.

A recount in Michigan would cost Stein about $790,000 to cover the $125-per-precinct cost for more than 6,300 precincts across the state, Secretary of State spokesman Fred Woodhams said.

Thomas has told The Detroit News there is no evidence of any hack or voting system manipulation.

University of Michigan computer scientist Alex Halderman did not return emails or phone calls from The News, but wrote in a Medium.com blog post that the state's election system was "probably not" hacked. But he has urged Clinton to request a recount to know for sure whether results were manipulated or not.

Thomas said the Stein campaign has not yet contacted officials with the Secretary of State's office. The deadline for a request is Wednesday if the Board of State Canvassers certifies the election as scheduled on Monday.
The third state being targetted, Pennsylvania, is even stranger in that the Trump margin of victory is rather large. Still, Stein apparently plans to file before its Monday deadline.
Now, the ability of non-factor candidates to demand recounts is certainly not the weirdest thing about our electoral system. OTB front pagers have spilled a lot of pixels over the Electoral College and the fact that the candidate who got nearly three million votes more than the winner was defeated. Still, we live in a country where California still hasn't managed to finish counting votes in an election that was ostensibly over three weeks ago. Why are vanity candidates allowed to trigger a recount? She simply shouldn't have standing to file.
It would be one thing if Clinton or the Democratic National Committee were filing these challenges. The margins of Trump's victory in Wisconsin and Michigan are sufficiently small (indeed, Michigan hasn't officially been called yet) that changing the outcome is plausible. But she'd need those two states plus Pennsylvania.  And all three states have substantially larger margins than Bush's over Al Gore in Florida in 2000.
Beyond the silliness of it all, dragging election results out in this manner undermines the legitimacy of the system. Why would we trust the results of a recount that overturned the results of the initial count? Supporters of the candidate whose victory had been declared on election night and then snatched away weeks later would surely believe that the election had been stolen—particularly if the recount was done by partisan officials supporting the other candidate.
In the 2000 contest in Florida, the outcome was essentially a tie. A margin of a few hundred votes out of six million cast is one that's impossible to replicate with certainly. Even were all the votes cast perfectly—no "hanging chads" or other questionable ballots—random error would produce a different counting every single time. Absent pretty substantial evidence of fraud in the initial count, then, the first count is as good as any.  Any subsequent count that went the other way would be no better in terms of accuracy but would be worse in terms of legitimacy.
The three contests in question in 2016 were, by contrast, much wider. In Michigan and Wisconsin, Stein received more votes than the gap between Clinton and Trump. But there's no reason to think the results weren't correct.