Florida! Florida! Florida!: Senate Race Heads To A Hand Recount
While the outcome in the Florida Governor's Race is clear, the Senate race remains up in the air and headed for a hand recount that, in the end, is unlikely to change the outcome of the race.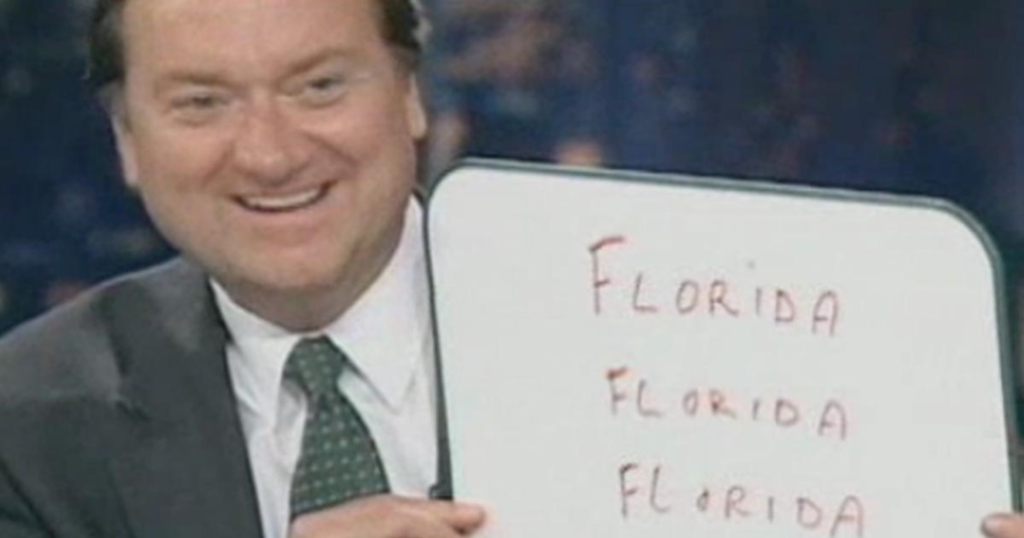 While the outcome in the race for Florida Governor seems certain after the conclusion of the state-mandated machine recount yesterday, the result in the Senate race between Senator Bill Nelson and Governor Rick Scott remains unclear as that race heads for a hand recount:
Florida concluded the first phase of a tumultuous recount of its midterm election on Thursday, with state officials ordering a manual recount in the hotly contested Senate race between Rick Scott, the Republican governor, and the Democratic incumbent, Bill Nelson.

Mr. Scott maintained a slim lead over his opponent. Ron DeSantis, a fiery conservative and enthusiastic ally of President Trump, held onto a more substantial lead in the race for governor, avoiding a next round of recounts despite the vow of his Democratic opponent, Mayor Andrew Gillum of Tallahassee, to push the authorities to count additional ballots.

"It is not over until every legally casted vote is counted," Mr. Gillum declared at the end of another chaotic day — nine days after the election — in which the state's two marquee races remained disconcertingly up in the air.

From the early morning hours through midafternoon, when the results of the state's machine recount were posted, lawyers for both parties filed new lawsuits, rushed to court hearings and issued statements challenging the conduct of the vote — crucial arguments on voter suppression and ballot recognition that will help lay the legal groundwork for the 2020 election.

Confusion and disorder reigned through much of the five-day machine recount. Broward County, the scene of several years of vote-counting problems, was two minutes late in reporting its data and state officials refused to accept its tallies. Authorities in Hillsborough County said they could not submit recount totals because their new tally had 846 fewer votes than originally counted. The office had two power failures during the recount that may have led to the discrepancy, they said.

"We have been the laughingstock of the world, election after election," Judge Mark E. Walker of the Federal District Court in Tallahassee told lawyers Thursday morning. "Yet we still chose not to fix it."

(…)

The new count will not tally all votes cast, but will examine all ballots in which voters either cast two votes for one race, known as an overvote, or none, known as an undervote. Mr. Elias in a conference call Thursday evening suggested there were as many as 23,000 of those kinds of votes in Broward County alone.

"We will be able to see whether there were markings on those ballots or not," Mr. Elias said.

Veterans of Florida elections from both parties expressed disgust over an array of technical breakdowns, human glitches and missed deadlines that seem to plague the state's decentralized, county-based elections system with Groundhog Day predictability.

Broward County, where election workers had toiled late into the night for days on end to recount their votes, saw it all amount to nothing when state officials rejected the tally as too late. "Basically I just worked my ass off for nothing," said Joseph D'Alessandro, the county's election planning and development director. He said he had had difficulty uploading the results because he was not familiar with the website.

The machine recount broke down completely in Palm Beach County. Authorities there said the tabulation equipment came up short "a significant number" of ballots in the final Senate tally, making it impossible for the county to meet the Thursday deadline.

Many of the antiquated tabulation machines used by the county overheated earlier this week, creating the need to count nearly 200,000 votes again. An additional problem surfaced later, according to the Palm Beach County elections supervisor, Susan Bucher. After the mechanical failure was corrected and the machines were restarted, they apparently failed to tabulate entire boxes of votes; the totals did not add up, Ms. Bucher said.

Ms. Bucher would not say exactly how many boxes of ballots were missing from the count.

"A little bit more than a dozen precincts lost substantial numbers," she said.

Workers were having to look through count logs to see how many ballots are missing from each precinct, and to try to figure out, based on the numbers of ballots in the box, which of them might have to be put through the machine again, she said.

Despite all the problems, most election workers in Palm Beach County did not show up for work until about 10 a.m. on Thursday. Ms. Bucher defended her decision to let her exhausted staff go home at 9 p.m. the night before to sleep and eat. A skilled team of three workers needed to be alert on Thursday morning to try to solve the machine malfunctions, she said.

"You can't just have anybody run this," she said.

In all three counties that did not have recount results accepted, initial tallies reported before the statewide machine recounts will stand.
More from The Washington Post:
LAUDERHILL, Fla. — Ron DeSantis emerged from a machine recount Thursday all but certain to become Florida's next governor while Gov. Rick Scott (R) maintained a narrow lead in the state's closely watched Senate race even as that contest goes to a manual count.

The Senate battle, in which Scott is seeking to unseat Sen. Bill Nelson (D), enters a phase reminiscent of the state's 2000 presidential recount — in which local elections officials will examine tens of thousands of ballots that may not have been filled out or tallied correctly to assess voters' intentions.

The process was triggered because Scott's lead, 12,603 votes out of more than 8 million cast, remained within the 0.25 percent legal threshold for a manual recount, which must be completed by noon Sunday.

That narrow margin appeared too much for Nelson to overcome. Scott called for Nelson to bow out as Nelson's attorney expressed confidence that the second recount, plus court cases, would let Nelson overtake Scott.

"It's never been our view that there was going to be one silver bullet that was going to change the margin in this race," Nelson's lead recount attorney, Marc Elias, said on a call with reporters. The hand count, he added, "is what we've been seeking all along."

The big winner of the day appeared to be DeSantis, whose lead over Democrat Andrew Gillum, the mayor of Tallahassee, remained wide enough to avoid a manual recount. His victory is set to be certified early next week.

DeSantis's ascent would represent a major victory for President Trump, who handpicked the congressman when he was an underdog in the GOP primary and headlined two rallies in Florida in the campaign's closing days.

DeSantis aligned himself closely with the president, airing a TV ad in which he was seen reading "The Art of the Deal" to one of his children, and as governor would be in a strong position to help Trump's reelection campaign in the country's biggest swing state.

DeSantis said in a statement that he was focused on his transition to governor and invited Gillum to meet with him.

"Campaigns of ideas must give way to governing and bringing people together to secure Florida's future. With the campaign now over, that's where all of my focus will be," DeSantis said.

Gillum refused to concede, saying in a statement that "there are tens of thousands of votes that have yet to be counted."

(…)

The scrutiny of the state's elections system intensified Thursday when three of the state's biggest counties — Broward, Palm Beach and Hillsborough — failed to get new counts to the state by the 3 p.m. deadline and were required to stick with their pre-recount totals.

Workers in those counties saw days of marathon work prove fruitless.

"Basically I just worked my a — off for nothing," Joe D'Alessandro, election planning and development director in Broward County, said after the office had stayed open overnight to recount ballots.

Meanwhile, Republicans seized on reports that at least four Democratic voters had been given forms with the wrong deadline to fix ballots that had been flagged as having issues. The date on the form was after the actual deadline, so it's not clear how using the altered form benefited Democrats.

The state Democratic Party said in a statement that it has hired "an independent investigator to review the issues at hand."

Nelson appeared to score a legal victory early Thursday, when U.S. District Court Judge Mark Walker ruled that thousands of voters across the state have until Saturday to resolve issues with signatures on mail-in and provisional ballots and get their previously rejected votes counted.

But even as a three-judge panel on the U.S. Court of Appeals for the 11th Circuit denied Scott's request to stop Walker's ruling from taking effect, it was clear the decision was not enough to make up Nelson's deficit.

Nevertheless, the Senate recount was expected to be contentious — as both sides see the legal rulings laying the groundwork for a potentially tight presidential vote in 2020.
The official results in the Governor's race after the conclusion of the machine recount showed Congressman Ron DeSantis with 4,075,445 votes (49.59%) and Tallahassee Mayor Andrew Gillum with 4,041,762 votes (49.18%) out of 8,217,819 votes cast. The remaining candidates in the race received 100,612 votes. (Source) This represents little change from where we were when the machine recount began and not much of a change from where we were when all we had to go on were the numbers reported immediately after Election Day. The important number here is the percentage difference between DeSantis and Gillum, which stands at 0.41%. Under Florida law, a hand recount can only be conducted if the difference between the top two vote-getters is under 0.25%, so this means that the Governor's race does not qualify for such a recount and that, barring something unforeseen, these results will be certified early next week making DeSantis officially the Governor-Elect.
On the Senate side, the race remains much tighter, although again there has been little change from previous numbers. As of this morning, the official post-machine recount totals give Governor Scott 4,097,689 votes (50.07%) and Senator Bill Nelson 4,085,086 votes (49.92%) out of 8,183,785 votes casts. The remaining candidates in the race received just 1,020 votes. (Source) This leaves the gap between Scott and Nelson at 12,603 votes, representing 0.15% of the vote. This is roughly the same gap that existed before the machine recount and after Election Day, although it is worth noting that the end result of that process has been that Scott actually slightly widened his lead over Nelson over the past ten days. Under Florida law, a hand recount is mandated when the vote total is under 0.25%, so this race clearly qualifies. Nonetheless, the odds that such a recount will result in Nelson getting the votes he would need — roughly 6,302 votes — to overtake Scott are exceedingly low.
As things stand, it's unclear what the timetable for the hand recount, which, as noted above, will not be a recount of all 8,000,000 votes cast in the election but will instead focus on those ballots where voter intention is unclear for some reason, actually is but the outcome seems to me to be inevitable. Barring something exceedingly strange, Rick Scott will be named Senator-Elect some time in the coming weeks and this process will come to an end.