Florida Senate And Governors Races Head To A Recount
Florida has begun the recount process in both the Senate and Governor's races. Where it goes from here is anyone's guess.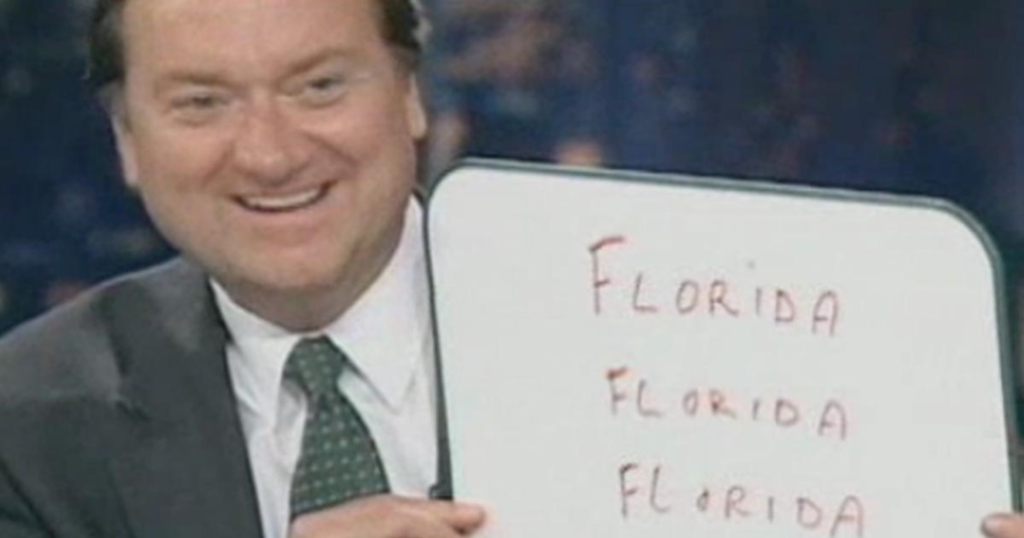 Late yesterday, a full statewide recount began in Florida with the outcome in both the race for Governor and the race for Senate up in the air:
RIVIERA BEACH, Fla. — Florida began the first full, statewide vote recount in its history on Saturday after state authorities found that tallies submitted by the state's 67 counties left the contests for Senate, governor and agriculture commissioner too close to call.

Recounts were also ordered in a State Senate race and two contests for the state House, a measure of the slender margins in the nation's largest swing state that have left two of the most closely watched races in the country still undecided, four days after the midterm elections.

After unofficial results came in shortly after noon on Saturday, Gov. Rick Scott's edge in the race for the Senate had slipped to just 12,600 votes over the Democratic incumbent, Bill Nelson. Andrew Gillum, the Democratic Tallahassee mayor who on election night had conceded his loss in the governor's race to Ron DeSantis, rose to within 33,600 votes, and retracted his earlier concession.

"Florida has never had a full statewide recount. It's about to have three," Andrew Weinstein, the national co-chair for the Democratic Lawyers Council, said on Twitter. "Buckle up."

The sight of grim-faced candidates, shouting protesters outside the Broward County elections office and lawyers flown in from Washington evoked memories of Florida's hotly contested recount over the 2000 presidential election between George W. Bush and Al Gore and capped off one of the most bitterly divisive midterm election seasons in years.

(…)

Across Florida, elections office employees already exhausted after processing thousands of ballots since Tuesday geared up for a new round of tabulations, this time with a tight deadline that requires results by Thursday.

The Miami-Dade elections office will have to work around the clock, in daytime and overnight shifts, to conduct the recount, said Suzy Trutie, a spokeswoman. The office, which normally relies on six ballot-counting machines, has rented an additional four machines, scheduled to arrive on Monday from Omaha, Neb.

Mr. Scott, who has filed lawsuits against elections officials in Broward and Palm Beach Counties over the handling of ballots, made it clear he was not expecting to relinquish the seat he claimed on Tuesday night and suggested the latest results filed on Saturday had reconfirmed it.

"The voters of Florida have spoken and Rick Scott was elected to the United States Senate in a close but decisive victory," his spokesman, Chris Hartline, said in a statement. He said the typical recount changes outcomes "by just a few hundred votes," and hinted that Mr. Nelson should back down. "It's time for Senator Nelson to accept reality and spare the state of the Florida the time, expense and discord of a recount," he said.

Mr. Nelson showed little willingness to take Mr. Scott up on his offer. "This process is about one thing: making sure every legal ballot is counted and protecting the right of every Floridian to participate in our democracy," he said in a statement. "We believe when every legal ballot is counted, we'll win this election."

In the governor's race, the margin was narrow enough to prompt an automatic recount but wide enough for The Associated Press on Saturday to declare Mr. DeSantis the winner. The A.P. retracted the call a short time later, when Mr. Gillum, speaking to reporters in Tallahassee, defiantly announced that his earlier concession no longer applied.

He said efforts by Mr. Trump, Mr. Scott and Senator Marco Rubio, a Republican, to question the counting of votes before the tallying was complete was akin to voter suppression. "I am replacing my words of concession with an uncompromising and unapologetic call that we count every single vote," he said. "And I say this recognizing that my fate in this may or may not change."

The third statewide race now set for a recount was for the post of agriculture commissioner, between Nikki Fried, a Democrat, and Matt Caldwell, a Republican.

The candidates, who saw comfortable margins diminish as heavily Democratic southern counties continued to process mailed and problem ballots, have in the days since cried fraud and filed lawsuits.

Mr. Scott denounced the embattled Broward County elections supervisor, Brenda C. Snipes, who, the campaign said Friday night, still refused to confirm whether she had counted all the ballots. Dr. Snipes was forced to admit that she had inadvertently tabulated about a dozen rejected ballots, which only fueled Republican accusations that her office had botched the vote-counting process. The count was completed on Saturday.

"Three days after Election Day, the vote tally continues to change and Supervisor Snipes still refuses to explain where and how the new votes came to light," the campaign said in a statement. "The public deserves a clear and direct answer."

Mr. Scott urged sheriff's deputies to be on alert for any reports of vote-rigging.

Secretary of State Ken Detzner formally ordered the recounts on Saturday afternoon. The new tallies were expected to begin right away in the state's largest counties, Miami-Dade, Broward and Palm Beach. Other counties could also proceed immediately, though many were expected to wait until Sunday to begin.

Each county in Florida will have until Thursday to run all of its ballots through counting machines again. At that point, any race that remains within a margin of 0.25 of a percentage point or less will have another three days, until Nov. 18, to conduct a manual recount.

Manual recounts seem almost certain in the races for Senate and commissioner of agriculture, which are already within that quarter-point margin.

A manual recount does not mean every ballot is counted by hand.

Only the votes that come up as an "undervote" or "overvote" get pulled for manual review. For example, if a voter had put a check mark next to a candidate's name instead of filling the circle out completely, a vote-counting machine could have missed it.

In cases where a machine detects that a person actually chose two people in the same race, a team of election workers looks at the ballot to see if the voter's intention was clear. The person could have crossed out one candidate's name, so that ballot would likely be counted.

But several issues could arise during the process. Older counting machines might be unable to conduct an unprecedented three statewide recounts simultaneously, making it impossible to meet the state's deadline. If a county is unable to complete a recount in any particular race, Saturday's unofficial results from that county would stand for that race.
The Florida Sun-Sentinel, which covers Broward and Palm Beach counties, which are the focus of most of the allegations of under or over counting, has more:
After receiving unofficial election results from all 67 counties, Florida Secretary of State Ken Detzner on Saturday ordered machine recounts in three statewide elections – U.S. Senate, governor and agriculture commissioner.

Now, county election officials will begin feeding ballots into machines to recount the results in those races, with the second round of results due to the state by 3 p.m. Thursday.

If the results show a margin of 0.25 percent or less, as in the case of the most heated race of the three, between U.S. Sen. Bill Nelson and Gov. Rick Scott for Senate, a hand recount will be ordered. Those results would then be due Sunday, Nov. 18 at noon.

The votes cast in the U.S. Senate race were within 0.15 percentage points, a margin of less than 13,000 votes out of more than 8 million cast.

Recounts are automatic, but a candidate always has the option of declining it. Scott spokesman Chris Hartline said the margin "is larger than any recount since 2000 has ever closed. … It's time for Senator Nelson to accept reality and spare the state of Florida the time, expense and discord of a recount."

In a statement, Nelson said, "This process is about one thing: making sure every legal ballot is counted and protecting the right of every Floridian to participate in our democracy. … We have every expectation the recount will be full and fair and will continue taking action to ensure every vote is counted without interference or efforts to undermine the democratic process. We believe when every legal ballot is counted we'll win this election"

The Nelson campaign had sued for an injunction to extend the noon Saturday deadline, but it was not initially granted by a federal judge. Nelson's campaign argued the 67 counties' "standardless and inconsistent signature-matching process" for vote-by-mail and provisional ballots had led to wildly different reasons for counties to reject ballots.

Judge Robert Hinkle decided "the ability to remedy the situation will not end on Nov. 10," and set a hearing date for Monday.

The governor's race between Democrat Andrew Gillum and Republican Ron DeSantis was also headed to a machine recount, with DeSantis's margin over Gillum at less than 34,000 votes, or 0.41 points.

Alongside his recount attorney, Barry Richard — who was George W. Bush's attorney in the 2000 Florida presidential election aftermath in Florida — Gillum said Saturday he was "replacing my earlier concession with an unapologetic and uncompromised call to count every vote."

DeSantis's campaign has mainly stayed above the fray and has been issuing press releases about transition team appointments.

(…)

While votes have been coming in since Election Day from all 67 counties as canvassing boards met to approve or disallow provisional ballots, Palm Beach and Broward have been the center of attention as the slow counting of votes led Scott and Republican allies to claim "rampant fraud" in those counties. Caldwell had filed a lawsuit against the Broward County elections office Friday, asking courts to determine if it "illegally included ballots after polls closed."

However, Florida Department of Law Enforcement spokesman Jeremy Burns said Friday the agency was not investigating the election despite Scott's request at a press conference, saying the Florida Secretary of State told them "they had no indications of fraud."

Department of State officials also confirmed Saturday that two election observers sent to watch polling places in Broward County during the election have not witnessed voter fraud but will work with the Florida Department of Law Enforcement if any cases arise.

"Department observers continue to monitor the administration of the election through the certification of results," Department of State spokeswoman Sarah Revell wrote in an email. "Our staff has seen no evidence of criminal activity at this time."

Still, an email sent from Scott's campaign, not the governor's office, said Scott was "encouraging" Florida sheriffs to "watch for any violations and take appropriate action."

Scott also successfully sued the Palm Beach and Broward supervisors of elections seeking more transparency in the vote-counting process, but the two counties didn't initially comply.

In Broward, the overall count sent to the state included 205 provisional ballots that were opened and processed before the Canvassing Board had a chance to review their eligibility. The Canvassing Board on Friday evening rejected about two dozen of those ballots, mostly because signatures didn't match those on file.

However, because the ballots can no longer be matched with the envelopes, a Republican Party representative said all the votes are spoiled.

"It seems unfair to me to disenfranchise 205 voters at the expense of a few voters," Snipes said.

In Palm Beach, a judge rebuked Bucher over her delay in turning over duplicated ballots sought by Gov. Rick Scott's Senate campaign.

"It's my opinion zip-a-dee-doo-dah has been done to comply," Judge Krista Marx said.

Scott's attorneys estimated there could be 650 of these ballots, but Bucher said that number is likely "much more substantial."

Bucher told the judge it could take two to three days to retrieve the ballots because the duplicated ballots have been intermixed with other ballots. The original ballots are stored elsewhere and would need to be matched with the duplicated ballots.

Protesters greeted Bucher when she left the courthouse, yelling that she "should be locked up."

The biggest question in the Senate recount is the 24,000 voters in Broward who cast ballots for the governor's race but not Senate. A faulty ballot layout may have caused voters to overlook the race, but Nelson's attorney, Marc Elias, doubted that theory and said he believed votes may not have been picked up by scanners. If that was the case, a hand recount could pick those up where a machine count fails
According to the results posted online by the Florida Secretary of State, the official vote count as of today in the Governor's race is closer than it was on Election Night and when I posted about the issues in Florida yesterday. Congressman Ron DeSantis continues to lead the race with 4,075,879 votes (49.59%) while Tallahassee Mayor Andrew Gillum stands at 4,042,195 (49.18%) votes out of a total of 8,218,682. Looking at the problem counties, in Broward County Mayor Gillum stands at 481,677 votes (67.98%) to 221,873 votes (31.31%) for Congressman DeSantis out of a total of 701,822 total votes cast. In Palm Beach County, the race stands at 341,211 votes (58.18%) for Mayor Gillum to 240,950 votes (41.09%) for Congressman DeSantis out of a total of 586,455 votes cast. (Source) In the Senate race, Governor Rick Scott leads the statewide count with 4,098,107 votes (50.07%) to 4,085,545 (49.92%) over a total of 8,184,631 total votes cast. In Broward, Senator Nelson leads with 471,334 votes (69.09%) while Governor Scott has 211,119 (30.94%) out of a total of 682,453 total votes cast. (Source) As we saw on Friday, there remains a significant under-count between the Governor's and Senate races, and most of that under-count comes from Broward and Palm Beach.
As I noted before, under Florida law, a gap of 0.5% between the top two candidates would trigger an automatic machine recount in which each voting machine is double checked and the results re-tabulated. A difference of 0.25%, on the other hand, would trigger an automatic hand recount. The difference in the Senate race is, at the moment 0.15%, meaning it would qualify for both an automatic machine recount and an automatic hand recount. The difference in the Governor's race is 0.41%, which would trigger an automatic machine recount that could turn into a hand recount if the gap between DeSantis and Gillum narrows sufficiently. Right now, it is the machine recount that is underway, and that process is likely to take until next week to be completed. After that, where the process continues after this will depend largely on where the vote count stands. Of course, that may not be the end of the process since the campaigns could take the matter to court much like what happened in 2000. At that point, this matter could take weeks to be resolved just like the outcome of the Presidential race eighteen years ago.
As they say, stay tuned.