Florida Sets Up Governor's Race Between Trump Republican And Black Progressive Democrat
Florida voters in the Republican and Democratic parties have set up a Gubernatorial race that provides a stark choice on the table for Sunshine State voters in a race that will likely have national implications moving forward.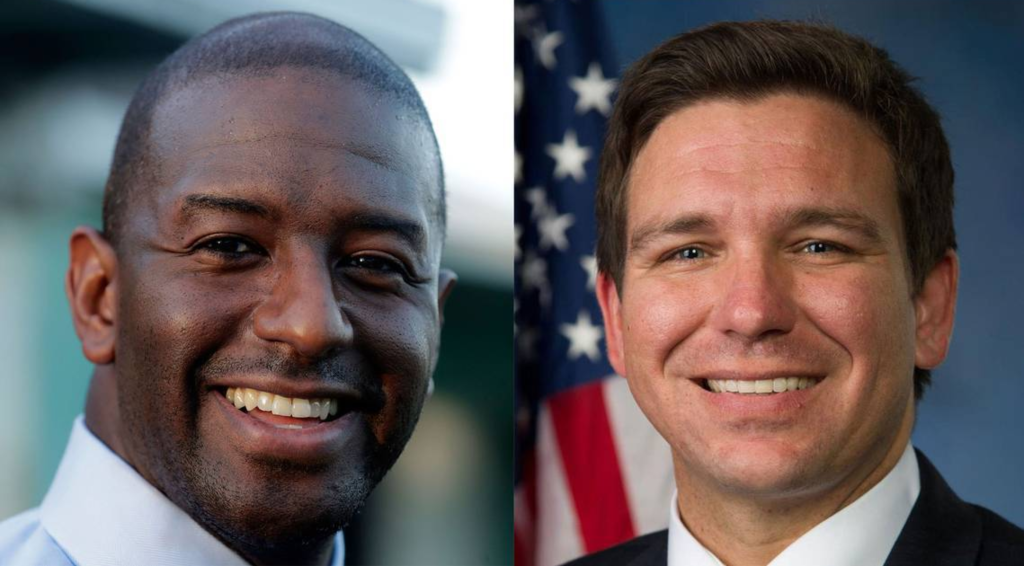 Yesterday saw what essentially amounts to the last round of big primary races prior to the November midterm elections with races in both Florida and Arizona that are likely to set up some of the most closely watched races of the year in both states. In one of those races, the race to succeed Rick Scott as Governor of Florida, yesterday's primary resulted in a victory by Trump-backed Republican candidate Congressman Ron DeSantis and an upset victory by Tallahassee Mayor Andrew Gillum, who becomes the first African-American candidate for Governor from a major party in Florida's history. Given the fact that DeSantis is a strongly Trump-backed Republican while Gillum is an African-American from the Democratic Party's progressive wing, this gives us a fall contest that will most assuredly be an interesting battle to watch for the next two months:
ORLANDO, Fla. — Florida Democrats nominated Andrew Gillum, the Tallahassee mayor, and Republicans tapped Representative Ron DeSantis for governor Tuesday, setting the stage for a ferocious general election in the country's largest swing state between one of President Trump's most unabashed allies and an outspoken progressive who would be Florida's first black governor.

Mr. Gillum's narrow defeat of the former congresswoman Gwen Graham, the front-runner, represented one of the most significant upsets of the primary season and a major victory for the liberal wing of the Democratic Party. It sets up twin governors' races in neighboring Southern states between left-leaning African-Americans banking on the region's new, diversifying electorate, and ardent, Trump-style nationalists.

Georgia's Democratic candidate, Stacey Abrams, will now be joined by Mr. Gillum, while its Republican candidate, the secretary of state Brian Kemp, has a mirror to the south in Mr. DeSantis.

And here, with redistricting looming after the next census, Medicaid expansion on the line and control of the most crucial presidential battleground at stake, the Florida governor's race is shaping up to be a titanic showdown. The specter of two young, hard-charging politicians who represent the beating heart of their parties facing off will supercharge the fall campaign.

"We're going to make clear to the rest of the world that the dark days that we've been under, coming out of Washington, that the derision and the division that has been coming out of our White House, that right here in the state of Florida we are going to remind this nation of what is truly the American way," Mr. Gillum told jubilant supporters in Tallahassee.

With 100 percent of precincts reporting, Mr. Gillum won 34 percent of the vote while Ms. Graham had 31 percent, The A.P. reported.

Beyond Ms. Graham, Mr. Gillum defeated five other rivals. Three opponents — Ms. Graham, Philip Levine and Jeff Greene — far outspent the Tallahassee mayor.

Campaigning in Miami's Little Havana neighborhood on Saturday, Mr. Gillum relished his underdog status.

"My opponents have spent, together, over $90 million in this race. We have spent four" million, he said. "Money doesn't vote. People do."

Mr. Gillum edged out Ms. Graham, a former North Florida congresswoman who finished second, and Mr. Levine, the former Miami Beach mayor who finished third, after dropping nearly $30 million of his personal fortune into the campaign. Ms. Graham, a moderate, had been considered the favorite in a midterm year in which many Democratic women have fared well.

But her centrism and the implicit case for electability proved to be of little asset in a year when emotions have gripped both parties.

In the final weeks of the election, Mr. Gillum aired an ad trumpeting his support for universal health care, legalizing marijuana and abolishing the Immigration and Customs Enforcement agency. He is also a vocal advocate of impeaching Mr. Trump.

(…)

Mr. DeSantis's victory represented another emphatic demonstration of the president's iron grip on the Republican Party. Mr. DeSantis steadily gained notoriety on the right, and attention in the Oval Office, last year by frequently appearing on Fox News to defend Mr. Trump.

The president took notice of Mr. DeSantis, a Navy veteran, and praised his candidacy last December. Mr. Trump's near-endorsement prompted a flurry of lobbying by Republicans urging him to refrain from offering his formal blessing. And among the party officials counseling restraint was Vice President Mike Pence, who served with Mr. Putnam in the House.

But Mr. Trump was grateful for Mr. DeSantis's televised advocacy, believed the former JAG officer looked the part of a governor and had little relationship with Mr. Putnam. In June, Mr. Trump offered, as he put it on Twitter, his "full Endorsement."

Recounting his intervention in the Florida race last week at a rally last week in West Virginia, Mr. Trump said of Mr. DeSantis: "He was at three, and I gave him a nice shot, and a nice little tweet — bing bing — and he went from three to like 20 something."

Mr. DeSantis was almost certainly winning more than 3 percent of the vote when Mr. Trump weighed in, but there is little doubt that the president's support dramatically reshaped the race.

Mr. DeSantis trumpeted the endorsement in his advertising and basked in the president's praise when they stood together on stage in Tampa in late July.
Politico's Matt Dixon and Marc Caputo have more, including what is likely to be the focus of this race going forward, namely the contrast between DeSantis the Trump loyalist and Gillum the Bernie Sanders backed progressive Democrat, as does The Wall Street Journal's Janet Hook and Reid Epstein:
Mr. DeSantis, 39 years old, is a Navy veteran and member of the conservative House Freedom Caucus who campaigned heavily on his endorsement from Mr. Trump.

Mr. Gillum, who defeated the favored former Rep. Gwen Graham in a crowded Democratic primary, has called for the president's impeachment. If he beats Mr. DeSantis in the fall, Mr. Gillum would become the state's first black governor.

Tuesday's results in Florida illustrate how much both political parties have been transformed following Mr. Trump's upset victory in the 2016 presidential election. The Republican Party has become the party of Trump, while Democrats are under heavy pressure to turn to the left in the wake of Hillary Clinton's debilitating loss to Mr. Trump in 2016.

It is especially apt that this face off takes place in Florida, the nation's largest swing state, one that Mr. Trump won by less than 2 percentage points.

The decisive victory by Mr. DeSantis over Florida agriculture commissioner Adam Putnam, a well-funded Republican backed by the party establishment, was the latest evidence of Mr. Trump's dominant role in the 2018 Republican primaries.

Of the three dozen Republicans Mr. Trump has endorsed in primaries this year, Mr. DeSantis's win is the one that owes the most to the president's sway: The Trump endorsement this summer upended a race that had been seen as Mr. Putnam's to lose.

In the wake of the DeSantis victory, Mr. Trump took to Twitter to hail the victory. "Such a fantastic win for Ron DeSantis and the people of the Great State of Florida," he said.

(…)

Mr. DeSantis told his supporters at a victory party that he had talked to Mr. Trump to thank him for his support

"I'm not always the most popular guy in D.C. but I did have support from someone in Washington," he said. "If you walk down Pennsylvania Avenue he lives in the white house with the pillars in front."

Mr. Gillum's victory came as a shock to the Democratic political establishment in Florida and Washington, who had widely expected Ms. Graham to prevail.

She led every public poll of the race and was the best known when the race began. Her father, Bob Graham, was a past Florida governor and senator, and she was the only woman in a five-candidate field in a year in which female candidates have dominated Democratic primaries.

Mr. Gillum, 39, is a break from the sort of centrist Democrats who have won statewide races in Florida. He is the son of a bus driver, and he won his first race for city council as a 23-year-old student at Florida A&M University.

An unabashed progressive backed by Vermont Sen. Bernie Sanders, he ran TV advertisements calling for, among other things, abolishing U.S. Immigration and Customs Enforcement and banning assault weapons.

In victory remarks to supporters, Mr. Gillum said his campaign would serve as a rebuke to Trumpian politics.

"We are going to remind this nation of what is truly the American way," Mr. Gillum said, as opposed to "the derision and the division that is coming out of the White House."

The race to succeed Republican Gov. Rick Scott, who is term-limited, is considered a tossup by the nonpartisan Cook Political Report.

Some Republicans worry the choice of the more conservative Mr. DeSantis will make it harder to hold the governor's mansion than if the nominee had been the more mainstream Mr. Putnam.

Mr. DeSantis is one of 37 Republicans around the country whom the president has endorsed in their primaries for House, Senate or governor. All but two have won.

Mr. Putnam, a former Congressman, had begun the Florida race as the presumed front-runner owing to his long political experience and his fundraising prowess. He outraised Mr. DeSantis by 2-to-1.
It's had to predict where the race between DeSantis and Gillum will head as we move into General Election mode in the coming days. As things stand, all of the major political analysis sites have rated the Florida Governor's race a tossup, but those assessments were made before the primary races were decided and, in some cases, at a time when many people were anticipating that Adam Putnam and Gwen Graham, the daughter of former Florida Governor and Senator Bob Graham, would be the nominees of their respective parties. Given that, it will be interesting to see if the actual outcome of the primaries in both parties changes those predictions, although I suspect that it won't. It's also worth noting that there has been only a small amount polling of a race between DeSantis and Gillum and that it is inclusive at best. One poll, taken by Gravis Marketing about six weeks ago showed DeSantis (39%) leading Gillum (36%) by three points. An earlier Gravis poll taken from late May to mid-June showed Gillum (38%) leading DeSantis (35%) by three points, and an even earlier Gravis poll, taken from late February to mid-March gave Gillum (33%) leading DeSantis (29%) by just two points. All three polls show as much as one-third of the electorate as undecided or not naming any preference, an unsurprising outcome given the fact that both of these candidates started out the race as relatively unknown underdogs. Now that the primary race is over, these numbers will obviously change significantly as both Republicans and Democrats line up behind their party's nominee and the two candidates battle for the independent voters in the center, many of whom were part of the coalition that allowed Donald Trump to narrowly win the Sunshine State in 2016.
The contrast between Congressman DeSantis and Mayor Gillum could not be more apparent, and that contrast is likely to be the major focus of the race going forward. In DeSantis, we have a conservative Republican who openly courted the support of President Trump and the Trumpian wing of the Republican Party and who, in his campaign, mirrored many of the "anti-establishment" themes that Trump hit upon in his own campaign for the Republican nomination and the Presidency. In doing so, he took on and defeated Adam Putnam, whose path to the Governor's office seemed to be assured at the beginning of the year. In a similar vein, Gillum started the race as a relative long shot in a race that everyone expected Gwen Graham, a Congresswoman with a last name that has deep roots in Florida politics, to dominate. While Graham and other candidates racked up endorsements and massively outspent Gillum, Gillum received the support of Vermont Senator Bernie Sanders and other representatives of the Democratic Party's "progressive" wing. His unexpected and surprising victory,  while a narrow one due to a large number of candidates in the race, is perhaps the biggest victory for that wing of the party this campaign season, even bigger than the victory of Alexandria Ocasio-Cortez over New York Democrat Joe Crowley earlier this summer. More than any other race on the ballot this fall, then, this race sets up a study in contrasts that could have major implications going forward for both political parties individually and for a state that will obviously have a major impact on the 2020 election. Stay tuned, this is going to be an interesting race to watch.
Update: Less than twelve hours after winning the nomination, Congressman DeSantis has already put his foot in his mouth.